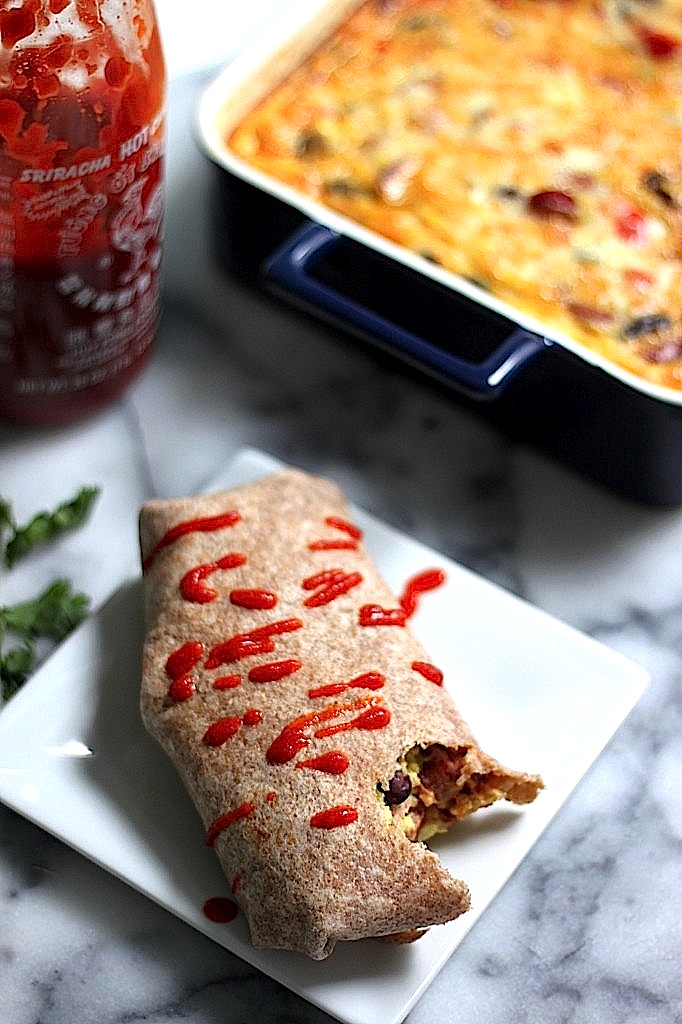 Hi guys! And happy weekend to you!
Since things have been 100% cray cray over here the last few weeks (you too?!), make ahead meals have been one of my best friends in the whole "keeping it sane and together" way of life. Especially since we're still in prime "pop in" season. I mean, I love the pop in!!! Surprise guests are a blast! But I also like to be secretly… ready for it, ya know?!
Never let em' see you sweat 😉
That's where this handy andouille sausage breakfast burrito casserole comes in. It may not be the Heidi Klum of hot plates, but it sure is damn tasty. And convenient. And in my book, tasty and convenient beat pretty black and blue.
Full of cheesy rice, beans, peppers, eggs, and spicy andouille sausage, all you need to turn this casserole into a burrito situation is some warm tortillas!
Of course sour cream, avocado, and cilantro on the side don't hurt 😉
Oh, and sriracha. Always sriracha!
Andouille Sausage Breakfast Burrito Casserole – Baker by Nature
Serves 8-10
Ingredients:
(1) 12 oz package of andouille sausage
1 tablespoon olive oil
1 small red onion, diced
1 green pepper, diced
1 red pepper, diced
1 dozen eggs
1/4 cup whole milk
1/2 teaspoon salt
1/2 teaspoon black pepper
2 cups kidney beans, drained and rinsed clean from any can liquid
2 cups mexican yellow rice, cooked according to package directions
2 cups cheddar OR pepper jack cheese, shredded
(1) Package of tortillas of your choice (I used these whole grain ones)
Chopped cilantro, Sour cream, and Avocado on the side (optional)
Instructions:
Preheat oven to 350 degrees (F).
On a clean cutting board slice andouille sausage into thin (1/4 inch) rounds.
Place sausage in a large skillet and cook over medium heat until both sides have turned golden brown; about 5 – 6 minutes – we want it nice and crispy! Remove sausage from the pan and transfer to a clean plate lined with a paper towel.
*If the sausage starts to smoke too much you can add a touch of olive oil, but I never seem to need it since the sausage releases its own juices.
Add the olive oil, diced onion and peppers to the same pan the sausage was cooked in, and sauté for about 5 minutes, or until the vegetables have softened and browned just a bit. Remove pan from heat.
Carefully crack a dozen eggs into a very large mixing bowl. Add milk, salt, and pepper, and whisk well.
In a deep 9×13 baking dish layer the rice, beans, andouille sausage, and pepper/onion mix. Add egg mixture and one cup of cheese; quickly stir to combine. Sprinkle remaining cheese on top.
Place baking dish in preheated oven and bake for about one hour, or until the center is firm when the pan is wiggled, and the top is golden brown.
Serve right away with warm tortillas and any extras on the side you desire!