This refreshing tropical smoothie recipe is sweet and super hydrating thanks to tropical fruit like mango, pineapple, and papaya! Ready in less than 5 minutes, this delicious and healthy treat is the perfect way to start your morning! Makes 2 smoothies, but can easily be double or tripled as needed!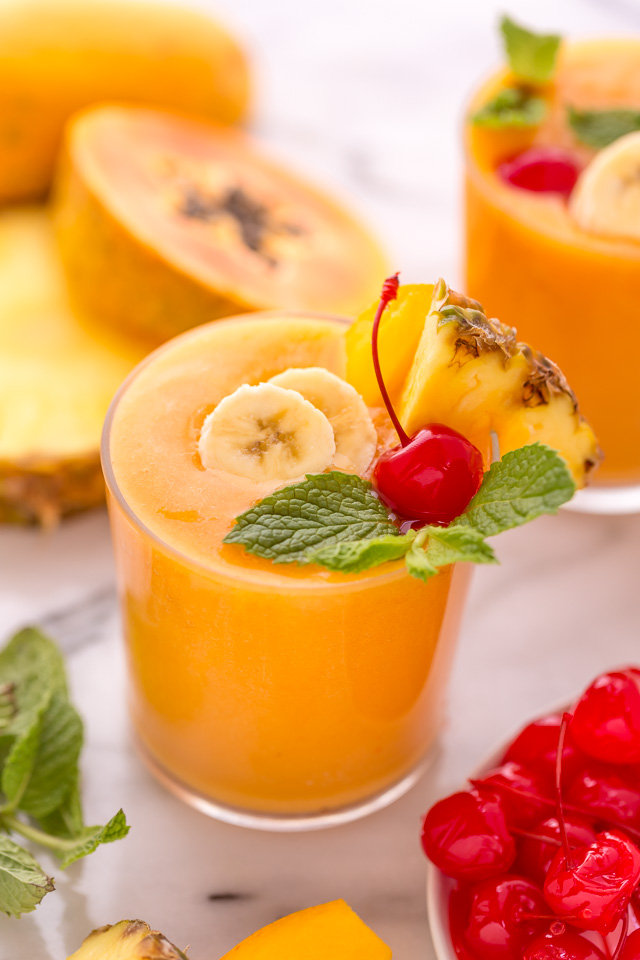 Tropical Smoothie Recipe
Happy Monday! It's so hot here in the Hudson Valley… which has me curious: anyone else craving a tropical vacation right now?! I'm talking white sand beaches, swim up bars, crystal clear swimming pools, and tropical drinks on demand! Doesn't that sound dreamy?!
To be honest, I've never actually taken that kind of vacation! But I dream about them often lol!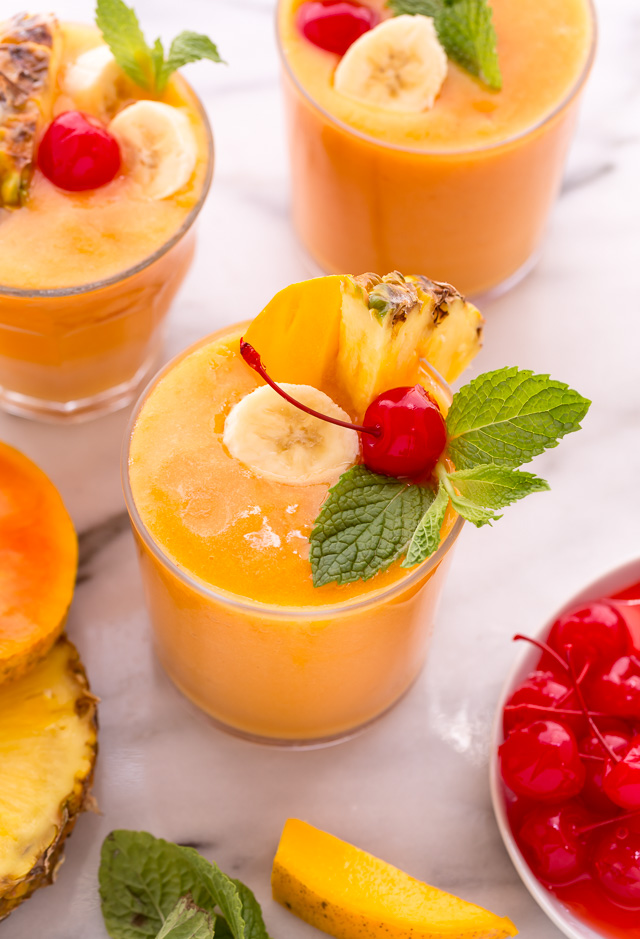 And since many of us aren't traveling or taking a proper vacation this Summer, I wanted to bring a little taste of the tropics to YOU! Via this fun and fruity smoothie, of course! It's made with pineapple juice, coconut milk, and TONS of tropical fruit.
I've been whipping one up for breakfast every morning and enjoying it out on the patio!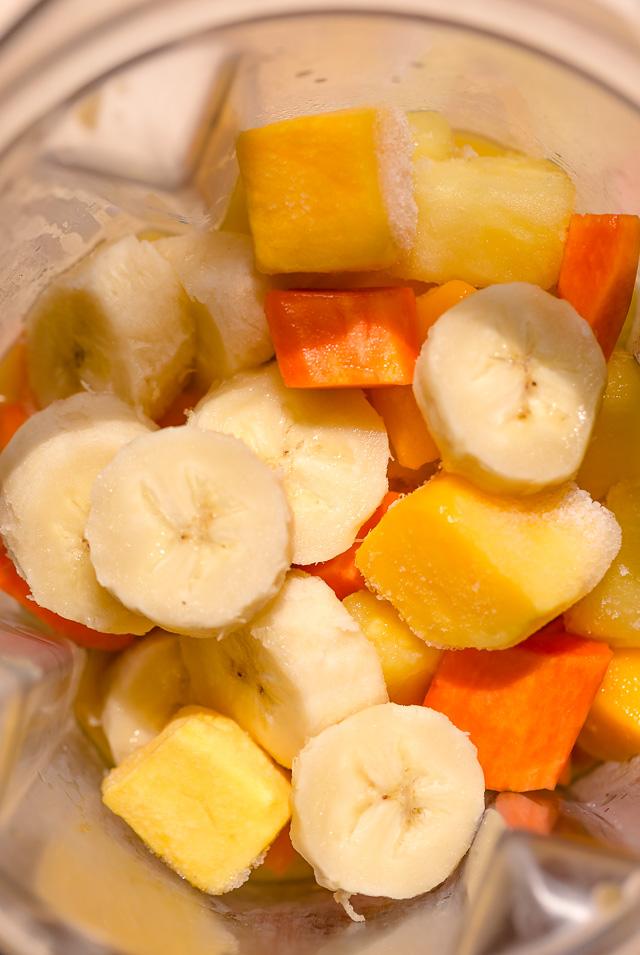 Best Blender to Make a Smoothie?
Making smoothies couldn't be easier! But you will be a strong blender to help you get them smooth and creamy! If you're in the market, these are the blenders we use and love (and yes… we really have 3 blenders):
Vitamix (This is an INVESTMENT, but I've had mine for 10 years!)
Ingredients for Tropical Smoothies (And what you can sub!)
Frozen Mango: Mango is LOADED with vitamin C and so good for your immune system! It's also insanely delicious in smoothies! But since finding ripe mangos can be hard, and peeling them can be time consuming, I highly suggest using frozen mango! But hey, if you have fresh, go for it! Just be sure not to use ALL fresh fruit, otherwise your smoothie won't be cold and creamy.
Frozen Pineapple: Loaded with enzymes and nutrients, this sweet tropical fruit is a MUST use for your smoothie! I prefer using the frozen variety, but fresh can be used. And fresh pineapple wedges make a lovely garnish! And definitely amp up the overall "tropical" vibe.
Frozen Papaya: I cannot tell you how much I LOVE papaya! It's delicious and loaded with nutrients! But since I know it can be hard to find, you can omit this ingredient if needed. Just add in a handful of orange or extra pineapple!
Ripe Banana: Since we're using so much frozen tropical fruit, I suggest using very ripe bananas! This will help your blender have an easier job getting everything smooth and creamy! And will yield a smoothie that's cold and creamy, but not so thick you have to eat it with a spoon.
Coconut Milk: I am a huge fan of "in the can" full-fat coconut milk! The kind you have to really shake to get evenly combined. And that's what I suggest using here. But any variety will work! And if you're looking to make this smoothie a little lighter without sacrificing the "tropical flavor", I suggest coconut water! I do that a lot and it's just lovely!
Pineapple Juice: If you can, use pineapple juice NOT from concentrate! It's so much tastier! And if you cannot find pineapple juice at all, just use all orange juice!
Orange Juice: A splash of OJ enhances the sweetness of this smoothie and all of the fruit flavors! I love using fresh-squeezed OJ, but use what you can find. And if you don't like OJ, use all pineapple juice instead! This smoothie is very flexible!
Lime Juice: Just a Tablespoon really wakes up all of the flavors in this smoothie and adds balance. But it's not a deal breaker if you don't have it. Just omit!
How to Make a Tropical Smoothie
It's so easy to make a homemade tropical smoothie – no cafe stop required!!! You're literally just going to toss all of your ingredients into a blender and pulse until smooth and creamy! If the mixture seems too thick, you can turn the blender off and use a spatula to mix the ingredients a bit, then blend again. Or add a little more liquid!!!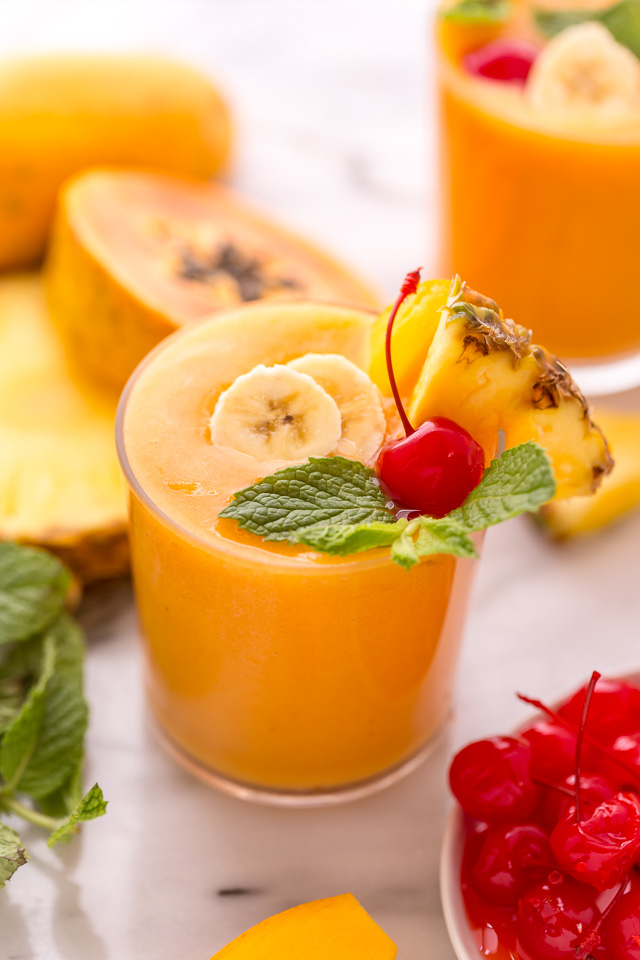 Are smoothie REALLY healthy?
What's considered healthy to one person, may not work for another. But in general, I think smoothies are a great way to stay hydrated and load up on vitamins and antioxidants! But I'm not a doctor or health expert, and this recipe is in no way meant to cure anything! In fact, there's a reason I don't include calories or nutrition content here.
Because my recipes are meant to be a treat! Not a diet treatment or health cure. But of course, you can always type the ingredients into an app like MyFitnessPal and get all of the nutrition nitty gritty! And you can use the substitutions listed above in case you want/need to make any adjustments!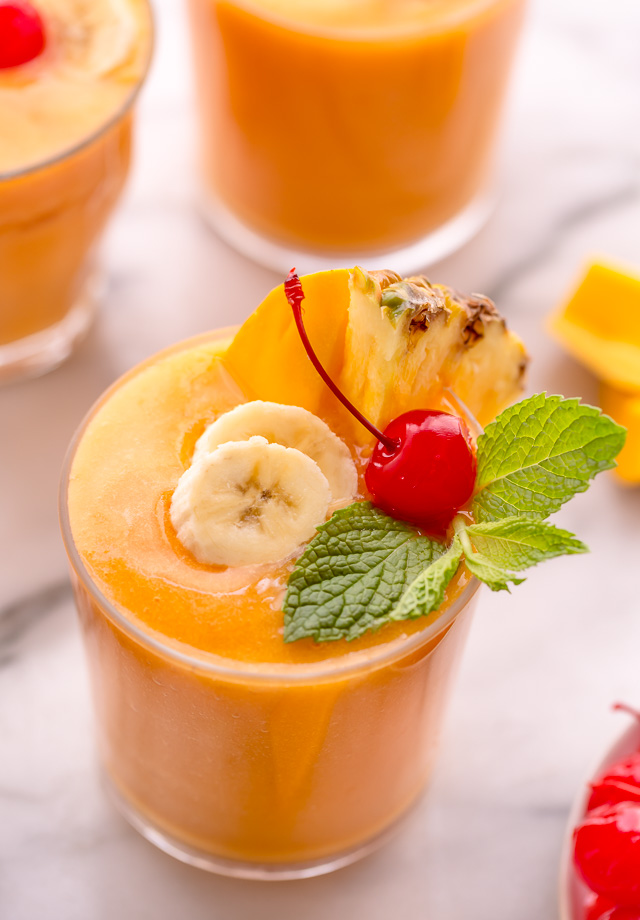 More Smoothie Recipes: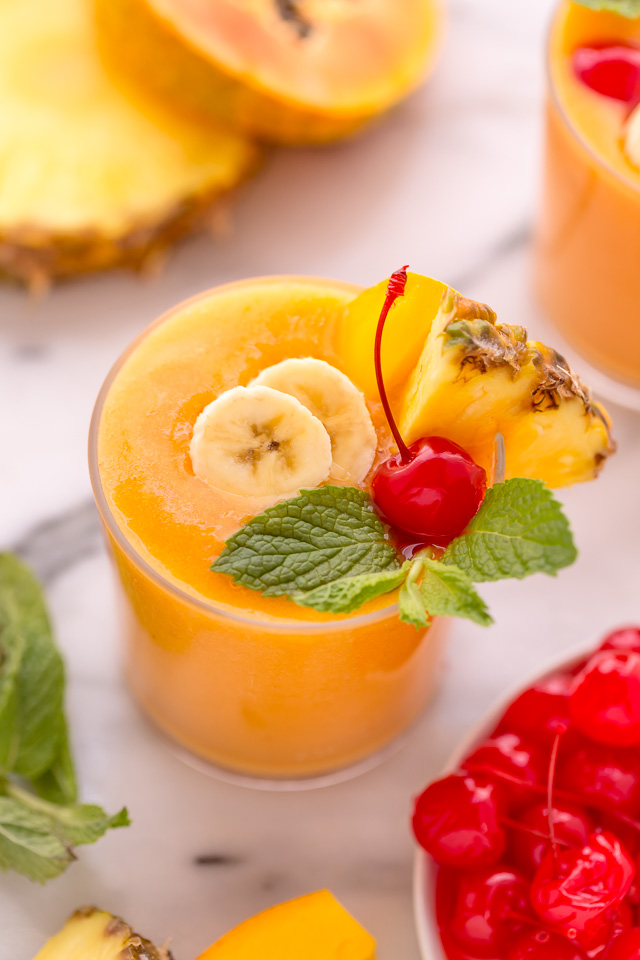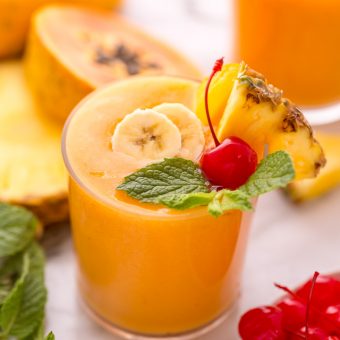 Tropical Smoothie
This refreshing tropical smoothie recipe is made with exotic fruit like mango, pineapple, and papaya! Ready in less than 5 minutes, this delicious and healthy treat is the perfect way to start your morning! Makes 2 smoothies, but can easily be double or tripled as needed! 
Ingredients
3/4 cup frozen mango
3/4 cup frozen pineapple
1/2 cup frozen papaya
2 large bananas, cut into pieces
1/3 cup orange juice
1/3 cup pineapple juice
1/3 cup coconut milk
1 Tablespoon lime juice
Instructions
Place all ingredients in blender and mix until completely smooth.

Pour into glasses, sip, enjoy.