There are plenty of reasons I love Summertime: long days at the beach, sticky fingers and faces from dripping ice cream cones, birthday celebrating (wait till you guys see the cake(s) I'm making!), and of course – grilling!
Grilling season is here, you guys! I love my little tiny, baby grill, and use it almost daily during the Summer months.
It's a delicious addiction!
One of my favorite things to grill up is BURGERS! They excite me.
Today I wanted to share with you one of my absolute favorite ways to whip up a burger:
Aussie style! 
I spent 2 months traveling around Australia a few years ago, and one of the many things I fell in love with down under was their way of burger making. It's a gorgeous mess of meat and condiments, and you guys, it's m-o-n-e-y.
SO… are you wondering what makes a burger an Aussie?

Oh, of course you are! And, of course, I'm ready to tell you!
The meat is simply prepared – a dash of salt, pepper, and hot sauce. Toss it on a grill or in skillet, and cook it whatever way your carnivorous heart desires. P.S. If you don't do meat, I think a portobello mushroom cap would be just lovely as a substitute.
Now that we've covered the meat part, let's move on to the exciting stuff: condiments!
Condiments totally make an aussie burger aussie. Trust me!
Grilled pineapple, grilled onions, crispy bacon, pickled beets, fresh tomato, sharp cheddar, an over easy EGG (my favorite part) and a super simple spicy sauce consisting of a little milk, hot sauce, and dijon mustard.
Oh my gawd, just thinking about it has me yearning like crazy to gets my hands on one right-now!
Next time you find yourself craving a burger, I humbly suggest you make it an aussie one!
Happy Memorial Day, weekend!
I love ya guys!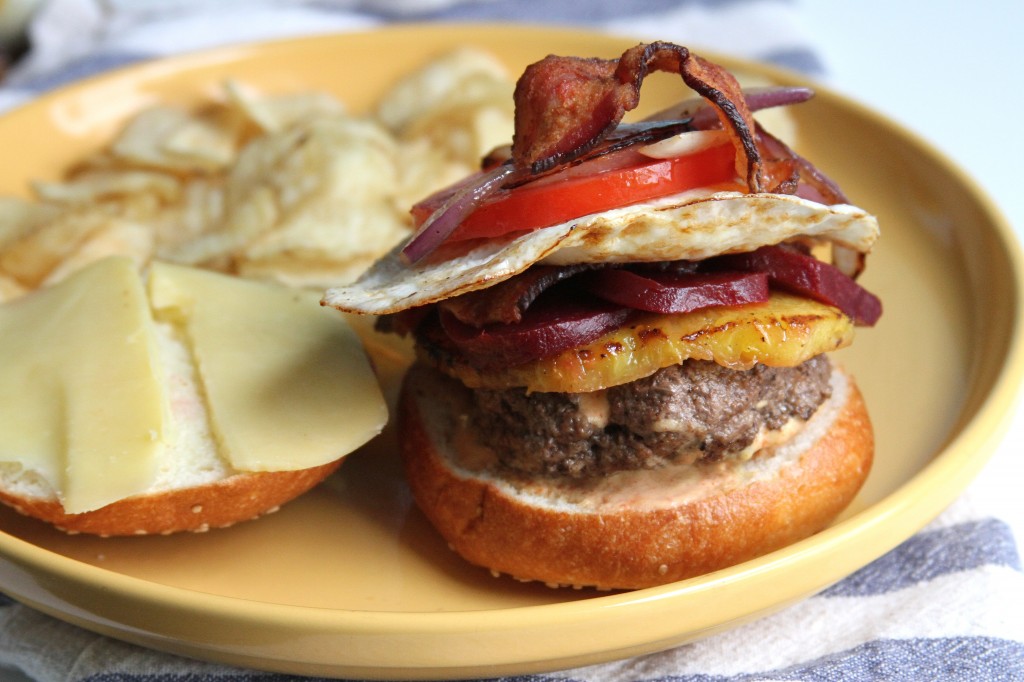 Aussie Burgers – Baker by Nature
Makes 4 burgers
Ingredients:
1 pound ground beed
1 teaspoon salt
1/2 teaspoon freshly ground black pepper
1/2 tablespoon hot sauce (I used sriracha)
1 large tomato, sliced
2 large pickled beets, sliced
8 slices bacon, cooked crispy
1 small onion, sliced and grilled
4 rings of pineapple, grilled
8 slices cheddar cheese
4 eggs, cooked over easy
4 hamburger buns, cut in half and toasted
Instructions:
Mix meat with salt, pepper, and hot sauce. Form into 4 evenly sized patties, and cook to desired temperature. Top each bottom bun with a burger patty, then layer the condiments on top – I usually go cheese, pineapple, beets, tomato, onion, egg, bacon, more cheese, then top with the sauce and finally the bun.
Good luck not making a mess eating these babies!
For the sauce:
1 tablespoon whole milk (you can use mayo… but I don't like the stuff, and I like the liquid consistency milk gives the sauce)
1/2 teaspoon dijion mustard
1/2 teaspoon sriracha or other hot sauce
Instructions:
Combine all of the ingredients in a small bowl, and mix well. Pour over burgers before serving.