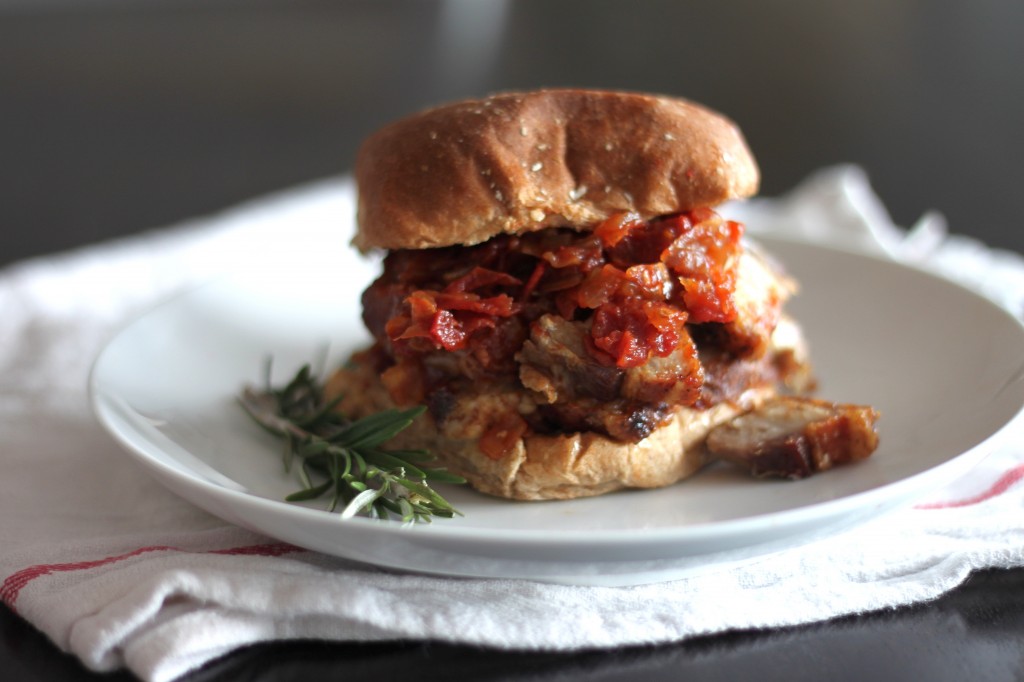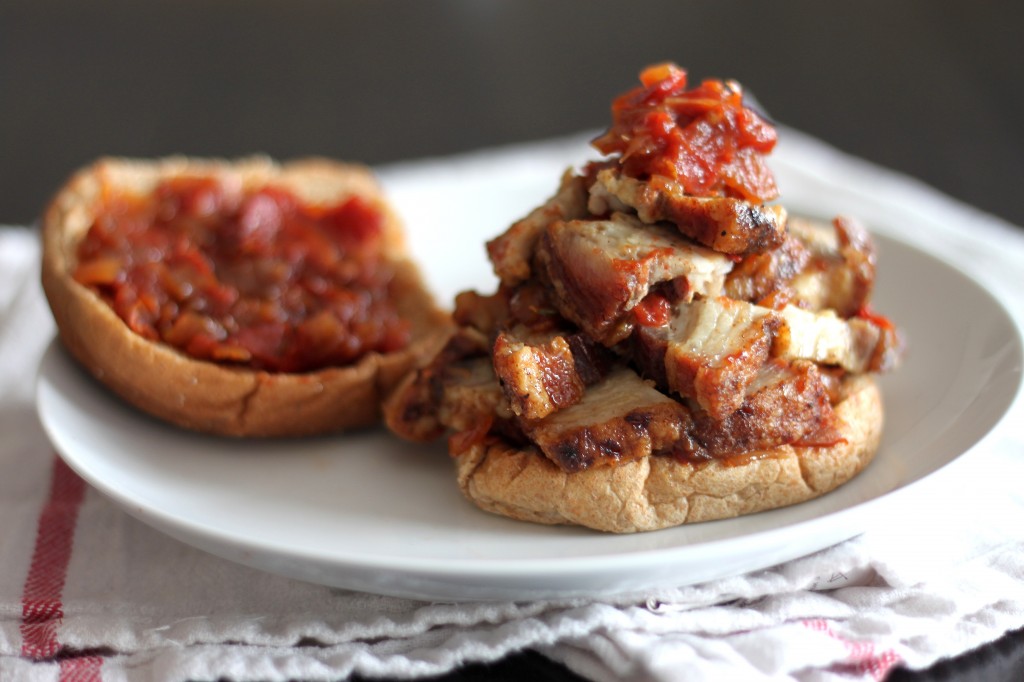 Ok, guys… so while I'm not 100% sure we can technically call these burgers (?), I can 100% assure you that – if you eat meat – this crispy-pork-belly-big-boy on bread will make your life feel shiny, and new, and freeking awesome, man. Seriously. They're epic little bad asses on buns!
Are you familiar with pork belly? I'm actually real new to this cut myself, but after an epic experience with it in Chicago, I am a life long fan. My brain is all "pork belly 4-ever" and all that stuff. Basically what I'm saying is, if you haven't tried it yet, get on it!!! You'll quickly realize you have massive amounts of making up to do!
Now, pork belly on its own is a beautiful thing. Cook it right (and trust me, it's hard to cook it wrong), and you'll have a gorgeous slab of super crispy meat just begging to be eaten.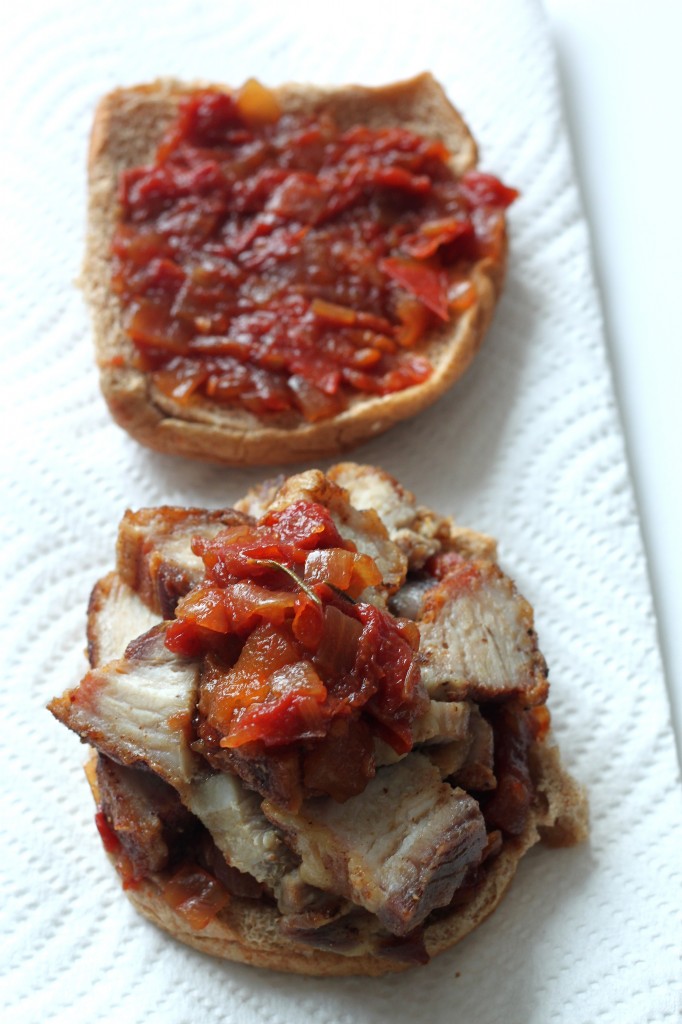 But! If you have patience and a little time, I highly suggest letting the meat chill in the oven while you whip up this rosemary tomato jam. It's so simple in ingredients and so absolutely incredible in flavor that I have been making as many batches as possible before the sweet Summer tomatoes disappear foreeeeeever. Ok. That was dramatic. But you know what I mean. They're going, going, gooooone! So canning some t-jam isn't a bad idea 😉
The assembly of these "burgers" is actually the easiest thing ever! Once your pork is crispy and your jam is cooked, you're pretty much there; all you need are buns!
Crispy Pork Belly & Rosemary Tomato Jam Burgers – Baker by Nature
For the Pork Belly
Ingredients:
3 pounds pork belly
3-4 tablespoons olive oil
2 tablespoons Italian seasoning
Salt and pepper
Instructions:
Preheat oven to 500 degrees (F).
With a very sharp knife score the skin of the belly, making lots of light cuts all over (lots and lots of little cuts!).
Rub the top (the fatty layer) of the pork belly generously with oil, then season with Italian seasoning, salt, and pepper.
Place pork belly in a deep baking dish (deep is important here because there will be fat splattering all over the place), and roast for 30 minutes before reducing the oven to 400 degrees and letting it roast another 40-45 minutes.
The pork belly will be crisp, and very hot. Let it cool at least 15 minutes before you cut it up.
Once cooled, cut into little pieces, and serve on fresh buns with tomato jam.
For the Rosemary Tomato Jam
Ingredients:
4-5 large, ripe heirloom tomatoes (or 6 large plum), hulled and roughly chopped
2 tablespoons apple cider vinegar
2 tablespoons sugar
1/2 teaspoon salt
1/2 tablespoon molassesCrispy Pork Belly & Rosemary Tomato Jam Burgers
1/2 large red onion, minced
1 sprig of fresh rosemary
Instructions:
Place the chopped tomatoes, vinegar, sugar, salt, molasses, and vinegar in a medium sized  pot and mix ingredients once to combine.
Place the uncovered pot over medium heat and cook at a rolling simmer for 45 minutes.
At the 45 minute mark add the sprig of rosemary, give the jam another stir, and cook for another 35-40 minutes, or until the mixture is very thick.
Let the jam cool at least 10 minutes before spreading on buns for burgers.