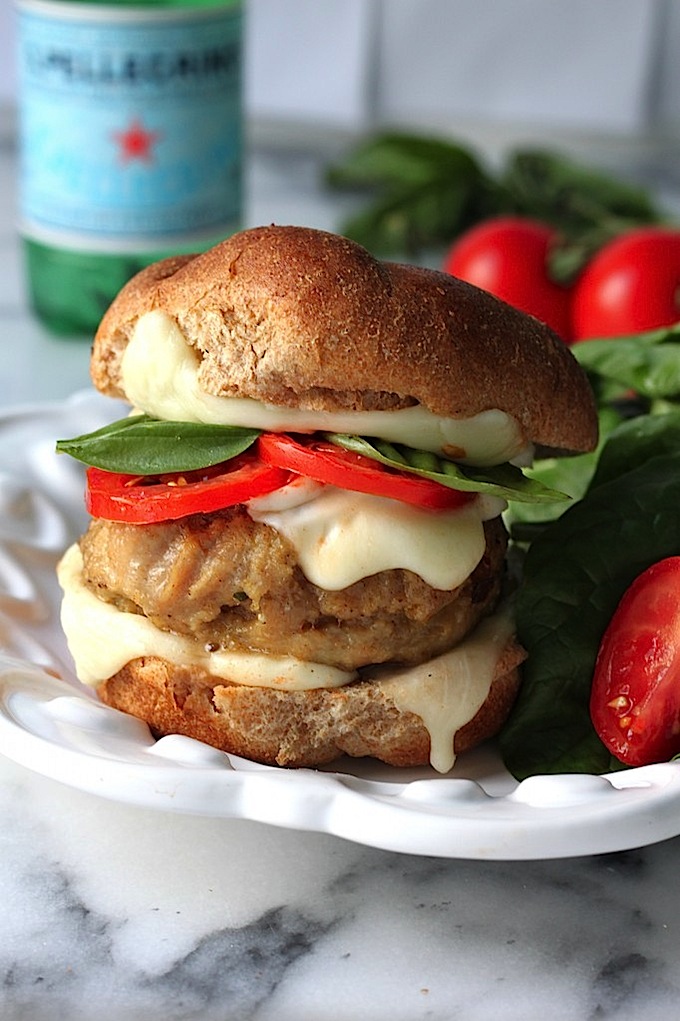 Juicy, flavorful chicken burgers are topped with gooey mozzarella, roasted tomatoes, and fresh basil! These Chicken Caprese Burgers are a hit with everyone! Cook on the grill or stovetop!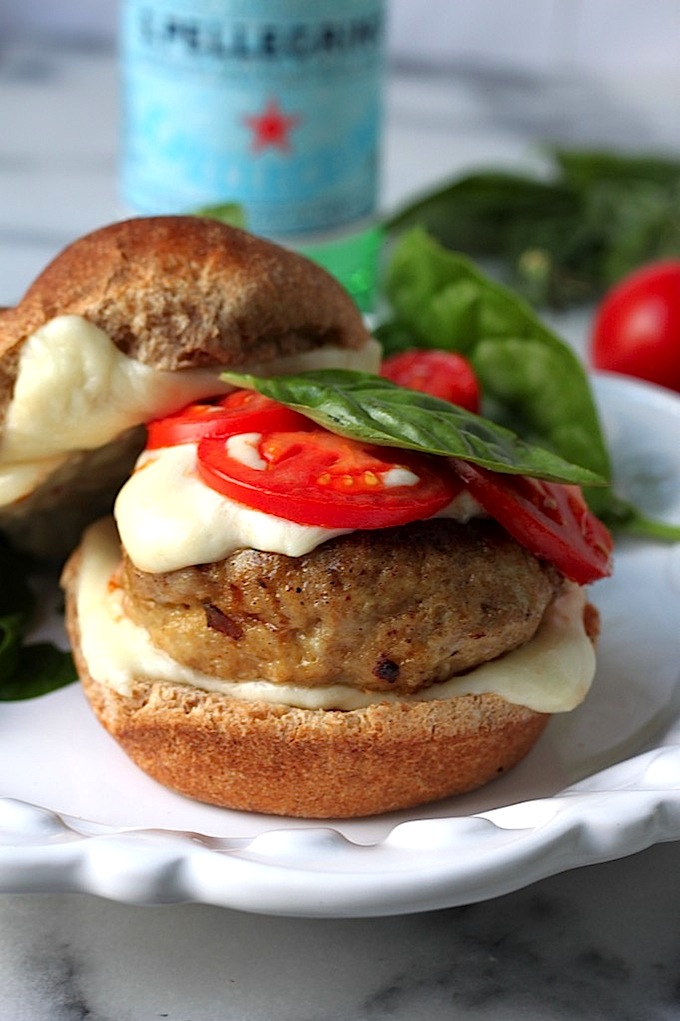 Chicken Caprese Burgers
OH GOODNESS! It's been a long time since we've had a Sunday Supper, my friends! For that, I'm sorry. In between vacation and playing catch up from said holiday, dinner has been… well, unimpressive. Until now! Today I made up for all the missed meals. Big time 🙂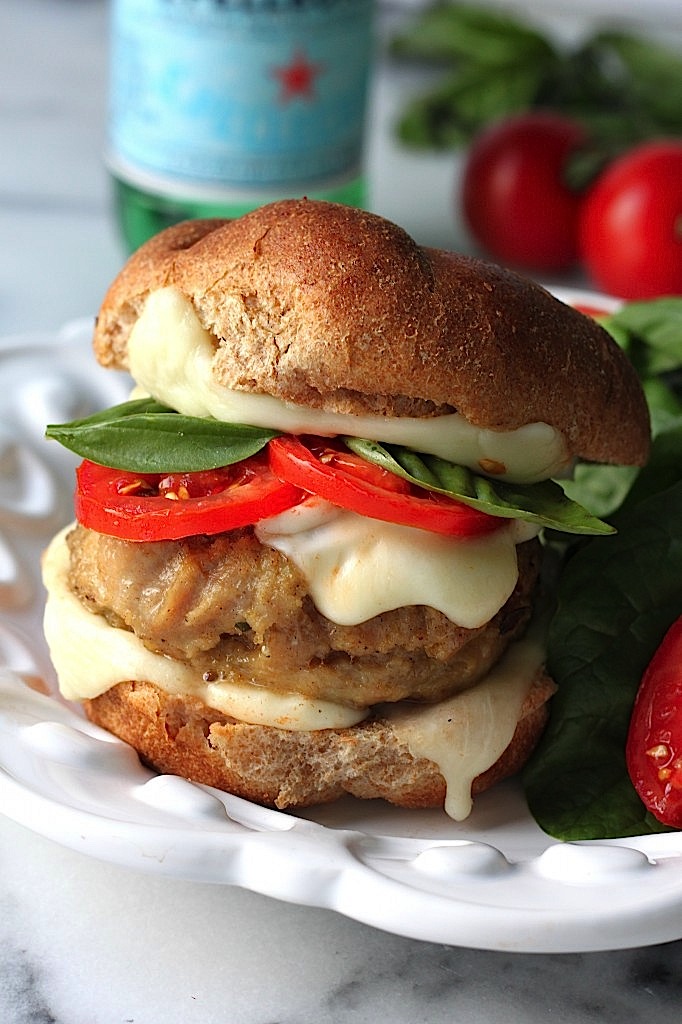 Meet the chicken caprese burger! Isn't she a beaut?
These burgers are made with ground chicken, which might make you scratch your chin a little and ponder if I've lost my mind, but rest assured – these babies are 100 and 10% amazing! They're juicy giants… and nourishing too. Woo-hoo!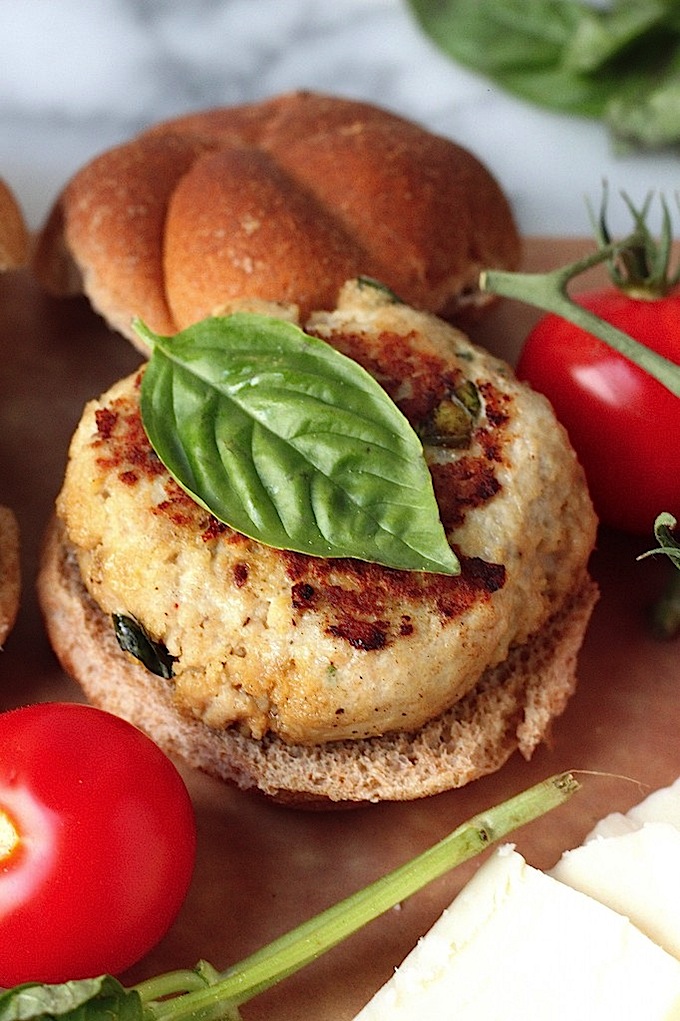 Hiding inside our chicken burgers you'll find fresh basil, onion powder, salt, pepper, panko, and an egg. These ingredients promise a moist burger with lots of flavor! Yessssss please!
Caprese Burger Recipe
While the burgers are sizzling away on the grill (or skillet), you'll want to grab some buns, a few slices of tomato, and some mozzarella cheese. We'll layer the cheese and tomatoes on the buns, then toast them up until our cheese is all gooey and gorgeous. I love that part 🙂
Once the burgers are done cooking, you just plop them on your cheesy toasted buns and dig in! How great is that? Just be sure to double this recipe if you're having people over ——> they go FAST! xoxo
Chicken Caprese Burgers
Juicy and flavorful Chicken Caprese Burgers are the perfect Summer dinner! 
Ingredients
1 pound ground white meat chicken
3 tablespoons whole milk
1 large egg
1 1/4 cup panko bread crumbs
1 tablespoon fresh basil, very finely chopped
1 teaspoon salt
1/2 teaspoon fresh cracked pepper
1/4 teaspoon crushed red pepper flakes
1/2 teaspoon onion powder
1-2 tablespoons butter or oil, for cooking the burgers
4 hamburger buns
12 slices mozzarella cheese, thinly sliced if possible
12 slices of fresh tomato
Handful of fresh basil leaves
Instructions
Preheat oven to 400 degrees (F). Place open buns on a baking sheet, then layer each side of the bun with a few slices of tomato and topped by a few slices of cheese. *I usually do 2 slices of tomato topped by 2 slices of cheese.

Place ground chicken in a large mixing bowl. Add milk, egg, 1/2 cup bread crumbs, fresh basil, salt, pepper, crushed red pepper, and onion powder.; mix well with your hands The mixture will be a little wet, so don't worry if it's a little sticky when forming the patties; everything will be ok.

Place remaining 3/4 cup bread crumbs on a large clean cookie sheet.

Divide chicken meat into 4 equal balls, then, using your hands, shape each ball into a patty. Coat each patty with bread crumbs.

Heat olive oil or butter in a large non-stick skillet over medium heat. Once hot, fry patties until golden and cooked through, about 5 minutes per side.

When you've flipped the patties over to cook on the second side, place the buns in the oven. Let them toast for the last 5 minutes the burgers are cookings. Once the burgers are cooked, remove the buns from the oven, place a burger on each bun, top with a basil leaf, and serve immediately.
 You may also enjoy: