Once the warm weather arrives, I know we'll find ourselves busting out the grill pretty much every night – especially when we're craving burgers! I love burgers for dinner because they're simple enough for a weeknight, but still have that magical effect of making the meal feel fun and special. This recipe can be made on the grill – if you're lucky enough to be somewhere where the weather welcomes that sort of thing – or in a skillet right on your very own stove top. We used the skillet method. It works!
These burgers are spiked with sriracha and stuffed with cheddar cheese – a spicy little twist on the traditional Jucy Lucy.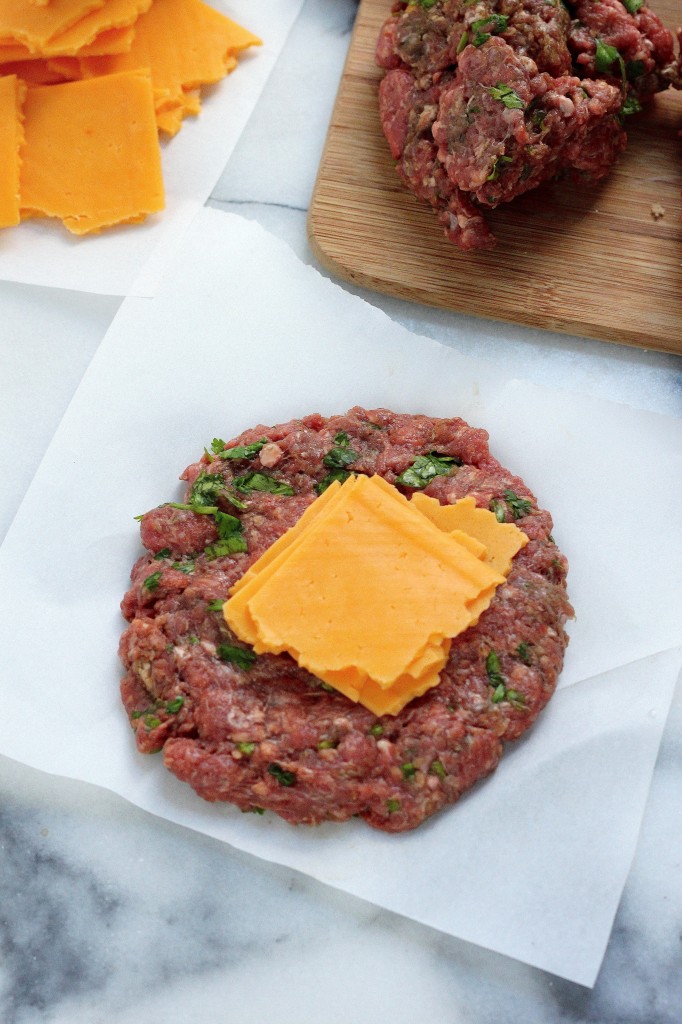 Oh, wait. Y'all know what a Jucy Lucy is… right? If not, Wikipedia has a very detailed definition describing its origin and such. But basically, it's a cheeseburger with the cheese inside the burger, rather than on top. That's right – it's inside the burger! Just be careful when taking that first bite – oozing cheese… it's going to happen! Embrace it 😉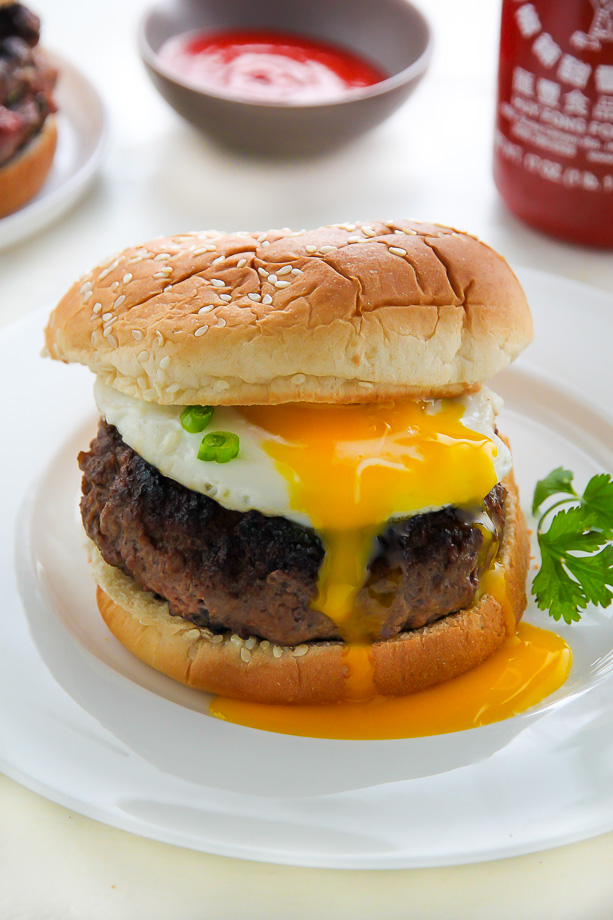 You can also top these with an egg if that's your thing! I did, and it was SO good.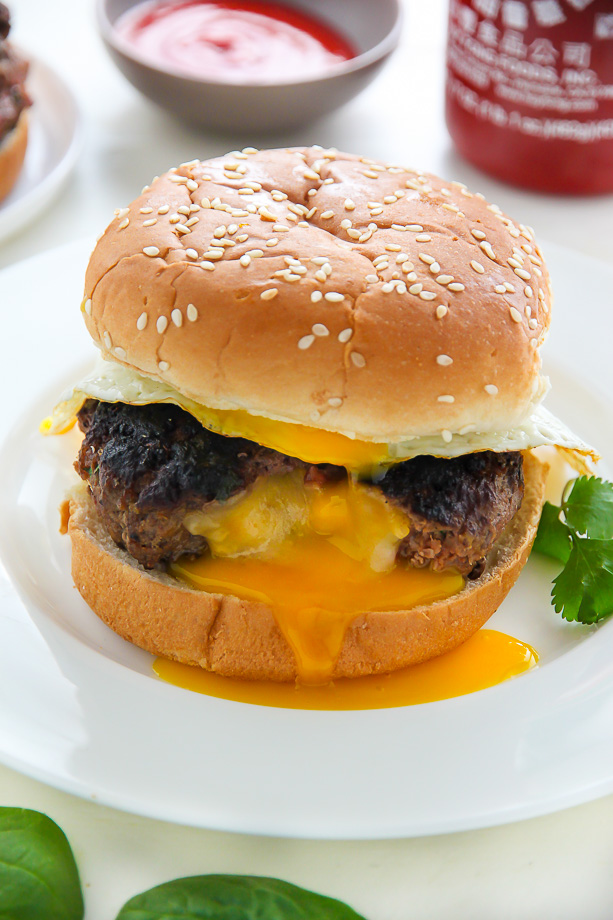 Sriracha and Cheddar "Juicy Lucy" Burgers
Juicy burgers flavored with sriracha hot sauce and stuffed with cheddar cheese!
Ingredients
1 pound ground beef
1 teaspoon worcestershire sauce
1 tablespoon sriracha
Salt and pepper
2 teaspoons garlic powder
1/4 cup fresh cilantro, chopped
4 slices cheddar cheese
1 tablespoon butter
Fried eggs, optional
2 hamburger buns, toasted
Instructions
In a large bowl combine ground beef, worcestershire sauce, sriracha, salt, pepper, garlic powder, and cilantro. Using your hands mix until well combined. Divide the meat in 4 balls, then mold each ball into a large patty - the patty should be a little larger than a slice of cheese.

Break each slice of cheese in 4 pieces, then place them in two piles with 8 pieces each. Place the stack of cheese in the center of one patty, then carefully place another patty on top of it, sealing the edges VERY tightly. I did this by just pinching them together, but make sure they're really sealed or you'll loose all your cheese while they're cooking. And that would be sad! Repeat process for second burger.

Heat butter in a large skillet over medium heat. Once hot, add the burgers and cook for 4 minutes on each side (this will give you a medium-cooked burger, adjust cooking time according to your doneness preference).

Once the burgers are cooked, carefully place them on the toasted buns, and top with an egg if using. Serve at once!

*I make these burgers regularly and updated the photos 1/20/2015