Love Baileys Irish Cream? Love Chocolate Chip Cookies?! These Baileys Irish Cream Chocolate Chip Cookies are for you! They bake up thick, chewy, and super flavorful!
[adthrive-in-post-video-player video-id="dzQjBo6Z" upload-date="2020-08-09T21:27:40.000Z" name="Baileys Irish Cream Chocolate Chip Cookies" description="Love Baileys Irish Cream? Love Chocolate Chip Cookies?! These Baileys Irish Cream Chocolate Chip Cookies are for you! They bake up thick, chewy, and super flavorful!" player-type="default" override-embed="default"]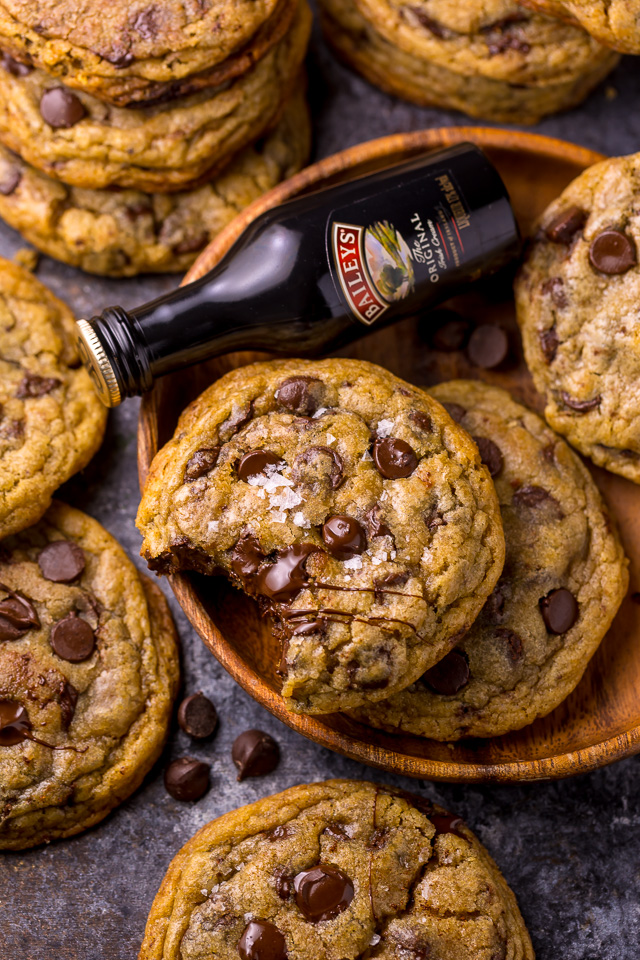 Baileys Irish Cream Chocolate Chip Cookie Recipe
It's day 2 of our 12 Days of Cookies series! And today, we're making a Christmas classic: CHOCOLATE CHIP COOKIES! But of course, these aren't just any chocolate chip cookies! Because they're spiked with Baileys Irish Cream!!! To enhance the flavor even more, the cookie dough includes cinnamon and espresso powder. These cookies already have a cult following with my family and friends… so I always have some of this cookie dough in our freezer.
This recipe was inspired by my pal Ken, who runs the Rhinebeck Wine and Liquor Store. A few weeks ago we were chatting about baking – more specifically, cookies -and he shared his secret is adding a glug of baileys to his cookie dough. I was instantly intrigued! Especially since I have SO much baileys leftover from our wedding! It took me a few weeks to get this recipe just right, but I finally did and you guys…
THESE COOKIES ARE INSANE ↓
Ingredients for Baileys Chocolate Chip Cookies:
butter: unsalted or salted will work! but if you're using salted, reduce the salt called for in the dry ingredients by 1/4 teaspoon.
sugar: you'll use a combination of brown sugar and granulated sugar. light brown sugar or dark brown sugar may be used.
eggs: two large ones, at room temperature!
vanilla extract: just a small dash enhances all of the other flavors!
espresso powder: I love King Arthur Espresso Powder! One jar will last you a LONG time! And once you have it, you can make other espresso recipes like this No-Bake Espresso Chocolate Cheesecake!
baileys irish cream: You'll need 3 Tablespoons for the cookie dough. If you're not a big drinker, you can buy little travel size bottles. They're usually sold at the check-out area of most liquor stores. If you love baking with Baileys, then I suggest buying a full-size bottle so you have it on hand for future recipes like my Baileys Irish Cream Cheesecake!
flour: all-purpose! I don't recommend using any other variety of flour.
salt: to balance out the flavors.
baking soda: helps leaven the cookie dough, which in turn gives us soft and chewy cookies.
and finally, chocolate chips: I use semi-sweet, but feel free to use milk chocolate or dark chocolate. And of course, you can always use chocolate chunks!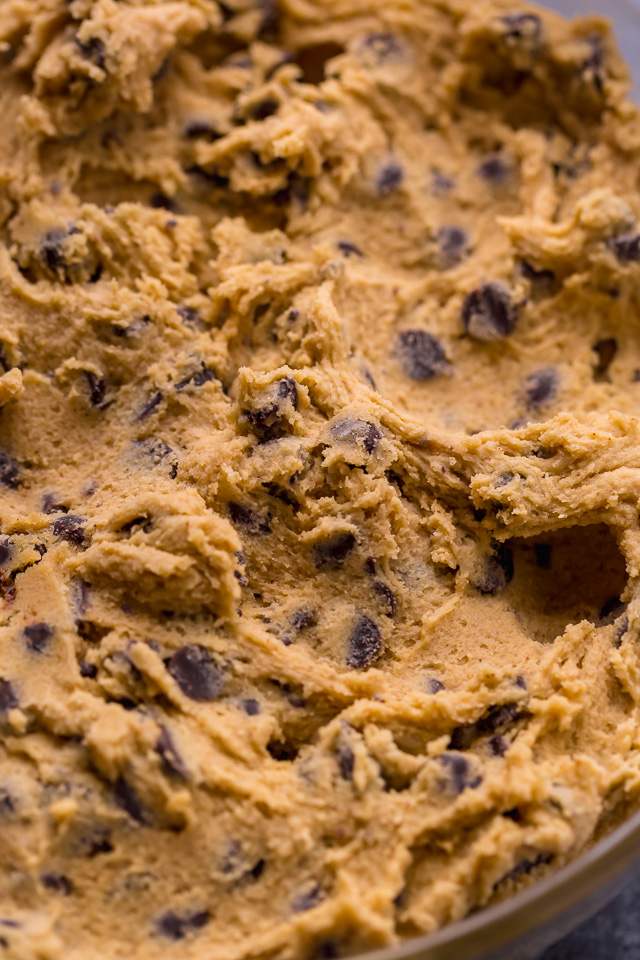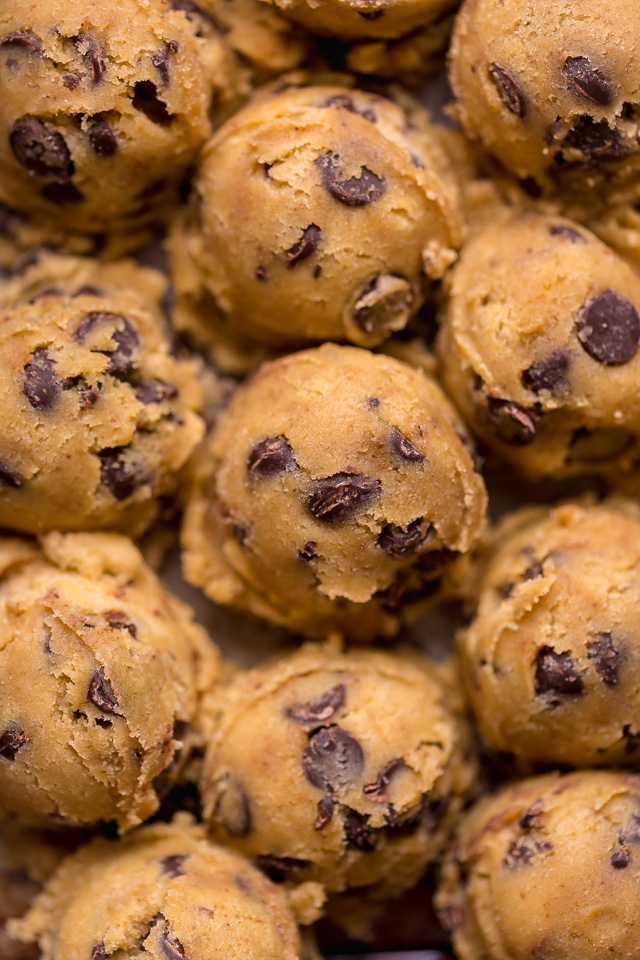 Tips and Tricks for Recipe Success:
Ok, so if you're an old pro at baking cookies, these next few items are probably a no-brainer! But if you're a newbie, listen up: you need at least one baking sheet, a cooling rack, and either a silpat baking mat or parchment paper. This 3-piece baking set has them all!
You'll also need a stand mixer or electric hand mixer for this recipe! Unfortunately, the cookie dough cannot be made without some kind of electric mixer, as the butter and sugar MUST be beaten at a high speed.
Be sure to refrigerate the cookie dough for a few hours. The benefit of chilling the dough is the cookies will bake up EXTRA thick! If you're super tight on time, you can technically bake right away, but the cookies will spread more than the ones you see in my photos.
Don't over bake your cookies! You'll want to pull them out of the oven when they're set at the edges but still soft in the center. They'll firm up a lot as they cool!
If you're wanting to leave the Baileys Irish Cream out of this recipe, I suggest making my Everyday Chocolate Chip Cookies instead.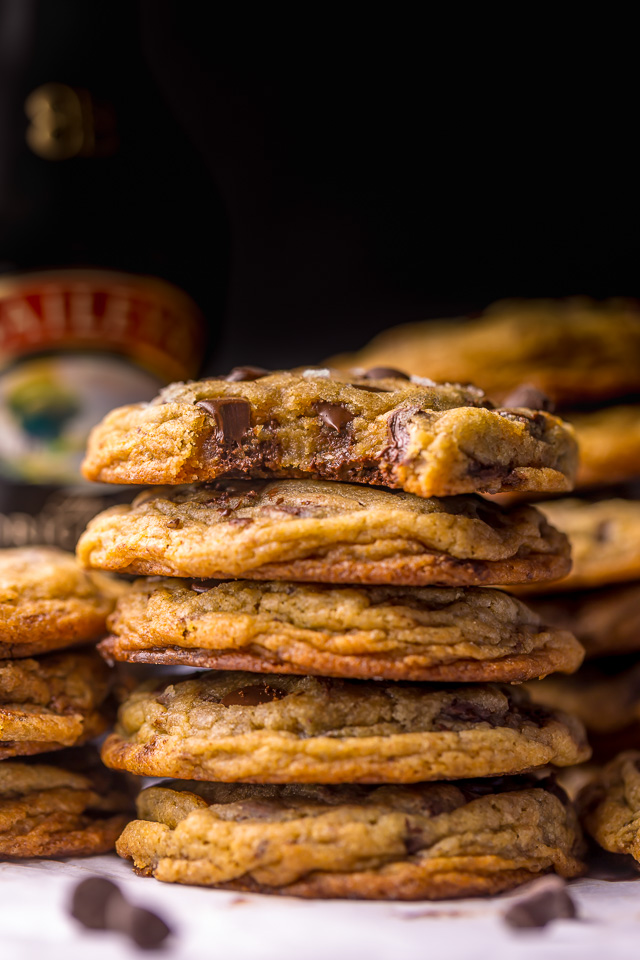 Pro Tip: If you'd like your baileys chocolate chip cookies to look like the ones you see in my photos, simply press a few chocolate chips on top of each cookie right after they come out of the oven. You can also sprinkle them with sea salt! I love Maldon sea salt because it's flaky and delish.
AND IF YOU TRY THIS RECIPE FOR EASY BAILEYS CHOCOLATE CHIP COOKIES, LET ME KNOW! LEAVE A COMMENT BELOW AND DON'T FORGET TO SNAP A PIC AND TAG IT #BAKERBYNATURE  ON INSTAGRAM! SEEING YOUR KITCHEN CREATIONS MAKES OUR DAY.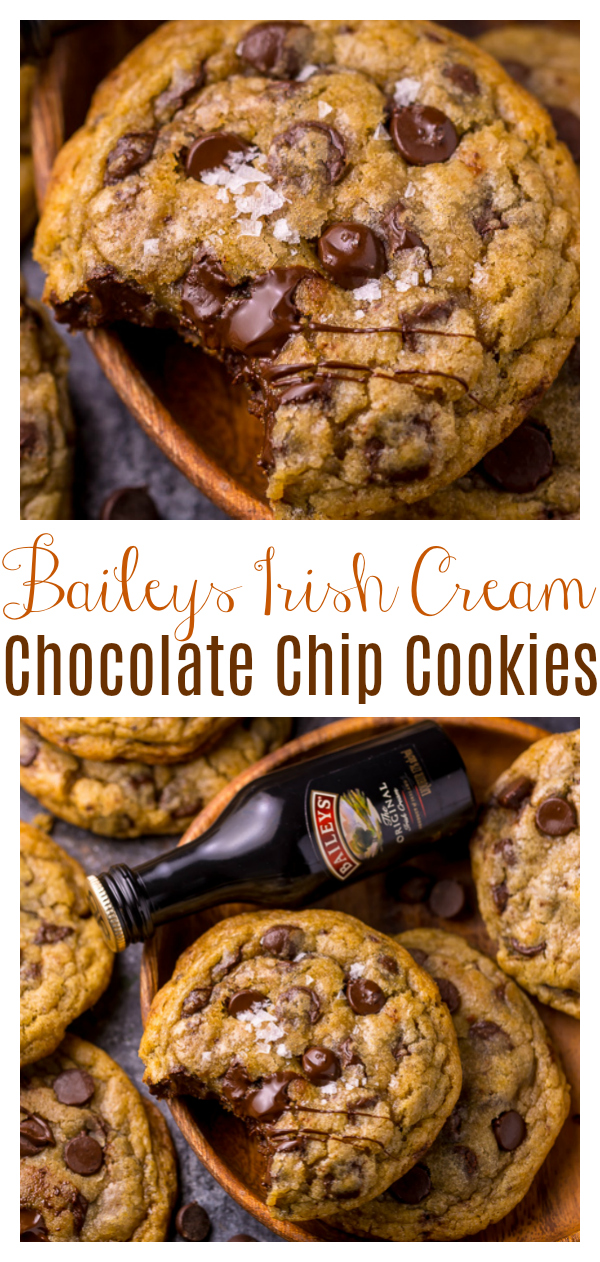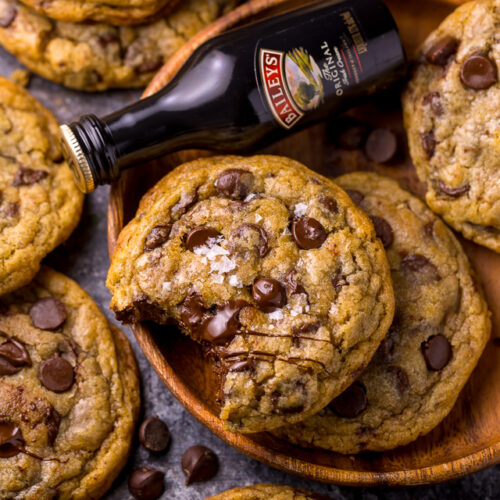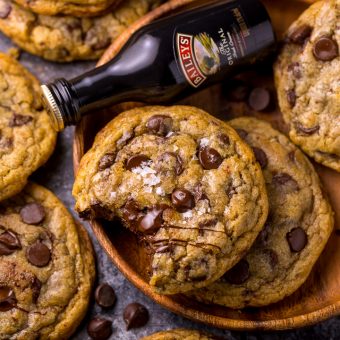 Baileys Irish Cream Chocolate Chip Cookies
Love Baileys Irish Cream? Love Chocolate Chip Cookies?! These Baileys Irish Cream Chocolate Chip Cookies are for you! They bake up thick, chewy, and super flavorful!
Ingredients
2 and 1/2 cups all-purpose flour (315 grams)
3/4 teaspoon salt
1 teaspoon baking soda
1/2 teaspoon ground cinnamon
1 and 1/2 teaspoons espresso powder
1 cup unsalted butter, at room temperature (227 grams)
1 cup dark brown sugar, packed (213 grams)
1/2 cup granulated sugar (99 grams)
1 and 1/2 teaspoons vanilla extract
3 Tablespoons Baileys Irish Cream Liqueur
2 large eggs, at room temperature
12 ounces semi-sweet chocolate chips (340 grams)
Instructions
In a large bowl combine flour, salt, baking soda, cinnamon, and espresso powder; whisk well to combine then set aside. 

In a separate large bowl, using a handheld electric mixer, or in the bowl of a stand mixer fitted with the paddle attachment, combine butter and both sugars and beat on medium-speed until light and fluffy, scraping the sides and bottom of the bowl as needed; about 2 minutes.

Add in the vanilla extract and baileys Irish cream, and beat until combined.

Beat in the eggs, one at a time, beating for 15 seconds after each addition. Turn mixer off. Using a wooden spoon or sturdy rubber spatula, gently fold in the flour mixture, stirring only until the flour begins to disappear. Fold in the chocolate chips.

Cover the bowl and chill the dough for at least 2 hours (and up to 3 days) before baking. Or bake right away for regular cookies (they'll be thinner but still delicious!!!). 
When you're ready to Bake:
Preheat oven to 375 degrees (F). Line two large baking sheets with parchment paper and set aside.

Roll 3 tablespoon sized scoops of dough between your palms to form a ball (they should be big; almost a 1/4 cup), then place on prepared sheets (make sure to leave enough room in between each cookie for inevitable spreading). Continue this process until all the dough has been rolled. 

Place baking sheets in preheated oven, one at a time, and bake for 10 to 12 minutes, or until golden at the edges but still soft in the middle. Repeat with all cookie dough. Let cookies cool for 15 minutes on the baking sheet before transferring to a wire rack to cool completely.