Say hello to the BEST Vegan Pumpkin Chocolate Chip Cookies ever! Thick, chewy, and loaded with real pumpkin flavor! The trick is to let them rest on the baking until cool… then they won't be cakey!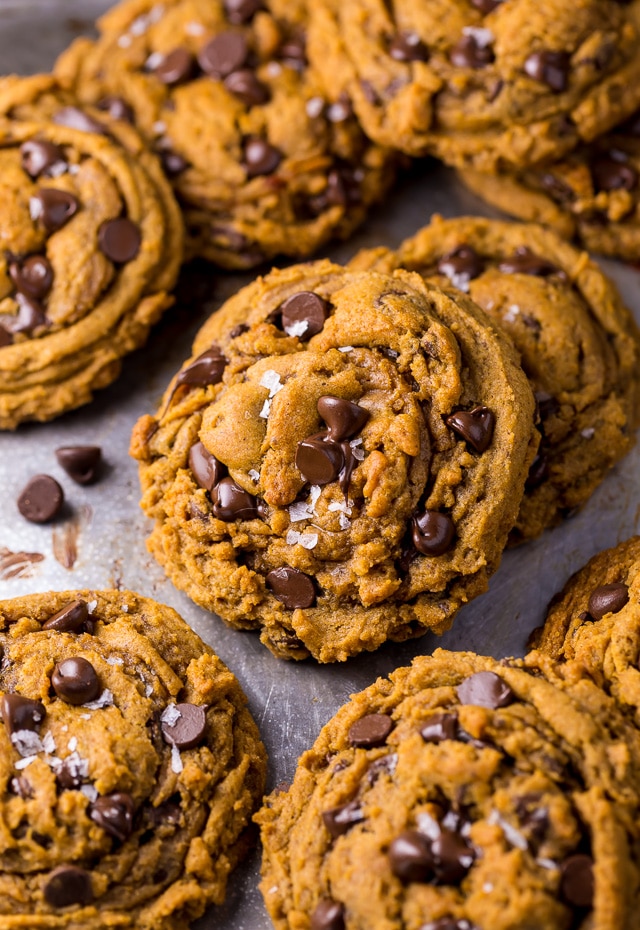 Vegan Pumpkin Cookies
Do you have a can of pumpkin in your kitchen right now? Please, tell me you do… because you'll need it to make these easy pumpkin chocolate chip cookies! And trust me, you're definitely going to want to make these beauties ASAP.
Because let's be real: can you think of any better way to spend a chilly Fall afternoon than baking and then devouring these pumpkin chocolate cookies? ↓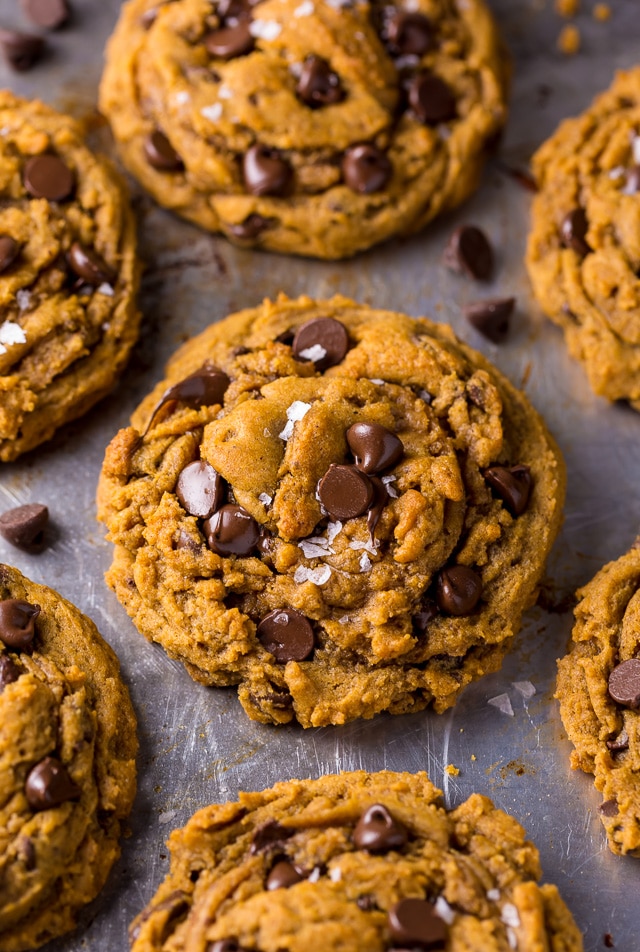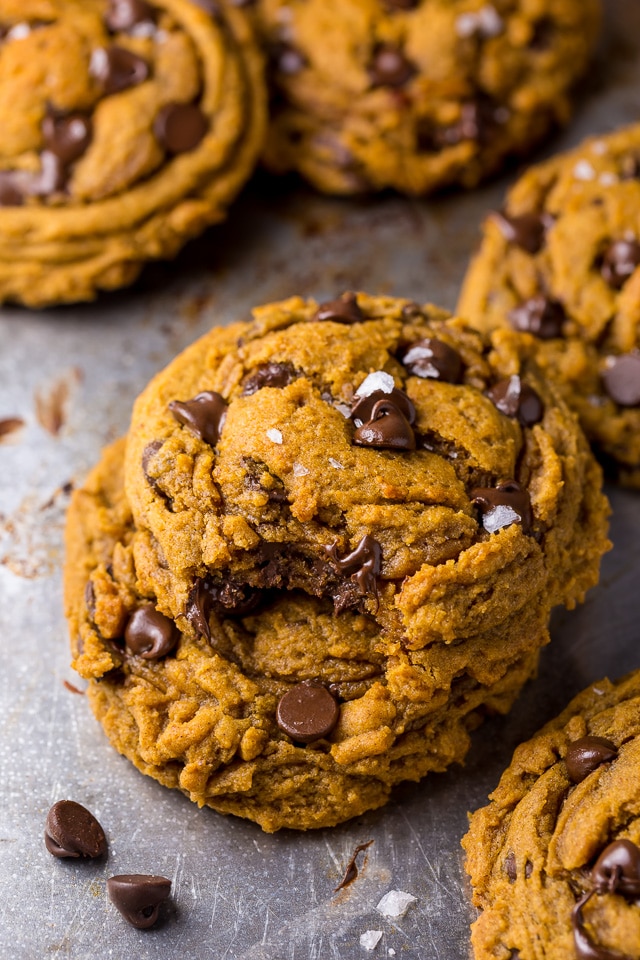 Pumpkin Chocolate Chip Cookies
First of all, let's talk about texture! These cookies are crunchy on the outside and chewy on the inside. They are NOT cakey pumpkin chocolate chip cookies. But they do come out of the oven VERY soft. So it's crucial to cool the cookies on the baking sheet for at least 30 minutes before serving. But if you can, I suggest letting them cool a full hour! The longer they sit, the firmer and chewier and they get. The silver lining is that these cookies taste even better with time!
So now that we've covered texture, let's move onto flavor. Because these vegan pumpkin chocolate chip cookies have a lot of it! In addition to real pumpkin puree (be sure not to grab pumpkin pie mix by accident!), these cookies are flavored with brown sugar, vanilla, molasses, and pumpkin spice. Yum ♥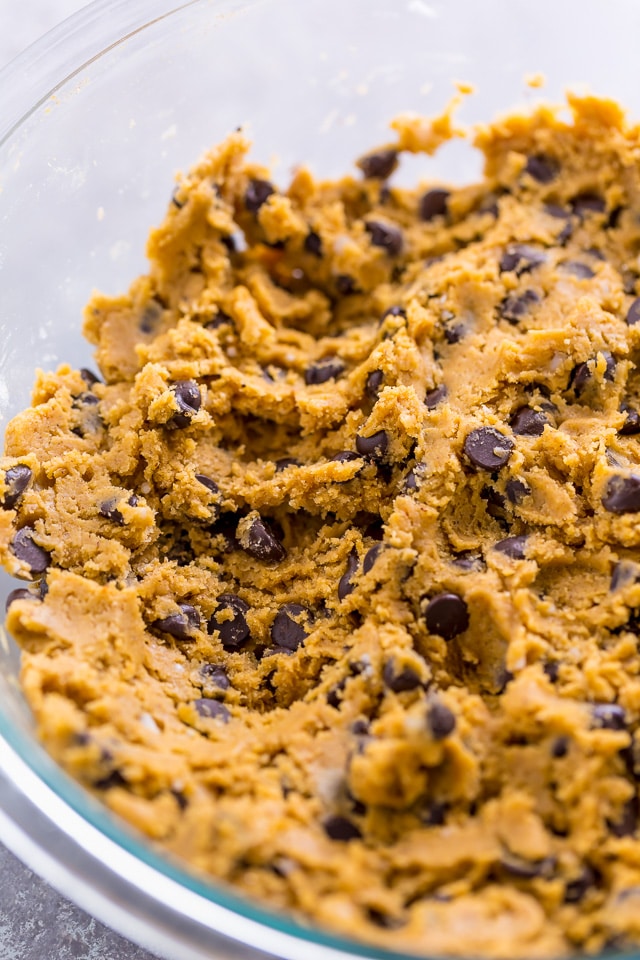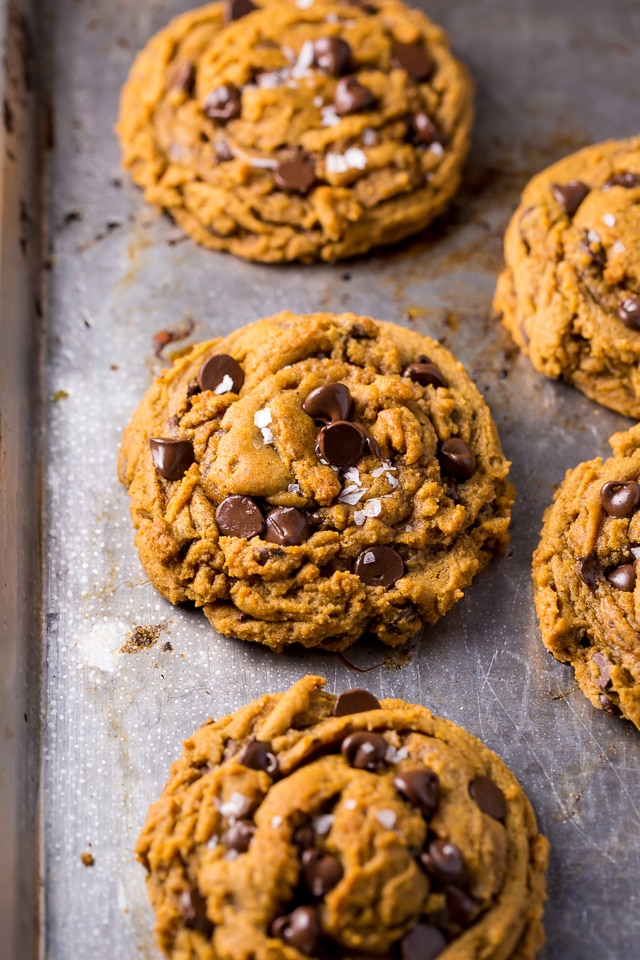 These pumpkin choc chip cookies don't spread out too much while they bake, so be sure to scoop the dough into mounds, then lightly press down the top of the mound before baking.
I make VERY large cookies with this recipe, and usually get about 1 dozen. However you can make smaller cookies, just be sure to decrease the bake time a minute or two.
For extra pretty – and extra chocolatey – cookies, press a few chocolate chips on top of them right when they come out of the oven. You can also add a sprinkle of flaky sea salt!
If you don't like coconut flavor, you should use refined coconut oil, which does not have a coconut taste or scent. If you don't have coconut milk, almond milk or soy milk will work fine!
Finally, be sure not to over bake your cookies! As I mentioned earlier, they will be very soft when you remove them from the oven, but they firm up a lot while they cool.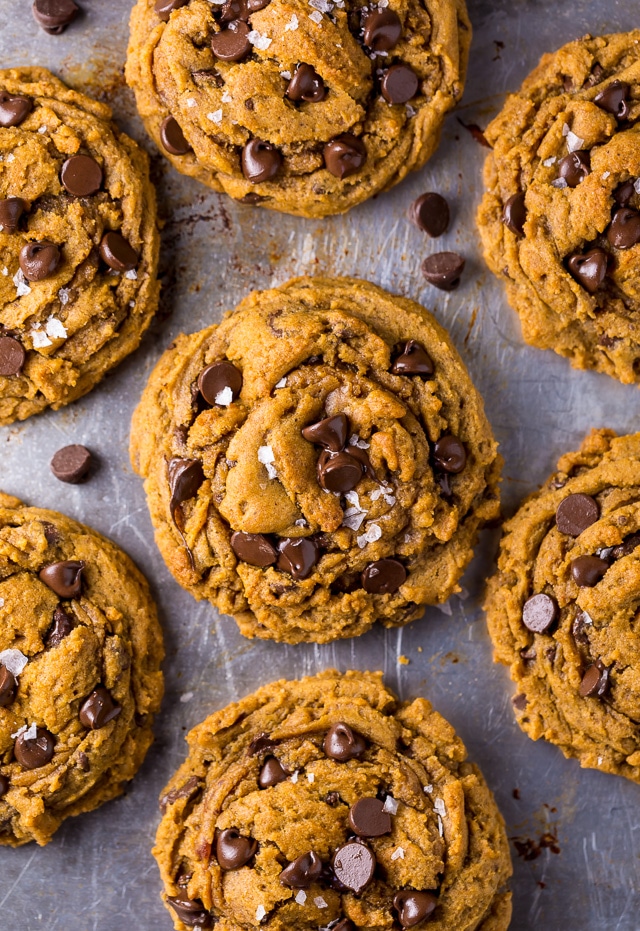 These are hands down the tastiest pumpkin chocolate chip cookies I've ever eaten! Not cakey, plenty of pumpkin flavor, and soooooo many chocolate chips… I mean, what's not to love? The fact that they're vegan is really just the icing on the cake 😉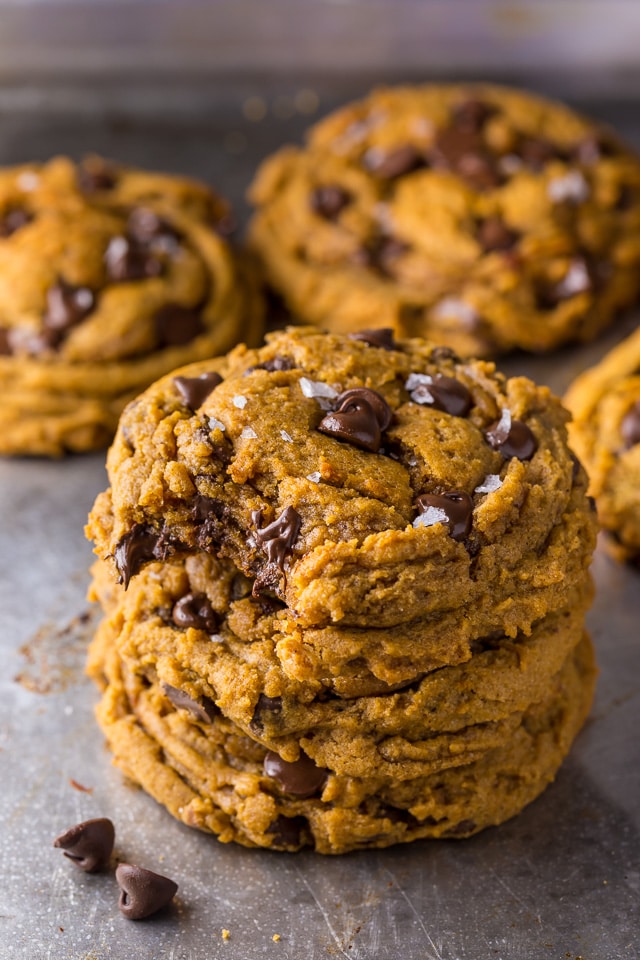 If you try this recipe for Vegan Pumpkin Chocolate Chip Cookies, let me know! Leave a comment below and don't forget to snap a pic and tag it #bakerbynature on instagram! Seeing your kitchen creations makes my day.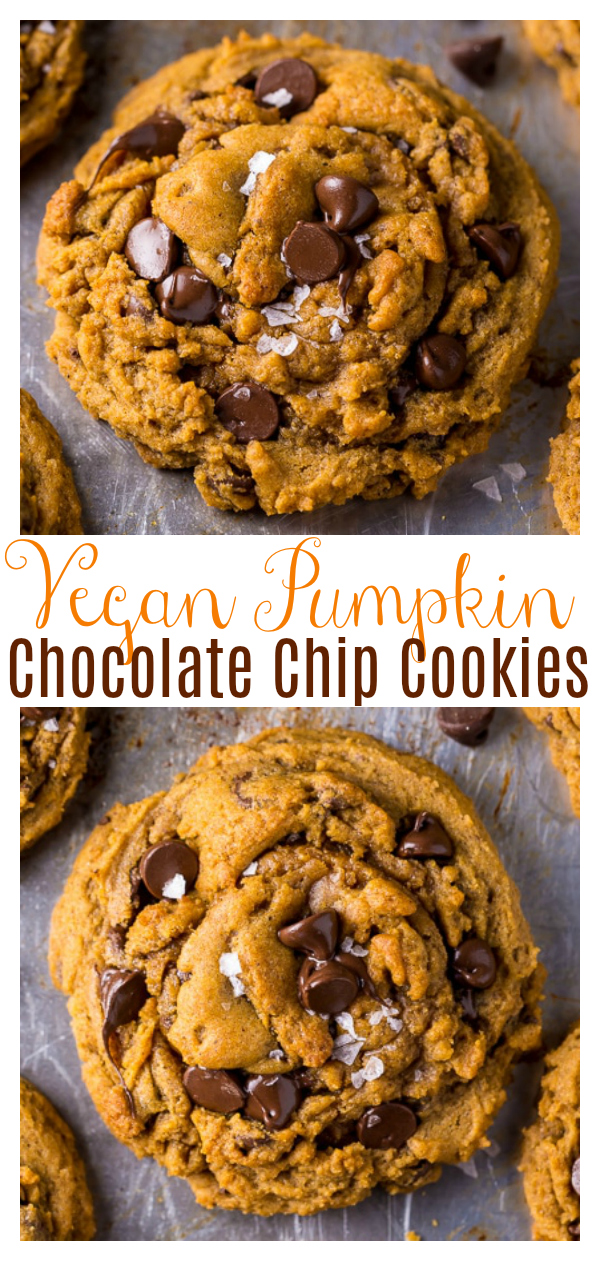 More Vegan Cookie Recipes: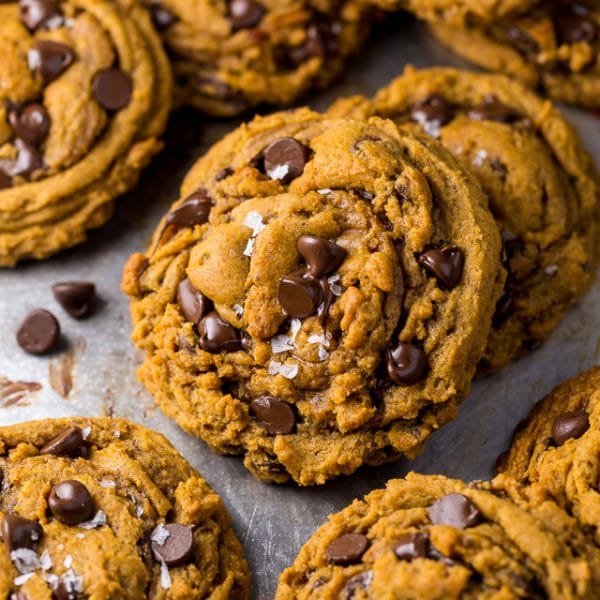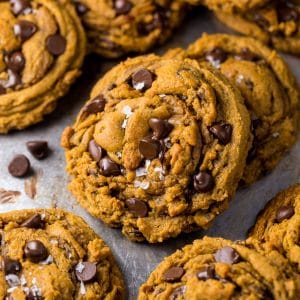 Vegan Pumpkin Chocolate Chip Cookies
Thick and chewy Vegan Pumpkin Chocolate Chip Cookies! Loaded with flavor!
Ingredients
1/2 cup coconut oil, solid (be sure it's not melted at all)
3/4 cups dark brown sugar, packed
1/2 cup granulated sugar
2 teaspoons vanilla extract
2 tablespoons unsulphured molasses
2 tablespoons unsweetened coconut milk (almond or soy milk will also work)
1/3 cup pumpkin puree (not pumpkin pie mix!)
2 and 1/4 cups all-purpose flour (be sure not to pack your flour)
1 teaspoon baking soda
1/2 teaspoon salt
2 teaspoons pumpkin pie spice
1 and 1/2 cups chocolate chips (use vegan chocolate chips if vegan), divided
Flaky sea salt, optional
Instructions
Preheat oven to 375 degrees (F). Line a large baking sheet with parchment paper; set aside.

In the bowl of a stand mixer fitted with the paddle attachment, or in a large bowl using a handheld electric mixer, beat the coconut oil, both sugars, and vanilla on medium-speed until smooth; about 2 minutes. Add in the molasses, coconut milk and pumpkin puree and beat on low speed until well combined. Turn mixer off.

In a separate bowl combine the flour, baking soda, salt, and pumpkin pie spice; whisk well to combine.

Add the dry ingredients into the wet mixture and, with the mixer on low speed, beat until ingredients are combined. The batter will be very thick! Fold in 1 and 1/4 cups of the chocolate chips.

Scoop three tablespoon sized mounds of dough onto the prepared cookie sheet, leaving a few inches between each cookie. Bake for 9 to 10 minutes, or until the edges are golden and the centers are soft but set. Press remaining chocolate chips on top of warm cookies, and sprinkle with sea salt, if using. Cool cookies on the baking sheet for 30 minutes before transferring them to a cooling rack.