Soft, fluffy, and stuffed with peanut butter and jelly – these bakery style doughnuts are a classic!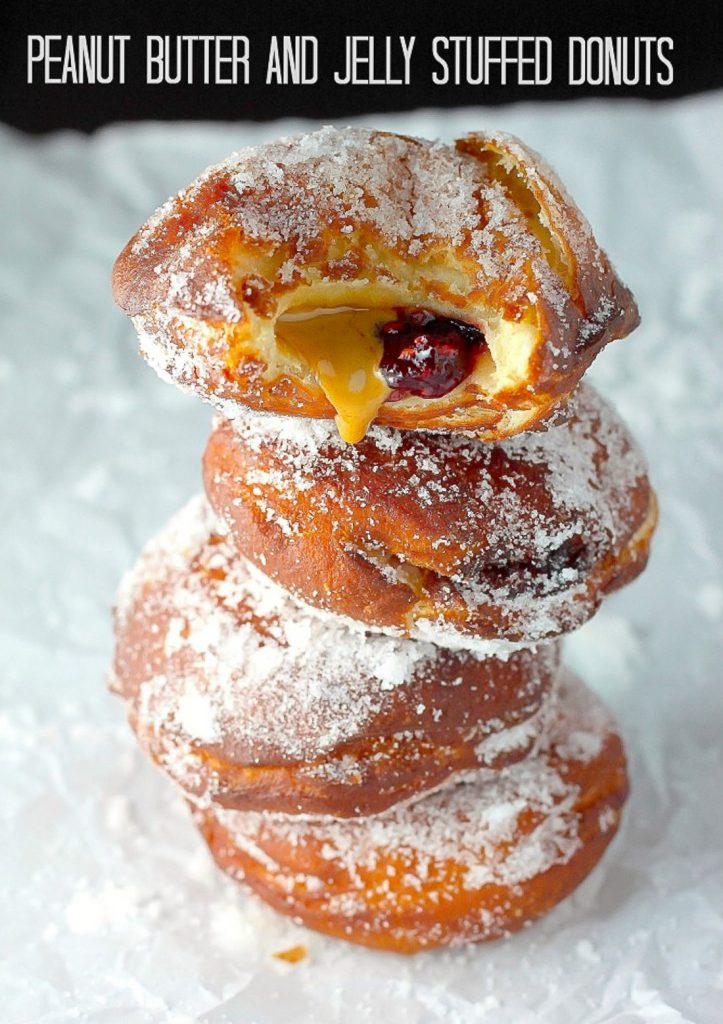 Question: Is there anything better than homemade bakery style peanut butter and jelly doughnuts?!
The answer: NOPE. They are the best. And that's that. These decadent treats are covered in sugar, oozing with a sweet, creamy peanut butter + jelly center, and totally CALLING YOUR NAME. Put this treat at the top of your "to-make" list, now!
Growing up my mother made these doughnuts once a year – on Christmas eve – as an appetizer. She always said, if you can't eat dessert first on Christmas eve… then when? God I love that woman.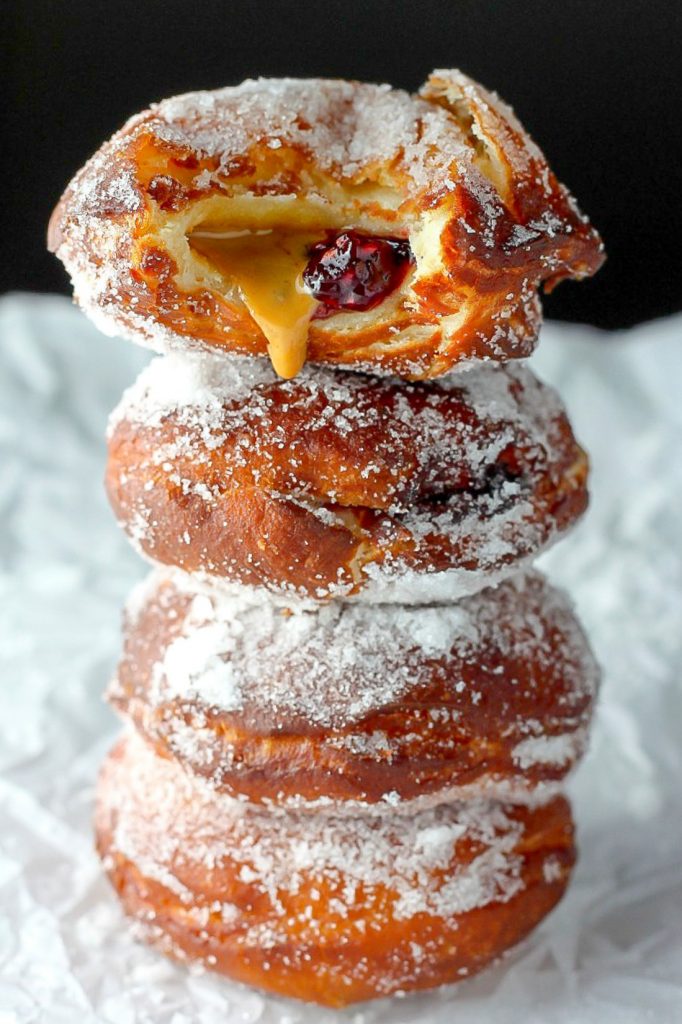 When we were very young – my brother and I – we would patiently sit at our little breakfast bar – popped up dangerously on both knees (for the best view) – watching her cut the dough, fill it with creamy peanut butter and sweet jam, and then, quite dramatically, drop it in the fiercely shimmering hot oil hissing away on the back burner. It was quite a show!
Each year as we grew, our part helping in the magical donut making process progressed. It took me until I was 14 to face the oil and fry my very own batch (sizzling oil has a much louder bark than bite… as long as you're careful), but since that day I've made them, just like mom, once a year.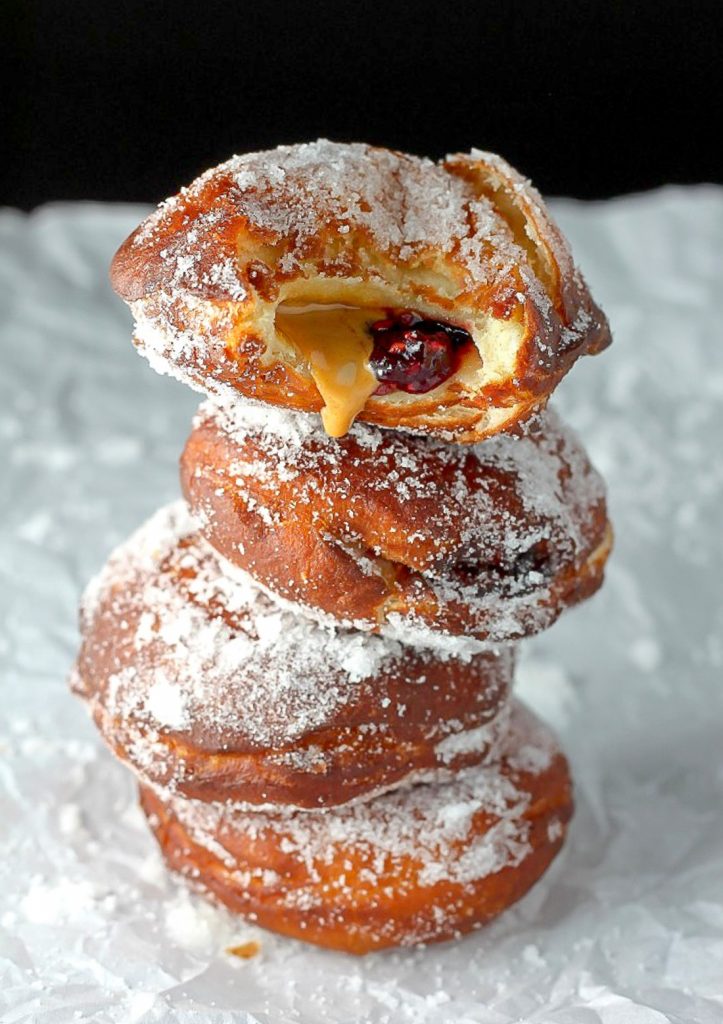 Ok… maybe more than once! More like 10 times a year. These doughnuts are far too enjoyable to make so infrequently 😉 They're also a blast to make. The dough is easy to assemble, and although it does require two rises, you can busy yourself around the house, watch a tv show, or even run errands while it rests. And the filling couldn't be easier! All you need is peanut butter and jelly. I used a jar of homemade raspberry jam we had hidden in the fridge as the jelly, and delightfully sweet Jif creamy peanut butter for the PB part. Easy peasy!
So… go get in the kitchen, friend! These doughnuts aren't going to fry themselves. And you know you want a bite…  😉 xoxo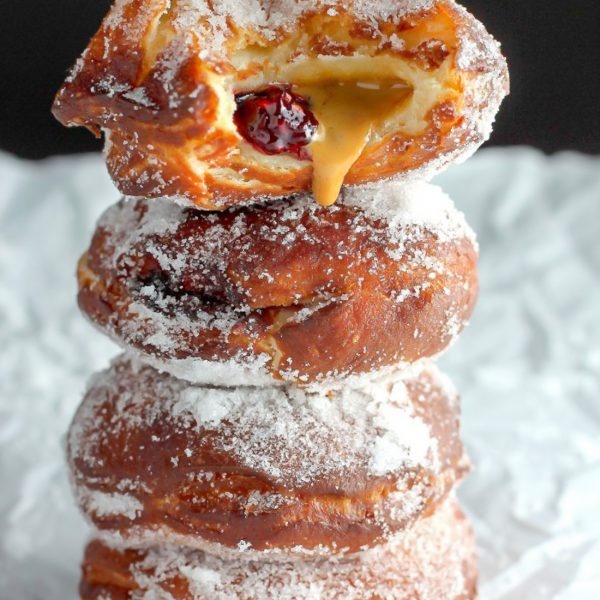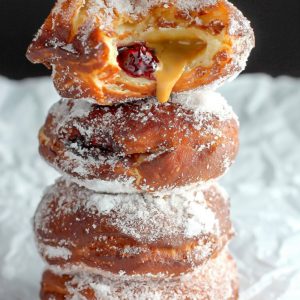 Bakery Style Peanut Butter and Jelly Doughnuts
Bakery Style Peanut Butter and Jelly Doughnuts
Ingredients
2 packages (1/4 ounce each) active dry yeast
1/4 cup warm water (110° to 115°)
3/4 cup warm full-fat milk (110° to 115°)
5 tablespoons unsalted butter, at room temperature
1/3 cup granulated sugar, plus more for rolling the doughnuts in
1 egg yolk + 1 egg, at room temperature
1 teaspoon salt
3 and 3/4 cups all-purpose flour
1/4 cup jelly
1/4 cup Jif Creamy Peanut Butter
1 egg white, lightly beaten
2 cups Crisco Vegetable Oil, for frying
Instructions
In a small bowl dissolve yeast in warm water, set aside and allow it to foam up; about 5 minutes.

In a large bowl combine warm milk and butter, whisk until butter has completely dissolved. Add in sugar, egg yolk and egg, salt, yeast mixture and 3 cups flour; beat until smooth. Stir in enough remaining flour to form a soft ball of dough (don't knead the dough just yet).

Place ball of dough in a lightly greased bowl, turning once to grease top. Cover tightly with saran wrap and let rise in a warm place for 1 hour.
When the hour has passed:
Punch the dough down and turn it onto a lightly floured surface; knead 8 times.

Divide the dough in half, creating two even sized balls of dough.

Roll each portion out to 1/4-in. thickness. Cut each side with a lightly floured 2-1/2-in. round cutter. Place 1/2 teaspoon of peanut butter and 1/2 teaspoon jelly in the center of half of the circles. Brush the edges lightly with egg white, then top with remaining circles. Press the edges together tightly to seal.

Place on greased baking sheet. Cover and let rise until doubled, about 45 minutes.

When ready to fry, heat oil to 360°. Fry doughnuts, a few at a time, for 1-2 minutes on each side or until golden brown. Drain on paper towels, then roll the warm doughnuts in extra sugar.