Peanut Butter S'mores Ice Cream Cake is the perfect no-bake summer dessert recipe! Featuring a crumbled graham cracker crust, peanut butter chocolate ice cream layer, and toasted marshmallows. It's a s'mores lovers dream come true.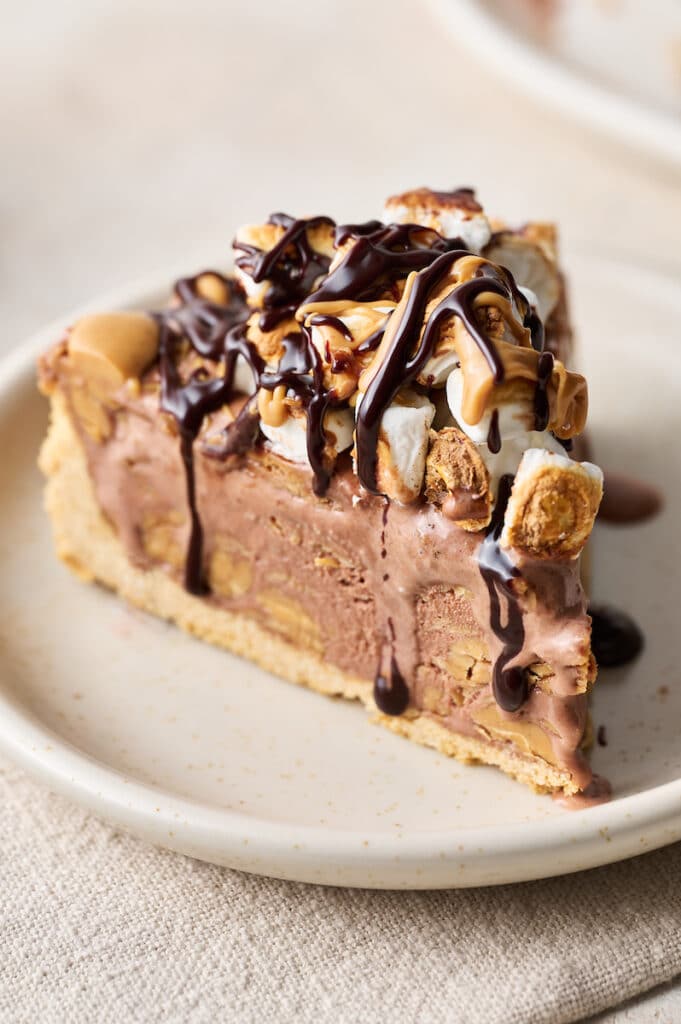 S'mores Ice Cream Cake Recipe
There are a million and one reasons to make ice cream cake this summer! But here are a few of the top reasons you should make this ice cream cake asap:
There's absolutely no-baking required! Making it the perfect "it's-too-to-bake" dessert recipe. You don't need to turn the oven on at all, and stovetop use is very limited.
It's a make-ahead friendly dessert. Meaning you can fully assemble this cake and freeze it for up to 2 months! The perfect dinner party dessert to have in the freezer.
Only 10 simple ingredients… and they're so basic you might already have them in your freezer and pantry. And if you don't, you can easily grab them all from the local grocery store. No fancy or hard to find ingredients here!
This ice cream cake recipe is absolutely delicious. Cold, creamy, and loaded with chocolate + peanut butter + s'mores flavors. It's truly the ultimate summertime dessert. And perfect for cookouts, picnics, special occasions, or a casual after-dinner dessert.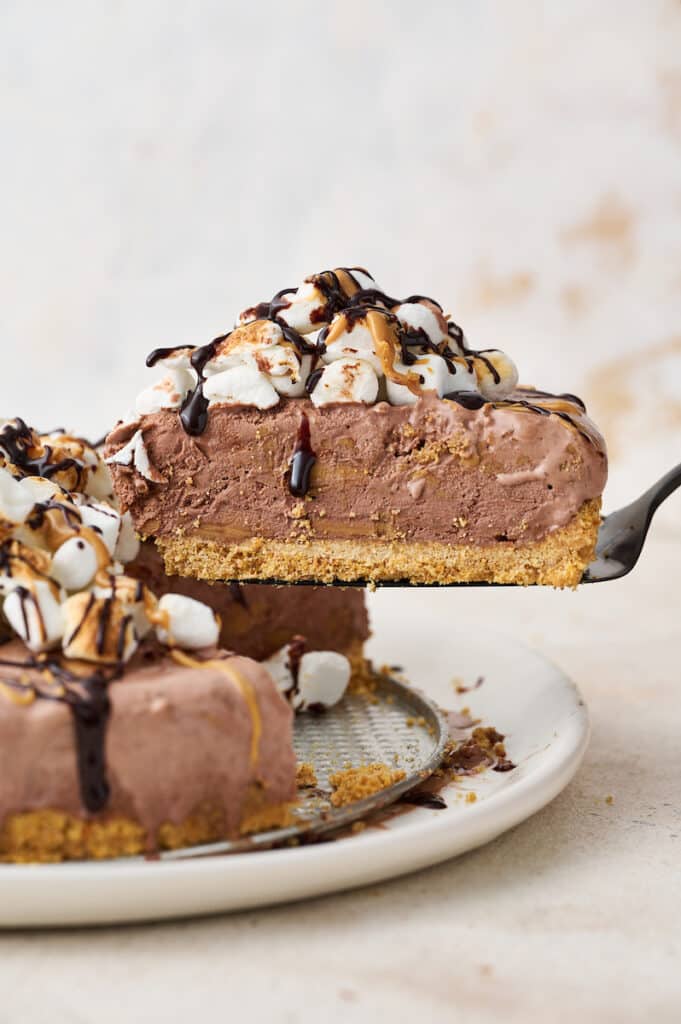 Ingredients to Make Ice Cream Cake
Graham Cracker Crumbs: For ease, I suggest buying the pre-crushed variety. But you can make your own by crushing whole sheets of graham crackers into fine crumbs.
Granulated sugar: I don't suggest using any other sugar variety, even brown sugar, for this recipe.
Salt: Just a pinch helps balance the flavors and sweetness in the graham cracker crust. Fine sea salt works best, but table salt will work in a pinch. I don't suggest using coarse salt.
Ground Cinnamon: We absolutely love the subtle spice and flavor cinnamon adds. But if you don't have it on hand, feel free to omit.
Unsalted Butter: The melted butter works as the binder for the graham cracker crust. If you only have salted butter on hand, use it and omit the salt called for.
Chocolate Ice Cream: For the best tasting results, I suggest using a high-quality chocolate ice cream. A few of our recommendations: Tillamook, Hagan Dazz, or Ben and Jerry's.
Creamy Peanut Butter: Do not use natural peanut butter! You should use a regular creamy peanut butter, such as JIF or Skippy. I also cannot recommend using almond butter or any other variety of nut butter.
Mini Marshmallows: You can use more or less, as you see fit here! And if you only have large marshmallows, feel free to cut them in half and use what you have on hand.
Chocolate Syrup: Don't have store-bought syrup? Make chocolate sauce by bringing 3/4 cup heavy whipping cream just to a boil. Then add in 1/2 cup of semi-sweet chocolate chips and a bit of vanilla extract. Stir smooth and let cool completely before drizzling on top of the cake.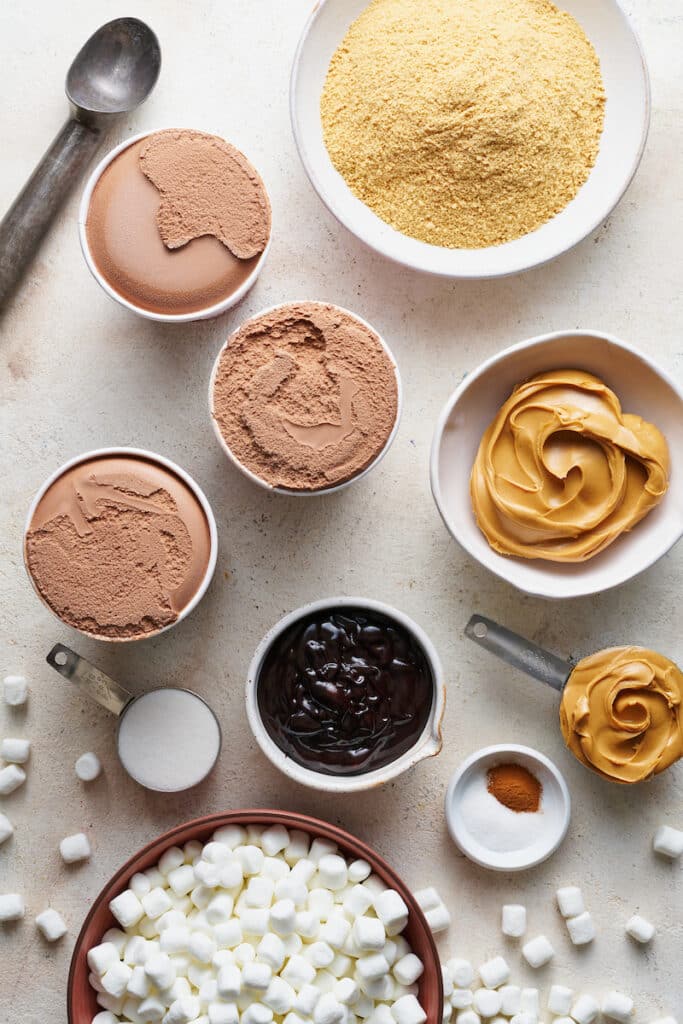 Special Equipment Needed for this Recipe
9″ Springform Pan: This makes it easy to remove the cake from the pan when you're ready to serve.
Kitchen Blowtorch: You'll need special tool to quickly toast the marshmallows! Be sure to use in a safe and ventilated area. And read the instructions before use.
Large and Medium Bowls (for Mixing): Have your mixing bowls ready to go before you begin assembling your ice cream cake.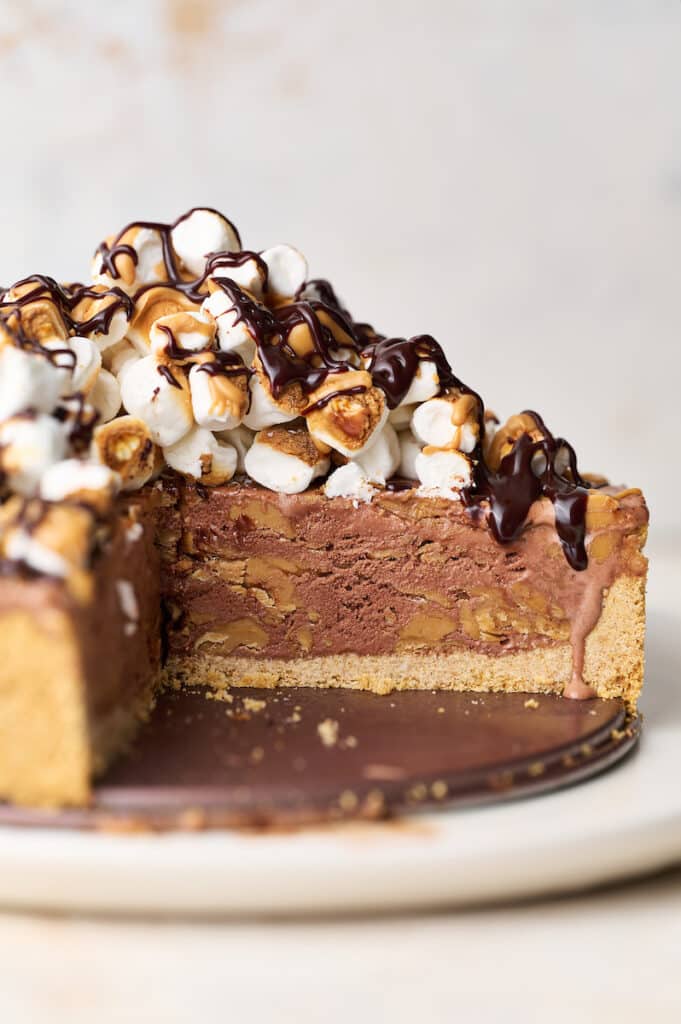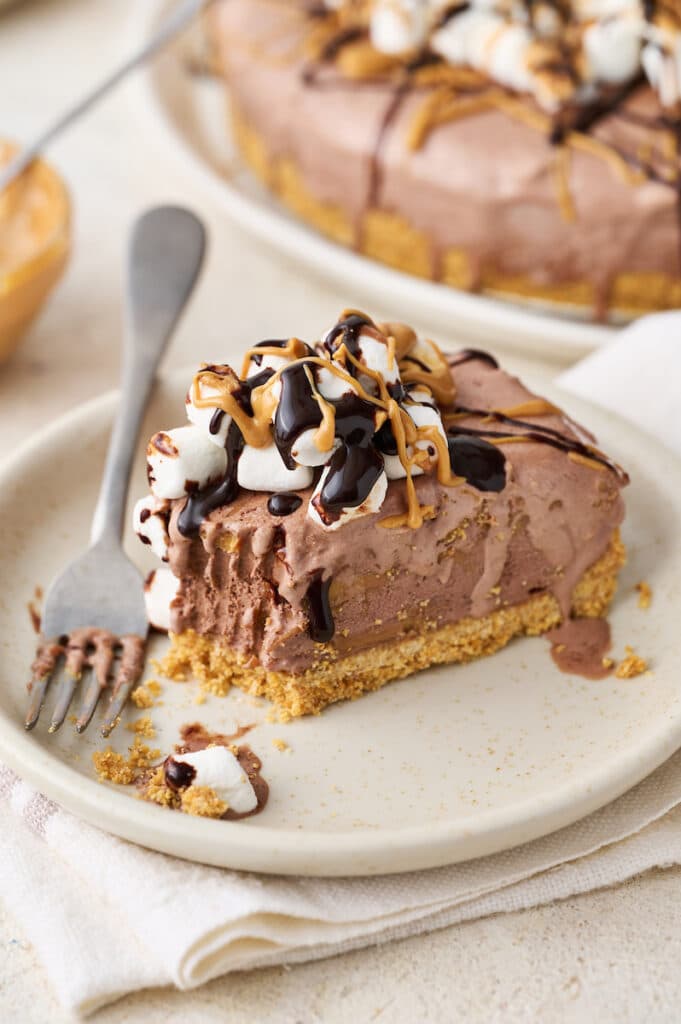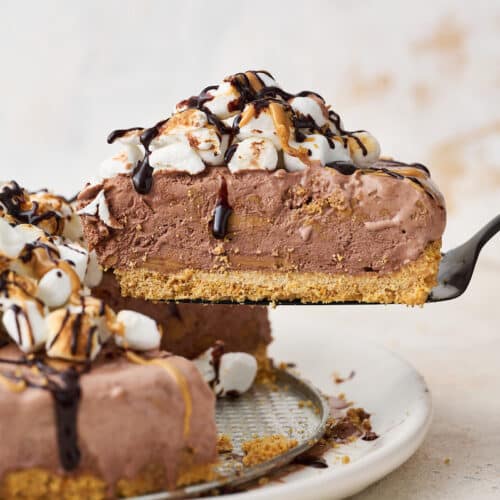 Peanut Butter S'mores Ice Cream Cake
Peanut Butter S'mores Ice Cream Cake features a crumbled graham cracker crust, peanut butter swirled chocolate ice cream, and toasted marshmallows on top. The perfect ice cream cake recipe to celebrate summer!
Ingredients
For the Graham Cracker Crust:
2 cups graham cracker crumbs finely crushed
1/4 cup (50g) granulated sugar
1/2 teaspoon salt
1/4 teaspoon ground cinnamon
1/2 cup (113g) unsalted butter melted
For the Peanut Butter Ice Cream Cake:
3 pints quality chocolate ice cream softened
1 and 1/2 cups creamy peanut butter (I don't suggest using all-natural peanut butter)
For the Topping:
1 and 1/2 cups mini marshmallows
1/4 cup creamy peanut butter
1/4 cup store-bought chocolate syrup
Instructions
For the Graham Cracker Crust:
Lightly grease a deep-dish 9-inch springform pan with nonstick baking spray and set aside until needed. 

In a large bowl combine the graham cracker crumbs, sugar, salt, and cinnamon. Pour in the melted butter and, using a rubber spatula, stir until well combined. 

Press the mixture into the prepared pan, and press the crumbs firmly down the bottom and then slightly up the sides of the pan. Place in the freezer until needed. 
For the Peanut Butter Ice Cream Cake:
In a large bowl, combine the softened ice cream with the peanut butter, gently mixing until just combined. Stop mixing when you can still see large streaks of peanut butter throughout the ice cream.

Spoon the softened ice cream mixture on top of the prepared crust and spread evenly over the crust. Place the pan in the freezer and freeze until very firm, at least 4 hours, but preferably 6 to 8 hours.
For the Topping:
When you're ready to serve, remove the ice cream cake from the freezer. Pile the mini marshmallows in the center of the ice cream cake and toast them with a kitchen torch. 

Place the peanut butter in a small microwave-safe bowl. Heat the peanut butter in the microwave for 30 seconds, until smooth and easily pourable. Drizzle the peanut butter sauce and chocolate syrup in thin lines across the top of the ice cream cake. Slice and serve at once!