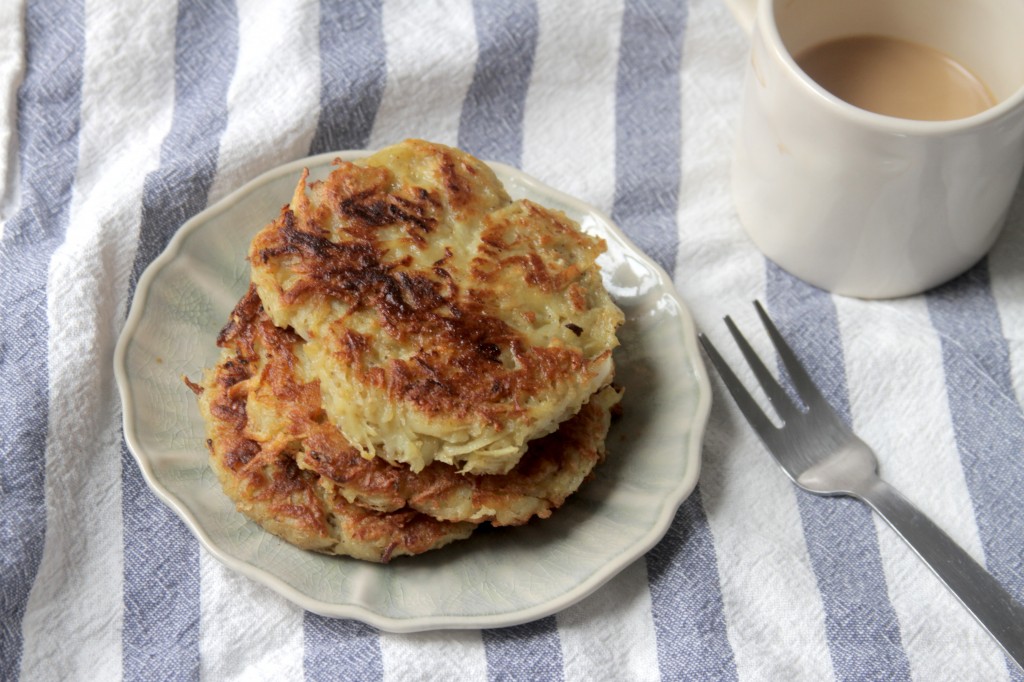 Yesterday was an extra special morning of fun: I totally made latkes for breakfast. No biggie.
I made them large and loaded with potatoes and onion, topped em' with an egg, and served them with a smile and some love to the person I love.
It's amazing how a solid night of sleep and a plump belly of potatoes flip you as chipper as a chipmunk – noted, life.
We ate these pretty little potato pancakes in front of the T.V. with not a care in the world besides reaching for another – not too shabby for a rainy morning. And if you add a mimosa to the mix… these potato pancakes might just be the best cure for a hangover. Not that I know anything about that.
Once we had our fill of latkes, eggs, and salmon, we moved on to more serious subjects: chocolate! I really wanted to spend yesterday out of the kitchen and in the moment, so dessert was a quick fix: Espresso Dark Chocolate Covered Matzo.
Isn't it gorgeous? I think so.
In under 5 minutes I was out of the kitchen – chocolate and espresso slathered matzo in hand – feeling like a domestic trickster and ready to jump back into my lazy Sunday. What more could I ask for?!
Big Breakfast Latkes – Yields 4 large latkes
*Latke recipe adapted from The Smitten Kitchen Cookbook
1 pound baking potatoes, peeled
1 small onion, peeled
1/4 cup all purpose flour
1 teaspoon baking powder
1 teaspoon salt
1/2 teaspoon freshly ground black pepper
1 large egg, lightly beaten
olive oil, for frying
4 fried eggs (optional)
Using a food processor or a box grater, coarsely shred the potato and onion. Transfer to a colander or wrap in a cheesecloth sling, and squeeze as dry as possible. Let stand for 2 minutes, then squeeze dry again.
In a large bowl, whisk the flour, egg, baking powder, salt and pepper together. Stir in the potato onion mixture until all pieces are evenly coated.
In a medium skillet, heat 2 tablespoons of olive oil until simmering. Drop 1/4 of the potato mixture into the skillet and flatten them with the back of a spoon. Cook the latkes over moderately high heat until the edges are golden, about 4 to 5 minutes; flip and cook until golden on the bottom, about 3 more minutes. Drain on paper towels. Repeat with the remaining potato mixture, adding more oil to the skillet as needed. Top each latke with an egg and enjoy!
Espresso Dark Chocolate Covered Matzo 
4 pieces of Matzo
1 cup dark chocolate chips
1/2 teaspoon espresso powder
flaky sea salt to top
Melt chocolate chips in microwave, stirring every 15 seconds to make sure you don't burn it. Once it's melted and completely smooth, mix in the espresso powder. Working quickly, use a spatula to spread 1/4 of the chocolate mixture onto a piece of matzo. Repeat for the other 3 pieces of matzo, then sprinkle each piece with sea salt. Cool at room temperature, or speed it up like I did and stick a piece in the freezer for 2 minutes.