I've always made a concentrated effort to avoid all those famous little cliche expressions.
Like "when it rains, it pours"… what?! Ridiculous.
Or "it is what it is". What is what?
Alas, it seems these little phrases have slyly maneuvered their way into my daily mantra.
Oh life, how you do have a mind of your own.
Truthfully, I've been feeling a bit out of sorts. Life is silly, and scary, and surprising.
I'm trying to keep my cool, chill on the coffee and wine, and de-stress one carb loading, mentally frazzled day at a time.
In times like this, a tray of warm muffins can do wonders.
In between moving apartments, letting go of an old job and chasing grandiose dreams, forcing my heart to be silent and open and accept the slice of happiness it's being filled with right now – i've been getting down with a lot of flour and sugar.
It's a lot to take in.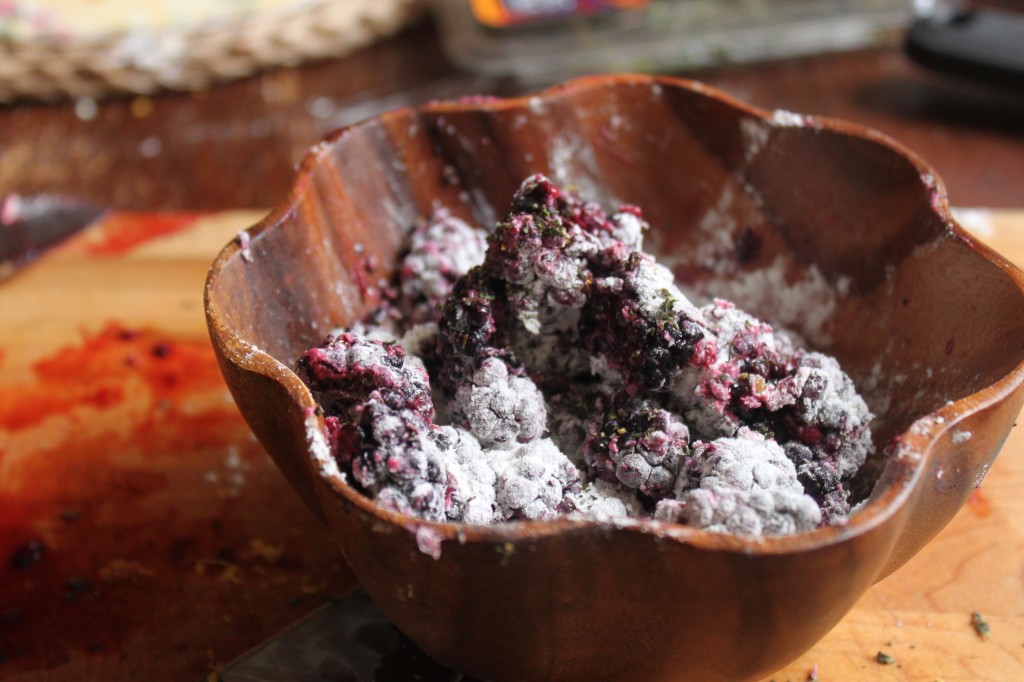 And while I should be packing – er, buying boxes to pack – or ya know, finding a new apartment to move into in 3 weeks, I baked muffins and felt inclined to strongly suggest you do the same.
These muffins have an abundance of sparkling fresh flavor packed into their moist interior: Lemon, blackberry, and thyme are a power trio.
I intend on incorporating the three of these superstar ingredients into a refreshing cocktail very very soon!
I think these would look great on your breakfast table tomorrow: go forth and bake muffins!

Blackberry, Lemon, and Thyme Muffins –
Bon Appétit | March 2012
Cake Monkey for Intelligentsia Coffee, Los Angeles, CA
Crumble:
1 cup cake flour
1/4 cup sugar
1 teaspoon chopped fresh thyme
1/2 teaspoon baking powder
1/2 teaspoon kosher salt
6 tablespoons (3/4 stick) chilled unsalted butter, cut into 1/4″ cubes
1 large egg yolk
Muffins:
1 cup plus 2 tablespoons all-purpose flour
1 cup cake flour
1 teaspoon baking powder
3/4 teaspoon baking soda
1 teaspoon kosher salt
1/2 cup (1 stick) unsalted butter, room temperature
1 cup sugar
2 large eggs
1 teaspoon vanilla extract
1 cup butter milk
2 tablespoons finely grated lemon zest
1 1/2 cups fresh (or frozen, thawed, drained) blackberries (about 6 ounces), halved lengthwise
1 teaspoon chopped fresh thyme
1 teaspoon chopped fresh thyme
For crumble:
Whisk first 5 ingredients in a medium bowl. Add butter. Using your fingertips, rub in butter until pea-size lumps form. Add egg yolk; stir to evenly distribute and form moist clumps. (Crumble should resemble a mixture of pebbles and sand.) Chill for at least 1 hour. DO AHEAD: Can be made 3 days ahead. Cover and keep chilled.
For muffins:
Preheat oven to 325°F. If making standard-size muffins, line 16 1/3-cup molds with paper liners. Whisk 1 cup all-purpose flour and next 4 ingredients in a medium bowl. Using an electric mixer, beat butter until pale and creamy, about 2 minutes. Add sugar and continue to beat until well incorporated, 2-3 minutes longer. Whisk eggs and vanilla in a small bowl to blend; gradually beat into butter mixture. Continue beating until light and fluffy, 3-4 minutes. Combine buttermilk and lemon zest in a small bowl; gradually beat into butter mixture. Add dry ingredients; beat just to blend (do not overmix).
Toss blackberries and thyme with 2 tablespoons flour in another small bowl; fold into batter, gently crushing berries slightly to release some juices. Spoon about 2/3 cup batter into large paper muffin molds, or divide between prepared muffin pans. Top each large muffin with 2 tablespoons crumble or each small muffin with 1 rounded tablespoon crumble.
Bake until tops are golden brown and a tester comes out clean when inserted into center, about 50 minutes for large muffins and 40 minutes for standard-size muffins. Let cool in pan at least 20 minutes, then transfer muffins to a wire rack to cool. Serve warm or at room temperature. DO AHEAD: Can be made 1 day ahead. Store cooled muffins airtight at room temperature.