Bite-sized egg salad sliders loaded with crispy bacon, fresh arugula, and juicy tomatoes! These are perfect for picnics, parties, or even the lunch box.
Although I always enjoy the act of eating egg salad, I find that I really only make it once a year. That time of year is now, my friends. Because once you've dyed the Easter eggs… there are only so many you can straight up peel-and-eat. My limit is 5… with lots on sea salt and lemon pepper.
The other dozen? They get mashed into egg salad and tossed onto sliders. With bacon, lettuce, and tomato because um, hello delicious!
Side note: egg salad proved to be the hardest (read: ugliest) food model I've ever worked with in mah life. I promise in reality these little guys are actually quite cute… and mega tasty!
The egg salad is made up of a few simple ingredients: eggs (one dozen)Greek yogurt, Mayo (or vegenaise if you're like me and detest the taste of real mayo), Dijon mustard, salt, pepper, celery, and a pinch of chopped dill. The assembly is, as I'm sure you already know, so so simple. As in toss everything in a bowl and smash simple. Gotta love that!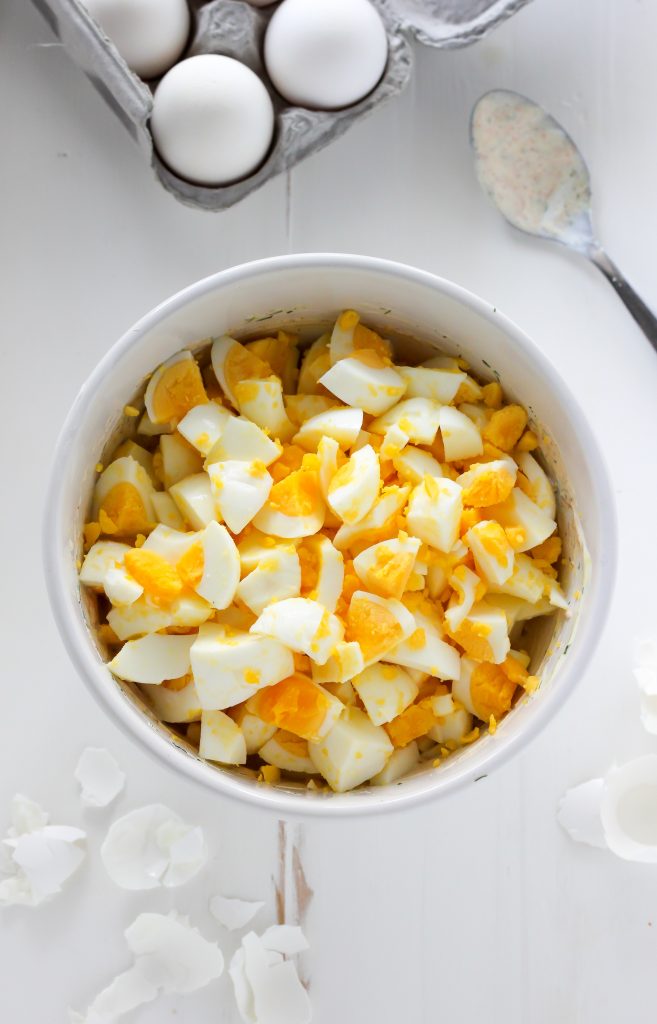 For the BLT aspect of these sliders, you'll need bacon, some sort of lettuce, and fresh (hopefully juicy) tomatoes. I chose to use arugula as my lettuce because I love its peppery kick, but you could use romaine, red leaf, or even baby spinach leaves. I also used baby tomatoes thinly sliced because despite technically being in the season of Spring, I could not find one acceptable looking tomato at our local grocery. For the bacon feel free to use your favorite kind (for us this means thick cut and pepper crusted) and fry it nice and crispy! Crispy bacon is a BLT m-u-s-t.
I hope you'll give these seriously simple sliders a try next time you're craving egg salad!  xoxo
BLT Egg Salad Sliders
Make egg salad more fun by serving it in slider form! Topped with crispy bacon, lettuce, and tomatoes - these are sure to fly off the table.
Ingredients
12 large eggs
6 tablespoons plain Greek yogurt
6 tablespoons light mayonnaise, regular mayonnaise, or vegenaise
1 tablespoon Dijon mustard
1 teaspoon salt
3/4 teaspoon ground black pepper
1/2 cup celery, diced
1 teaspoon fresh dill, chopped
12 slider buns
12 strips bacon, fried
12 slices tomato
2 large handfuls of lettuce or greens
red onion, thinly sliced (optional)
Instructions
Place eggs in a large saucepan; fill with cold water until they're completely covered. Bring to a rolling boil over medium-high heat. Cover the pan with a lid or large plate; remove from heat; and let stand for 20 minutes. Drain hot water from the pan, then run the cooked eggs under cold water until thoroughly chilled. Refrigerate for at least 1 hour before peeling.
When you're ready to make your egg salad:
Place peeled eggs in a bowl and using a fork or potato masher, smash the eggs until finely chopped.

Stir in the yogurt, mayonnaise, Dijon mustard, salt and pepper; stir smooth. Fold in celery and dill and stir to combined. Place in the fridge until needed.
To assemble:
Top one side of each bun with a generous scoop of egg salad, a slice of bacon, tomato, a few arugula leaves, and a slice of onion (if using); add top bun and gently press down; repeat with all buns.