Giant thick and chewy white chocolate toffee brown butter cookies are sure to make you swoon! They only take a few minutes to assemble, and don't have to be refrigerated before baking. Just grab your glass of milk and you're ready to go 😉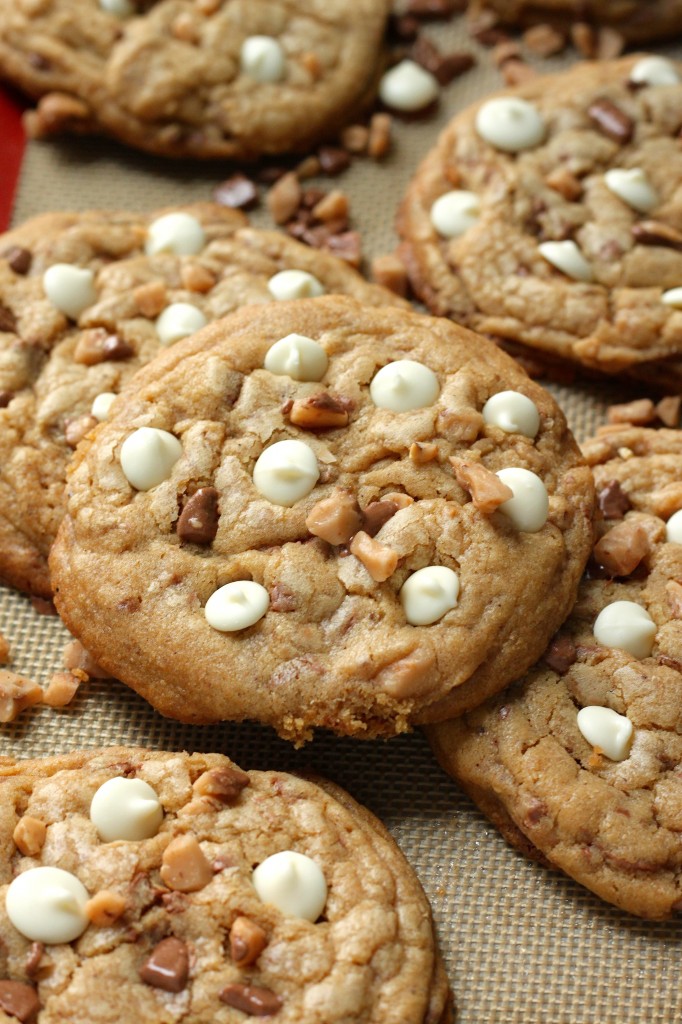 Yesterday was laundry day here at Baker by Nature headquarters. Laundry day in NYC means lugging pounds and pounds and pounds of dirty laundry 3 blocks and one avenue to the closest, cleanest laundromat, and pretty much giving up the entire day to washing, drying, and folding. Laundry day is the pits. You know what that means, right? Yup. Cookies! All day chores = all day cookie snacks. It's the right way. It's the only way.
So, I made us cookies. GIANT cookies. Stuffed with all kinds of good stuff!!! Specifically milk chocolate toffee AND white chocolate chips. I also browned the butter. Be still my heart.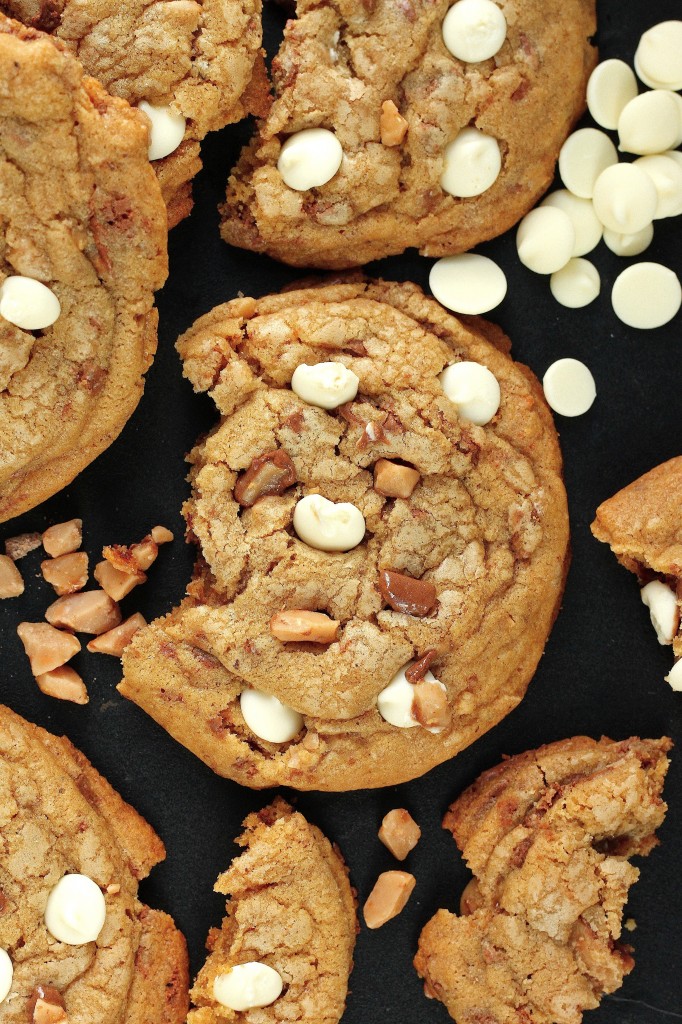 I have a big, fat soft soft when it comes to brown butter. If I didn't practice self-control, I would most certainly add it to everything I make. And let's be honest… most of the time I do. It's just so good! And such an easy way to add a fancy flavorful twist on any recipe. Have you tried browning your butter? Do you love it, too?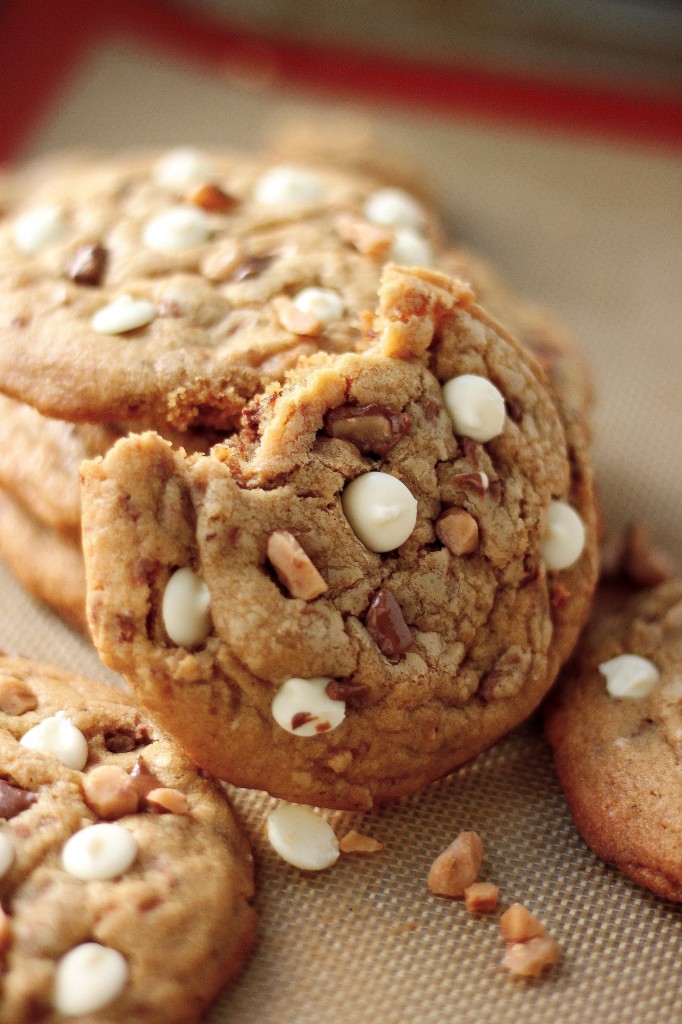 The dough for these cookies comes together quickly and easily! You don't need a stand mixer to make the dough, but you certainly can use one. You also don't have to chill the dough. I have baked these straight from the bowl hundreds of times and they always come out wonderfully. That said, if you chill the dough – even for just 30 minutes – your cookies will bake up a little thicker. Both ways are cookie wins!
This recipe makes exactly 8 large, round, thick cookies, but you can totally double it if you're looking for a larger batch. For me 16 cookies would be nothing but trouble. I can't trust myself…
I highly recommend a big old glass of milk – or almond milk, if you're like me – to chase the rich, sweet bite these cookies bring to the table. If they make it to the table…
Hot off the pan anyone? xoxo
White Chocolate Toffee Brown Butter Cookies
Ingredients
Yields 8 large cookies; can be doubled.
1 1/4 cups all-purpose flour
1 1/2 teaspoons baking powder
1/4 teaspoon sea sat
1 stick unsalted butter, melted until browned
1 teaspoon vanilla extract
3/4 cup brown sugar
1 large egg, at room temperature
3/4 cup white chocolate chips
3/4 cup chocolate toffee bits
Instructions
Preheat oven to 350 degrees (F).

Line a large cookie sheet with parchment; set aside.

Sift together flour, baking powder, and salt; Set aside.

In a small saucepan over medium-low heat melt butter, whisking constantly, until it reaches a golden brown color; remove from heat at once.

Transfer melted butter to a large mixing bowl or stand mixer. Add sugar and vanilla; beat until light and fluffy, about 3 minutes.

Add egg and mix for 30 seconds; the egg will not be totally incorporated.

Add the dry ingredients in thirds, mixing just until combined.

Stir in the white chocolate chips and toffee bits.

Using a large ice cream scoop or a 2 tablespoon measuring spoon form cookies with the dough and place them on the prepared baking sheet.

Place pan in the oven to bake for 14-15 minutes, rotating the pan for even color and baking.

Allow the cookies to cool on the baking sheet for at least 5 minutes before transferring to a wire rack to cool completely.

Serve with milk!

Cookies stay good for up to 3 days stored in an airtight container... but I doubt they'll last that long 😉