These delightfully soft and chewy oatmeal scotchies are exploding with oats and butterscotch chips! A touch of orange zest and a drizzle of molasses take this from a good recipe to a great recipe! No chilling required, so preheat your oven to 350 degrees and jump to the recipe!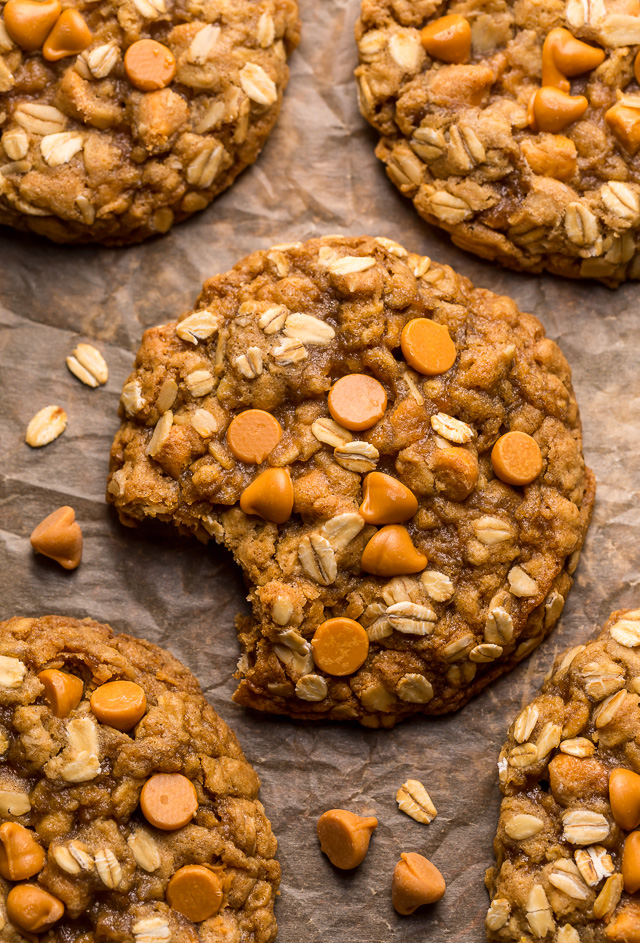 Oatmeal Butterscotch Cookies
We're getting our Christmas tree tomorrow morning! Actually, I should say we're chopping down our Christmas tree tomorrow morning. We found an adorable little Christmas tree farm not far from our apartment, and they provide you with gloves, an axe, and even hot cocoa and free candy canes!
I have so many fond memories of visiting Christmas tree farms as child, so I'm very excited to continue this tradition as an adult. Question: Are you getting a tree this year? 
Oatmeal Scotchies
In preparation for our big day at the Christmas tree farm, I baked our favorite butterscotch oatmeal cookies! AKA oatmeal scotchies! I chose this recipe because it's always a crowd pleaser! And because it makes a TON of cookies! So there's plenty to share with the owners of the farm and anyone else who wants one!
Because the only thing better than cocoa… is cocoa AND cookies. Am I right?
Plus, there's no such thing as too many cookies. Especially in the month of December! It's holiday law… or something like that.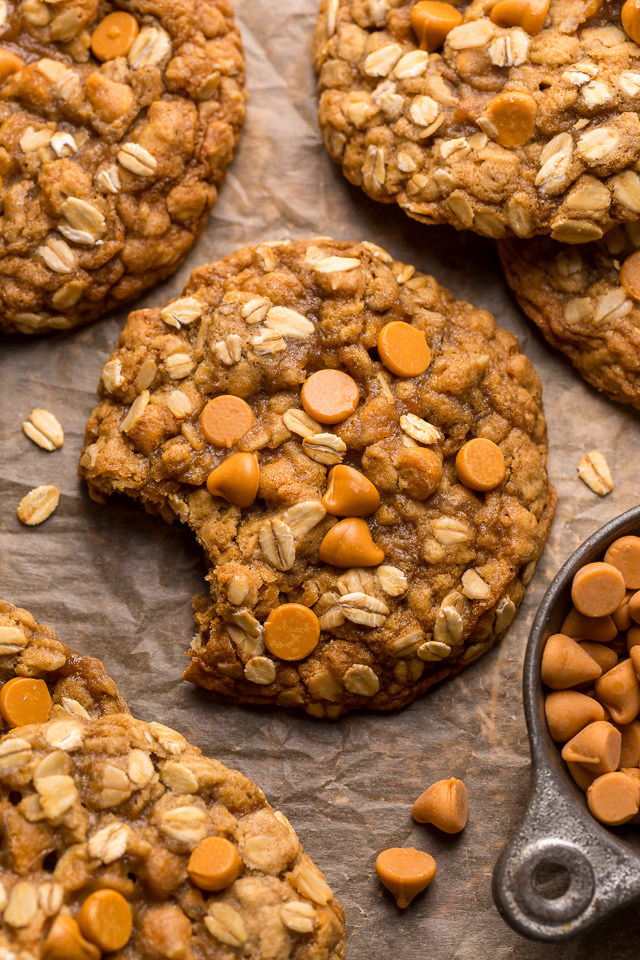 What are Oatmeal Scotchies?
If you've never had these cookies before, you're in for a treat! Oatmeal scotchies are essentially a soft and chewy oatmeal cookies that's loaded with butterscotch chips, molasses, and a touch of orange. And while orange and butterscotch might sound like a strange combination, it's actually quite heavenly!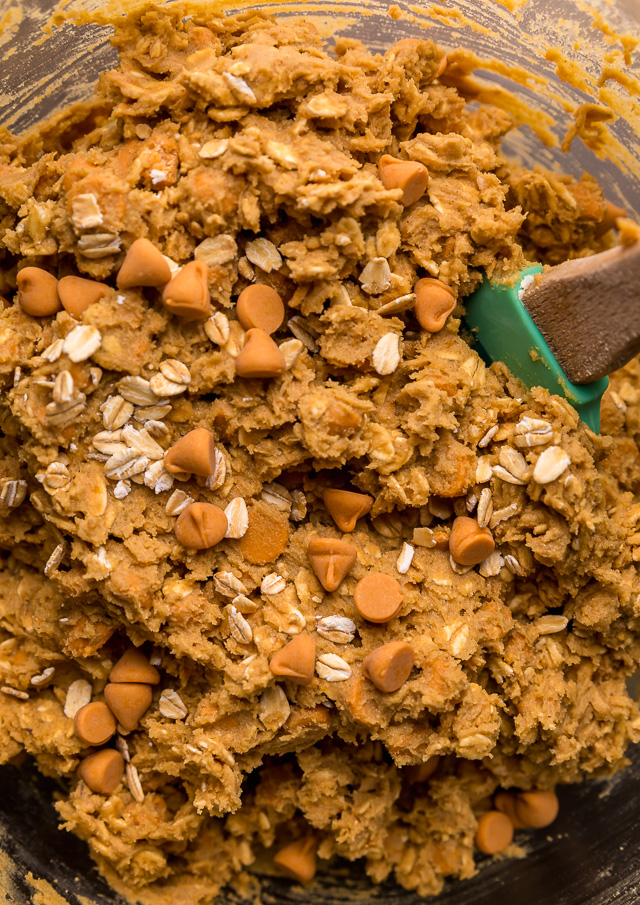 Where to Find Butterscotch Chips
Here in the states, butterscotch chips are widely available and can be found in the baking aisle of almost any grocery store. That said, the brands available will vary, and with that, the quality.
Our absolute favorite butterscotch chips are from Guittard and you can buy them online here. I love these ones because they have a great flavor and melt better than the other brands I've tried. That said, Nestle Butterscotch Morsels are much cheaper and will do the job just fine! So use what you can find!
And because I know someone will ask: yes, you can totally just use chocolate chips instead! But also, you'll no longer be making oatmeal scotchies. So I would just suggest making my chewy oatmeal chocolate chip cookies instead. But you do you 😉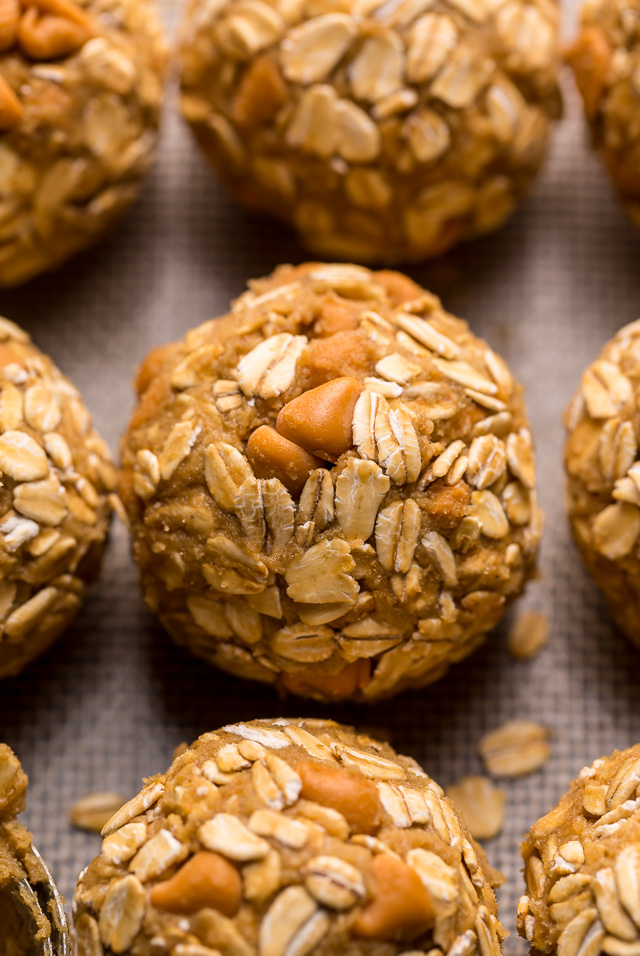 Quick Oats vs Old-Fashioned Oats
When it comes to oats, there are a lot of options! And therefore, a lot of confusion. This recipe calls for old-fashioned oats, also known as rolled oats. Quick oats, aka instant oats, are NOT recommended. This is because quick oats absorb a lot more moisture and almost work like flour. So they will yield cakey cookies that are much less chewy.
I always suggest stocking up on old-fashioned oats, because if you need quick oats, you can always use a blender to pulse them down. But unfortunately, you don't have that option with instant oats since they're already so fine.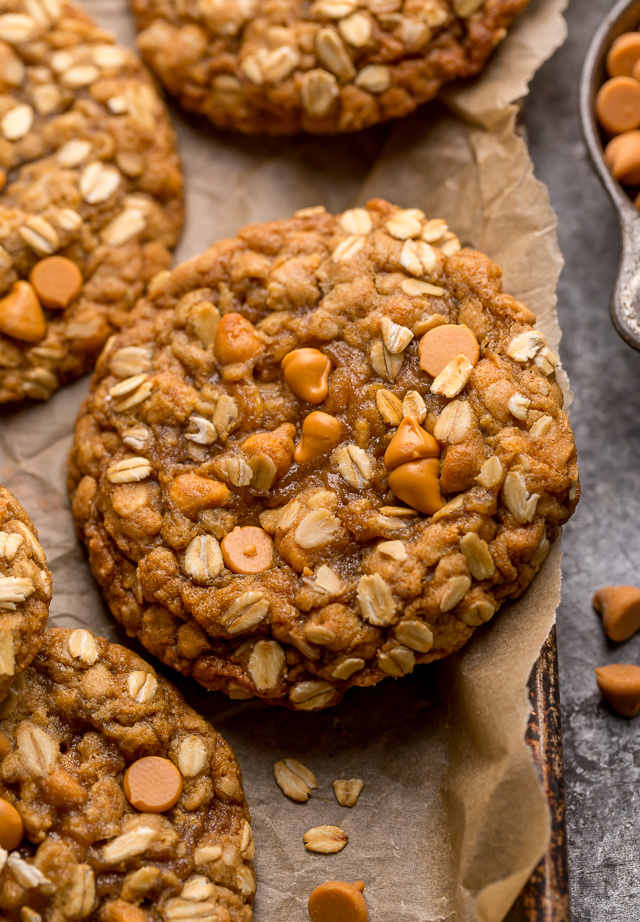 7 Secrets to Perfect Oatmeal Scotchies
The secret to an evenly incorporated cookie dough is to make sure your butter and eggs are both at room temperature before you begin baking! So be sure to set them out about 20 minutes before you start baking.
To properly beat the butter and sugar, you'll need an electric mixer! You can use a large bowl and a handheld mixer or a stand mixer that's fitted with a paddle attachment. Unfortunately I don't recommend trying this recipe without one of those mixer options.
Start off just beating the butter, then gradually add in the granulated sugar and brown sugar. You want to beat until the mixture is very fluffy! And make sure to scrape the bottom of the bowl on occasion to ensure nothing gets stuck down there.
Before you add the eggs, toss in the orange zest, orange extract, and vanilla and beat until well combined. Adding the ingredients at this stage enhances their flavor.
Once you add the dry ingredients, mix only until combined. I like to to turn my mixer off and use a strong spatula or wooden spoon to do this. That way I have more control. You don't want to over-mix here or your butterscotch cookies will be cakey.
Be sure to line your baking sheets with parchment paper! Not wax paper or aluminum foil!
And finally, use the bake time as a guide, not law. My cookies are typically done in exactly 12 minutes. But if your oven runs low, they could take 14 minutes. And alternately, if your oven runs hot they could be ready in as little as 10 minutes. Keep an eye. When they're golden brown, set at the edges, and just a little soft in the middle, they're ready to come out!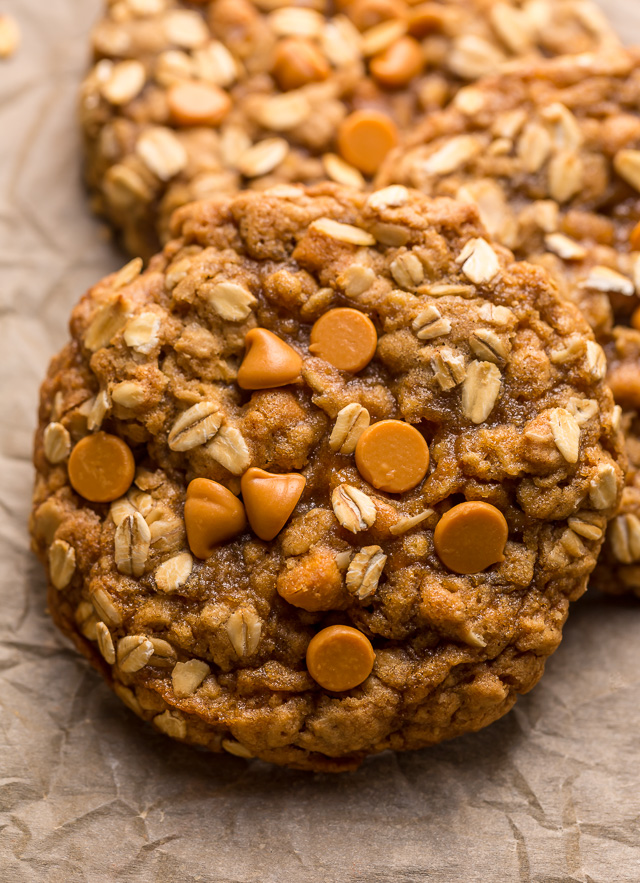 Although I'm a big fan of warm cookies, I do find these are best when allowed to cool completely. So I suggest placing the baking tray on top of a cooling rack for at least 15 minutes before digging in!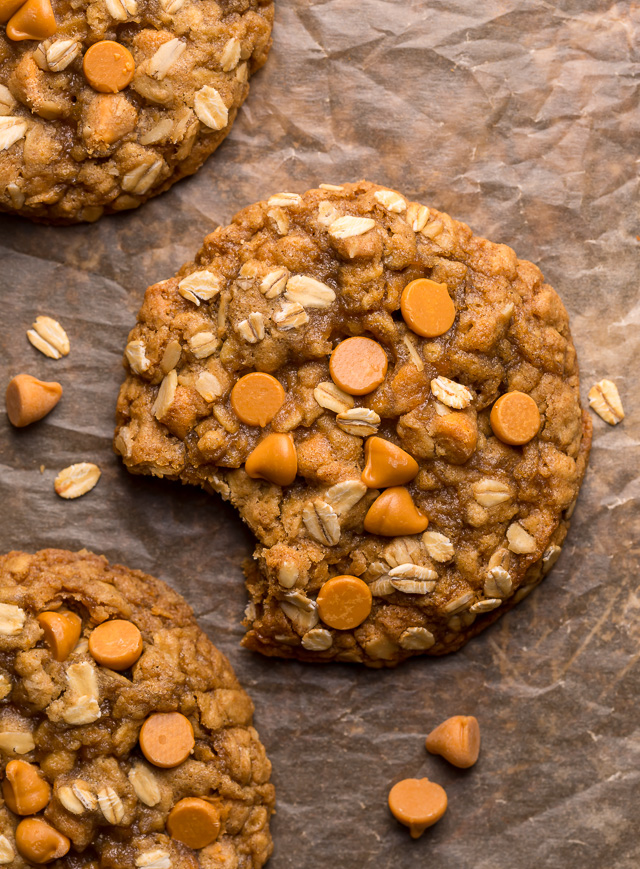 More Oatmeal Cookie Recipes: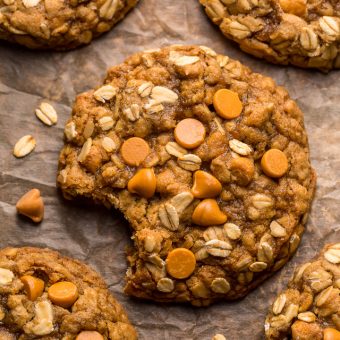 Chewy Butterscotch Oatmeal Cookies AKA Oatmeal Scotchies
These delightfully soft and chewy oatmeal scotchies are exploding with oats and butterscotch chips! A touch of orange zest and a drizzle of molasses take this from a good recipe to a great recipe! No chilling required, so preheat your oven to 350 degrees and jump to the recipe!
Ingredients
2 and 1/4 cups all-purpose flour
1/2 teaspoon ground cinnamon
1/4 teaspoon ground cardamom (optional, but delightful)
1 teaspoon baking soda
3/4 teaspoon salt
2 sticks (8 ounces, 1 cup) unsalted butter, at room temperature
1 and 1/4 cups light brown sugar, packed
1/4 cup granulated sugar
1 teaspoon orange zest, finely grated
1/2 teaspoon orange extract
2 teaspoons vanilla extract
2 large eggs, at room temperature
1 and 1/2 tablespoons molasses (not blackstrap)
2 and 3/4 cups old-fashioned oats, divided
2 cups butterscotch chips
Instructions
Preheat oven to 350(F). Line two large baking sheets with parchment paper and set aside.

In a large mixing bowl, stir together the flour, cinnamon, cardamom, baking soda, and salt. Set aside until needed. 

In the bowl of a stand mixer fitted with the paddle attachment, or in a large bowl using a handheld electric mixer, beat the butter until smooth.

Add in both sugars and continue beating until light and fluffy, about 2 minutes, scraping down the sides and bottom of the bowl as needed.

Add in the orange zest, orange extract, and vanilla extract, beat until combined. 

Beat in the eggs, one at a time, scraping down the sides as needed. Beat in the molasses. 

On low speed, gradually beat in the flour mixture, beating until the dry ingredients are just incorporated.

Stir in 2 and 1/2 cups the oats and all of the butterscotch chips, beat until just combined. 

Scoop 2-inch balls of cookie dough onto the prepared baking sheets, leaving about 1 and 1/2 inches between so they have room to spread. Sprinkle the tops of the cookie dough with remaining oats. 

Bake, one sheet at a time, for 12 to 13 minutes, or until cookies are golden and set at the edges and still slightly soft in the center. 

Cool cookies on the baking sheet, placed on top of a cooling rack, for at least 10 minutes before serving.