These Thick and Chewy Oatmeal Chocolate Chip Cookies are packed with tons of oats and gooey chocolate chips. This delicious oatmeal cookie recipe is so easy to make, loaded with chocolate chips,  and requires no dough chilling! So good with a glass of milk!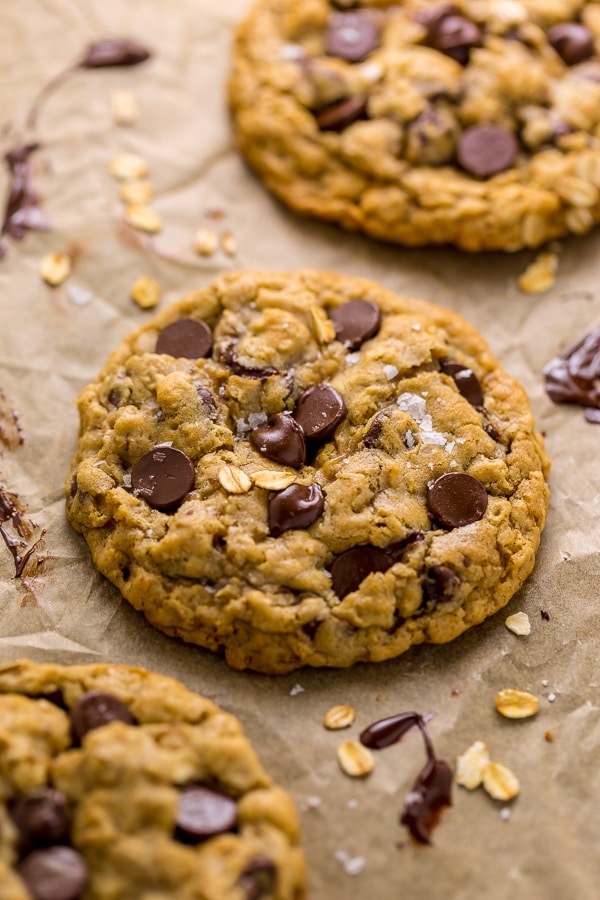 Oatmeal Chocolate Chip Cookies
I know you love cookies as much as I do, so I'm very excited to share my favorite chewy oatmeal chocolate chip cookies with you today! These cookies have actually been on my blog for years now, but the pictures and writing were in desperate need of a makeover. One thing that didn't need a makeover? The recipe itself! These cookies are thick and chewy, loaded with crunchy oats and gooey chocolate chips, and ready in less than 30 minutes.
I hate to humblebrag, but these oatmeal chocolate chip cookies are the epitome of simple, delicious, recipe perfection.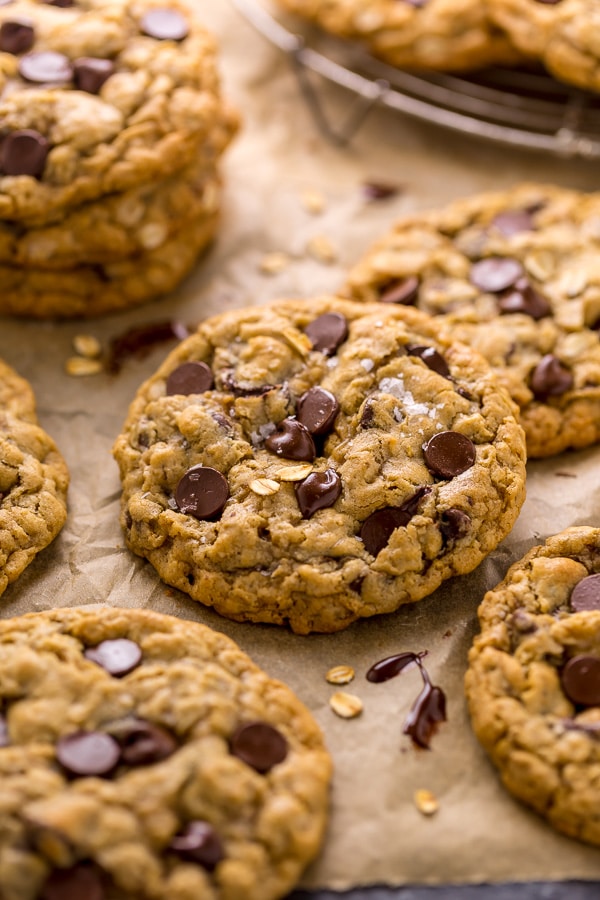 Confession: I've been baking cookies non-stop this week! 8 batches down and it's only Tuesday. With the busiest baking season basically at our fingertips, I'm trying to get a head start. Suffice it to say, things are going to get really sweet around here, REALLY soon.
And by soon, I mean right now.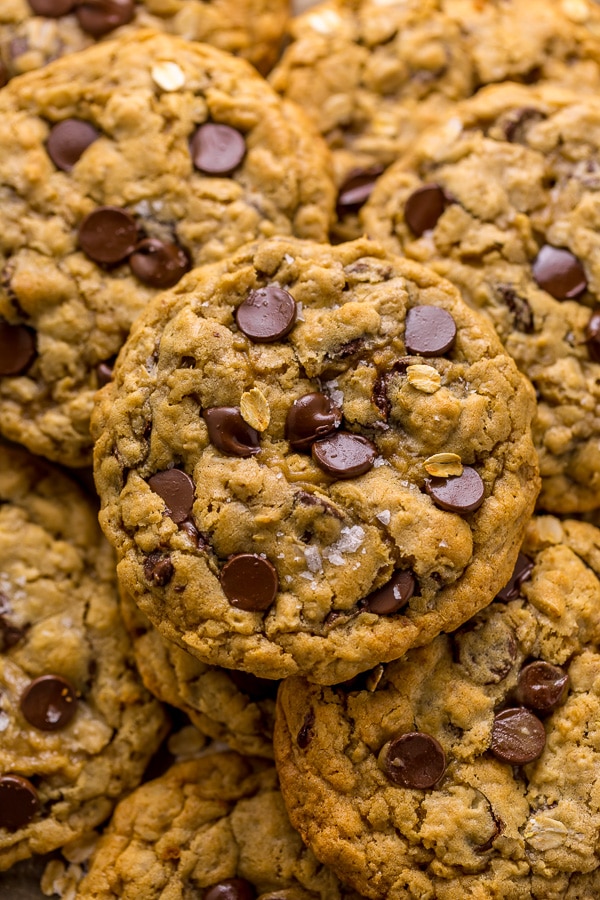 Oatmeal Chocolate Chip Cookie Recipe
Oatmeal Chocolate Chip Cookies for the win! As I mentioned earlier, baking these beauties couldn't be easier. The dough requires NO chill time and only takes about 10 minutes to assemble, 15 minutes to bake, and 2 minutes to devour. This recipe makes about 2 dozen large cookies, so it's perfect for serving a crowd! If you're a smaller household, don't fret – the cookie dough can be rolled and frozen until needed. Just be sure you add a minute or two to the bake time if you're baking them from a frozen state.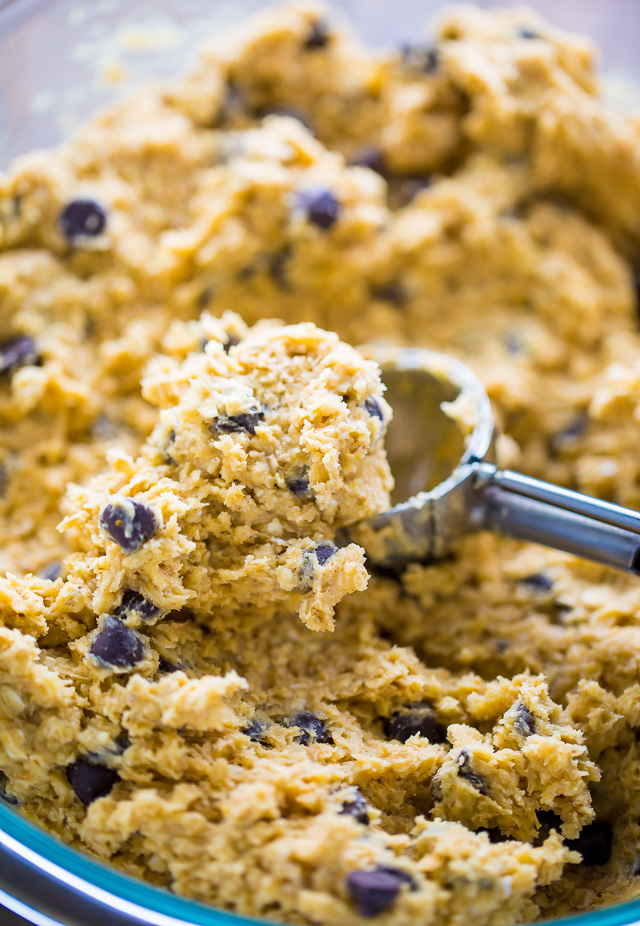 Tips and Tricks for Recipe Perfection:
Your butter must be at room temperature to properly cream with the sugars. You'll know your butter is soft enough when you can press your finger into the top and an indentation is effortlessly made. Cold butter as well as melted butter should never be used when making these cookies; it will not work.
For this recipe you'll need rolled oats, not instant oats! Rolled oats are also called old-fashioned or whole oats. Visually rolled oats are flat and round.
Don't over bake! The cookies should still be slightly soft in the center; they'll firm up as they cool.
Be sure to allow the cookies to cool on the baking sheet for a full 10 minutes before transferring them to a cooling rack. They need the 10 minutes to firm up so they don't fall apart as your transfer them.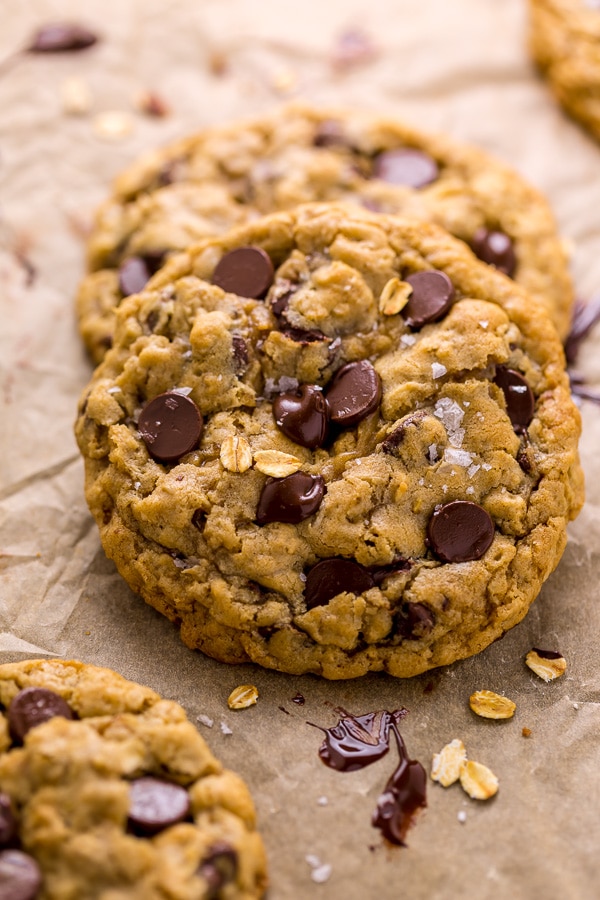 If you're looking to bump your baking game up to the next level, make these chewy oatmeal chocolate chip cookies TODAY! They're legit amazing.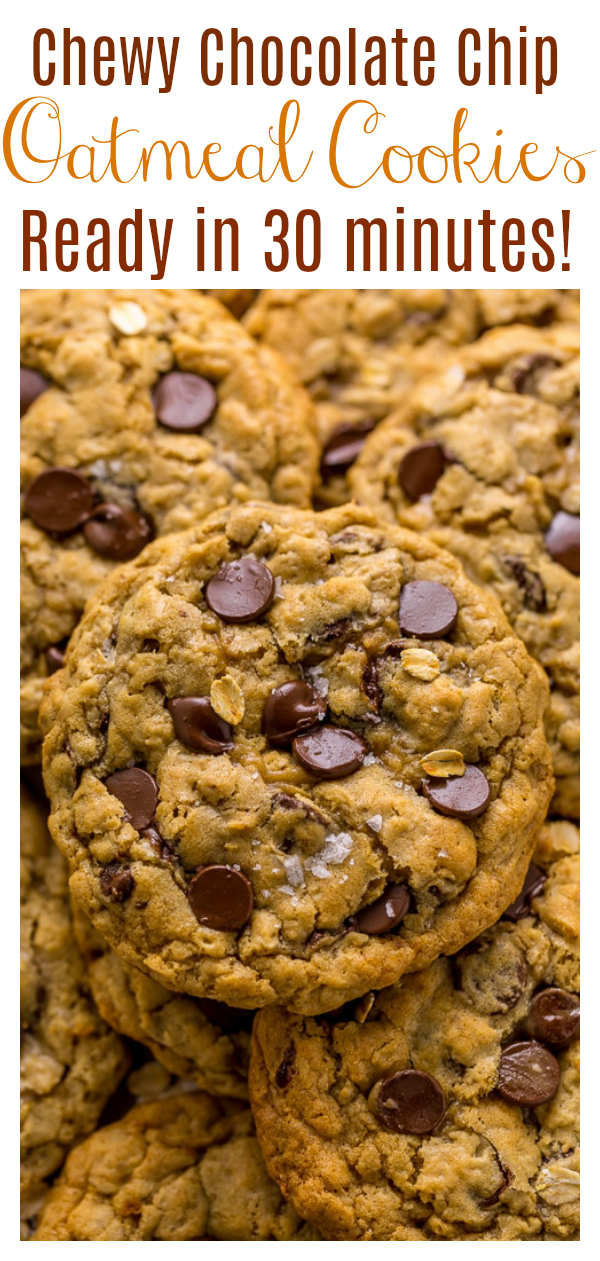 Oatmeal Cookie Recipes: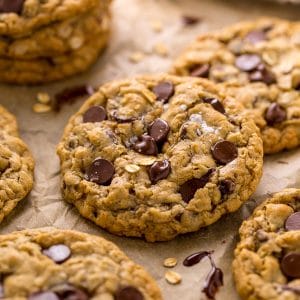 Oatmeal Chocolate Chip Cookies
Thick and chewy Oatmeal Chocolate Chip Cookies!
Ingredients
2 sticks (8 ounces, 1 cup) unsalted butter, at room temperature
1 and 1/2 cups light brown sugar, packed
1/2 cup granulated sugar
2 large eggs, at room temperature
2 tablespoons milk
1 tablespoon vanilla extract
2 cups all-purpose flour
1 teaspoon baking soda
3/4 teaspoon salt
2 and 1/2 cups rolled oats (not instant oats)
2 cups semi-sweet chocolate chips
Instructions
Preheat oven to 350 (F). Line two large baking sheets with parchment paper; set aside.

In the bowl of a stand mixer fitted with the paddle attachment, or in a large bowl using a handheld electric mixer, cream together the butter and both sugars until light and fluffy, about 3 minutes. Beat in the eggs, one at a time, scraping down the sides as needed. Beat in the milk and the vanilla extract until combined.

In a medium bowl, stir together the flour, baking soda, and salt. On low speed, gradually beat the flour mixture into the butter/sugar mixture until just incorporated. Turn mixer off. Using a wooden spoon or strong spatula, stir the oats and chocolate chips into the cookie dough, stirring just until incorporated.

Scoop 2-inch balls of cookie dough onto the prepared baking sheets, leaving about 1 and 1/2 inches between so they have room to spread.

Bake, one sheet at a time, in preheated oven for 10 to 12 minutes, or until cookies are golden and set at the edges and still slightly soft in the center. Repeat with all cookie dough.

Cool cookies on baking sheet for 10 minutes before transferring them to a wire rack to cool completely.