Dear Liz,
SURPRISE!!! It's your virtual baby shower 🙂 Today is ALL about you, mama! We love you so SO sooooooo much.

MY RECENT VIDEOS
A quick side note! For those of you who are reading this post like "huh…?!" … "who?!". It's ok! Let me introduce you to my sweet friend Liz! She's the amazing woman we're celebrating today, and I really hope you pop over to her lemon-licious site and get to know her. She's a gem!
So, now that we all know how awesome Liz is, let's get to the food! Today we have Chicken Saltimbocca with Creamy Lemon Sauce & Olive Orzo. I chose this meal for a very good reason; I could totally see Liz loving this meal! I truly wish she could have been at our table as we DEVOURED it all.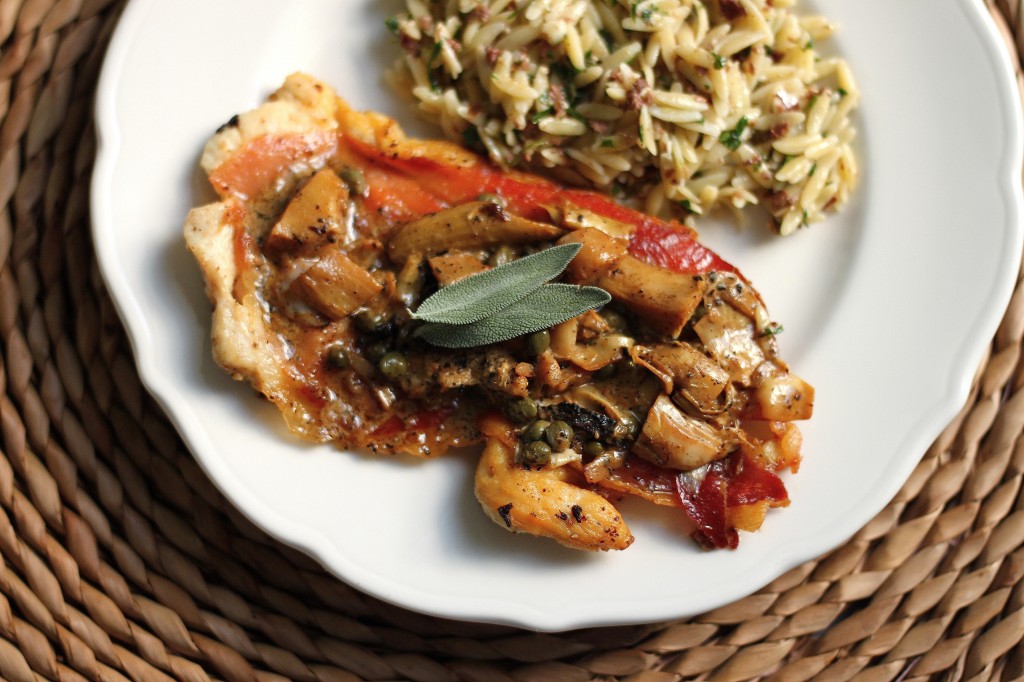 If you're a chicken lover who's looking for a meal packed with flavor but quick on time, this is for you! The chicken – while it may look fancy pants with all that prosciutto and sage – comes together in less than 15 minutes, and the same can be said for the lovely olive orzo.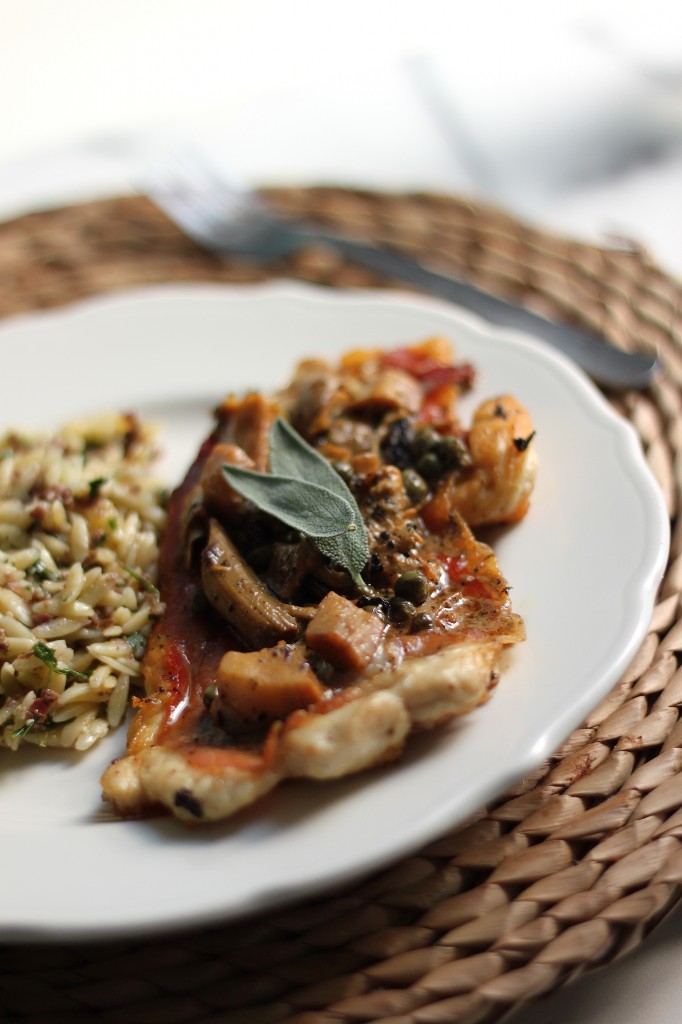 Here's to you, Liz!
And here's to all the other fabulous food our friends made to celebrate!
Appetizers
Beverages
Salads
Main Dish
Desserts
Happy life, and happy eating.
Xo!!!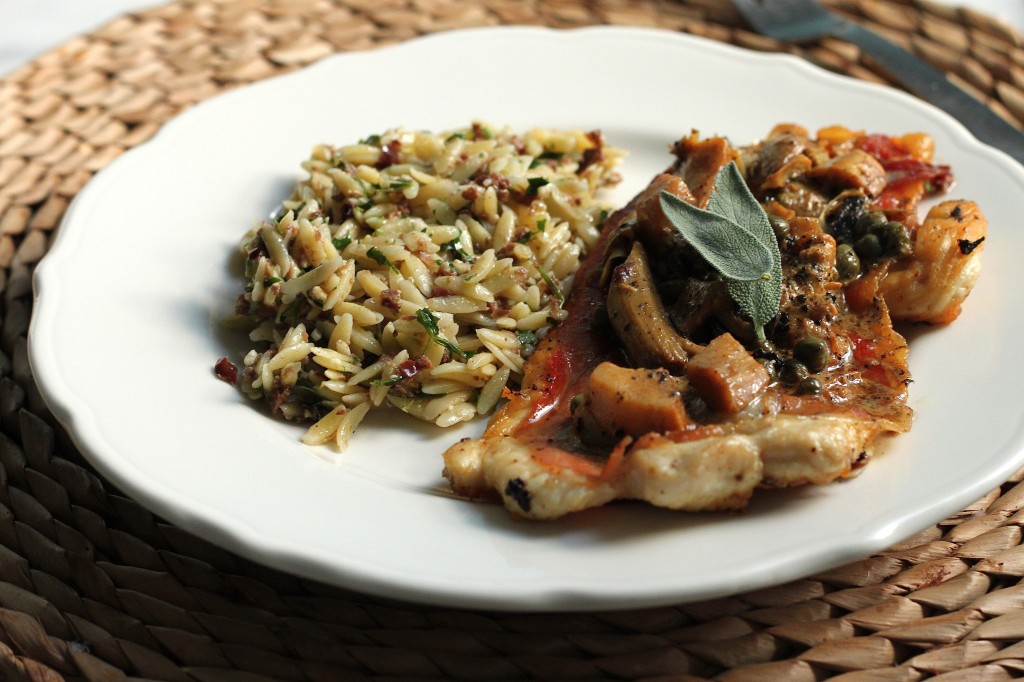 Chicken Saltimbocca with Creamy Lemon Sauce & Olive Orzo – Baker by Nature
Ingredients:
1/2 cup all purpose flour
1/2 teaspoon salt & pepper
(4) 8 ounce skinless, boneless chicken breasts
4 slices prosciutto
8 large leaves of sage
1/4 cup extra virgin olive oil
1/2 cup white wine
1/4 cup fresh squeezed lemon juice
2 tablespoons unsalted butter
8 oz marinated artichoke hearts, roughly chopped
2 tablespoons capers
1 teaspoon salt
2 tablespoons heavy cream
Instructions:
Spread flour in a single layer on a large plate.
Layer 2 pieces of sage and 1 slice of prosciutto on top of each piece of chicken and with a meat mallet pound chicken breasts to 1/4 inch thickness. Dredge chicken breasts in flour.
In a large skillet heat the olive oil over medium-high heat. Add the chicken, prosciutto side down, and saute until golden brown – about 2 minutes – then flip and cook on the other side for another 2 minutes. Remove chicken from skillet, add wine, and using a wooden spoon still vigorously to deglaze the pan. Add the lemon, butter, artichokes, capers, and salt. Cook the mixture until it's reduced by half – about 4-5 minutes – then remove from heat and stir in cream. Plate the chicken and top each cutlet with 1/4 of the artichoke / caper lemon sauce. Serve at once.
Olive Orzo – Baker by Nature
Ingredients:
8 oz orzo
1/2 cup kalamata olives
1/4 cup Parmesan cheese
1/4 cup parsley
1/2 teaspoon salt
1/4 cup olive oil
Instructions:
Bring a large pot of salted water to boil over high heat. Add orzo and cook for 6 – 8 minutes.
While the pasta is cooking, make your olive pesto!
In a blender combine the olives, parm, parsley, and salt. Slowly add the olive oil and blend until completely emulsified.
Once pasta is cooked and drained, stir the pesto into the pasta, and serve with chicken.