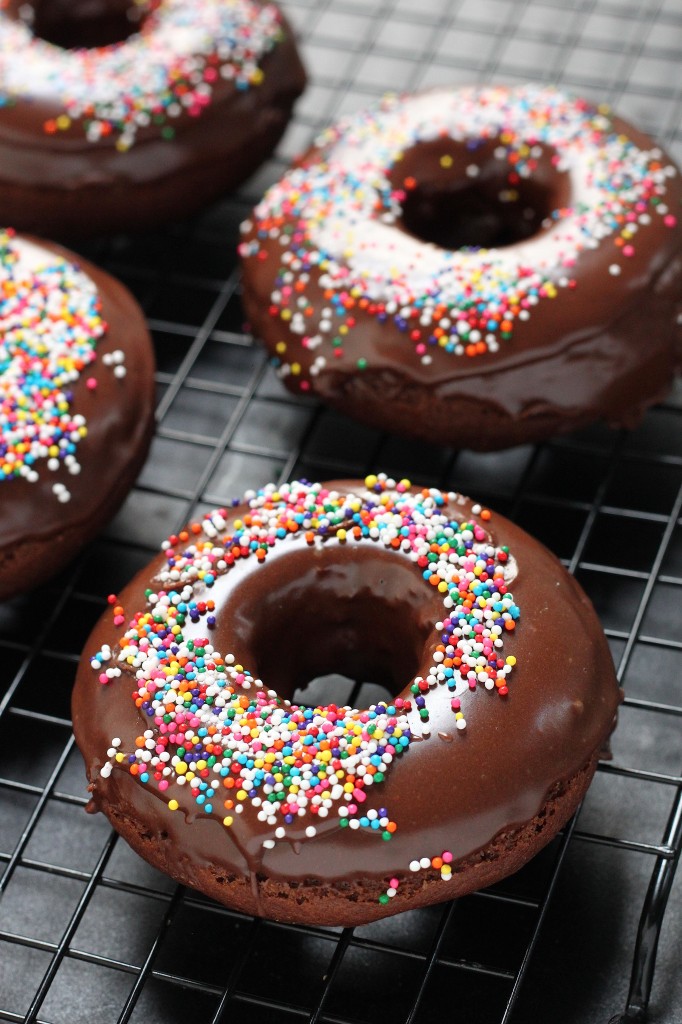 Chocolate Glazed Chocolate Banana Donuts!!! 
Oh goodness! These donuts, you guys! All the chocolate…! We've been eating chocolate like it's going out of style! We just can't get enough of it. Do you have this problem, too? I feel like a lot of people can relate to getting the chocolate crazies! And if you can't… well then maybe this double duty chocolate donut recipe will tempt you just a wee little bit? Let it seduce you! I promise you'll like it.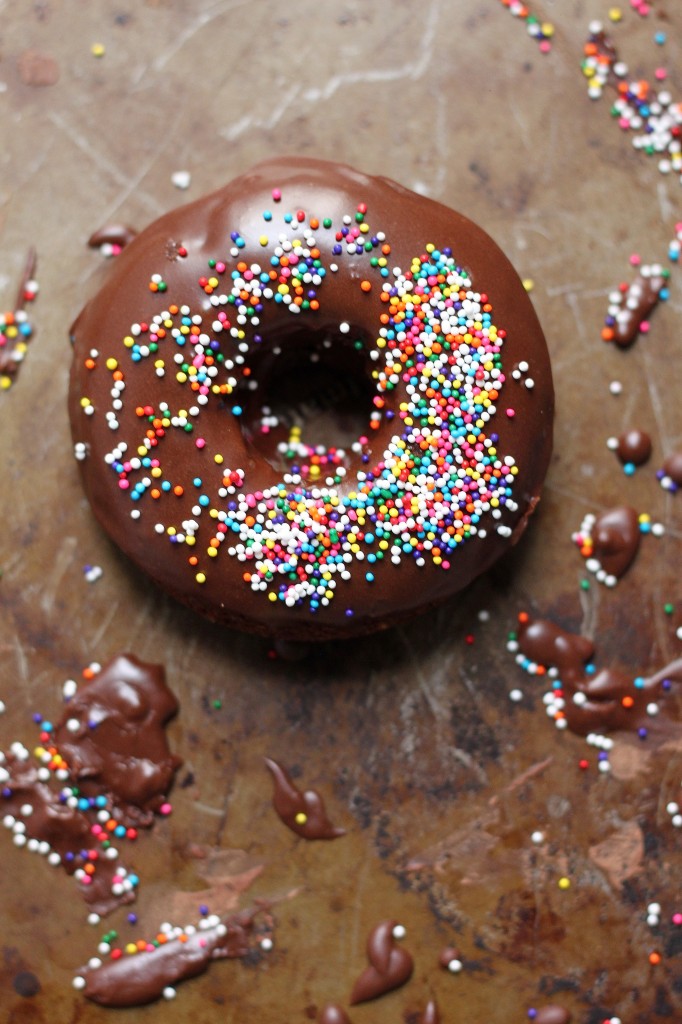 I'd like to call these donuts my new favorite dessert, but really, they're so light in oil (coconut) and sugar that I figure, heck, why limit them to one category?!
We'll be having a few with our coffee tomorrow, because that's just how we roll. Donuts for breakfast! I dare you.
The luxurious chocolate batter comes together in just a few minutes. It's seductively rich in chocolate flavor, while staying on the lighter side in reality. There are no eggs or butter in this recipe, and they are, as written, vegan. But by taste, you'd never be able to guess they're "missing" a thing. They taste like double chocolate donut perfection!
Since the batter is so thick and can be a pain to "spoon" into the donut pan, I definitely recommend mixing it up, then carefully pouring it into a large zip-lock bag. This can be easily done by placing the baggie in a large glass, then pouring the batter in. This helps prevent the bag from flopping all over the counter and make a huge mess.
Once the batter is in the baggie, just snip off one end and pipe it into the greased donut molds.
This recipe will give you exactly 6 donuts. Just enough for 2… or 6. I definitely recommend making 2 or 3 batches if you're feeding a crowd! These go fast.
Once the donuts are baked up to perfection, make sure you let them completely cool before dipping. I know it's hard! But with this recipe, your finished product will be the best it can be with completely cooled donuts.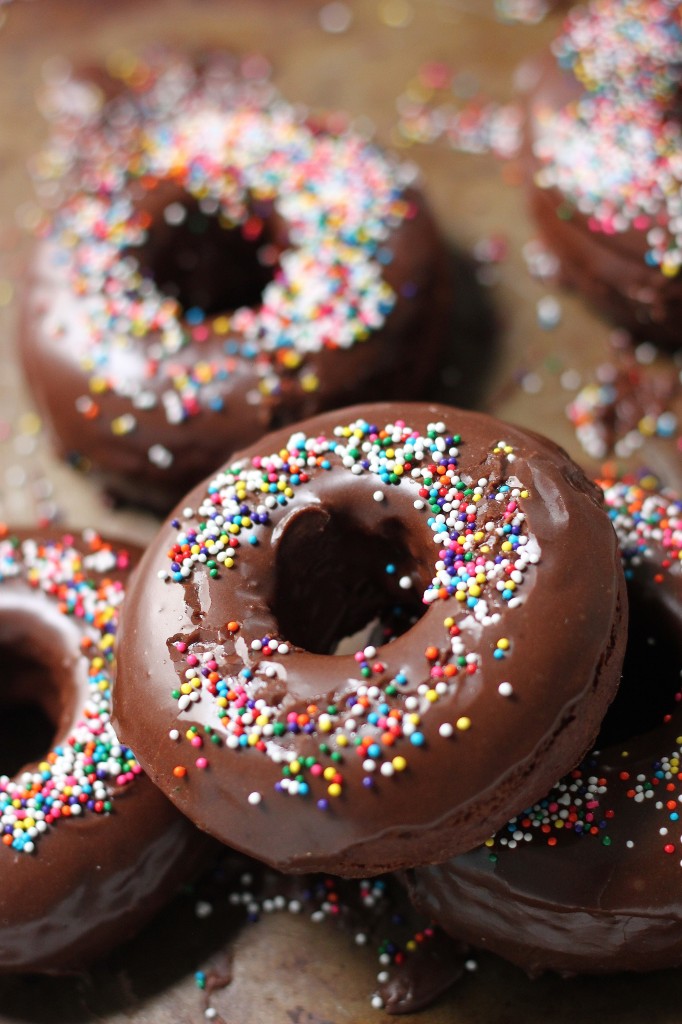 Once cooled the donuts will be firm and easy to handle, making dipping them in the glaze a breeze! Moral of the story: don't be a fool; let them cool!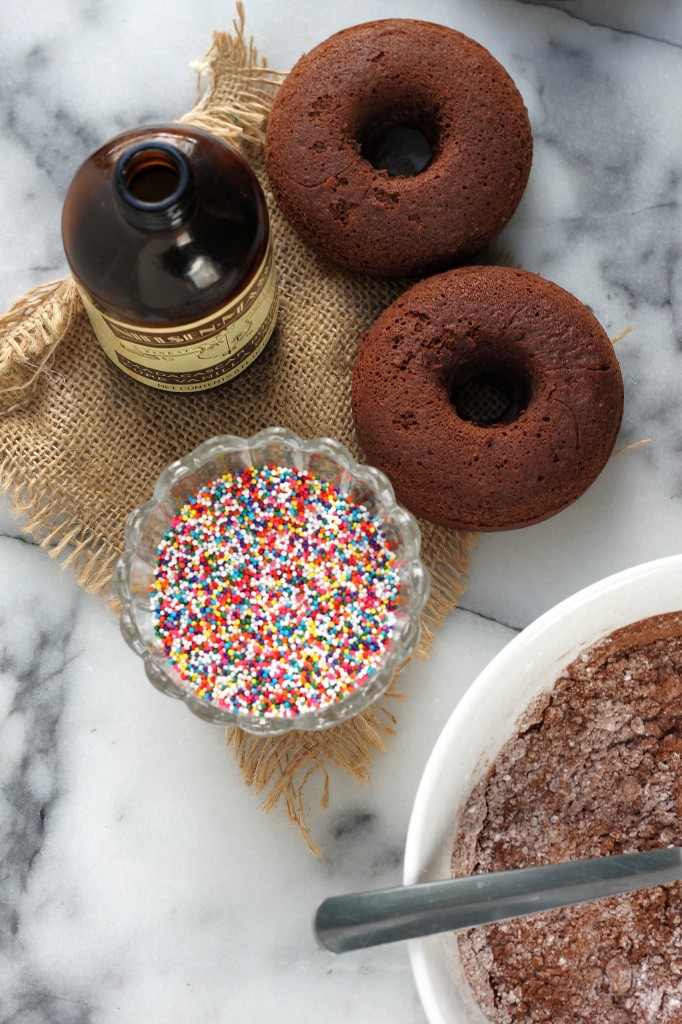 The glaze is a simple combination of cocoa powder, powdered sugar, almond milk, and sea salt. They get whisked together into a creamy chocolate icing that you will dunk your cooled donuts in, before topping with sprinkles, of course! Be prepared to get a little messy with the chocolate 😉 It has a mind of its own sometimes!
Once the donuts have been dunked and decorated to your approval, you have two choices!
1) Devour IMMEDIATELY…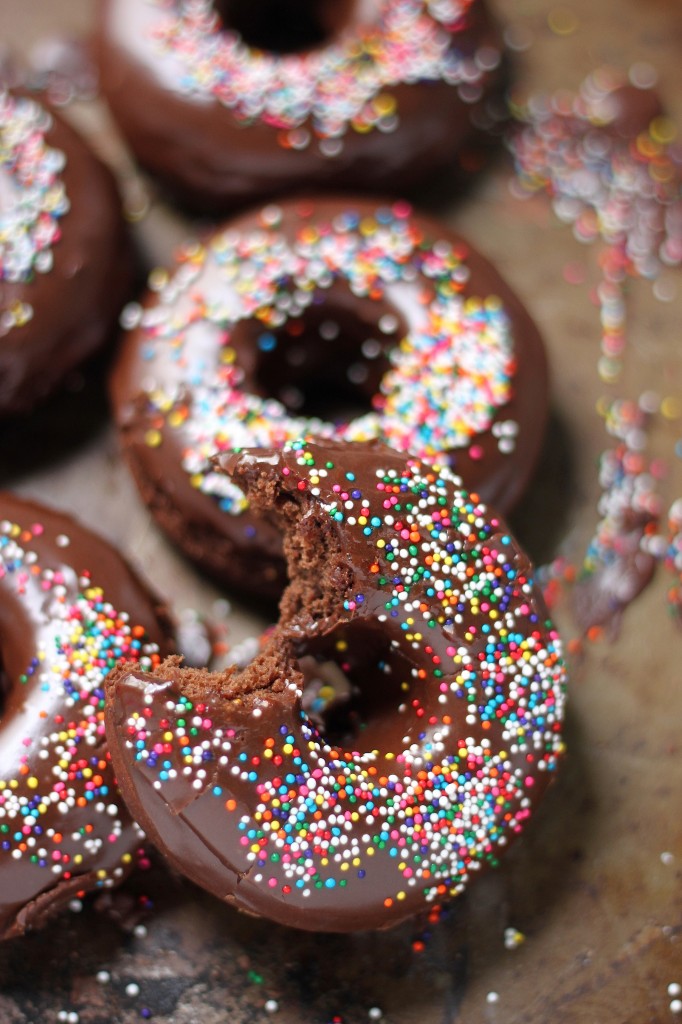 or…
2) Let sit for 5 minutes so the glaze can firm up and settle…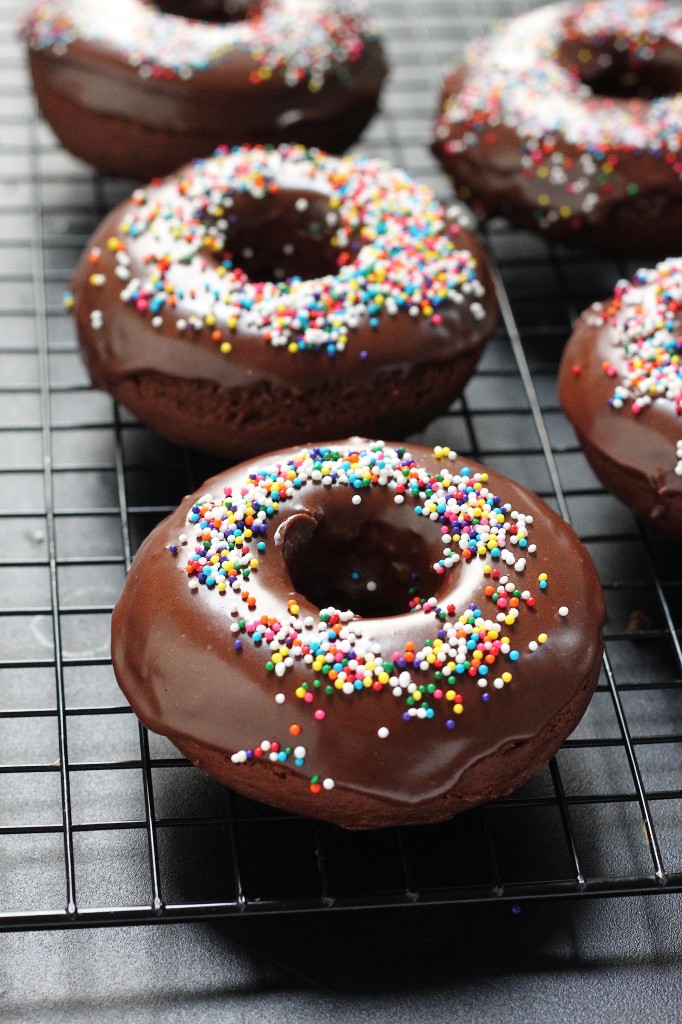 But since there are 6 donuts and only one of you, why not try both ways? I think it's the only sane thing to do. Happy eating 🙂 xoxo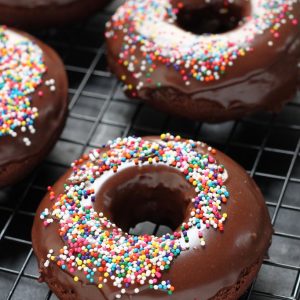 Chocolate Glazed Chocolate Banana Donuts
Chocolate Glazed Chocolate Banana Donuts
Ingredients
1/2 cup all-purpose flour
1/2 cup whole wheat flour
1/4 cup unsweetened cocoa powder
1/2 teaspoon baking powder
1/4 teaspoon salt
1/2 cup granulated sugar
1/2 cup almond milk
1/4 cup ripe, pureed banana
4 tablespoons coconut oil, melted (liquified)
1 teaspoon pure vanilla extract
For the Chocolate Glaze:
1 cup powdered sugar
4 tablespoons unsweetened cocoa powder
1/4 teaspoon sea salt
4 tablespoons almond milk
1/2 teaspoon vanilla extract
Sprinkles, optional
Instructions
Preheat oven to 350 degrees (F). Spray a doughnut baking pan with nonstick cooking spray and set aside.

In a medium bowl, whisk together flour, cocoa powder, baking powder, salt, and sugar.

In a small bowl, whisk together almond milk, banana puree, melted coconut oil, and vanilla extract until well combined.

Pour the wet ingredients into the dry ingredients and fold together until all of the ingredients are well combined.

Place a large ziplock bag into a cup, then pour the batter into the bag. Snip one corner off the bag, then pipe the batter into the molds. Each doughnut mold should be about two-thirds full.

Bake doughnuts for 11 to 13 minutes or until the donuts are firm and spring back slightly when touched. Remove from the oven.

Allow to rest for five minutes before inverting doughnuts onto a wire rack to cool completely. Allow doughnuts to cool completely (!!!) before glazing.

To make the glaze - In a medium bowl whisk together powdered sugar, cocoa powder, and salt. Add 3 tablespoons of the almond milk and all of the vanilla extract. Whisk to combine. If the mixture is too thick, add another tablespoon of almond milk milk. The glaze should be thick but still pourable.

Dip each cooled doughnut into the chocolate glaze. Let the excess glaze drip back into the bowl before returning to the wire rack and decorating with sprinkles.

Allow the glazed donuts to rest a few moments for the frosting to harden slightly. Then, dig in!