Oh, hi. My name is Ashley, and um… I LOVE baked donuts. Seriously. They're so stinkin' fast! And easy. And most importantly – DELICIOUS.
If you've somehow (?) avoided being bitten by the baked donut bug thus far, I must highly suggest AT THE TOP OF MY LUNGS that you cave to it now, by the damn pan, and join the club. Trust me, you won't regret it! Ok. Now that I've convinced you to buy a donut pan (I did convince you… right?!), let's talk about these donuts! 
The base of these donuts is a simple banana batter spiked with warming spices to create a banana bread taste effect. You can also leave those spices out if you're looking for a purer banana flavor. Both ways rock and roll. The glaze is shiny and drippy and holy heck addicting! It's a 3 ingredient situation of hazelnut spread, powdered sugar, and milk. Whisk those 3 babies together and it's like BOOM – chocolate hazelnut heaven!!!
I topped each donut with chopped toasted hazelnuts, for a lovely crunch. It was the right move. You could also add sprinkles, or really, whatever you want. But I loved the classic touch the hazelnuts added.
These donuts are divine right after they've been baked, but if you store them in an airtight container, or in the fridge, they can last up to two days. Which is great if you pack that handsome devil in your life lunch everyday, or if you want a sweet little snack waiting for you when you get home from work 😉
Also, I'm giving away a donut pan today! 5 in fact. This one. I'll be shipping them to the winners straight from amazon. All you need to do to enter is leave a comment; any comment! You can also get additional entries by following me on Instagram, Facebook, Pintrest, and Twitter; just leave a comment letting me know you did so. Good luck!
I'll see you guys tomorrow! Have a happy Humpday xoxo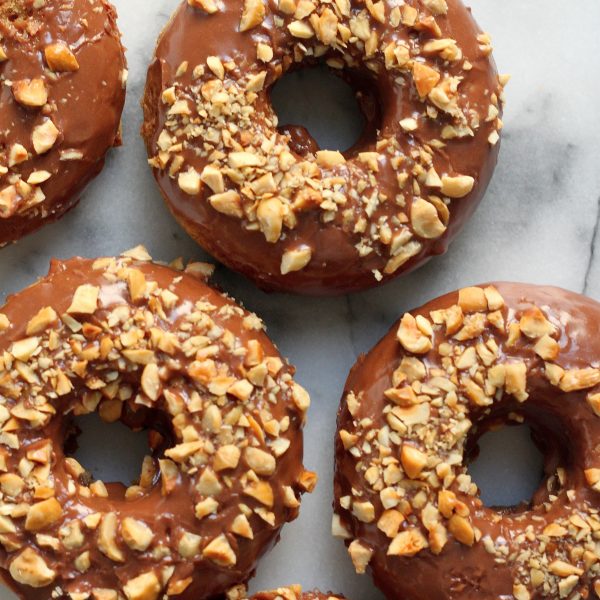 Chocolate Hazelnut Banana Bread Donuts
Chocolate Hazelnut Banana Bread Donuts
Ingredients
For the donuts
1 cup all- purpose flour
2 teaspoons baking powder
1/4 teaspoons ground ginger
1/2 teaspoon ground cinnamon
1/4 teaspoon salt
1 cup pureed banana (about 2 medium bananas smashed)
1/2 cup packed dark brown sugar
1 egg, at room temperature
1/4 cup coconut oil
1 teaspoon vanilla extract
For the Topping
4 tablespoons hazelnut spread (nutella will work, but I used Rigoni di Asiago Nocciolata Organic Hazelnut Spread with Cocoa and Milk - it's fabulous!)
5 tablespoons whole milk
1 cups powdered sugar, more may be needed to reach the consistency desired
1 cup toasted hazelnuts, roughly chopped
Instructions
Preheat oven to 350 (F). Coat a doughnut pan with non-stick cooking spray; set aside.

In a large bowl whisk together flour, baking powder, cinnamon, ginger and salt.

In a small bowl, whisk together banana puree, sugar, egg, oil and vanilla until smooth. Add wet mixture to flour mixture; whisk until blended & smooth.

Carefully spoon batter into a large resealable ziplock bag. Snip off the corner and carefully squeeze the batter into prepared doughnut pan, filling each mold about 2/3 full.

Bake for 10-12 minutes, or until the doughnuts spring back when lightly pressed.

Cool in the pan for 10 minutes, then carefully turn out directly onto rack to cool.
For the topping:
In a medium-sized bowl whisk together the hazelnut spread, milk, and powdered sugar until very smooth. Add more sugar if the mixture is too thin, and more milk if it appears too thick.

Dip the cooled doughnuts into the icing bowl, allowing any excess frosting to drip back into bowl. Transfer to rack. Top with chopped hazelnuts and serve immediately.