Skip the boxed brownie mix and make The BEST Cocoa Fudge Brownies instead! This recipe calls for everyday ingredients like butter, oil, eggs, sugar, unsweetened cocoa powder, all purpose flour, and salt. These super fudgy brownies are best served with a cold glass of milk!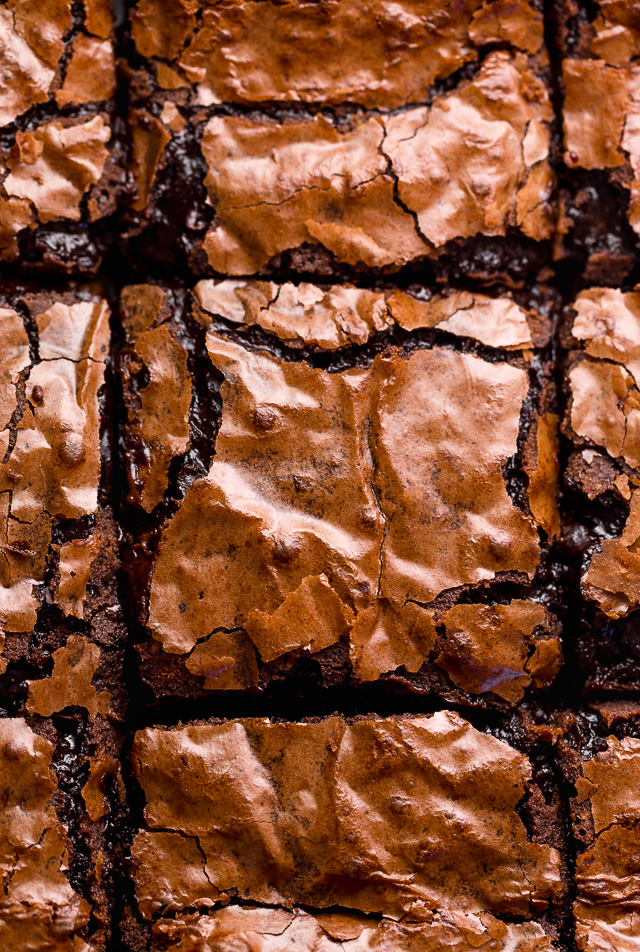 Fudge Brownies
Recently a reader (Hi, Linda!) emailed me with a request. She asked if I'd consider creating a new brownie recipe that used ALL cocoa powder as its base.
The reason for this request, she explained, is that her husband – who's a doctor and is working overtime right now – LOVES brownies! And she's been baking him 3 batches a week to bring to bring to work to share with co-workers. How sweet is that!?
The issue? Most of the brownie recipes she was encountering call for a large quantity of high-quality chocolate. Which is very expensive and hard to find. Especially right now… given everything going on in the world!
I couldn't have been happier to read this email and I basically ran into my kitchen to accommodate her request!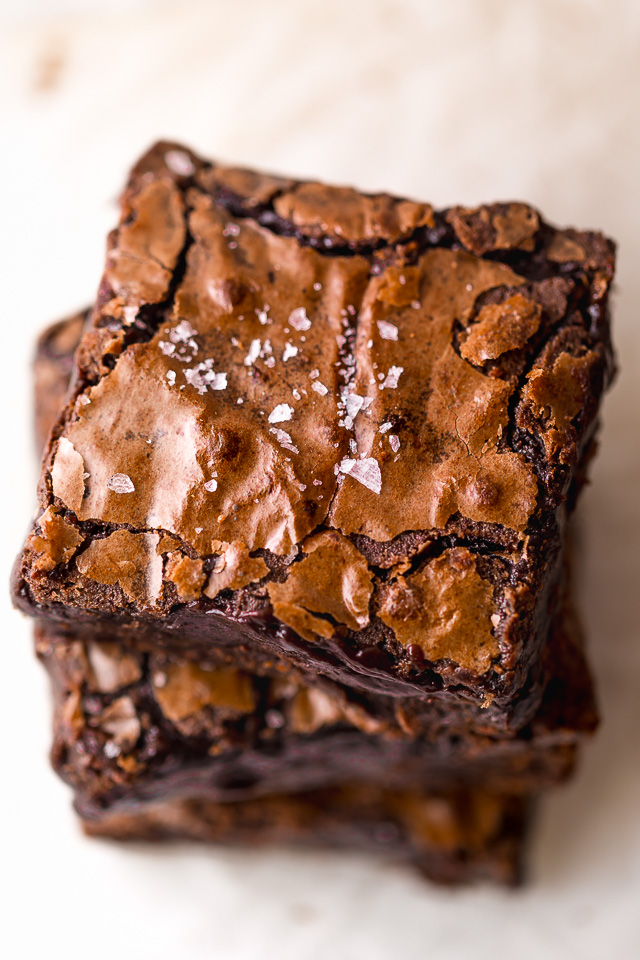 I also made a mental note: create more budget friendly recipes that'll help keep us all baking through these trying times! So from here on out, I'll be sharing a few basic baking recipes a week, in addition to the regularly programed content!
Do you have any requests? Let me know in the comments below! Or email me!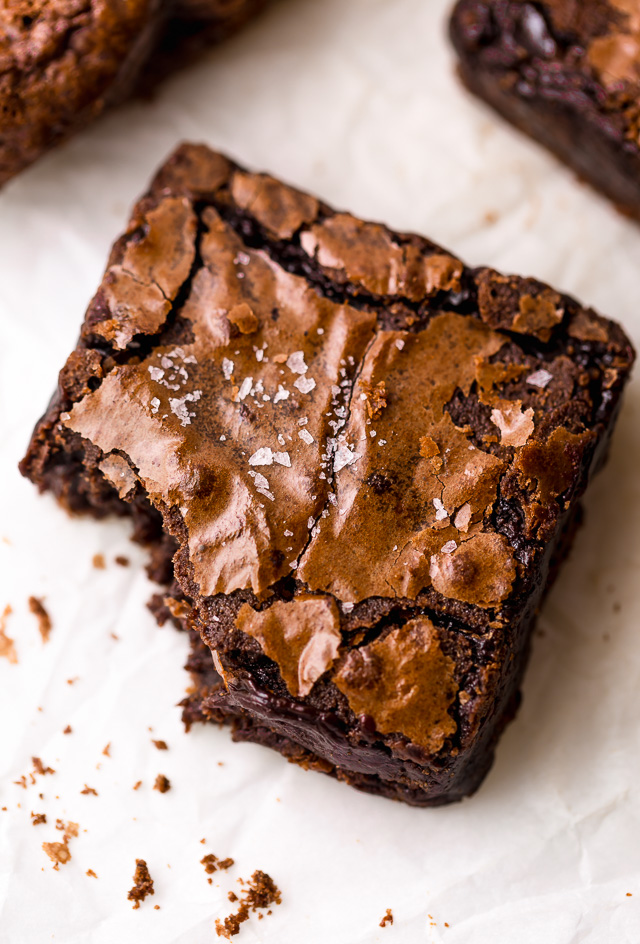 These Cocoa Brownies are:
shiny, crispy, and crackly on top
rich and fudgy in the middle
loaded with gooey chocolate chips
made with affordable everyday ingredients
completely from scratch
sure to become your new favorite brownie recipe
always a crowd-pleaser!!!
How to Bake Brownies
In a saucepan melt the butter and 1/2 cup of the sugar. Remove from heat and stir in the oil.
In a separate bowl, add eggs and remaining sugar and whisk until well combined.
Slowly – whisking constantly – add the butter mixture to the egg mixture, stirring until combined.
Toss in the cocoa powder, flour, salt, and baking powder, and stir until JUST combined. Don't over mix here!
Stir in 3/4 cup of chocolate chips! Feel free to use milk chocolate, semi-sweet chocolate, dark chocolate, or a combination!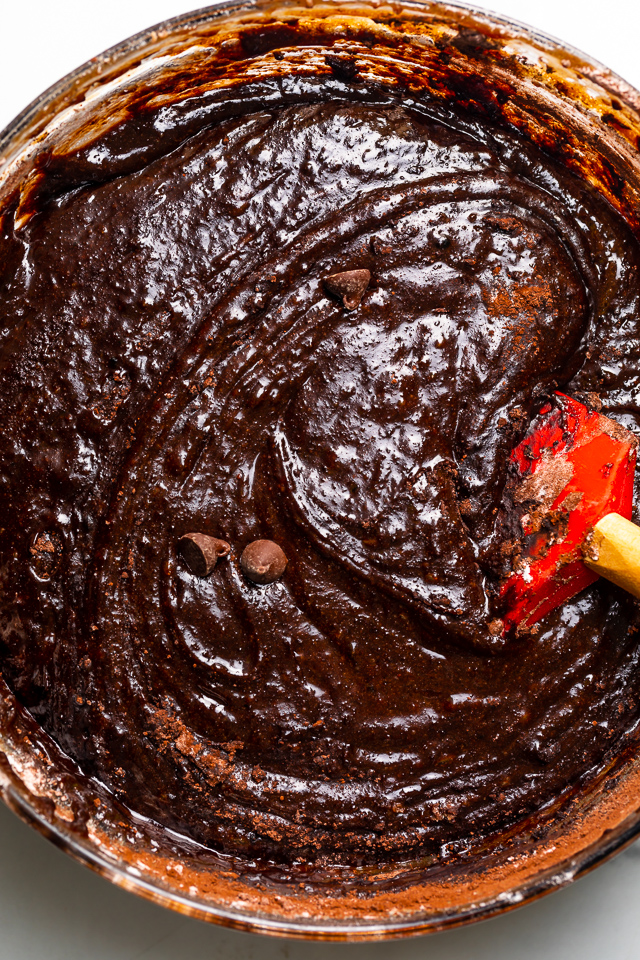 Don't Over Bake!
Bake for 27 to 30 minutes. The bake time here depends on just how fudgy you want your brownies to be! For brownies that are super gooey, pull them at 27 minutes. For more structured brownies, bake for 30 minutes, or until there's barely any wiggle in the center of the pan.
I suggest you place the brownies on a wire rack and cool completely in the pan before slicing. They usually come to room temperature within a few hours. If you want a warm brownie, you can heat it up for a few seconds in the oven or microwave.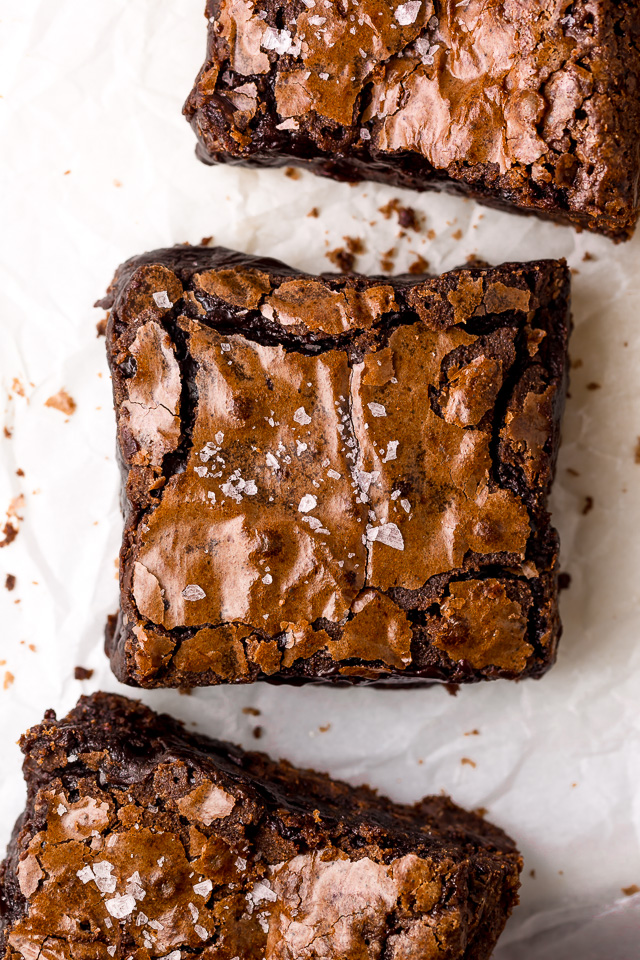 This recipe yields about 9 large brownies! But I've successfully doubled the recipe by simply multiplying the ingredients by two and baking them in a 9×13-inch baking pan. If you do decide to double the recipe, you'll want to increase the baking time by about 5 minutes, maybe a little more.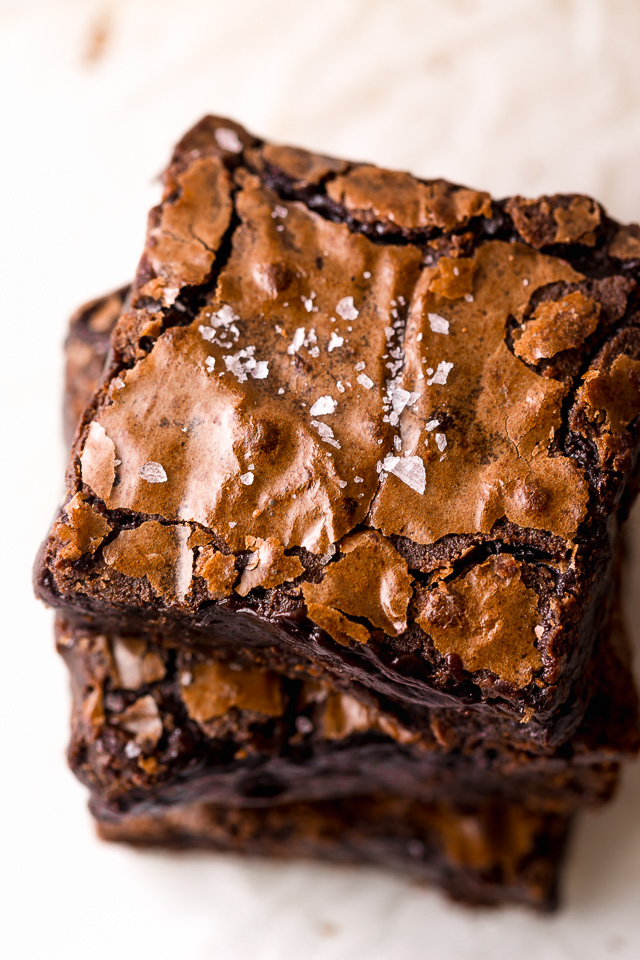 More Brownie Recipes: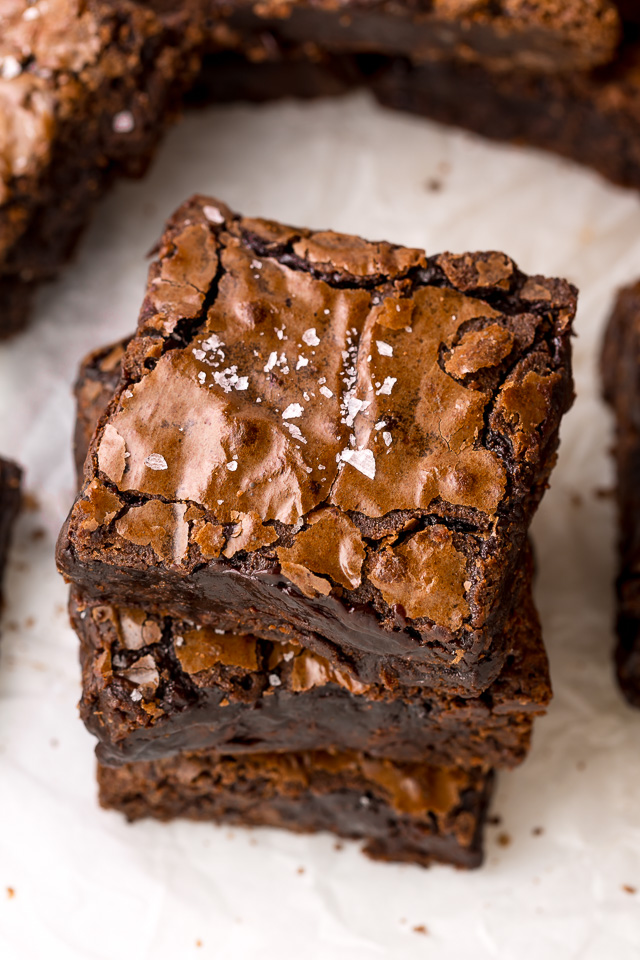 If you try this recipe for Cocoa Powder Brownies, let me know! Leave a comment below and don't forget to snap a pic and tag it #bakerbynature on instagram! Seeing your kitchen creations makes my day ♥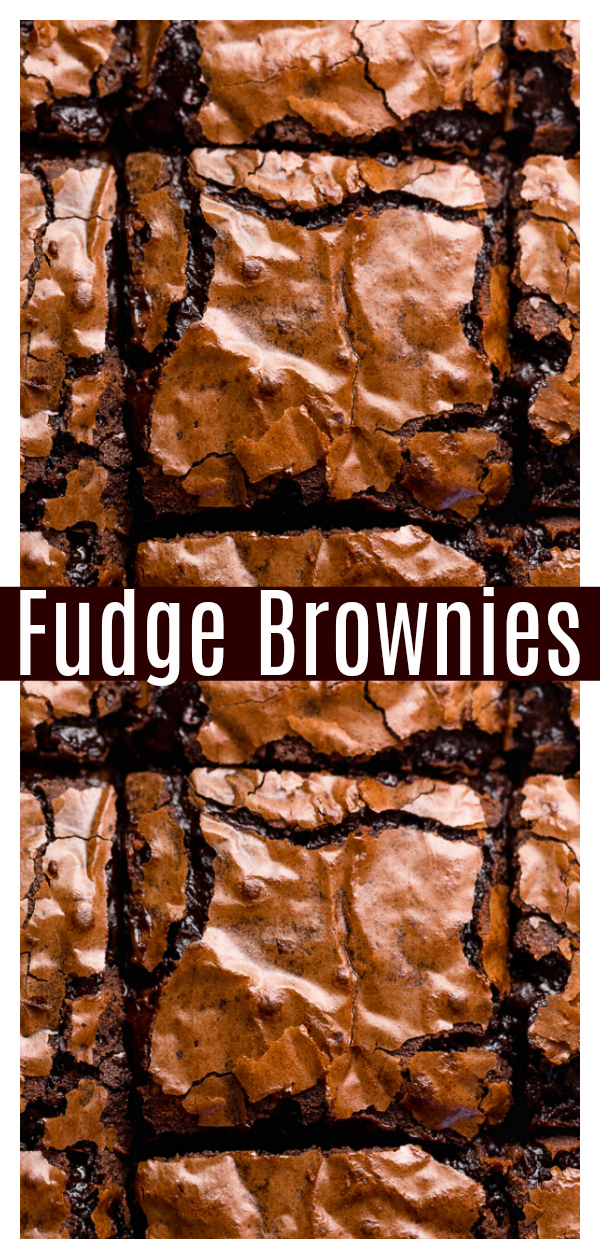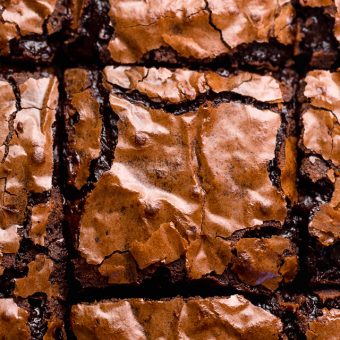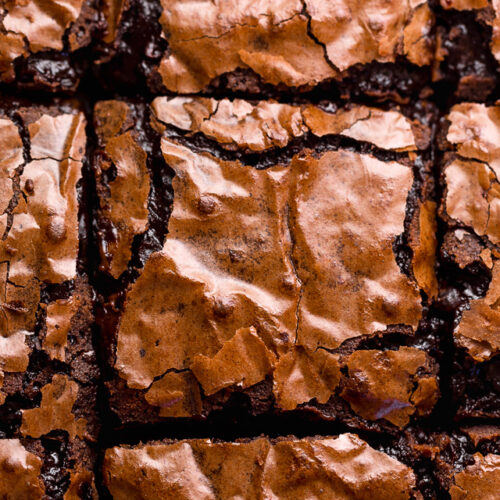 The Best Cocoa Fudge Brownies
Skip the boxed brownie mix and make The BEST Cocoa Fudge Brownies instead! Thick, chewy, fudgy, and so easy! 
Ingredients
1 cup (120 grams) flour
1/2 teaspoon baking powder
1/2 teaspoon salt
1/2 cup (43 grams) unsweetened cocoa powder
2 teaspoons espresso powder (optional but enhances the chocolate flavor)
1 and 1/2 sticks (170 grams) unsalted butter
3 Tablespoons oil (35 grams) (Canola, Vegetable, or Coconut will work)
1 and 1/2 cups (300 grams) granulated sugar, divided
2 large eggs plus 1 egg yolk
3/4 cup (128 grams) chocolate chips
Instructions
Preheat oven to 350 degrees (F) (175 degreed C). Line an 9x9-inch baking pan with parchment paper. Spray lightly with non-stick baking spray and set aside.

In a large bowl, sift together the flour, baking powder, salt, cocoa powder, and espresso powder. Set aside until needed. 

In a medium saucepan, combine the butter, oil, and 1/2 cup of the sugar. Heat over medium heat, stirring frequently, until butter is completely melted. Remove from heat. 

In a large mixing bowl, combine the eggs and remaining sugar. Whisk until well combined, about 30 seconds. 

Slowly, pour the warm butter mixture into the egg mixture, adding it very gradually (a little bit at a time) and whisking constantly until completely combined. 

Add in the dry ingredients and chocolate chips and, using a rubber spatula, slowly stir until just combined. *Do not over mix! Stop staring when you see the last trace of dry ingredients. Over mixing will give you cakey brownies. 

Scrape the batter into the prepared pan and smooth the top. 

Bake for 30 minutes, or until the edges are firm and the top is shiny and slightly cracked. 

Place pan on a cooling rack and cool completely before slicing. 
Notes
For very gooey brownies, you'll want to pull them out closer to 27 minutes. For more structured brownies, let the, bake 30 to 32 minutes. 
Over mixing is the number 1 reason brownies come out cakey.