Silky smooth No-Bake Chocolate Cream Pie! This insanely easy chocolate cream pie with cookie crust can be made ahead of time and frozen for 2 months. The perfect no bake recipe for Summer parties and barbecues!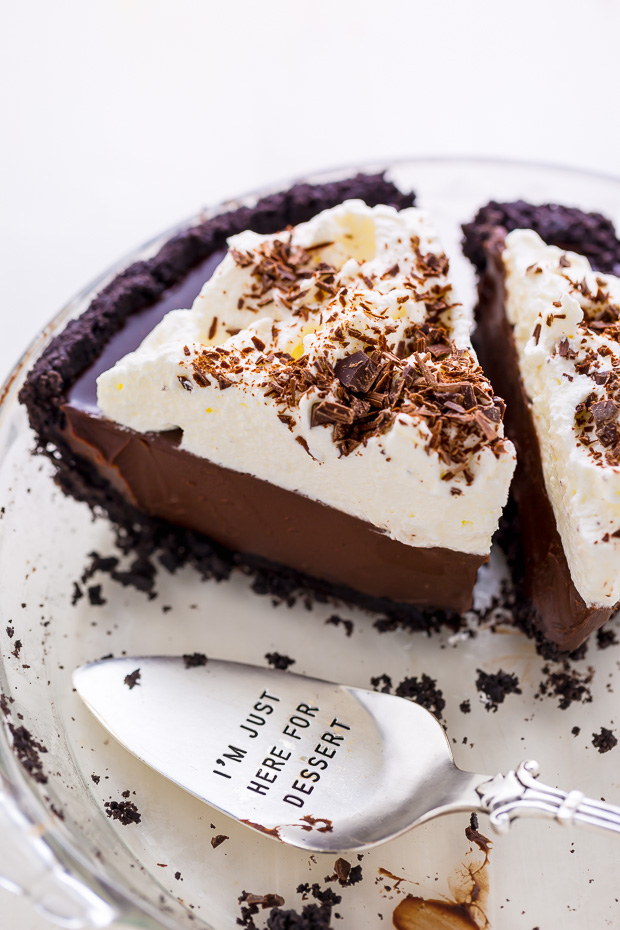 No Bake Chocolate Pie
The idea for this simple chocolate cream pie first came to me last Summer. Last August, to be more specific. It was one of those sizzling days that challenge even the most dedicated baker. One of those days there's just no way you're cranking on the oven. You know the type of day I'm talking about, right?
Now it might sound strange, but I actually have a love/hate relationship with those kind of days. On the one hand, it's beyond frustrating to have the heat dictate your baking life; on the other hand, restrictions can spark creativity. And by creativity, I mean no-bake chocolate cream pie!
P.S. The super cute "I'm Just Here For Dessert" pie server you see above is available HERE 😉
Despite the fact that we're now deep into January and I'll take any excuse to crank on my oven, I find myself coming back to this no-bake chocolate cream pie time and time again. Why? Well! Let's begin with ease. When I'm entertaining – especially if it's for more than 3 or 4 folks – I try to keep my menu as effortless as humanly possible. Over time I've learned that the key to being a good host is to be relaxed. Easy recipes definitely help in that department! But more than that, I love that since this pie is no-bake, I don't need to worry about having room for it in the oven. A lot of times my oven is already full with a roast, veggies, or let's be real… cookies! So having a dessert that's prepped and ready to go is such a blessing. Finally, this no-bake chocolate cream pie can be made and frozen for up to 2 months. Meaning you could make one (or 3!), stash it in the freezer, and have an insanely impressive dessert ready for last minute parties or pop-in guests.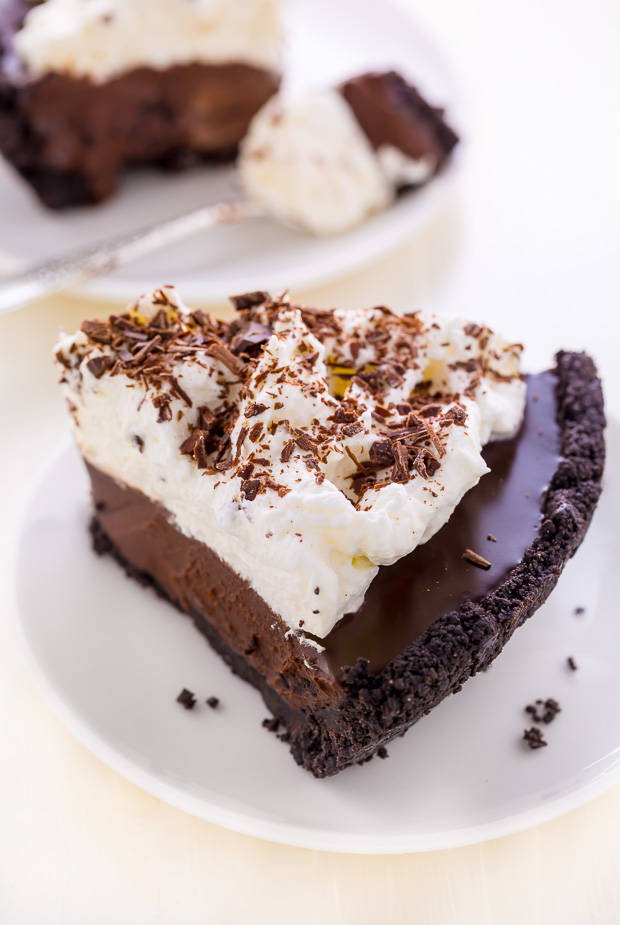 I should warn you! This pie is insanely decadent. You really only need a small piece to be satisfied. Between the Oreo cookie crust, the rich chocolate ganache filling, and the fresh whipped cream… it's a lot! I suggest slicing the pieces on the thinner side and sharing with as many friends as you can find.
Also, don't fret if the crust crumbles a little as you slice it. No-bake pies are notoriously messy. I say it's part of their charm! Serve with plenty of napkins and a smile and no one will even notice if a few cookie crumbs are out of place.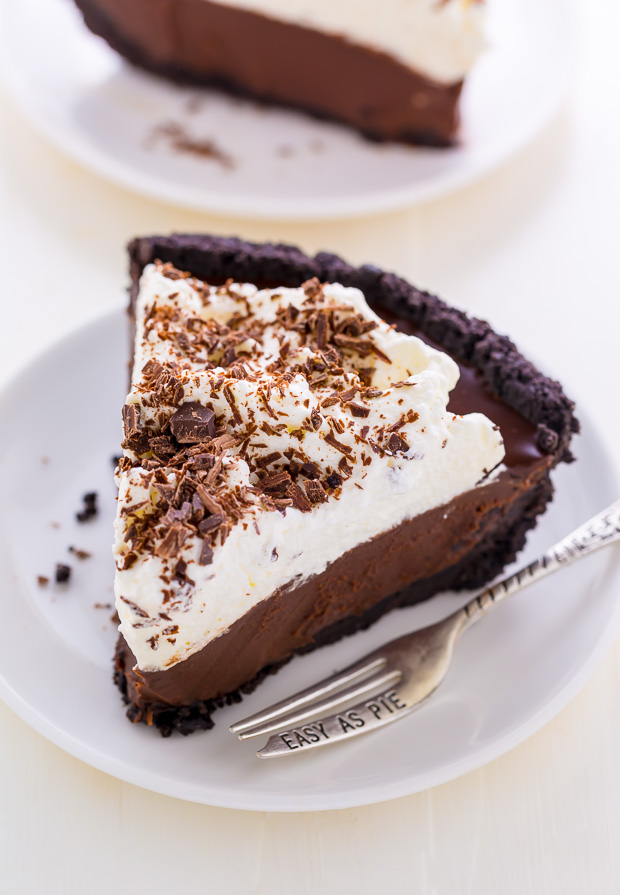 How to Make Pie without Oven
Tips and Tricks for Recipe Success:
This pie is mainly made up of chocolate, so use the best stuff you can get your hands on! And I strongly suggest using quality chocolate you know melts well and tastes good. I love Lindt 70% cocoa bars for this recipe! But whatever brand you choose, just be sure you're using real chocolate bars, and not chocolate chips.
The crust of this pie is made from crushed Oreo cookies and melted butter. You do NOT need to remove the filling from the Oreo cookies before crushing them up.
When it comes to crushing up your Oreo cookies, you have a few options. If you own a food processor or high-powered blender, you can simply place them in the body of the machine and pulse until the cookies are in fine crumbs. You may also crush them manually, by placing the cookies in a large ziplock bag, and rolling over them with a rolling pin or wine bottle. Just make sure all of the cookie bits have been finely crushed!
It's important to freeze the crust before you add the filling. I find 30 minutes the perfect amount of time, but you can cover the crust and freeze it up to 1 month in advance!
When heating the cream for the chocolate ganache, be sure to bring it to a low simmer, not a full boil! Once it begins simmering, remove it from heat and pour it over your chopped chocolate. Bringing the cream to a simmer should take less than 2 minutes, but all stove tops work a little differently, so keep an eye on it.
If you plan on serving the no-bake chocolate pie asap, place it in the freezer for an hour before slicing. If you're making this pie ahead of time, it may be covered and stored in the fridge for up to 3 days or the freezer for up to 2 months.
If you freeze this pie, you must freeze it without the whipped cream! For best results, the whipped cream should be made fresh and swirled on the pie right before serving.
In my opinion, freshly whipped cream is a must for this recipe! Canned whipped cream or cool whip just doesn't do it justice. That said, obviously both will "work" in a pinch 😉
I mentioned this earlier, but just want to say it again so there are no surprises: don't worry if the crust crumbles a little when you slice it! This is normal – especially for no-bake pies. However, cleaner slices can be made by being sure you've cut the through the crust before lifting the pie slice up and out of the pan. I do this by running my knife back and forth a few times before removing it.
So… are you craving chocolate cream pie yet or what?! I know I am 😉
More No-Bake Recipes:
If you try this recipe for No-Bake Chocolate Cream Pie, let me know what you think! Leave a comment below, and don't forget to snap a pic and tag it #bakerbynature on instagram! Seeing your creations makes my day.
No-Bake Chocolate Cream Pie
Silky smooth No-Bake Chocolate Cream Pie! This insanely easy recipe can be made ahead of time and frozen for 2 months.
Ingredients
For the Oreo Cookie Crust:
(1) package Oreo cookies, crushed into crumbs (see post for more info on this)
8 tablespoons unsalted butter, melted
For the Chocolate Ganache Filling:
16 ounces semi-sweet chocolate, finely chopped
2 and 1/4 cups heavy cream
1/2 cup (1 stick) unsalted butter, at room temperature, cut into cubes
For the Whipped Cream Topping:
1 and 1/2 cups heavy cream
1/4 cup confectioners' sugar, sifted
Instructions
For the Oreo Cookie Crust:
In a large bowl combine Oreo cookie crumbs and melted butter, mix well to combine. Press the crust into a 9" pie plate, pressing it in the middle and up the sides. Place crust in the freezer for 30 minutes.
For the Chocolate Ganache Filling:
Add chopped chocolate to a large heatproof bowl; set aside. In a small saucepan over medium-heat, bring the cream to a low simmer then remove from hear. Pour the warm cream on top of the chopped chocolate and set aside for 1 minute. Using a whisk, stir the chocolate and cream together, whisking until the the melted chocolate and cream are completely combined; about 2 minutes. Add in the butter and use a spatula to stir until the butter is completely melted. The mixture should be smooth and glossy. Set aside until needed.
For the Whipped Cream Topping:
In a large bowl using a handheld mixer, or in the bowl of a stand mixer fitted with the whisk attachment, beat together the heavy cream and confectioners' sugar until soft peaks are formed.
Assembly:
Remove the Oreo cookie crust from the freezer. Carefully pour the chocolate ganache inside the crust. The crust will be 90% full! Very carefully, place the chocolate pie in the fridge to set; about 2 hours. When ready to serve, dollop the whipped cream in the center of the pie and top with chocolate shavings, if desired. Slice and serve at once!
Notes
Whipped cream should be made right before serving!
Courses Dessert
Cuisine American
Nutrition Facts
Serving Size 1 slice of pie
Amount Per Serving
% Daily Value
* Percent Daily Values are based on a 2,000 calorie diet. Your daily values may be higher or lower depending on your calorie needs.