These Soft and Chewy Brown Butter Oatmeal Raisin Cookies are loaded with oats, raisins, and plenty of warm spices! Browning the butter adds TONS of flavor and once you try it, you'll never go back to another method! A great recipe to make anytime of year, but especially popular in our house during the holiday season!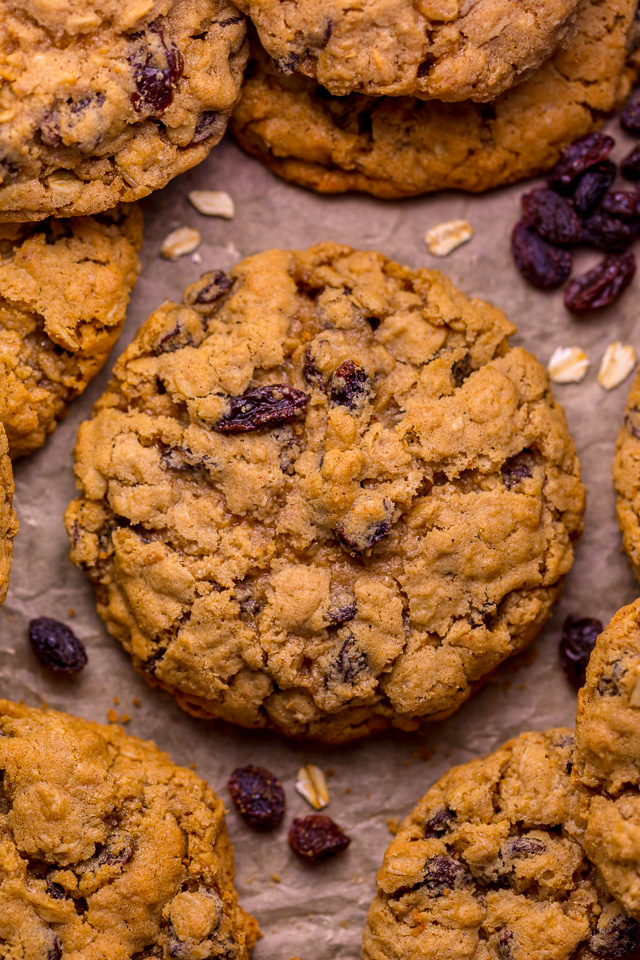 Oatmeal Raisin Cookies
Is it possible to have empty nest syndrome after just one weekend? Because I'm pretty sure I'm feeling it!
My family was here for a quick two day visit and it was bliss. We cooked dinner, drank delicious French wine, watched TV (started and finished the first season of 'The Man in the High Castle'), and baked so many cookies! So when they left last night, my tiny apartment felt extra quiet.
But I dealt with their departure in a way I'm sure any almost-30 year old woman would. I blasted Adele, baked chewy oatmeal raisin cookies, and binge watched old episodes of blue bloods.
Oatmeal Raisin Cookie Recipe
But I digress. You're probably just here for the cookies! And I cannot blame you. These easy oatmeal raisin cookies are the real deal. My brother – who is a notoriously picky eater and basically doesn't like anything desserts that don't contain copious amount of chocolate – polished off a half dozen of these in just minutes! And requested I bake more for our family Christmas party! I call that a win!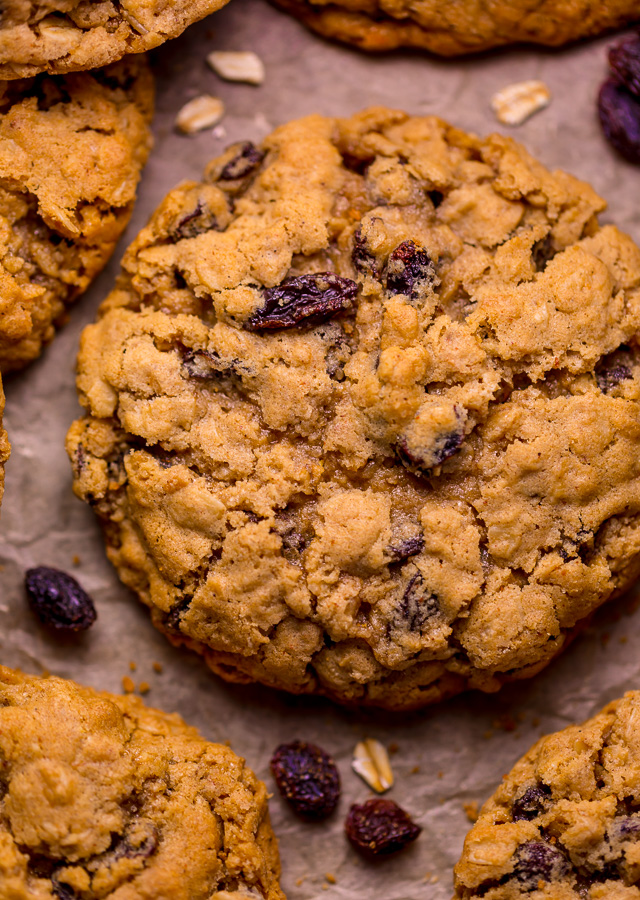 Why These Cookies are Extra Special
Brown Butter: It's no secret I love baking with brown butter! But I especially love using it in cookies! It enhances the flavor, adding subtle but lovely caramel and nutty notes. You have to try it!
Raisins and Walnuts: I love the subtle crunchy that pecans add. They work lovely with the chewy raisins, but especially when you chop them extra fine. But if you have an allergy, please feel free to omit them completely. Or, if you hate walnuts, try pecans instead!
Vanilla Extract: Almost all oatmeal raisin cookies call for a tiny splash of vanilla, but this recipe actually uses an entire Tablespoons. Which adds the loveliest flavor! Trust me, it's worth being heavy handed here!
Cinnamon and Nutmeg: I tested these cookies with and without these spices, and my taste testers all agreed spices are the way to go!
White Sugar and Brown Sugar: Combining dark brown sugar (which contains molasses) with granulated sugar adds a depth of flavor to these cookies that's out-of-this-world! Light brown sugar will work in a pinch, but dark is better!
How to Brown Butter
If you've never browned butter before, don't fret! It's really simple. You'll need a pan, two sticks of butter, and a touch of patience – that's it! You'll start off melting the butter in a skillet. Once the butter has completely melted, you'll continue to cook the butter, on medium heat, until it's transformed into a deep golden brown color. And smells slightly nutty.
Just be sure you stay stove side once the butter has melted; brown butter can turn into burnt butter very fast. Unfortunately if you do burn the butter, there's no saving it. You'll need to discard it and start again.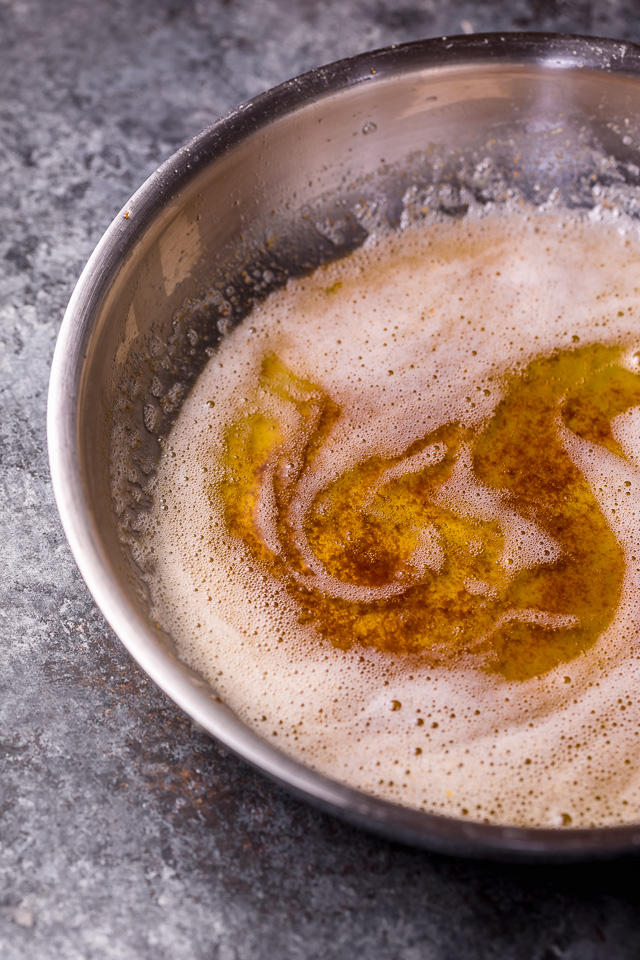 How to Use the Butter in this Recipe
You will need to bring your browned butter back to room temperature before incorporating it into the cookie dough.
To do this, you'll want to scrape the butter into a heatproof bowl. Then place the bowl in the refrigerator and bring the butter back to room temperature. This will take about 2 and 1/2 hours! If you chill it longer than that, you may need to soften the butter a bit.
You want it solid, but soft enough that when you gently press it with your finger it leaves an indentation. It's so important that your butter is at the proper temperature before you begin baking. If it's too warm, your cookies will bake up flat and spread all over the pan. If it's too cold, you'll struggle to get your cookies to spread as much as they should.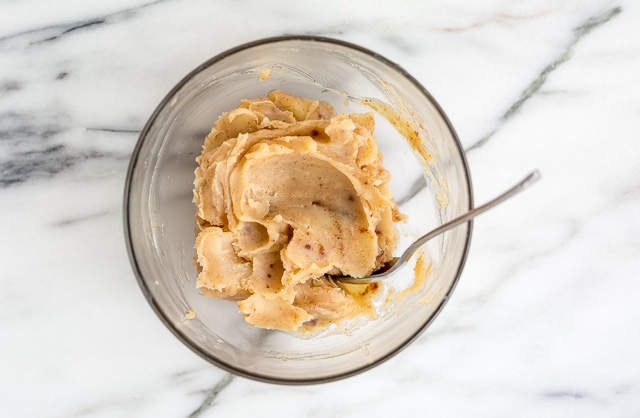 How to Make Oatmeal Raisin Cookies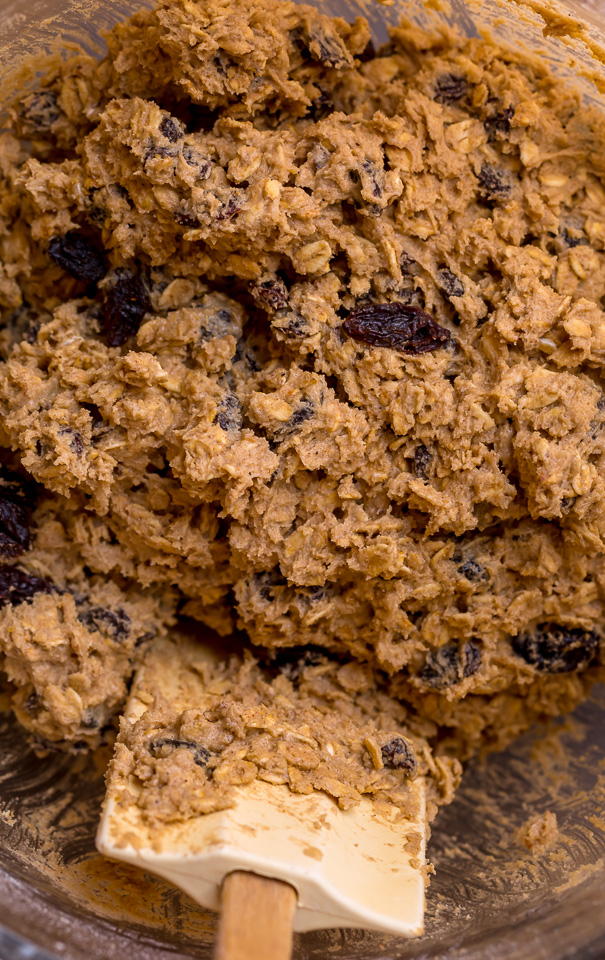 Preheat Your Oven: Like most cookie recipes, you'll want to preheat your oven to 350 degrees. Be sure to do this at least 30 minutes prior to baking!
Prepare Your Pan: Line two large baking sheets with parchment paper. Set them aside until they're needed.
Bust Out The Electric Mixer: You'll need an electric mixer for this recipe. A large bowl and electric handled mixer will work, but so will a stand mixer with a paddle attachment. The reason it's essential? You'll need high powder to get the butter and sugar light and fluffy.
Make the Cookie Dough: Whisk the butter and both sugars until light and fluffy. Don't skimp on time here, it'll take a few minutes! Then toss in the eggs and vanilla. Then the milk. Finally, whisk together the remaining dry ingredients (nutmeg, flour, baking soda, cinnamon, and salt). Then add the flour mixture to the bowl. Fold in your raisins and walnuts by hand, stirring just until combined.
Bake: There's no need to chill the dough, so you can just roll and bake! You can use a medium cookie scoop for smaller cookies or a large cookie scoop for slightly larger ones. Depending on the size of the cookies, you may need to increase or decrease the bake time by a few minutes. I suggest pulling them when they're lightly golden on top and firm around the edges. Just don't over bake! Because they'll firm up a ton as they cool!
Cool: Allow the cookies to cool on the baking sheet placed on top of a wire rack for at least 10 minutes before serving.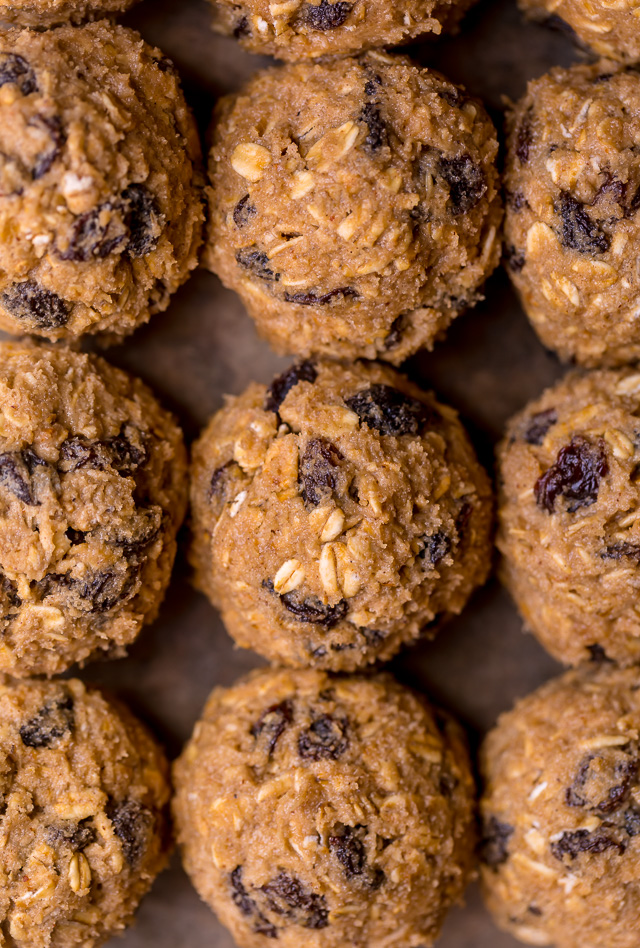 More Oatmeal Cookie Recipes: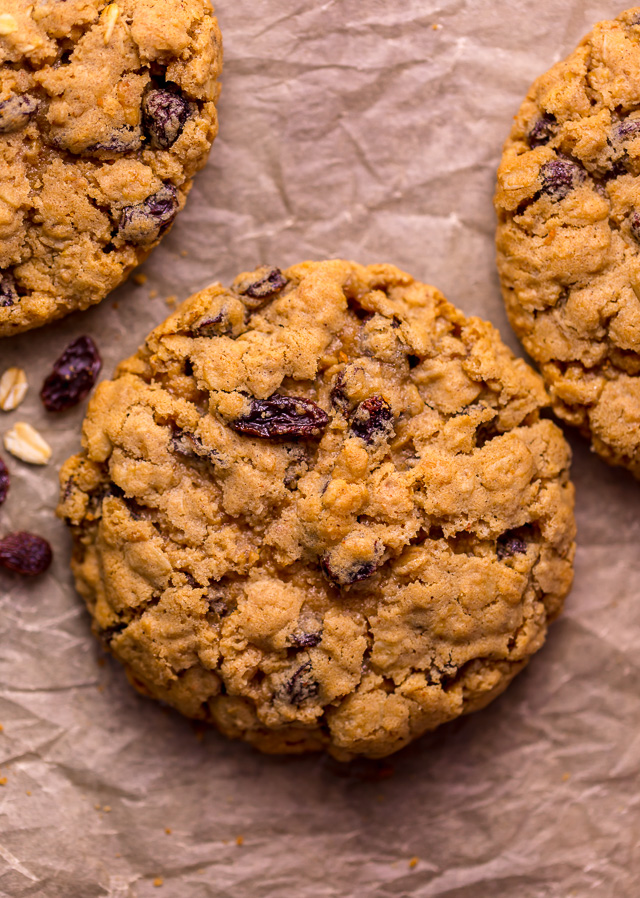 This is the best Chewy Oatmeal Raisin Cookie Recipe! And if you try it, let me know!Leave a comment below and don't forget to snap a pic and tag it #bakerbynature on instagram!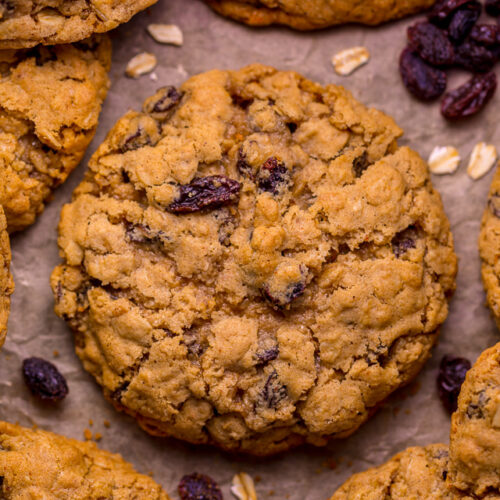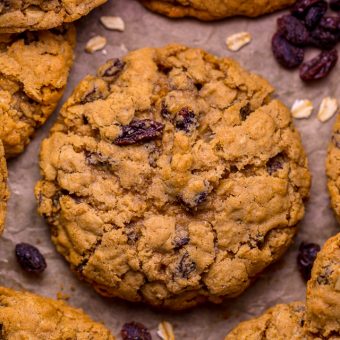 Brown Butter Oatmeal Raisin Cookies
These are hands down the BEST Brown Butter Oatmeal Raisin Cookies ever! Thick, chewy, and loaded with plump raisins.
Ingredients
2 sticks (1 cup) unsalted butter, melted until browned then brought back to room temperature (please see post for more on this)
1 and 1/2 cups light brown sugar, packed
1/2 cup granulated sugar
2 large eggs, at room temperature
2 tablespoons milk
1 tablespoon vanilla extract
2 cups all-purpose flour
1 teaspoon baking soda
1 teaspoon baking powder
3/4 teaspoon salt
3/4 teaspoon ground cinnamon
1/4 teaspoon ground nutmeg
2 and 1/2 cups rolled oats (not instant oats)
2 cups raisins
3/4 cup walnuts, finely chopped
Instructions
Preheat oven to 350 (F). Line two large baking sheets with parchment paper; set aside.

In the bowl of a stand mixer fitted with the paddle attachment, or in a large bowl using a handheld electric mixer, cream together the browned butter and both sugars until light and fluffy, about 3 minutes. Beat in the eggs, one at a time, scraping down the sides as needed. Beat in the milk and the vanilla extract until combined.

In a medium bowl, stir together the flour, baking soda, baking powder, salt, cinnamon and nutmeg. On low speed, gradually beat the flour mixture into the butter/sugar mixture until just incorporated. Turn mixer off. Using a wooden spoon or strong spatula, stir the oats, raisins, and walnuts. into the cookie dough, stirring just until incorporated.

Scoop 2-inch balls of cookie dough onto the prepared baking sheets, leaving about 1 and 1/2 inches between so they have room to spread.

Bake, one sheet at a time, in preheated oven for 10 to 12 minutes, or until cookies are golden and set at the edges and still slightly soft in the center. Repeat with all cookie dough.

Cool cookies on baking sheet for 10 minutes before transferring them to a wire rack to cool completely.