Silky smooth and creamy chocolate pudding made with just 5 simple ingredients. This delicious recipe is foolproof!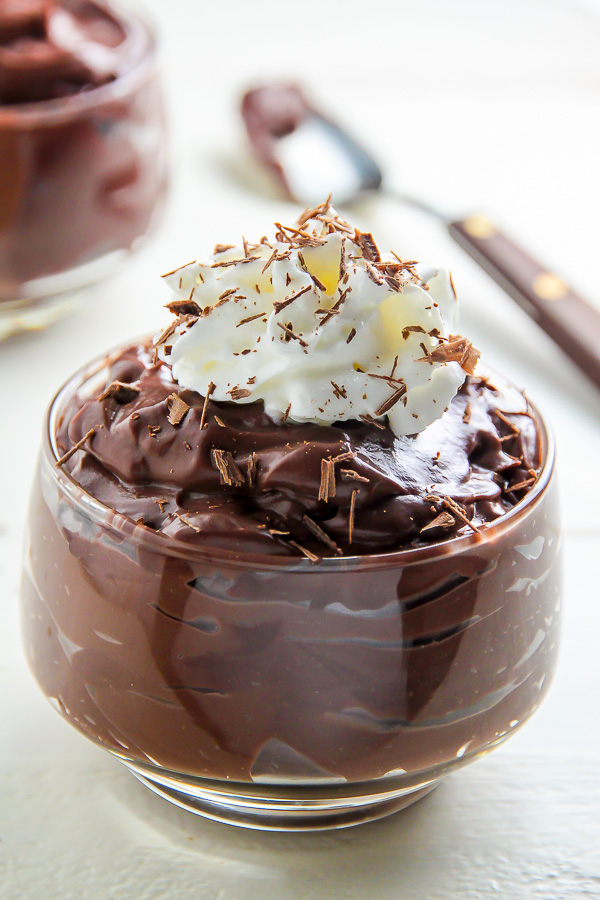 When it comes to comforting desserts, chocolate pudding is right up there with the best of them. Rich and creamy… full of real chocolate flavor… and ridiculously easy to make with just a handful of ingredients. Really, what could be better?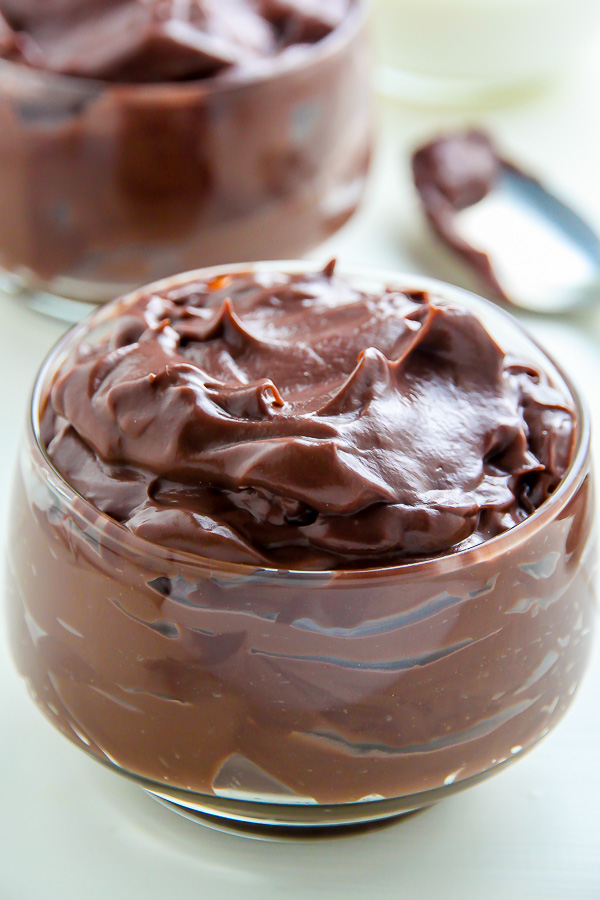 To make this pudding you'll need cornstarch, granulated sugar, whole milk, semisweet chocolate, and pure vanilla extract. That's right – only 5 ingredients! This recipe is truly a minimalists dream. Since there are only a handful of ingredients used, I do recommend using the highest quality chocolate and vanilla extract you can get your hands on. I love using Scharffen Berger Semisweet Dark Chocolate
and Pure Vanilla Bourbon Extract.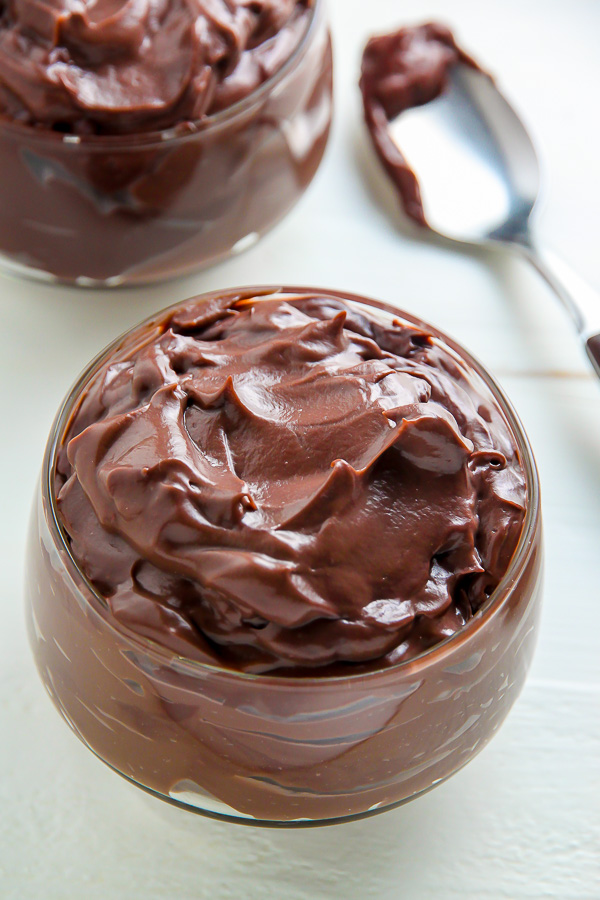 Making homemade chocolate pudding is seriously simple! You will need a double broiler, but if you don't own one, you can likely put together a makeshift version using a small pan and a heatproof bowl. Here's what you do:
 Fill a small pot with 1 and 1/2 cups of water, or until it's 1/4 full.
Bring the water to a rapid  boil, then reduce the heat to a light simmer.
Fit a heatproof bowl on top of the pot. The bottom of the bowl should not touch the simmering water. Make sure there us at least 2″ to 3″ of space between the bowl and the hot water. You want to heat the bowl with the rising steam, not the simmering water.
At this point you may proceed with the recipe instructions.
Warning: The bowl on top of the pan will get VERY hot; use potholders when handling.
The pudding will need to chill, but only for 30 minutes! Why is it that when chocolate pudding is involved… 30 minutes feels like 300 hours?!? You can also make this pudding up to 3 days in advance. Not that I think there's any chance of it sticking around for that long! One batch makes about 3 cups of pudding, and trust me when I say, it disappears FAST.
You can literally see how silky smooth this perfect pudding is! I love this recipe. It's great as is, but if you really want to go all out, try topping it with fresh whipped cream and some chocolate shavings. ← Doesn't that sound just amazing!? And it tastes even better than is sounds.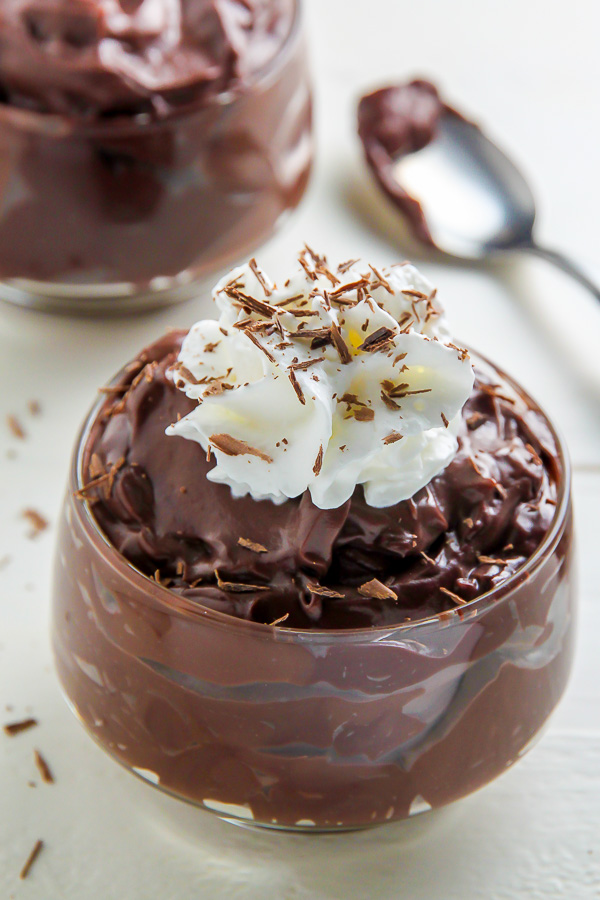 This recipe is the easiest, most straightforward, foolproof way to make chocolate pudding! And because it's so cold and creamy, it makes an especially wonderful dessert on hot Summer nights. But I have a feeling once you taste this… you're going to want it on hand year round 😉
If you try this recipe, let me know! Leave a comment below and don't forget to snap a pic and tag it #bakerbynature on Instagram! Seeing your kitchen creations makes my day. ♥
This post was updated on 2/29/2016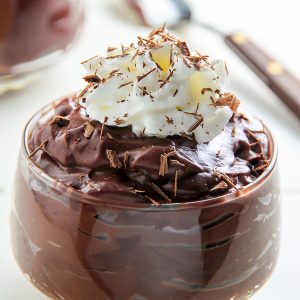 5-Ingredient Chocolate Pudding
Silky smooth homemade chocolate pudding made with just 5 ingredients!
Ingredients
1/4 cup cornstarch
1/2 cup sugar
3 cups whole milk
6 ounces 62% semisweet chocolate, coarsely chopped
1 teaspoon pure vanilla extract
Instructions
In the top of a double boiler combine the cornstarch and sugar. Slowly begin to whisk in the milk, making sure to scrape the bottom and sides with a heatproof spatula incorporating the dry ingredients. Place over gently simmering water and stir occasionally, scraping the bottom and sides. If lumps begin to form use a whisk to beat smooth as necessary. When the mixture begins to thicken (about 15-20 minutes) and coats the back of the spoon, add the chopped chocolate. Continue to stir for about 3-4 minutes, or until the pudding is smooth and thickened. Remove from heat and stir in the vanilla. Strain through a fine-mesh strainer and pour into serving bowl.

Place plastic wrap on top of the pudding and smooth it gently against the surface. Refrigerate for at least 30 minutes, or up to 3 days.
Notes
Recipe adapted via John Scharffenberger