Rich and fudgy classic chocolate cupcake perfection! This recipe is simple, straightforward, and sure to become a new favorite ♡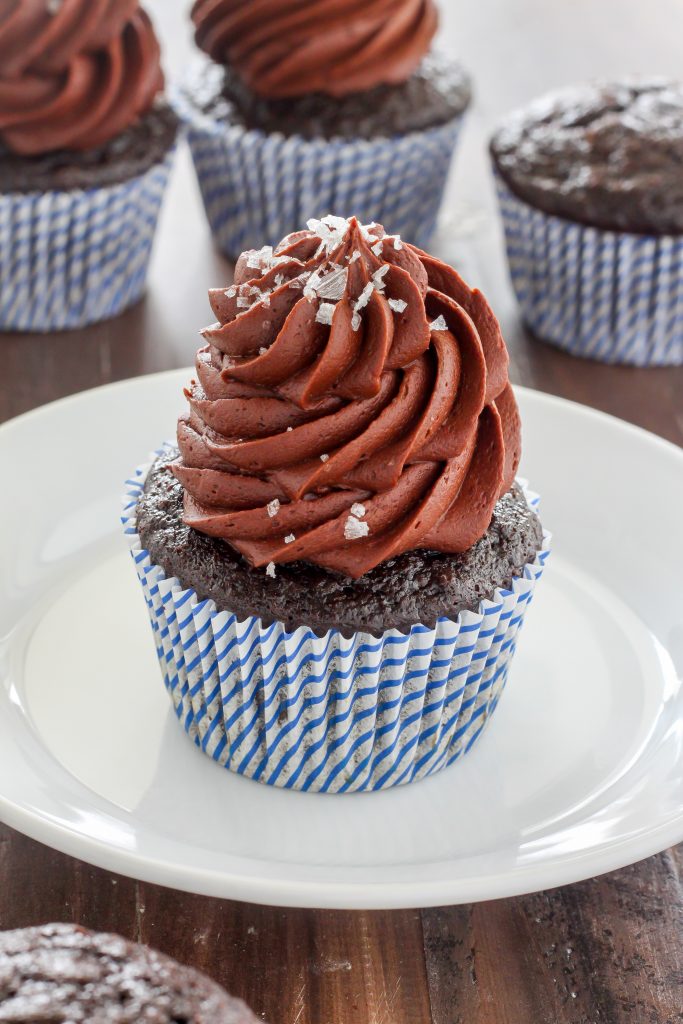 I'm a sucker for a good classic. Be it movies, music, cocktails or food. And when it comes to desert, is there anything more classic than an old fashioned chocolate cupcakes? Puffy pillows of rich chocolate cupcake topped with a hypnotizing swirl of silky smooth chocolate frosting – what could be better?
The answer? NOTHING. These babies are pure perfection!
Now, I am going to go eat the last one of these cake cups and dance around my apartment in a daze of chocolate induced happiness. You might want to do the same 😉
I topped these classic cupcakes with a pop of sea salt because I really dig that sweet and salty thing, but you could add chocolate sprinkles, rainbow sprinkles, or even some chopped chocolate! They're very versatile in that department, and will look pretty with as much or as little dolling up as you see fit.
Make cupcakes… Do it. Just do it. <—— I say this because I want you to be happy ♡♡♡
Classic Chocolate Cupcakes
Sometimes there's nothing better than a classic chocolate cupcake! This recipe will give you a soft and fluffy chocolate cupcake base and a delightfully creamy chocolate buttercream frosting. A must make for chocolate lovers!
Ingredients
For the Classic Chocolate Cupcakes:
1 cup all-purpose flour, not packed
1 cup granulated sugar
1/2 cup cocoa powder
3/4 tsp baking soda
3/4 baking powder
1 tsp instant espresso powder
1/2 tsp salt
1/4 cup vegetable oil
1 large egg (at room temperature)
1/2 cup boiling water
1/2 cup milk (I used whole, but reduced fat or even skim should work!)
1 tsp vanilla extract
For the Classic Chocolate Buttercream:
2 sticks (8 ounces) unsalted butter, very soft
1 1/2 cups cocoa powder, sifted
3 cups confectioners' sugar, sifted (more only if needed)
1/3 cup heavy cream
1 teaspoon vanilla extract
1/4 teaspoon finely ground sea salt (table salt will work, too)
Instructions
For the cupcakes:
Preeat oven to 350 degrees (F). Line a 12 mold cupcake tin with paper liners; lightly grease cupcake liners with non-stick spray; set aside.

In a large bowl stir together the flour, sugar, cocoa powder, baking powder, espresso powder, baking soda and salt; mix well to combine; set aside.

In a separate bowl combine the eggs, milk, oil and vanilla; beat until well combined. Pour liquid mixture into the dry mixture and gently stir until just combined. Stir in boiling water (batter will be thin); mix until combined.

Fill each prepared muffin tin 2/3 full with batter. Bake for 16-18 minutes, or until the tops are puffed up and a cake-tester inserted in the center comes out clean. Allow the cupcakes to cool a few minutes in the pan before transferring to a cooling wrack to cool completely. Once cool, frost with chocolate buttercream and decorate as desired.
For the Classic Chocolate Buttercream:
In a large bowl using a handheld mixer or in the body of a stand-mixer fitted with the paddle attachment, beat the butter until smooth and creamy; about 2 minutes. On low speed, stir in cocoa powder. Alternately add powdered sugar and heavy cream, beating until smooth, and scraping down the sides of the bowl with a rubber spatula as needed. Add in vanilla and salt. Once smooth, beat on medium-high speed for two minutes.
Notes
Be sure your butter is very soft before making your buttercream. Hot coffee may be used in place of the water if you'd like a slightly mocha taste to your cupcakes.