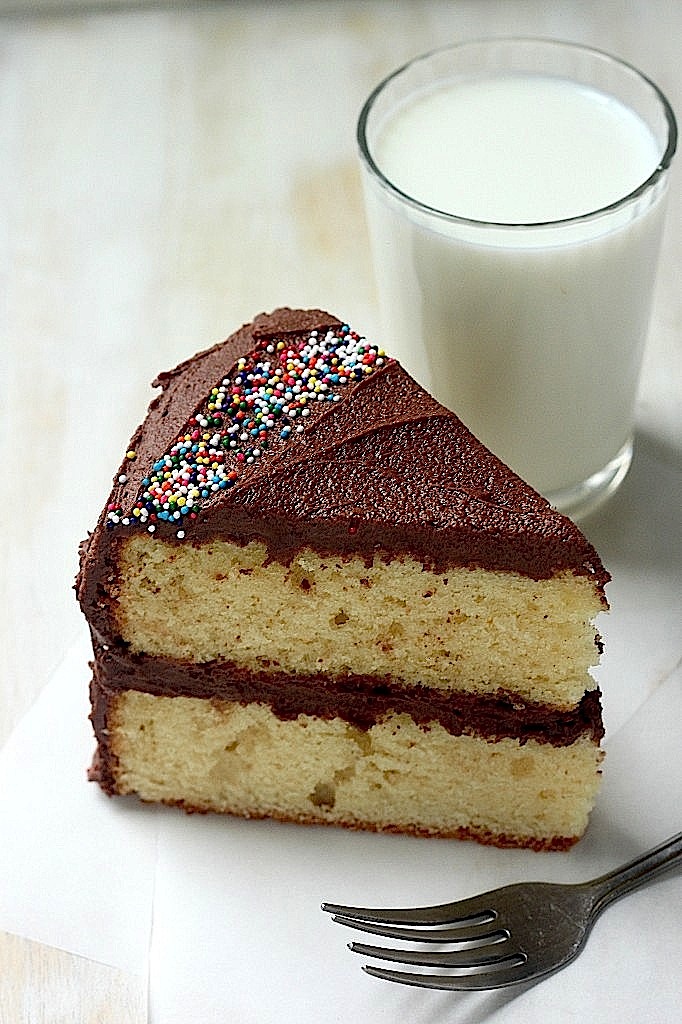 Welcome to CAKE WEEK! Yes, friends. It's finally here! One whole week of cake celebrations!!! I hope you're as excited (and hungry) as I am. Also, I hope you brought your sweet tooth… because this week you're definitely going to need it 😉 Let's get started, shall we?
I decided to kick this week of cake off with a classic: Yellow Birthday Cake. I also decided to give it a fun spin by ditching the typical chocolate frosting in lieu of creamy, dreamy, SUPER decadent Nutella buttercream. I think you guys are really going to like this frosting! Just be warned – it's addictive stuff!!! But then again, aren't Nutella laden treats always addictive?!
The cake itself is true yellow cake perfection! It's easy to throw together, and bakes up consistently amazing every time. The crumb is tender but firm, which is good since we want it to hold up to the frosting. The flavor is buttery, delicate, and just what you'd expect a yellow cake to taste like 😉 I promise it'll live up to all your moist, buttery, yellow cake expectations!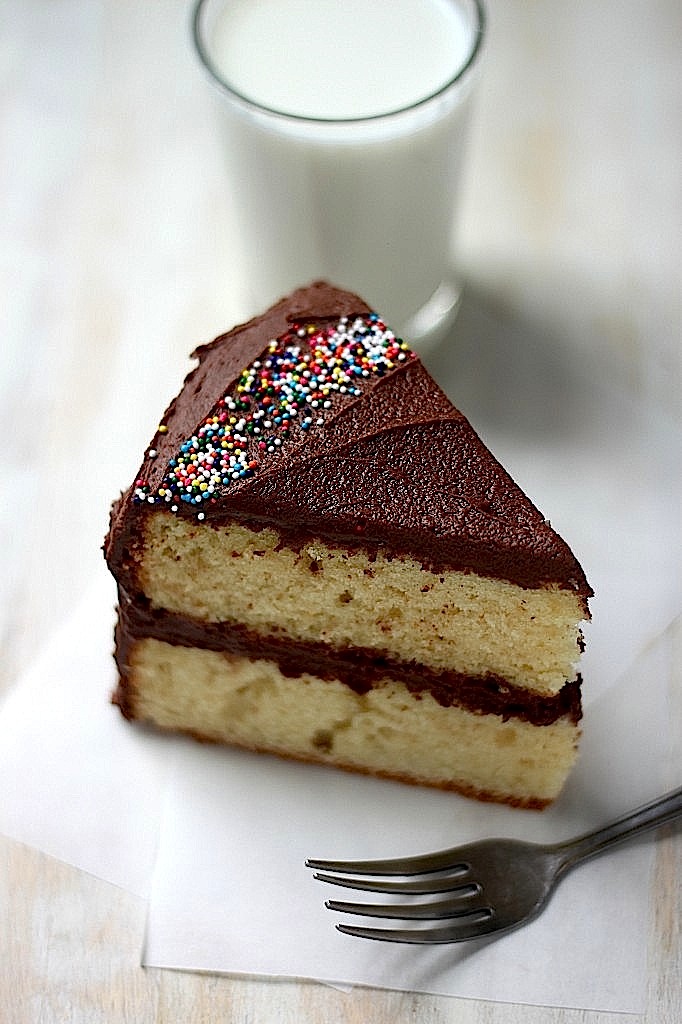 This cake is the perfect treat for any birthday celebration… or, just because! I think we should have more "just because" cakes in our lives 😉 Especially when they're this good! but that's just me. xoxo
Classic Yellow Birthday Cake with Nutella Buttercream Frosting
Ingredients
4 cups cake flour
2 teaspoons baking powder
1 1/2 teaspoons baking soda
1 1/2 teaspoons kosher salt
1 1/2 sticks unsalted butter, at room temperature
1/4 cup coconut OR canola oil, liquified (if using coconut)
2 1/4 cups sugar
3 teaspoons vanilla extract
4 large eggs, at room temperature
2 large egg yolks, at room temperature
1 1/2 cups sour cream
1/2 cup whole milk
For the Nutella Buttercream:
16 tablespoons unsalted butter, at room temperature
4 cups powdered sugar, plus more if needed to reach a thicker consistency
5 tablespoons half and half
2/3 cup cocoa powder
1/2 cup Nutella
Instructions
Preheat oven to 350°F. Generously butter two 9-inch round cake pans and line with circles of parchment paper, then generously butter parchment. Be sure your pans are VERY well coated with butter or non-stick spray.

In a large bowl, stir together flour, baking powder, baking soda, and salt. In a separate large mixing bowl, beat butter, oil, and sugar with an electric mixer at medium speed until light and fluffy, then beat in vanilla. Add eggs 1 at a time, beating well and scraping down the bowl after each addition. Beat in egg yolks. At low speed, beat in sour cream and milk until just combined. Add flour mixture in three batches, mixing until each addition is just Incorporated.

Spread batter evenly in cake pans, smoothing the tops with a spatula. Bake until firm and golden; or until a cake tester inserted in center of cake comes out clean; about 40 minutes.

Allow cakes to cool in pans for 10 minutes, then run a knife around edge of pan, loosing any crumbs that may be stuck. Invert onto rack and discard parchment, then cool completely, about 1 hour.
For Nutella Buttercream:
In the body of a stand mixer fitted with the paddle attachment beat butter until light and fluffy. Gradually add the sugar, then cocoa powder, and beat until smooth and creamy. Add 3 tablespoons of the half and half and beat until smooth. Fold in Nutella, and add additional powdered sugar (a 1/4 cup at a time) if the frosting looks too thin. Add additional half and half if the frosting looks too thick, a tablespoons at a time. Spread evenly over cake.