Sweet and just a little bit salty, these thick and chewy dark chocolate pistachio nutella granola bars explode with flavor! A delightful breakfast, snack, or even dessert.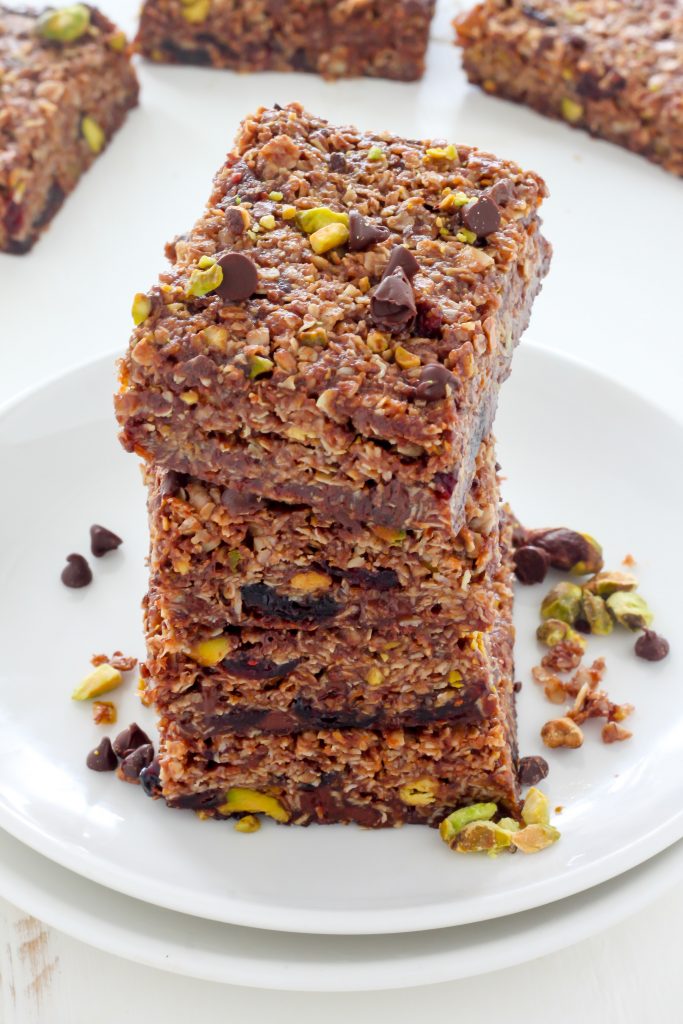 If you know me, you know I'm a sucker for snacks. Our cabinets are always stocked with midnight munchies (cookies, chips, licorice; you name it!), but most of the time I find myself staring at those prepacked snacks and longing for something a little more… homemade. What can I say? I'm a sucker for REAL food. Even when I'm hangry.
Enter these epic Dark Chocolate Pistachio Nutella Granola Bars. They're thick, they're chewy, they're loaded with dark chocolate chips and pistachios, and – best of all – are bursting with NUTELLA flavor in every bite. Can I hear a heck YES?!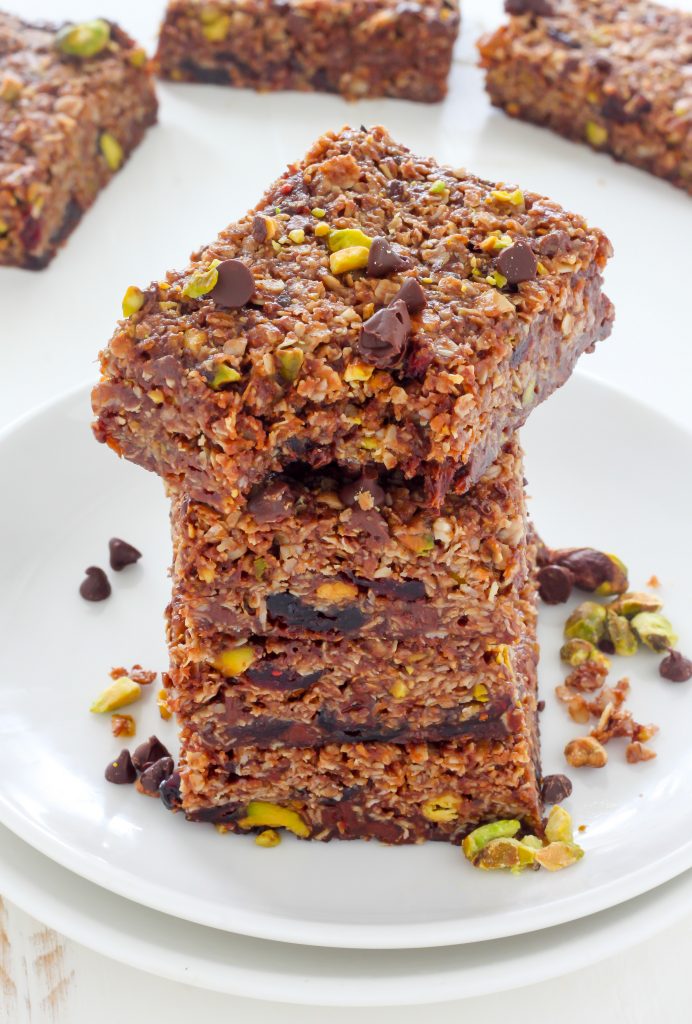 This recipe is so easy, so I don't have too much to preach about… other than THIS ONE THING. Here it is: Your granola bars won't look done when you pull them from the oven. <— Not at all. But they are! I promise. Pull them out, place them to the side for an hour or so, then take a second look. You'll be shocked (and delighted) to see just how much these delicious chocolatey bars firm up once cooled. End rant 😉

Check out the simple recipe below, bust out the nutella, and go get your granola bar on 😉
And, as always, if you have any questions on this recipe, just ask in the comment section below! I'm here to help, my friends, and always happy to do it. xoxo
Dark Chocolate Pistachio Nutella Granola Bars
Ingredients
3 1/2 cups quick rolled oats
1 cup light brown sugar, packed
2/3 cup oat flour
1 1/2 teaspoons finely ground sea salt
3/4 teaspoon ground cinnamon
1 cup hazelnuts, roughly chopped
1 1/2 cups pistachios, shelled and roughly chopped
1 cup dried cranberries OR sour cherries, roughly chopped
1 cup mini chocolate chips
1/2 cup nutella
3/4 cup coconut oil (or canola oil), melted
3/4 cup honey or maple syrup
Instructions
Preheat oven to 350 degrees (F). Line an 9″x13" baking pan with parchment paper; lightly grease the parchment paper and any exposed pan with a non-stick spray; set aside.

Stir together all the dry ingredients, including the fruit and nuts. In a separate bowl, whisk together the nutella, coconut oil, and honey. Pour the wet ingredients over the dry ingredients and use a rubber spatula to mix everything together (it will be a crumbly mix).

Pour the mixture into the prepared pan and press it down firmly (you want it really packed down into the pan so it holds its shape).

Bake the bars for 30-35 minutes, or until they're golden brown on top and around the edges. They'll seem soft and slightly under-baked when you're removing them from the oven - not to worry - they'll firm up as they cool.

Cool the bars in the pan completely before cutting.

Once cool, use a very sharp (preferably serrated) knife to cut the bars into rectangles. Store in the fridge, freezer, or at room temperature in an airtight container.