Triple Chocolate Nutella Cupcakes! Topped with silky chocolate ganache and a chocolate hazelnut truffle. These cupcakes are a Nutella lovers dream come true!!! 

Triple Chocolate Nutella Cupcake Recipe
Love Nutella? Love chocolate cupcakes? Well then you are in the right place! Because today we're baking triple chocolate cupcakes. Correction: TRIPLE CHOCOLATE AND NUTELLA CUPCAKES.
Sinfully sweet and drop-dead-gorgeous. Can we just stop and gawk for a moment…?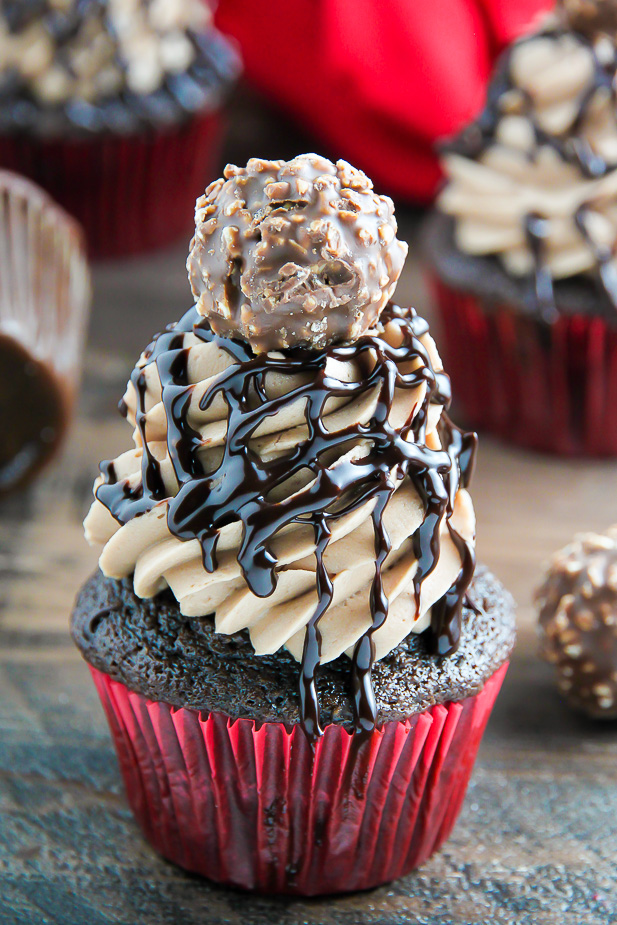 Alright back to business 😉 Let's chat about these cupcakes! The recipe for these cupcakes is almost identical to my super decadent chocolate cupcakes. These cupcakes are supremely moist, rich in real chocolate flavor, and so easy you can have them baked and frosted in less than an hour. Why mess with perfection?!
P.S. This recipe yields 18 cupcakes! So invite some hungry, chocolate loving friends over to help you gobble them down (and help wash the dishes).
The Nutella buttercream is silky smooth and so rich! Butter, cocoa powder, Nutella, confectioners' sugar, milk, salt, and vanilla. That's it!
I topped each of these cupcakes with drizzle of chocolate ganache and a Ferrero Rocher chocolate hazelnut candy
, and although it's optional, I highly recommend these extra steps.
Btw. Have you had Ferrero Rocher chocolates before?! If not, let me indulge you a little. Imagine this: smooth chocolate + a whole hazelnut + delicate crisp wafer + finely chopped hazelnuts all covered in MORE chocolate. ← Trust me when I say you want that on top of your cupcake!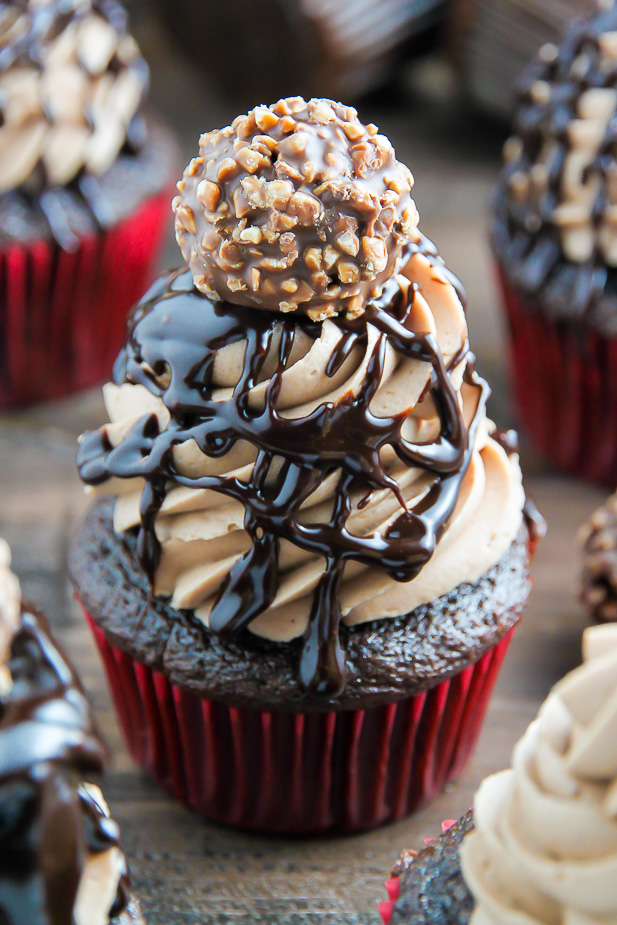 The only thing better than a cupcake? A triple chocolate cupcake. Treat yourself!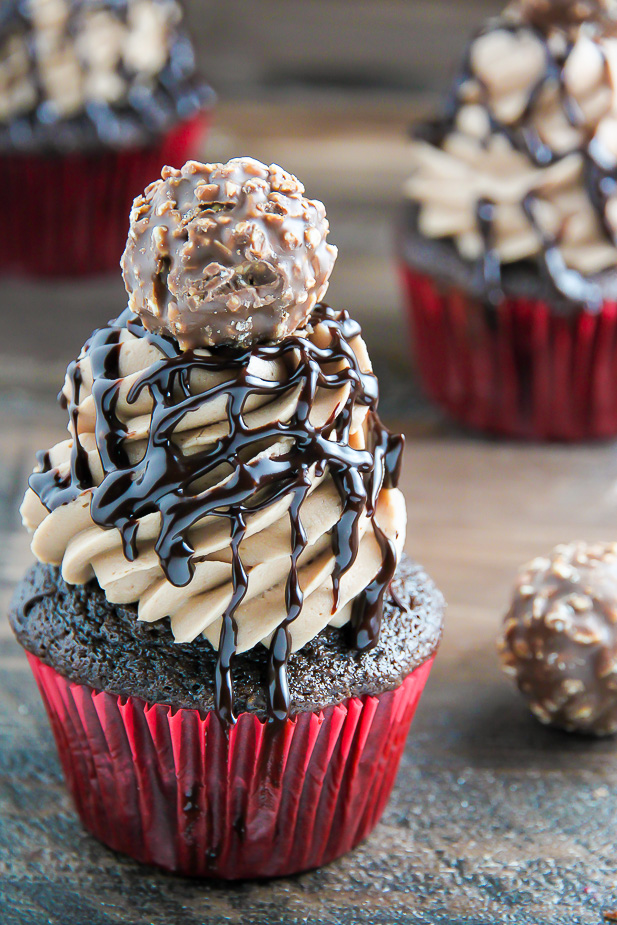 More Nutella Recipes: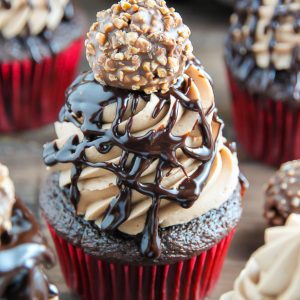 Triple Chocolate Nutella Cupcakes
Rich Chocolate Cupcakes topped with Creamy Nutella Frosting, a drizzle of Chocolate Ganache, and a Ferrero Rocher Candy. These are heaven!
Ingredients
For the cupcakes:
3 tablespoons coconut OR canola oil
1 stick unsalted butter, melted and slightly cooled
1/2 cup semi-sweet chocolate chips
1 cup granulated sugar
2 large eggs + 1 large egg yolk, at room temperature
1 teaspoon vanilla
3/4 cup + 2 tablespoons all-purpose flour, not packed
1/2 teaspoon baking soda
1 teaspoon baking powder
1/2 cup unsweetened cocoa powder
1/2 teaspoon salt
1/2 cup full fat sour cream
1/2 cup hot coffee OR hot water
For the Nutella Buttercream:
1 stick unsalted butter, very soft
3 cups confectioners sugar
1/4 cup unsweetened cocoa powder
3 tablespoons Nutella
2 tablespoons whole milk or half and half
1/4 teaspoon salt
1 teaspoon vanilla extract
For the chocolate glaze:
1 and 1/4 cups bittersweet chocolate chips
3/4 cup heavy cream
18 Ferrero Rocher candies (optional, see post for more information on this product)
Instructions
For the cupcakes:
Preheat the oven to 350 degrees (F). Line a 12-cup cupcake/muffin tin with cupcake liners and lightly spray the liners with non-stick spray (optional but it does help them peel right off).

Melt the oil, butter,and chocolate together in the microwave, heating in 30 second increments, and stirring between increments each time. You can also melt the oil, butter, and chocolate over very low heat on the stovetop, but I find the microwave to be much easier. Whisk mixture until completely smooth and set aside to cool.

In a medium sized bowl combine the flour, baking soda, baking powder, cocoa powder, and salt; stir together until thoroughly combined; set aside.

In a large bowl, whisk together the eggs, yolk, sugar and vanilla together; beat until smooth. Add the cooled oil/butter/chocolate mixture and whisk until smooth. Add half of the flour mixture, then half of the sour cream. Repeat the process until everything is added, and be sure to mix until JUST combined - then quickly stir in the hot coffee/water. It's important not to over mix, here! Just stir until evenly combined.

Divide the batter among the 12 liners in your prepared pan. Bake for 16-18 minutes, or until a toothpick inserted in the center comes out clean. Cool *completely before frosting.
For the Nutella buttercream:
Sift together the confectioners sugar and cocoa powder, whisking well to ensure it's bump and lump free!

Using a handheld mixer OR a stand mixer fitted with the paddle attachment, beat the butter on medium-high speed until creamy; about 2 minutes. Reduce speed to low and slowly add the sifted sugar/cocoa powder, alternating with the Nutella and milk, then add the vanilla and salt. Once all of the ingredients have been added, beat on high speed until light and creamy and combined; beat for at least 1 minute on high.

Frost cooled cupcakes and top with any decorations if desired.

Cupcakes stay fresh at room temperature in an airtight container for up to 4 days.
For the chocolate ganache:
Place chocolate chips in a wide and shallow heat proof bowl. Heat the cream in a small sauce pan over medium-heat. Bring to a boil, watching very carefully as it will happen fast. When the cream has come to a boil, remove from heat and pour over the chocolate chips. Allow the cream and chocolate to sit for minute, then whisk completely smooth. Let the ganache cool for a few minutes before you drizzle it over the cupcakes. Press a Ferrero Rocher candy on top of each cupcake and allow the ganache to set a few minutes before serving.
Notes
*If the buttercream appears too thick, add more milk or cream, one tablespoon at a time until you've reached your desired consistency; if the buttercream appears too thin, add a little more confectioners' sugar to the frosting. *If you plan to pipe your frosting "mile high" like in the photos, double the frosting recipe. Unfrosted cupcakes may be frozen for up to 2 months.