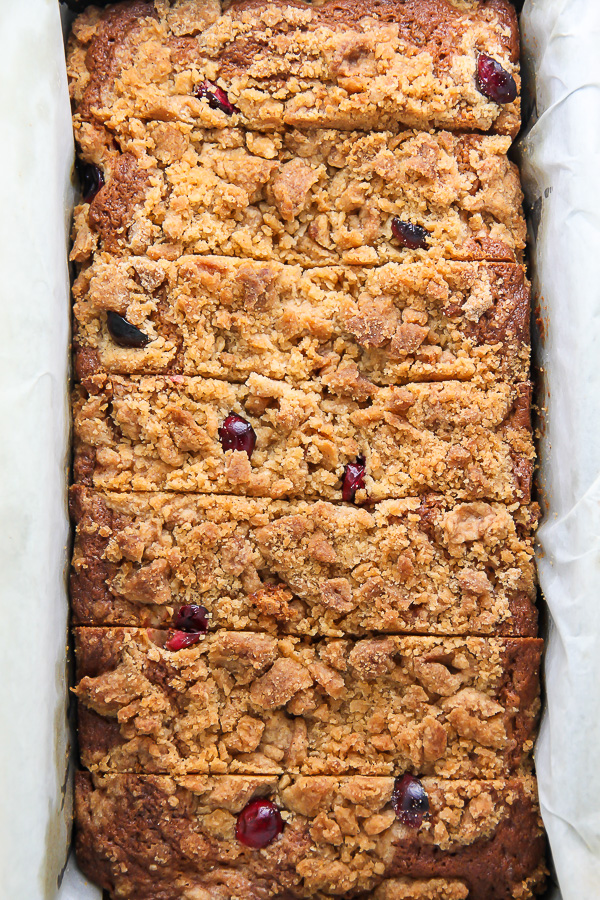 Question: Do you know what a cranberry bog is? In case the answer is no, a cranberry bog is where cranberries are grown and which is then flooded with water for the floating berries to be harvested.
↑↑↑ I tell you all of this because last week, I had LUNCH in a cranberry bog display! In Rockefeller Center®. With Curtis Stone. And the awesome folks from Ocean Spray.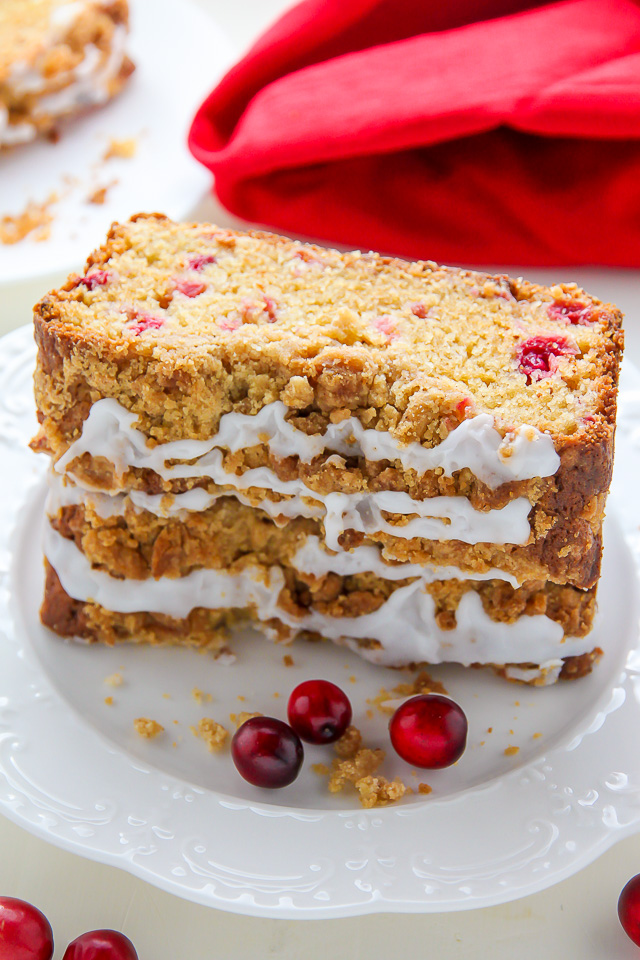 Ocean Spray is a grower-owned cooperative celebrating its 85th anniversary this year. Ocean Spray is made up of more than 700 grower-owners, many of whom have enjoyed the farming way of life for generations.
Chef Stone shared some of Thanksgiving's most delicious dishes – incorporating traditional tastes, modern tweaks and influences from around the globe – sure to satisfy Thanksgiving traditionalists and Turkey Day daredevils alike. In true Thanksgiving fashion, each and every dish featured this Fall's number 1 ingredient: the cranberry!
Today I'm sharing with you a holiday perfect recipe featuring Ocean Spray® Fresh Cranberries: Cranberry Crumb Cake! Supremely moist and rich cranberry cake is topped with buttery crumbs and sweet vanilla glaze.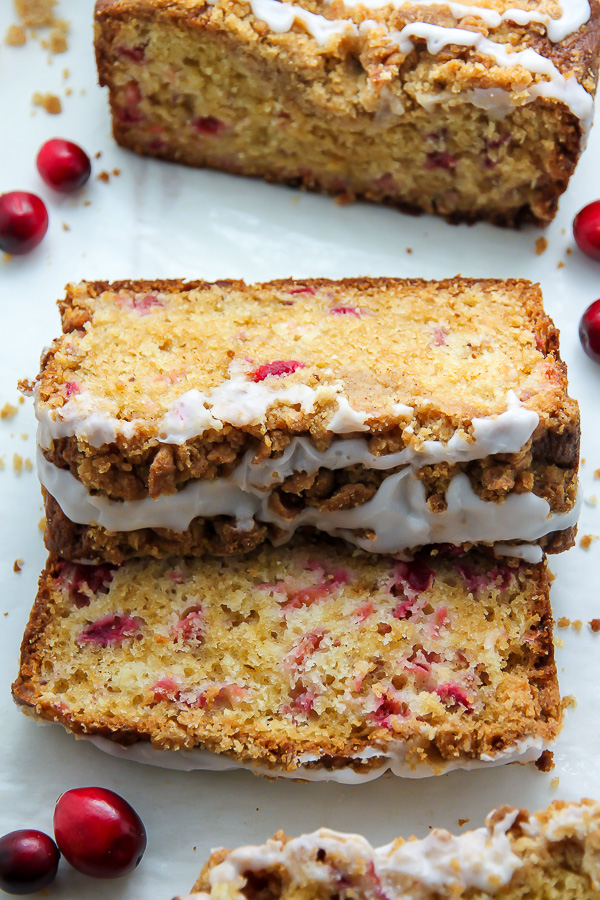 The great thing about this recipe is it really lets the cranberry shine! There are over a whole cup of fresh cranberries in the cake, and I like to sprinkle a few whole cranberries in with crumb topping for flavor and beauty.
This cake is rich, sweet, and simple. It also travels wonderfully, making it a great choice if you're hitting the road for the holidays this year. Just leave the glaze off if you're taking it to a destination more than 4 hours away.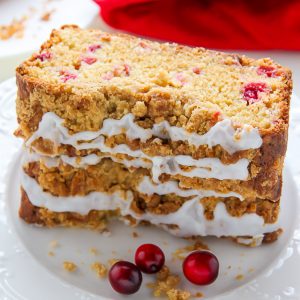 Cranberry Crumb Cake
A moist sour cream crumb cake that's bursting with fresh cranberries! Topped with a sweet vanilla glaze, this is perfect for breakfast, brunch, or dessert.
Ingredients
For the Cranberry Cake:
4 ounces unsalted butter, melted
1/4 cup granulated sugar
1/2 cup light brown sugar, packed
2 and a 1/2 teaspoons pure vanilla extract
2 large eggs, at room temperature
1 and a 1/4 cups cake flour
1 teaspoon baking powder
1/2 teaspoon baking soda
1/2 teaspoon finely ground sea salt or table salt
1/2 cup sour cream
1 cup fresh cranberries (frozen may be used, but do not thaw them first), roughly chopped
2 tablespoons all-purpose flour
For the Buttery Crumb:
1/4 cup light brown sugar, packed
1/2 cup all-purpose flour
3 teaspoons ground cinnamon
1/2 teaspoon finely ground sea salt or table salt
3 tablespoons unsalted butter, very cold
1/2 cup pecans, chopped (optional)
For the Vanilla Icing:
1/2 cup confectioners' sugar, sifted
2-3 tablespoons milk (I used whole here, but reduced fat or even almond milk will work here)
1/2 teaspoon vanilla extract
1/4 teaspoon finely ground sea salt or table salt
Instructions
Preheat oven to 350 degrees (F). Line a 9x5 inch loaf pan with parchment paper so that the paper hangs slightly over the edges on two sides (this will help you lift the cake out without loosing any delicious crumbs!). Spray the parchment paper and any exposed pan with non-stick spray; set aside.

In a large bowl using a handheld electric mixer or in the bowl of a stand mixer fitted with the paddle attachment, combine the butter and sugars and beat on medium speed for 3 minutes; or until well combined and creamy. Add in the vanilla and beat for another minute. Add in eggs, one at a time, beating well after each addition. Turn mixer off and allow the wet mixture to rest while you prepare the dry ingredients.

In a medium-sized bowl combine the cake flour, baking powder, baking soda and salt; mix well to combine. On low speed, add the dry ingredients into the wet ingredient mixture, stirring just until combined. Turn electric mixer off. Using a rubber spatula fold the sour cream into the mixture.

Place the chopped cranberries in a small bowl and gently toss them with 2 tablespoons of all-purpose flour - be sure to really coat the berries in the flour, as this helps them not sink to the bottom of the loaf while baking. Gently fold the flour covered cranberries into the batter, stirring just until combined. Set batter aside and quickly prepare the buttery crumb.
For the Buttery Crumb:
In medium-sized bowl combine all ingredients. Quickly mix the ingredients together using a pastry cutter, fork, or your fingers until well combined; stop when the butter reaches the size of tiny peas.
Assembly and Baking:
Pour half of the batter into the prepared pan and top with half of the buttery crumb mixture. Add the remaining batter, then top with remaining buttery crumb mixture. Bake for one hour, or until the top is deeply golden and a cake tester inserted in the middle of the loaf comes out clean, or with just a few crumbs attached. Allow cake to cool in the pan for 20 minutes, then, using the overlapping edges of parchment paper, lift up and transfer the cake to a cooling wrack to cool completely.

Once the cake is completely cooled, you may top it with the vanilla icing, slice, and serve!
For the Vanilla Icing:
Combine all of the ingredients together in a medium-sized bowl; whisk well to completely combine.

Drizzle over cooled cake right before serving.