Cranberry Orange Scones are loaded with vibrant orange flavor, fresh cranberries, and topped with a sweet orange glaze! These are so festive and perfect for breakfast or brunch. And one of my favorite scone recipes to make during the holiday season!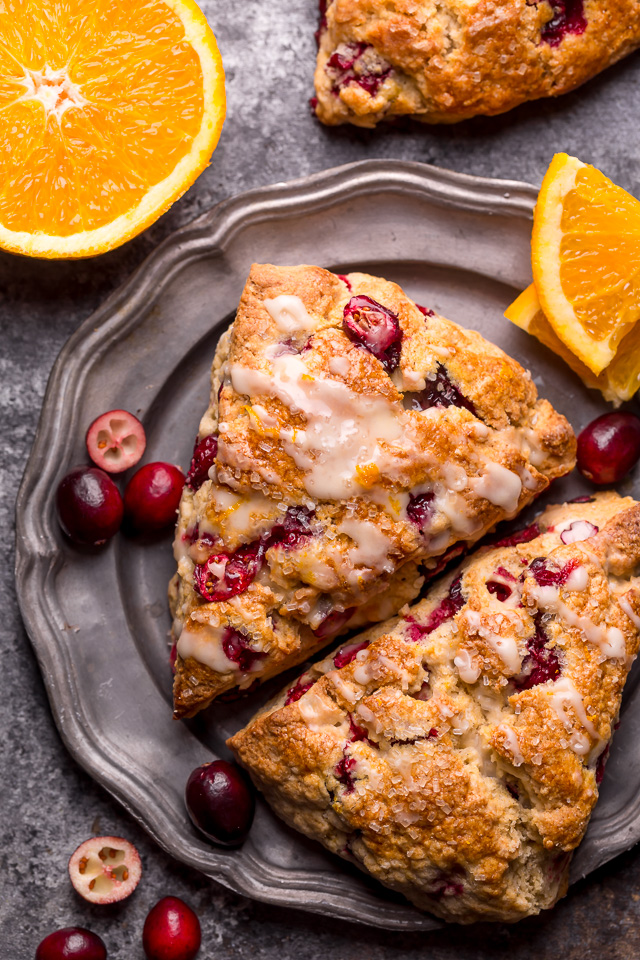 Cranberry Orange Scones
Guess what? We finally moved into our new home! It took almost 2 years to get it to this point… but we couldn't be happier. I promise a house tour is coming SOON… I can't wait to show you the kitchen and my new workspace.
But for now, how about some cranberry orange scones? AKA the very first recipe I baked in our new oven! They're rustic, buttery, and loaded with flavor! The perfect treat to enjoy with a cup of coffee or tea!
Choosing the right Cranberries…
For this recipe, you may use fresh cranberries or frozen cranberries! But I don't recommend using dried cranberries. They don't omit very much juice or flavor, and when I found the scones I tested with the dried variety very flat and boring. That said, if you're going to go ahead and use dried cranberries (because I know someone will lol), I would suggest soaking them in some hot water for 15 minutes or so to rehydrate the fruit a bit. Or just make one of my other scone recipes! I have a ton!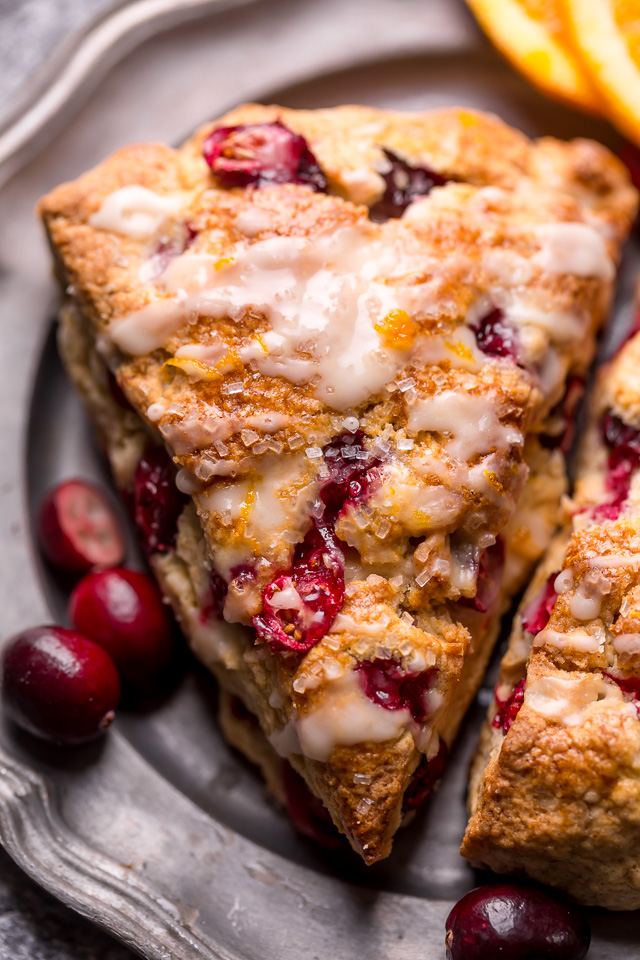 Why Cold Butter is KEY
I've said it before and I'll say it again, when it comes to making flaky scones, cold butter is your best friend!
And when I say cold, I mean COLD!!! No room temperature butter will do! I actually suggest you pop your butter in the freezer for about 15 to 20 minutes before you plan on working it into the scone dough. This reducing the risk of the butter softening too much as it's worked into the dough. In terms of how you work the butter into the dough, you have options! You can use two forks, a pastry cutter, or your hands!
In addition, I recommend keeping all of your other ingredients chilled until they're needed. This includes your eggs, cream, and even your dry ingredients and flour mixture! The colder your ingredients are, the flakier your scones will be! Sometimes I'll even grate my butter into the dough using the coarse side of a cheese grater!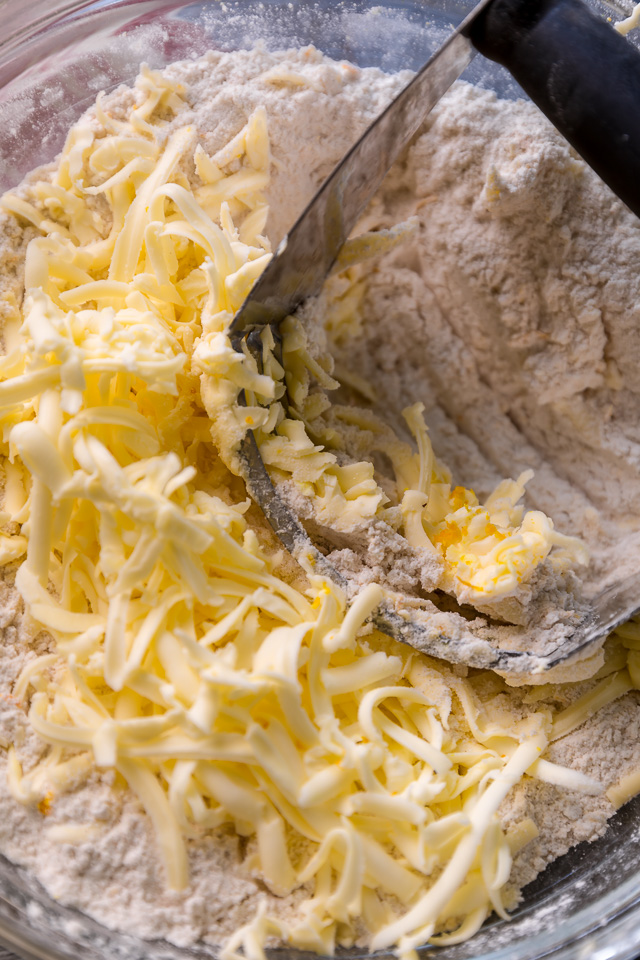 Don't skimp on the Baking Powder
This recipe calls for 1 tablespoon of baking powder. Yes, TABLESPOON! This ensures TALL and tender scones! Baking powder should not be substituted for baking soda!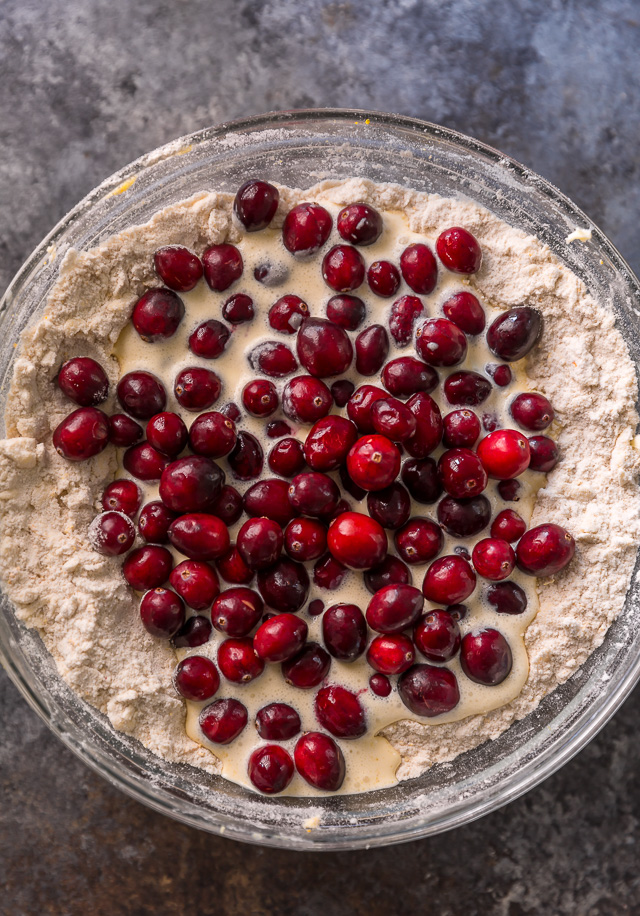 Oven Temperature
Unlike many scone recipes that call for you to preheat the oven to 400 degrees, this recipe will bake at 425! The slightly higher baking temperature gives the scones a rich golden brown color and ensures they're fully baked in about 20 minutes! Be sure to place the baking pan on the middle baking rack, and as always, keep an eye as they bake.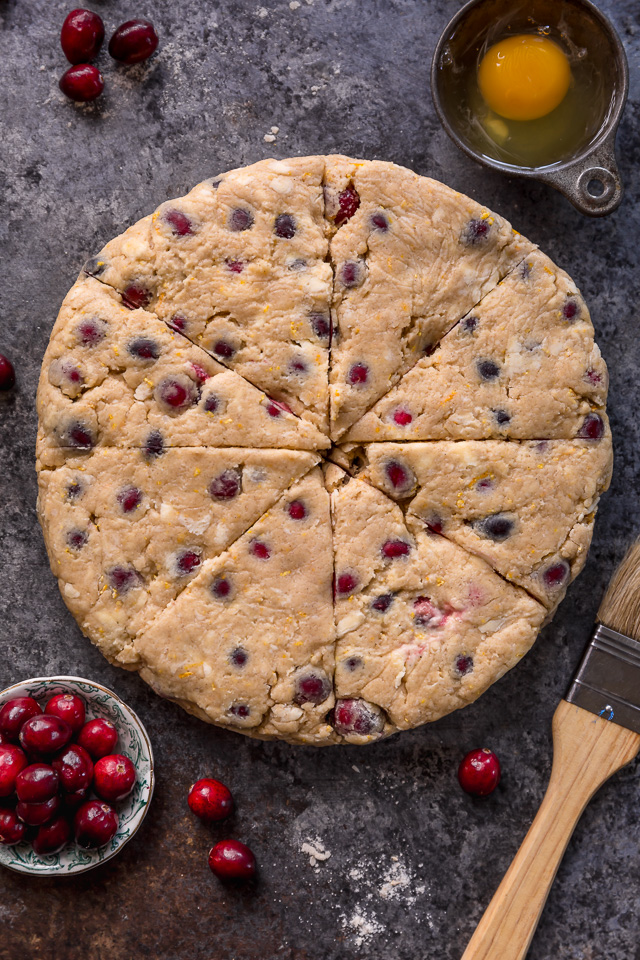 Can I make these Gluten Free?
Although I tested these with all-purpose flour, I think a GF cup for cup flour substitute would work well! I've had good experience with Bob's Red Mill Gluten Free 1-to-1 Baking Flour and have heard good things about this Cup for Cup Gluten Free Flour. If you try either, let us know how it goes in the comment section!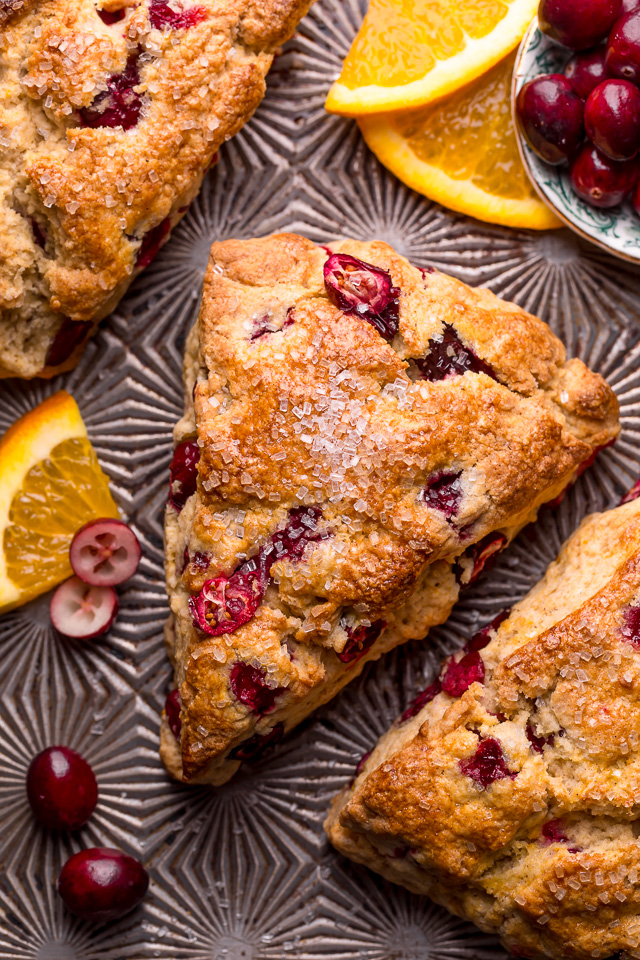 How to Make Scones in 5 Easy Steps:
In a large bowl combine the dry ingredients.
Work in the cold butter until the mixture resembles a coarse meal.
In a small bowl whisk together the heavy cream, egg, and extracts. Pour liquid ingredients into dry ingredients, add cranberries, and mix until a shaggy dough has been created.
Pour dough out onto a lightly floured surface and work into a disc. Be patient! This will take a little elbow grease. Once you have your disc, cut into 8 triangles and place on the baking sheet.
Brush the tops with egg wash and sprinkle with sparkling sugar. Bake for 20 minutes, or until golden brown!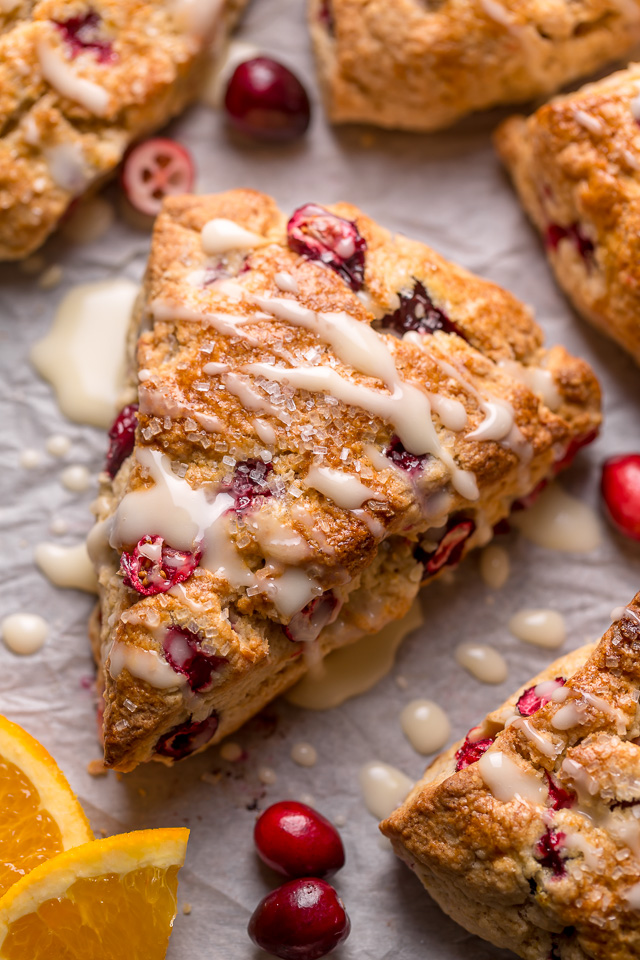 To glaze or not to glaze…
As the scones bake, you can decide whether or not you want to make a glaze. Personally, I love these scones as is! And don't feel a glaze is mandatory. That said, an orange glaze really makes the scones pop and cuts the tartness of the cranberries.
And making one is so easy! You'll simply whisk together a little orange juice, zest, vanilla, and powdered sugar. Then drizzle over the warm scones and tuck in!!!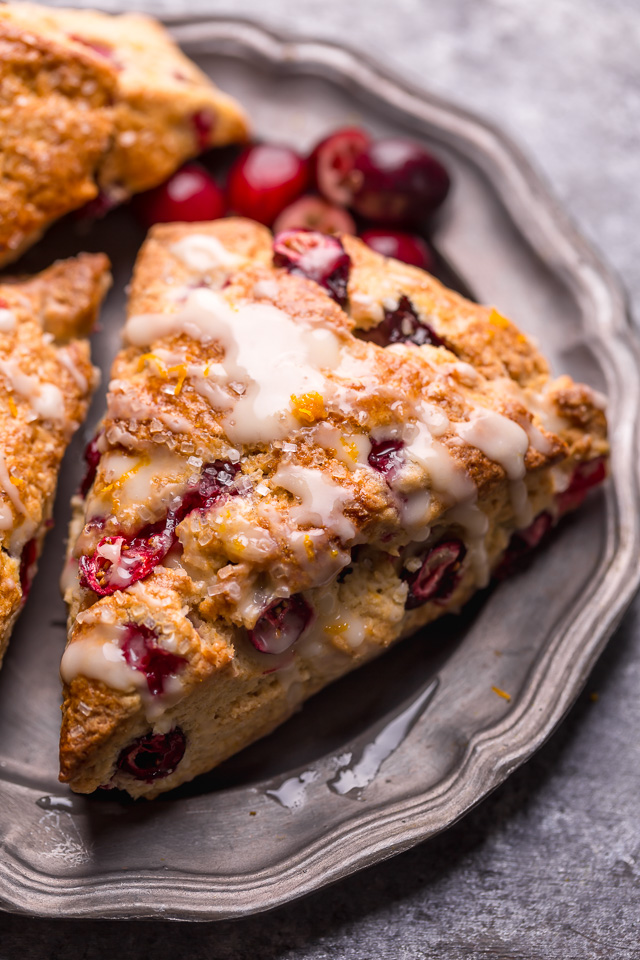 More Cranberry Recipes: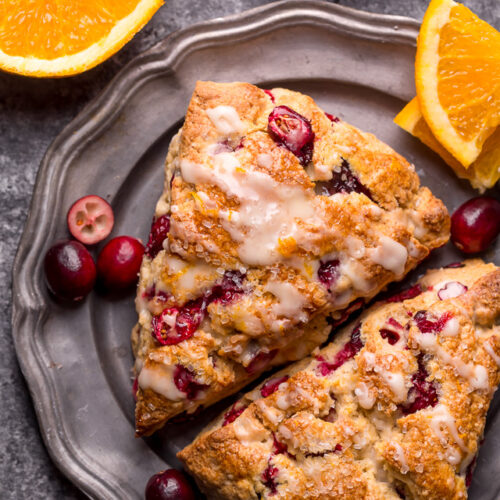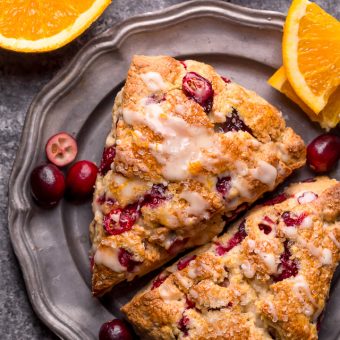 Bakery-Style Cranberry Orange Scones
Cranberry Orange Scones are loaded with vibrant orange flavor, fresh cranberries, and topped with a sweet orange glaze! Perfect for breakfast or brunch! And one of my favorite scone recipes to make during the holiday season!
Ingredients
For the Cranberry Orange Scones:
3 cups all-purpose flour
1/2 teaspoon salt
1 Tablespoon baking powder
1/3 cup granulated sugar
1/4 cup light brown sugar, packed
1 Tablespoon orange zest, finely grated
1/2 teaspoon ground cinnamon
1/4 teaspoon ground cardamom
1/2 cup (4 ounces) unsalted butter, VERY cold and cut into tiny pieces
1 large egg
3/4 cup heavy cream
2 teaspoons vanilla extract
1/2 teaspoon orange extract (optional but highly recommended)
1 and 1/2 cups fresh or frozen cranberries, do not thaw
For the Glaze:
1 cups confectioners' sugar, sifted
2 tablespoons orange juice
1 teaspoon orange zest, finely grated
1/2 teaspoon vanilla extract
1/8 teaspoon salt, optional but recommended to cut the sweetness
Instructions
For the Cranberry Orange Scones:
Preheat oven to 425°(F). Line a large baking sheet with parchment paper and set aside.

In a large bowl, combine flour, salt, baking powder, granulated sugar, brown sugar, orange zest, cinnamon, and cardamom, mix well to combine.

Cut the butter into small cubes then, using your fingers, two forks, or a pastry cutter, work it into the dough until it resembles a coarse meal. The chunks of butter should be about the size of peas. 

In a glass measuring cup whisk together the egg, cream, vanilla, and orange exact.

Pour the liquid mixture into the center of the flour mixture. Then add in the cranberries. Use a spatula to stir everything together until just moistened. Don't worry if the dough looks shaggy! 

Empty the loose dough out onto a clean, lightly floured work surface. Knead the dough a few times, then  shape it into an 8-inch disc. 

Cut the disc into 8 even wedges and carefully transfer them to the prepared sheet, placing them 2" apart.

Lightly brush each scone with the egg wash. Then sprinkle with sparkling sugar, if using. 

Bake for 18 to 20 minutes, or until light golden brown.

Allow scones to cool for 5 minutes, then drizzle with glaze (if using), and serve warm! 
For the egg wash:
In a small bowl whisk together the egg and water until well combined. 
For the Glaze:
In a small bowl combine the confectioners' sugar, orange juice, orange zest, and vanilla extract. Drizzle over scones.