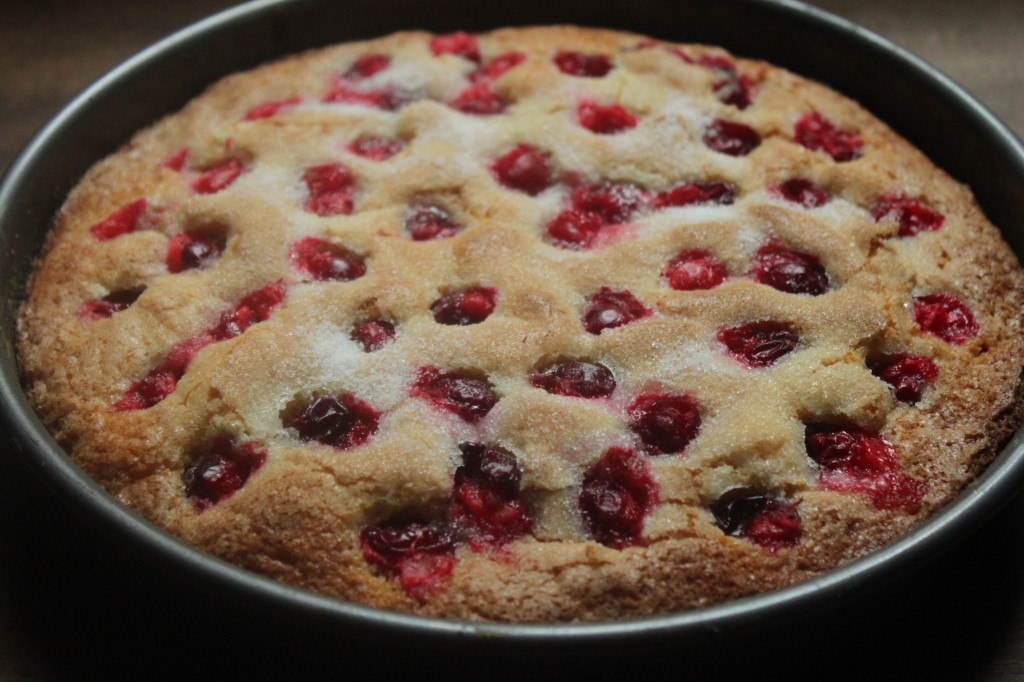 I find cranberries kind of irresistible – they're just so pretty! Seriously, I want to make earrings and bracelets out of them. So when I see the perfectly plump, ruby red bags gracing the shelves right around this time of year, I loose all self-control – an issue I'm working on.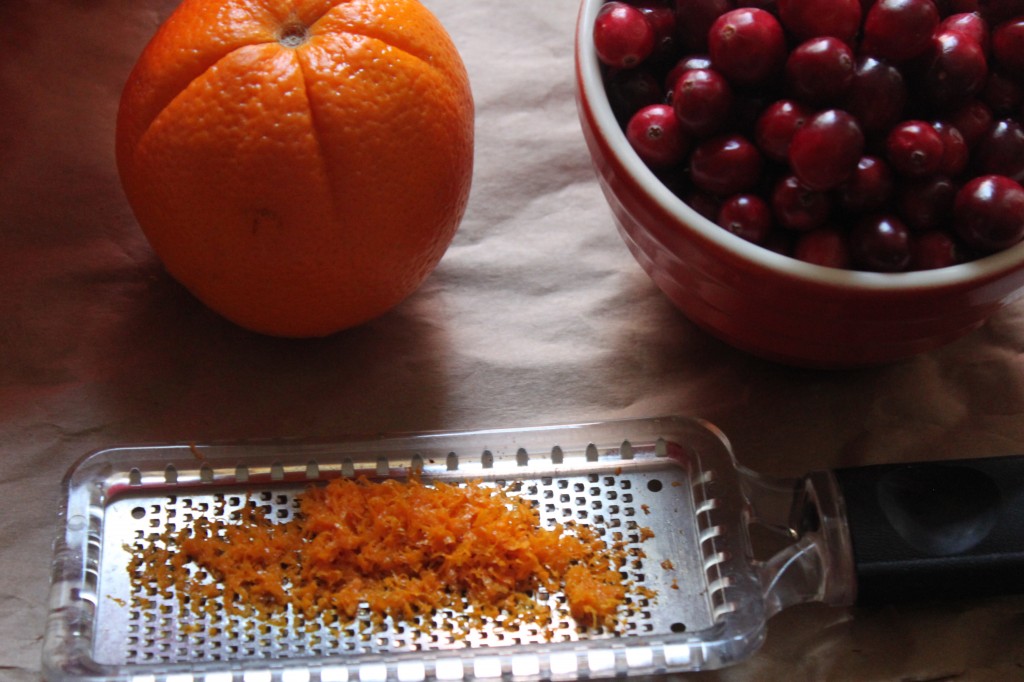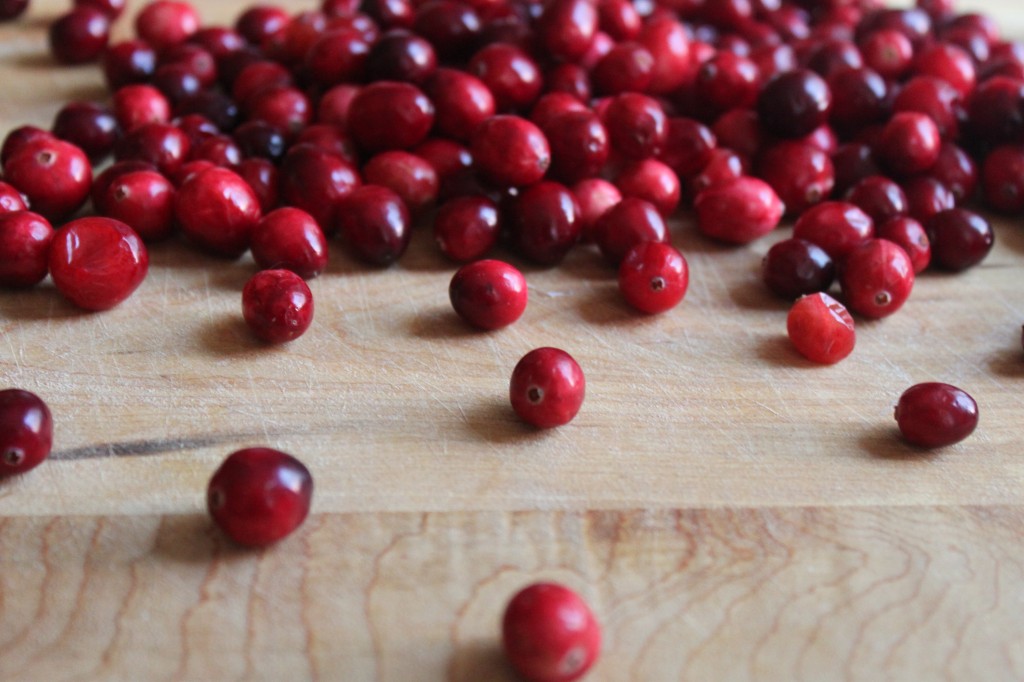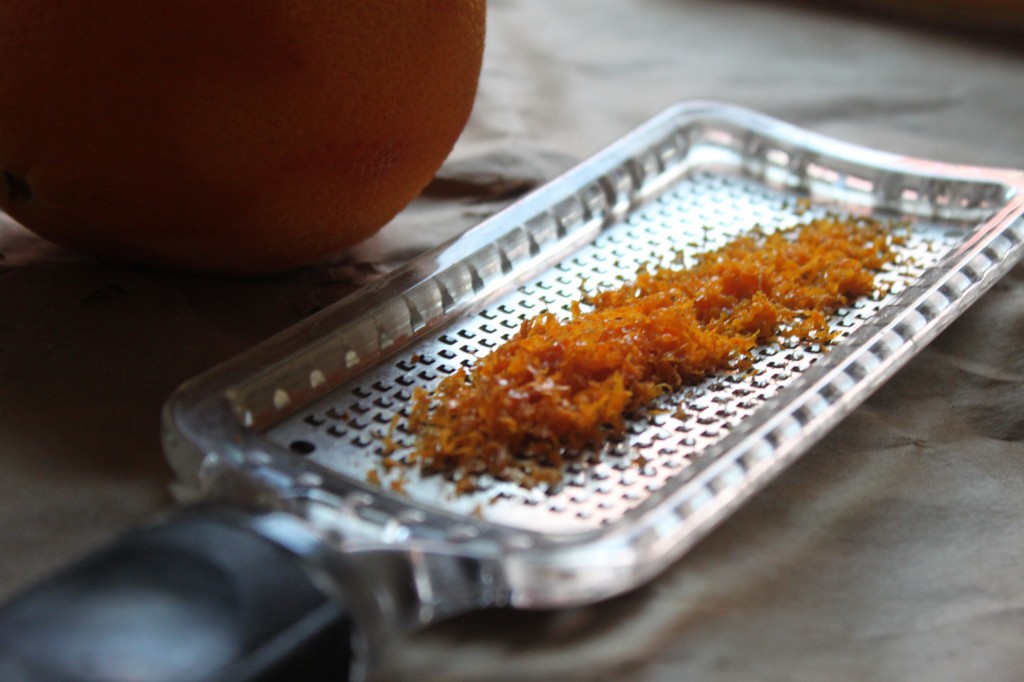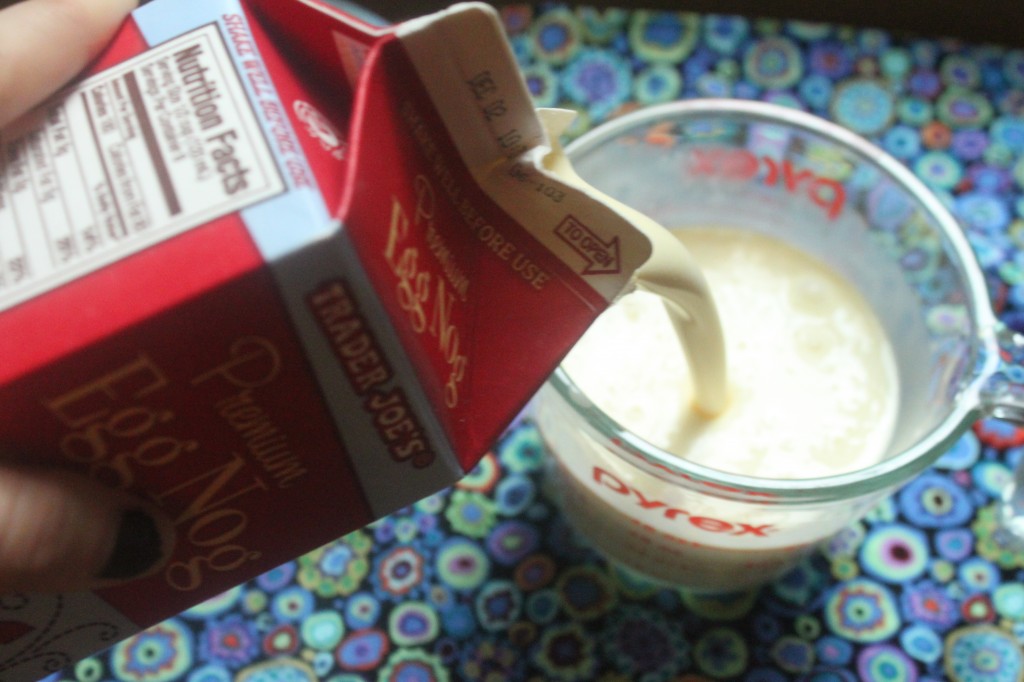 Let's say Hello to a spectacularly scrumptious holiday cake! I loved this little cranberry creation so much I've made it twice in one week.
I've been ferociously baking these past few days, so we have tons to talk about; this super cake is first on the list!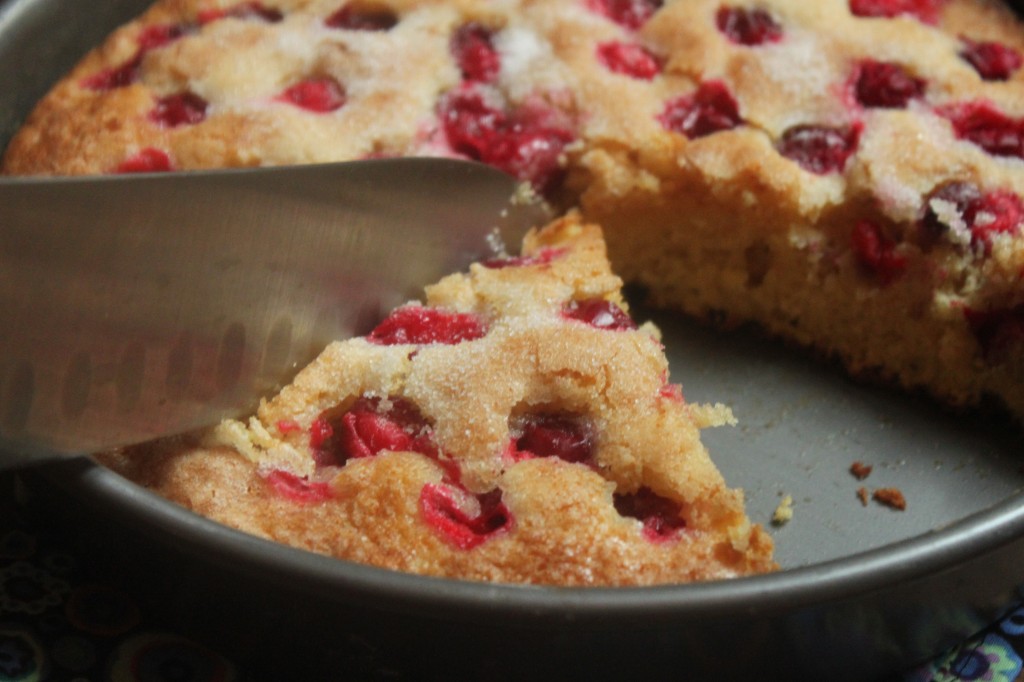 This beautifully moist cake has just a hint of spice from the eggnog. It's also exploding with tart cranberry gems and just a hint of orange zest. Oh, and I should mention the sugar sprinkled lid that crunches delightfully as you sink your teeth into this baby – ridiculously good, people.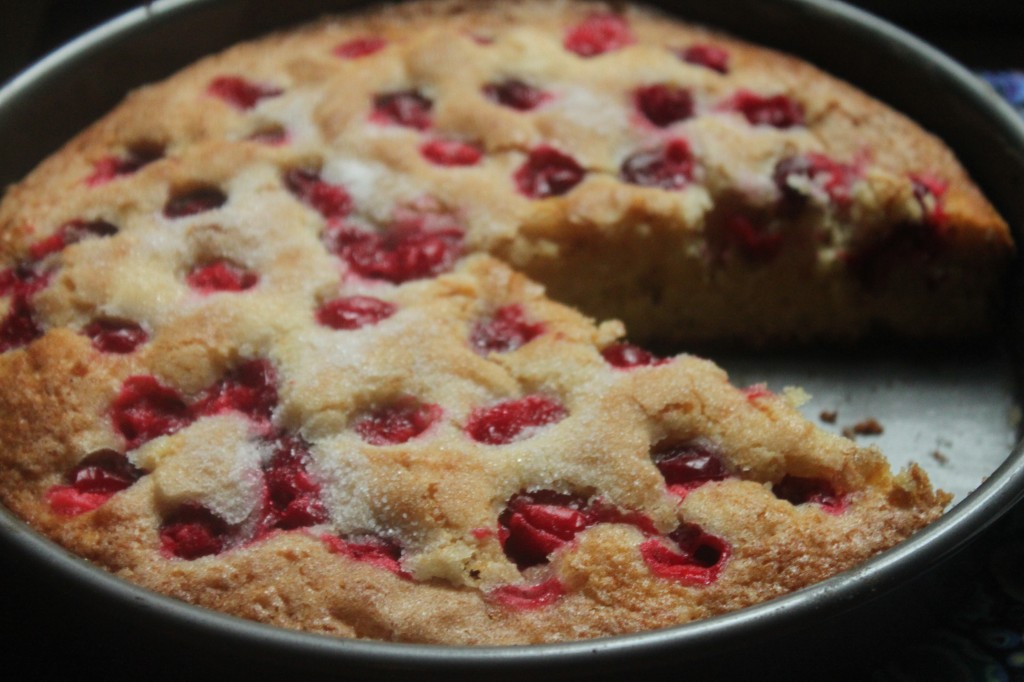 This cake is a play off of this one; the cranberries replacing the raspberries, and the eggnog replacing the buttermilk. Oh, and I swapped the original lemon zest for orange zest, which I find plays very nice with cranberries. Put all that crazy goodness with the fact it's a cinch to throw together – this cake is a win.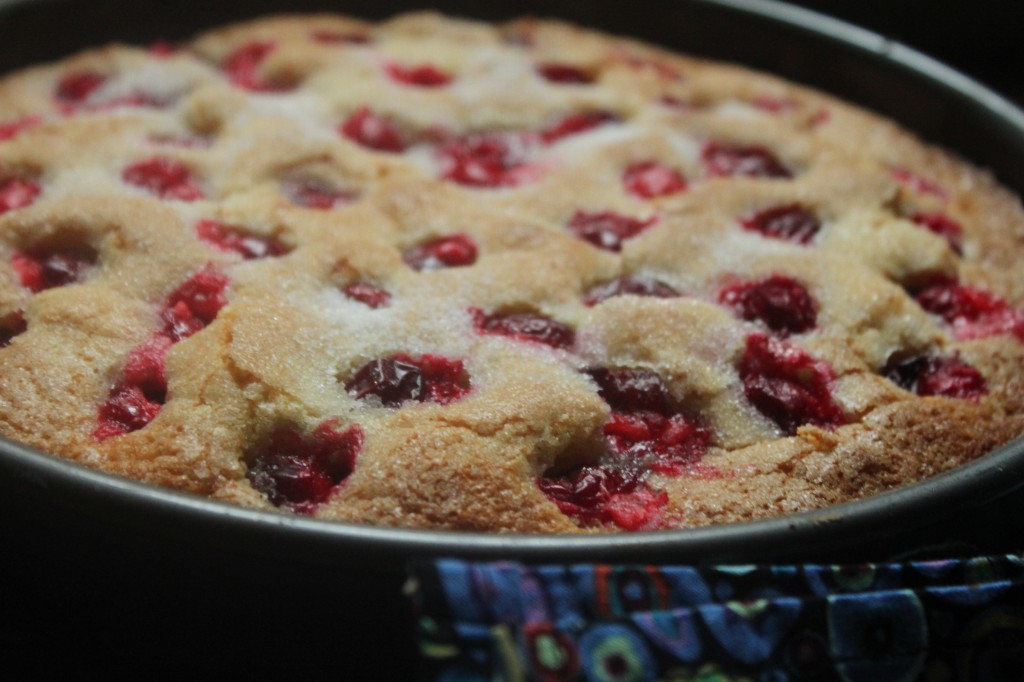 Cranberry Eggnog Cake – inspired and adapted by this cake from Smitten Kitchen
Ingredients:
1 cup (130 grams) all-purpose flour
1/2 teaspoon (2 grams) baking powder
1/2 teaspoon (2 grams) baking soda
1/4 teaspoon salt
1/2 stick (56 grams) unsalted butter, softened
2/3 cup (146 grams) plus 1 1/2 tablespoons (22 grams) sugar, divided
1 teaspoon pure vanilla extract
1/2 teaspoon finely grated orange zest (optional)
1 large (57 grams) egg
1/2 cup (118 ml) eggnog
1 cup (5 ounces or 140 grams) fresh cranberries
Preparation:
Preheat oven to 400°F with rack in middle. Butter and flour a 9-inch round cake pan.
Whisk together flour, baking powder, baking soda, and salt and set aside. In a larger bowl, beat butter and 2/3 cup (146 grams) sugar with an electric mixer at medium-high speed until pale and fluffy, then beat in vanilla and zest, if using. Add egg and beat well.
At low speed, mix in flour mixture in three batches, alternating with eggnog, beginning and ending with flour, and mixing until just combined.Spoon batter into cake pan, smoothing top. Scatter cranberries evenly over top and sprinkle with remaining 1 1/2 tablespoons (22 grams) sugar.
Bake until cake is golden and a wooden pick inserted into center comes out clean, 20 to 25 minutes. Cool in pan 10 minutes, then turn out onto a rack and cool to warm, 10 to 15 minutes more. Invert onto a plate.