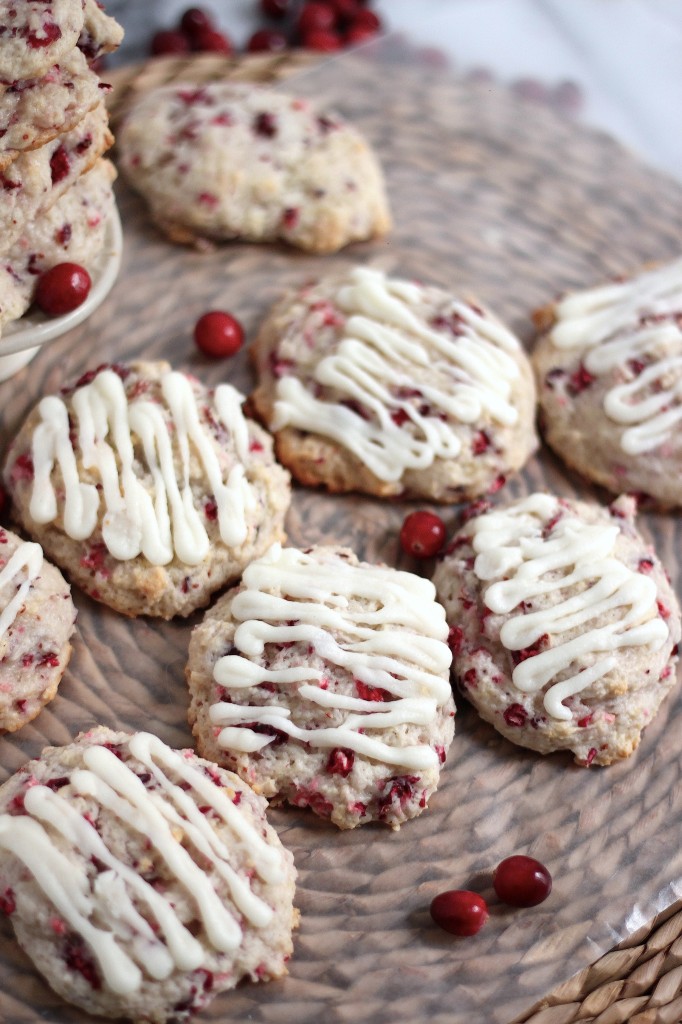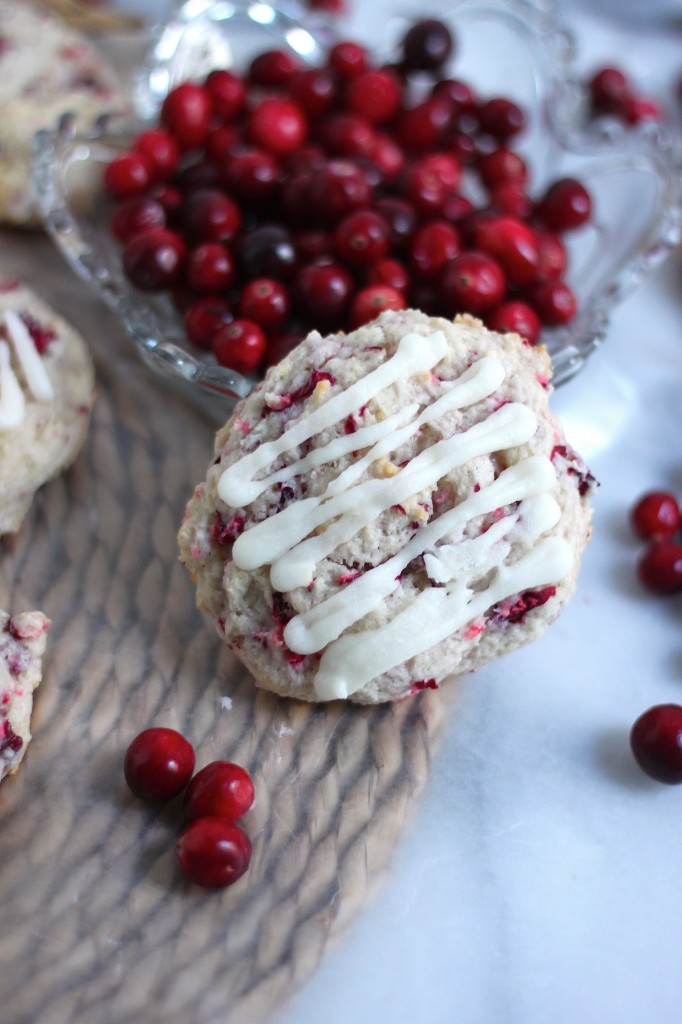 And, I'm back! Well, at least in the case of this here blog. I'm still fighting the good fight ann battling the tail-end of a wicked flu that's been raging through my body since last Saturday. It's been an odd week of sleep, soup, sinus battles, and far too many SVU marathons. But you know, one day – and tissue box – at a time, I'm slowly getting back to my old (productive) ways. Today I actually woke on my own (this has been a challenge with all the Nyquil I've been downing!), hobbled to my desk, and got to work. It feels good to be on the track to back. I've missed y'all! Very much. And all of your sweet tweets and wishes of wellness truly made my gloomy days brighter! Thank you guys for being so awesome.
But enough about me (YAWN); let's move on to the food! These cranberry muffin top cookies are completely inspired by the Seinfeld kick we've been on this week. I know it's famous for being "the show about nothing", but I've always had a hunch it's really all about the food! When the "muffin top" episode came on last week, I knew some baking was in the cards.
It took me a few tries to get these cookies giant, soft, cranberry studded cookies just right, but I can honestly say these are a new favorite! Even my boyfriend who normally has a "thing" against scone/muffin looking items ate 5 with pure delight. And we both agreed they're a Christmas cookie platter MUST. So I think that means something. And by something, I mean it means they're totally awesome.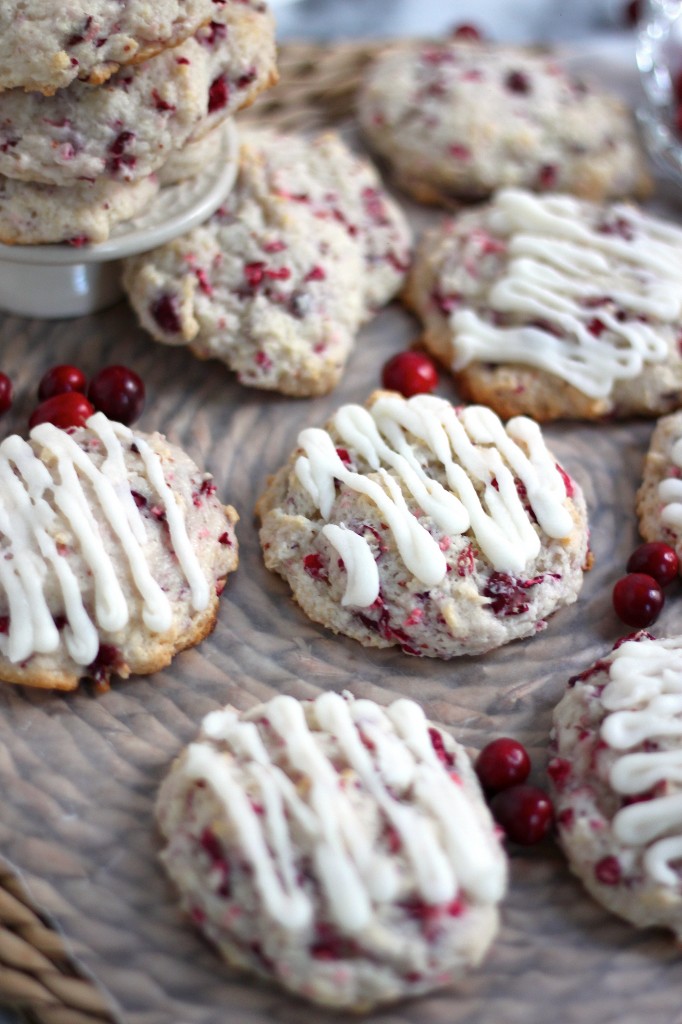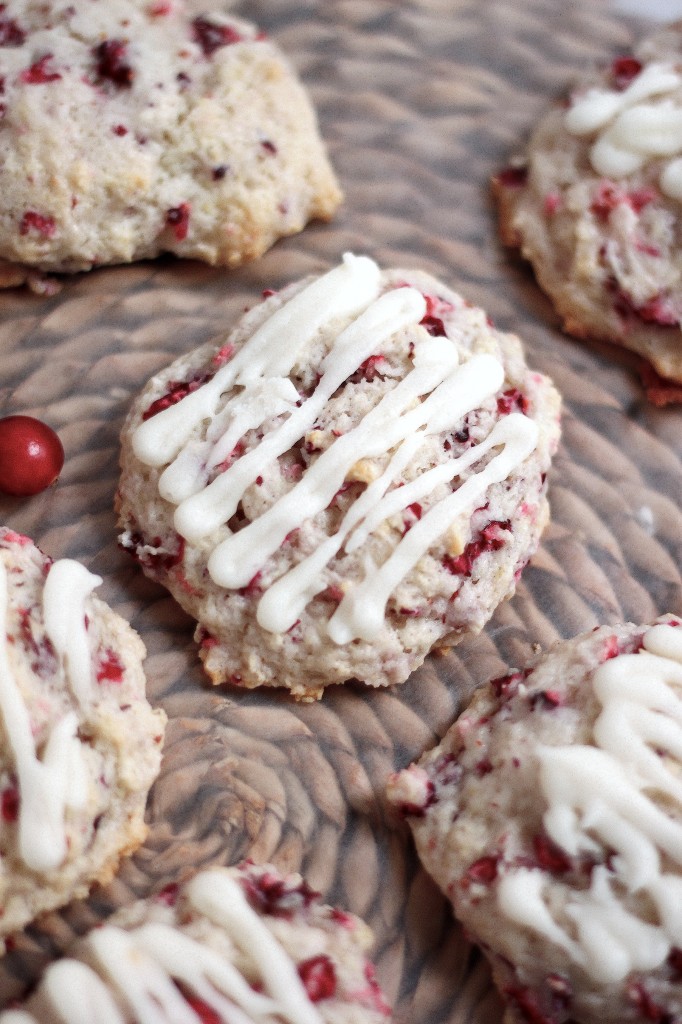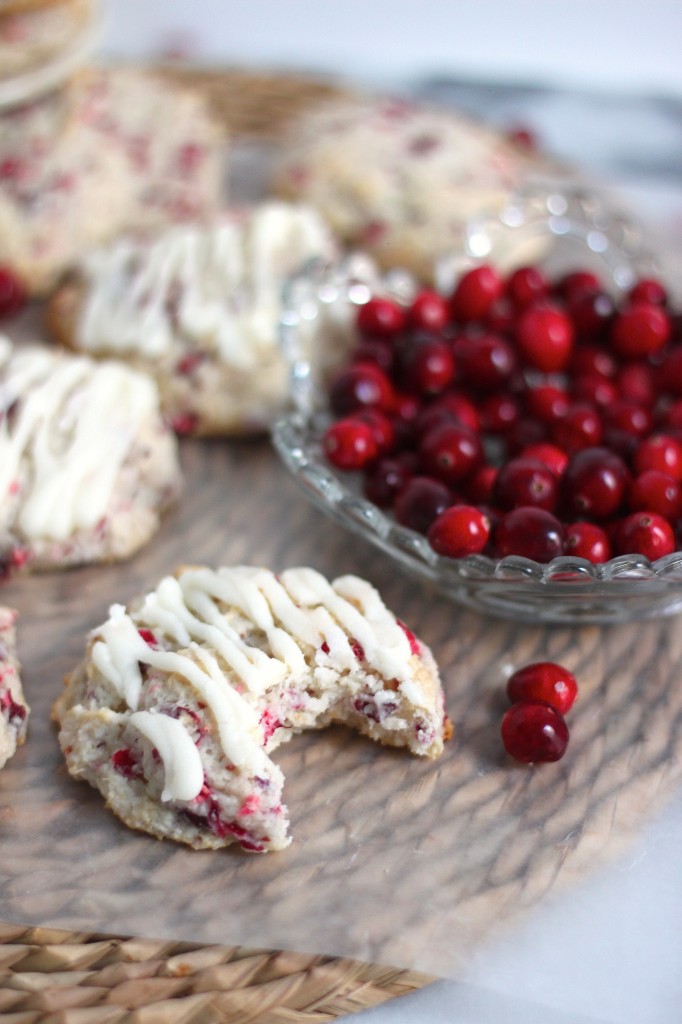 The best part about these cookies is they bake up SUPER light and fluffy on the inside, but still have those (glorious!) chewy edges. We can thank Greek yogurt for that! There's almost a whole cup in this recipe… which makes them kind of healthy, right? Oh, and they're very pretty, too! They have vibrant pops of ruby red from the chopped cranberries hiding inside, and a sweet little swirl of vanilla glaze on top. Purty perfection 😉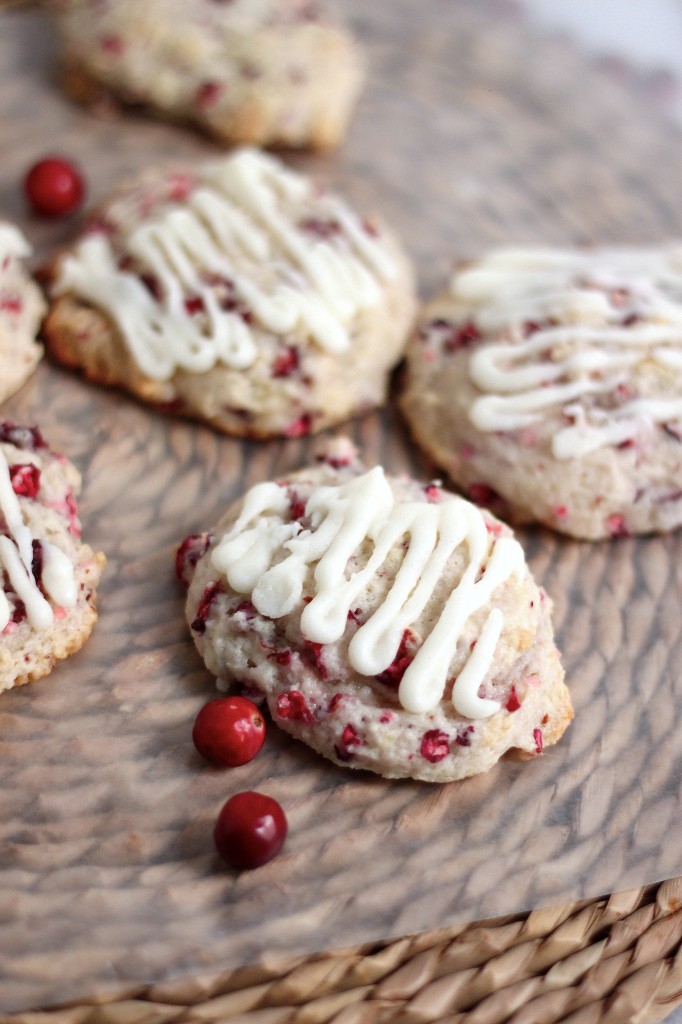 I hope you guys bake these up… and then maybe… share some with me?! Because I want more!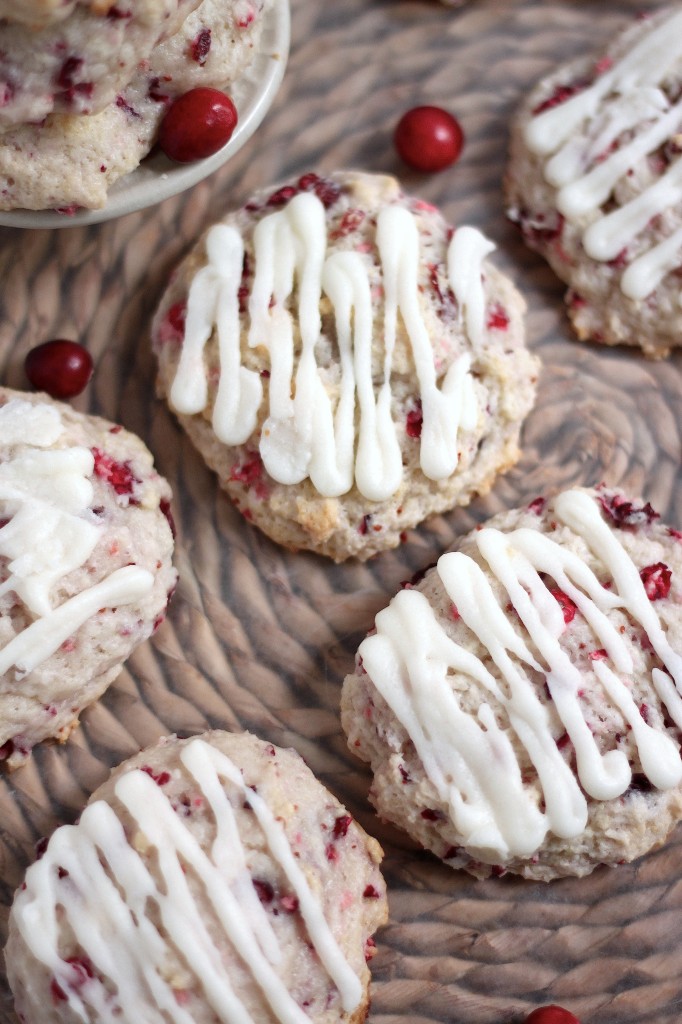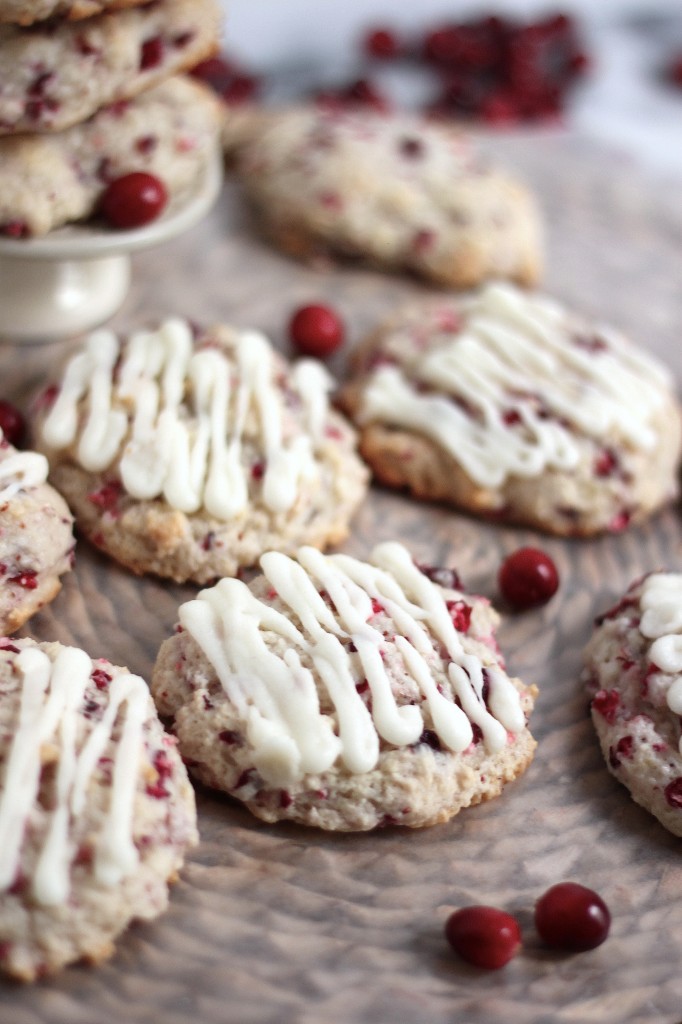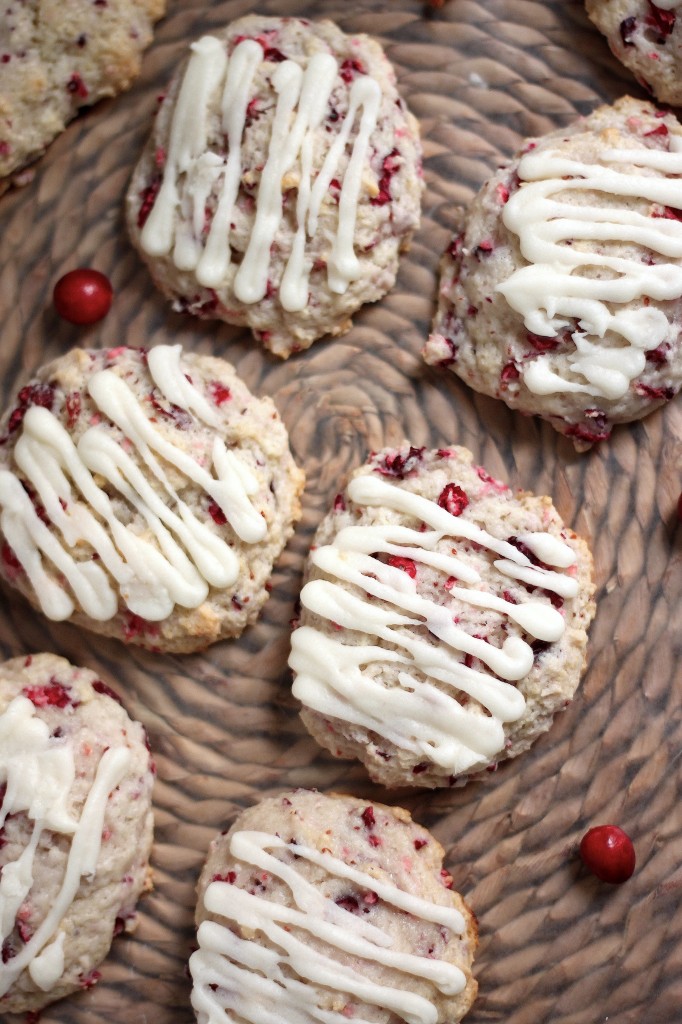 Happy baking xo!
Cranberry Muffin Top Cookies  – Baker by Nature
Makes 1 dozen (large) cookies
Ingredients:
1 1/4 cups cranberries, pulsed in a blender for 15 seconds, or until roughly chopped
2 1/2 cups flour, divided
1 1/4 cup sugar
2 1/2 teaspoons baking powder
1/2 teaspoon baking soda
1/2 teaspoon salt
6 tablespoons unsalted butter, cut into small pieces
(1) 7 oz container full-fat Greek yogurt (I used Fage)
1 1/2 teaspoons vanilla extract
For the glaze:
1 1/4 cups powdered sugar
2 tablespoons heavy cream
1 teaspoon vanilla extract
Instructions:
Preheat oven to 375 degrees (F). Line 2 large baking sheets with parchment paper; set aside.
Place cranberries in the body of a blender and pulse for about 10 seconds, or until roughly chopped. Pour chopped cranberries into a small bowl, add 2 tablespoons of the flour, and stir with a rubber spatula until the cranberries are evenly coated. Set aside.
In the bowl of a stand mixer fitted with the paddle attachment combine the remaining flour (2 1/4 cups + 2 tablespoons), sugar, baking powder, baking soda, and salt. Run machine on medium-low speed and add the butter, mixing until it resembles a coarse meal; about 1 minute. Add the Greek yogurt and vanilla, mix until just combined. Fold in the cranberries, mixing just until they are evenly dispersed in the batter. The batter will be very thick at this point, don't panic.
Scoop 1/4 cup sized mounds of dough onto the prepared baking sheets, each about 2 inches apart. Bake for 20-22 minutes, or until the cookies are lightly golden on top. Allow cookies to cool for 3 minutes on the tray before removing to a cooling wrack to cool completely.
Once cookies are completely cooled, you can ice them.
For the icing:
Place the sugar, heavy cream, and vanilla in a small bowl and whisk together. Lightly drizzle the glaze over the cooled cookies, and serve!
*These cookies are best the first day, but will last up to 3 days in an airtight container. They get softer with each day.