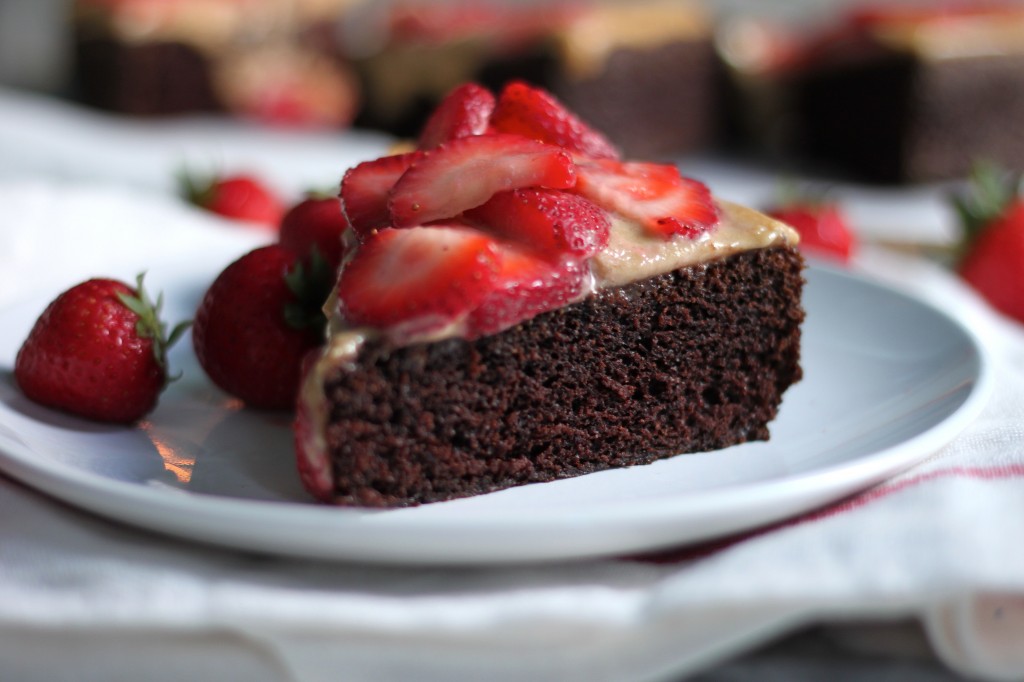 When pictures decided to adopt an unbelievably stubborn attitude and refuse to upload…
When crumbles do exactly that which their name entitles them to but in totally the wrong way…
When a girl feels like she may or may not (but heavily leaning towards may) just loose her dang mind if one more thing decides to flip, turn, or be quirky in life, or in the kitchen… we make chocolate cake.
We must make the chocolate cake. The chocolate cake we must make.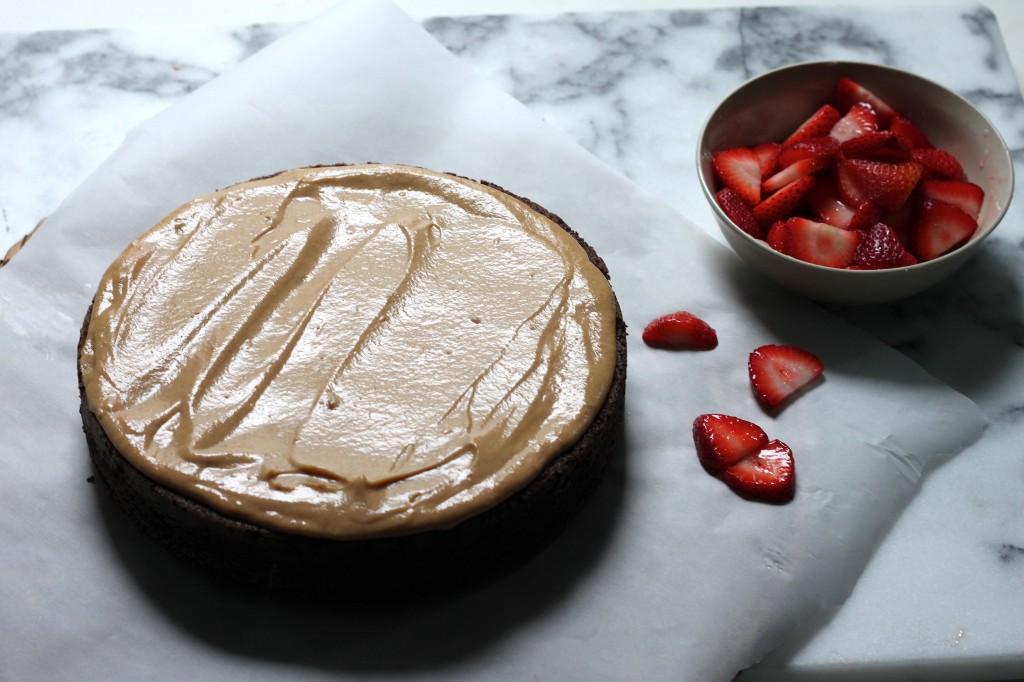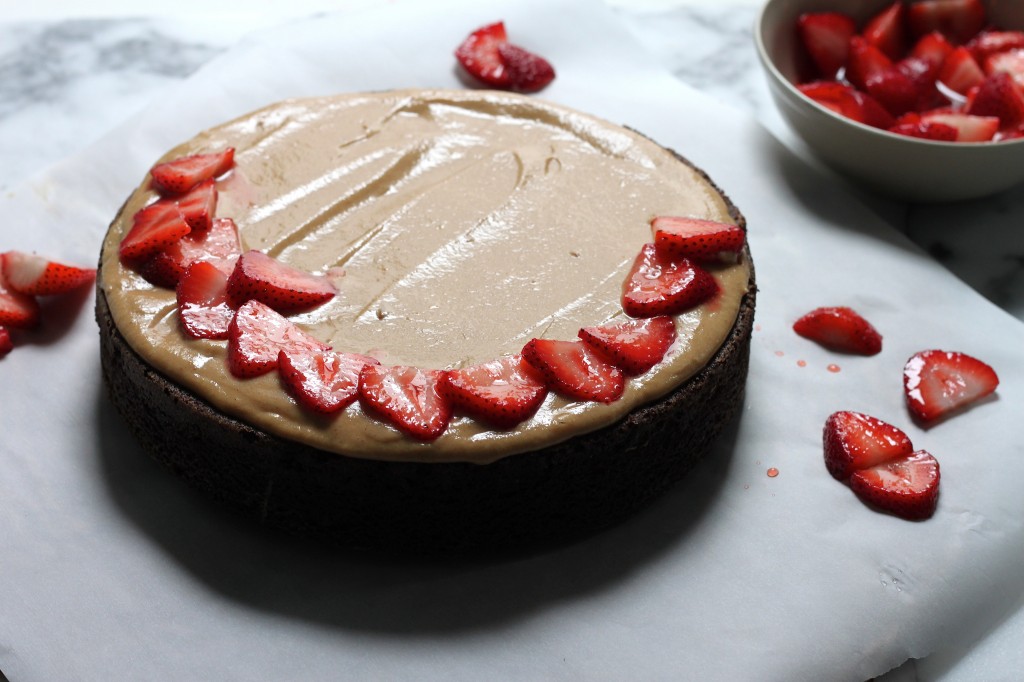 If you're a girl. Or a guy. Or somewhere in between. And you're living in this crazy/beautiful land in which sometimes things go wonky-ly woo, I'm sure you already know that chocolate cake is always the answer. Always!
Peanut butter mousse and macerated strawberries are just the sprinkles on top. They're the extra bits that make this cake shine bright like a diamond. Shine bright like a diiiiiii-a-mond. Shine bright!
Ahhh. Rihanna has taken over my brain. Send help. No wait. Staaaaaaaaay. I want you to stay.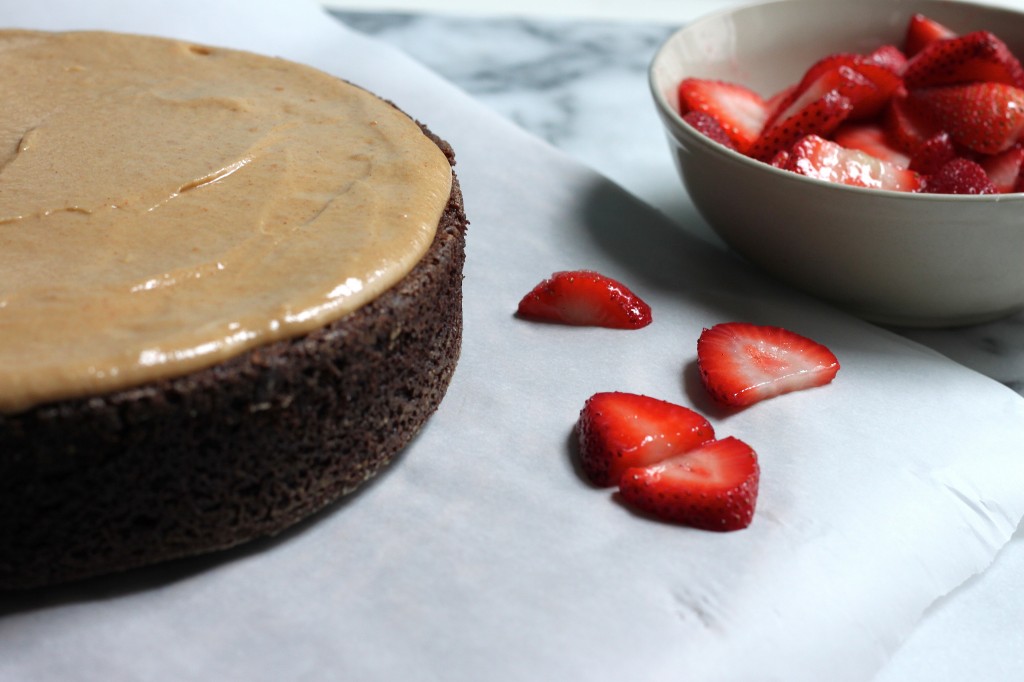 Still here? Cool. So. What we have here at the base of it all is a deep, dark, incredibly moist chocolate cake. Moist chocolate cake is always a win. Theeeeeeen, we doll it up in peanut butter mousse. I went for mousse here instead of traditional icing or frosting, because it's so light and lovely, and really compliments the decadence of the cake. And finally – what I consider the real star of the show – macerated strawberries! So easy, dude! And yet so totally impressive! Especially if you have nice ripe Summer straws in their prime! I cannot get enough of em' these days.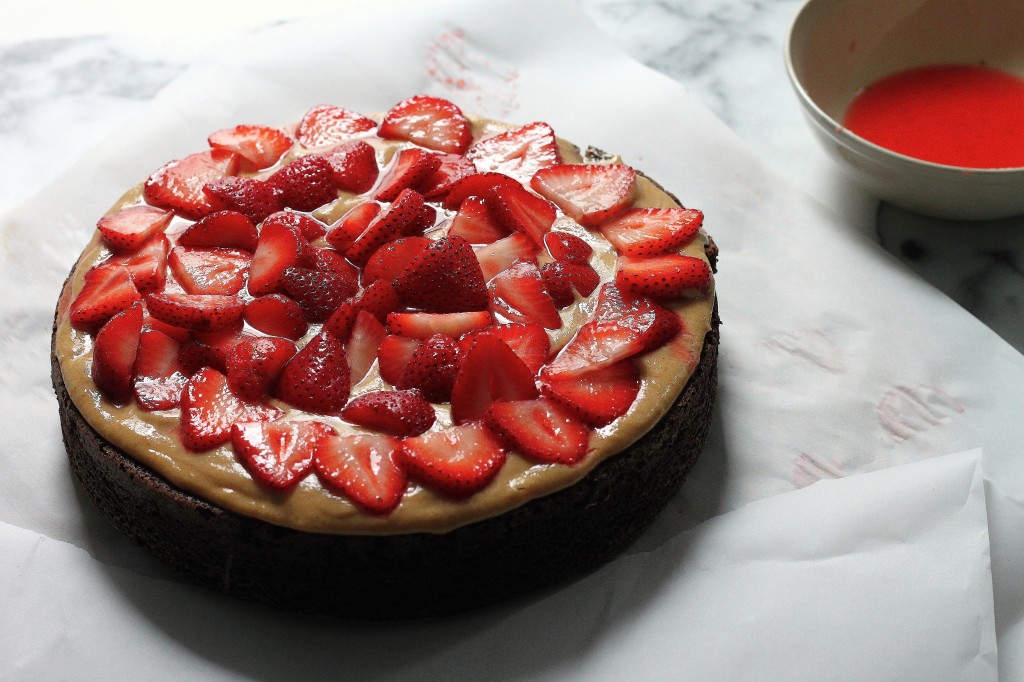 This cake is super fantastic, and if you love peanut butter and chocolate (and really – besides my weirdo lover – who doesn't?) this cake should enter your life quite soon!
In other news, if my schedule and computer decide to behave at some point today, we'll talk a little more about CRONUTS! But um, apparently my iphone wants to keep all the photos I took for y'all on lockdown… BOO.
In response to all the "how were they!?!?" questions I got yesterday, you guys, they were incredible. Wait. I mean, they were INCREDIBLE!!!!!! Yes, caps and exclamation point worthy.  And yes, totally worth the wait. Because it was an experience. And this life living thing we do is all about that kind of good stuff.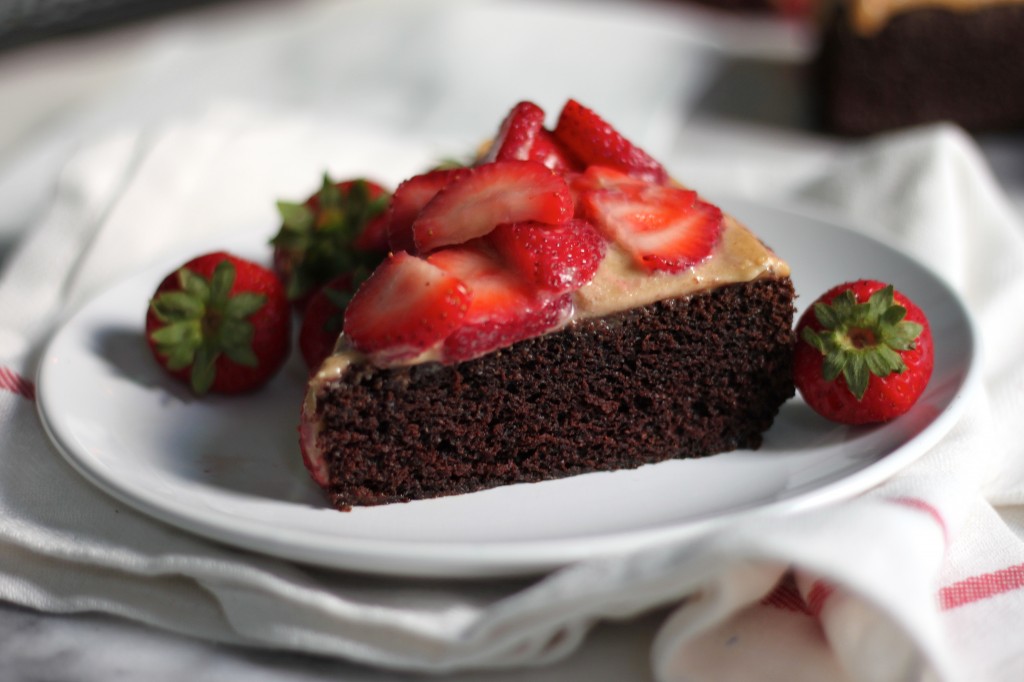 Dark Chocolate Cake with Peanut Butter Mousse and Macerated Strawberries – Baker by Nature
Ingredients
For the cake:
1 1/4 cup all-purpose flour
1 teaspoon baking soda
1 teaspoon baking powder
1/4 cup cocoa powder
1/2 teaspoon salt
1/2 cup water
1 cup sugar
12 tablespoons unsalted butter
3 ounces dark chocolate, chopped into small pieces
1 teaspoon vanilla extract
2 tablespoons whole milk
2 large eggs
Instructions:
Preheat oven to 350 degrees (F). Grease a round 9″ baking pan and set aside.
In a medium bowl mix together the flour, baking soda, baking powder, cocoa powder, and salt. Set aside.
Combine water and sugar in a small saucepan and bring to a simmer over medium-high heat. Allow the mixture to simmer – stirring occasionally – until the sugar has completely dissolved. Remove pan from heat and stir in the butter and chocolate; whisk until both are completely melted. Add vanilla, then let mixture cool 5 minutes before quickly whisking in milk and eggs.
Fold the flour mixture into the liquid mixture, and mix until combined.
Pour batter into prepared pan and bake for 30 – 35 minutes, or until a cake tester comes out clean.
Allow the cake to cool in the pan for at least 20 minutes before transferring to a cooling wrack to cool completely.
For the Peanut Butter Mousse:
1 cup chilled heavy cream
1/3 cup peanut butter
1/4 cup confectioners sugar
Instructions:
Place the chilled whipping cream in a stand mixer and beat on high for about 2 minutes, or until the cream has begun to whip and hold its form. Add the peanut butter and beat for another minute or so before adding the confectioners sugar. Keep the mousse in the fridge until needed.
For the Macerated Strawberries:
1 pound strawberries, sliced
1/4 cup sugar
2 tablespoons lemon juice
Instructions:
Place the sliced strawberries in a large bowl. Pour the sugar and lemon juice over the sliced berries, and toss them with your hands a few times to ensure even coating. Place the bowl in the fridge for at least 30 minutes, or up to 24 hours.
Assembly:
Gently smooth peanut butter mousse across the top of the completely cooled cake. Drain berries – but save the liquid in a separate bowl – and arrange them on top of the cake. Cut cake into pieces, and drizzle a small amount of reserved strawberry juice on top right before serving.