This Salted Caramel Chocolate Cake is moist and sinfully decadent! So if you love chocolate and caramel, you'll LOVE this easy recipe for how to make Chocolate Caramel Cake!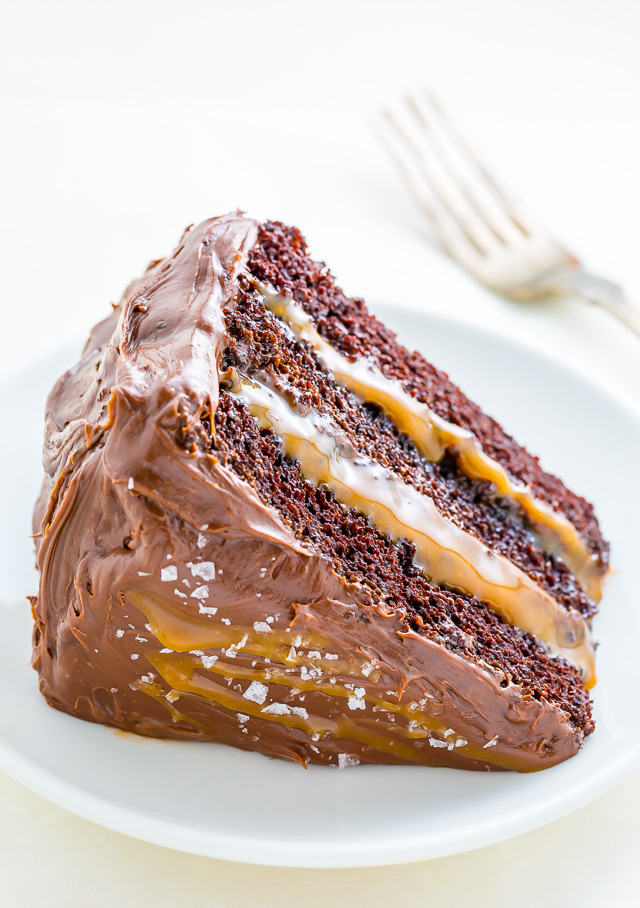 Chocolate Caramel Cake Recipe
Tomorrow is my birthday and I'm currently feeling ALL of the feelings. Also currently in the car, driving to the beach, eating a giant slice of cake and chasing it with an iced coffee. If today is any indication of what 29 is going to be like, I think this year is going to be pretty darn great!
Now as you know I'm a diehard chocolate lover, so it's no surprise my birthday cake this year is a salted caramel chocolate cake! It's three layers of heaven! And surprisingly easy to bake.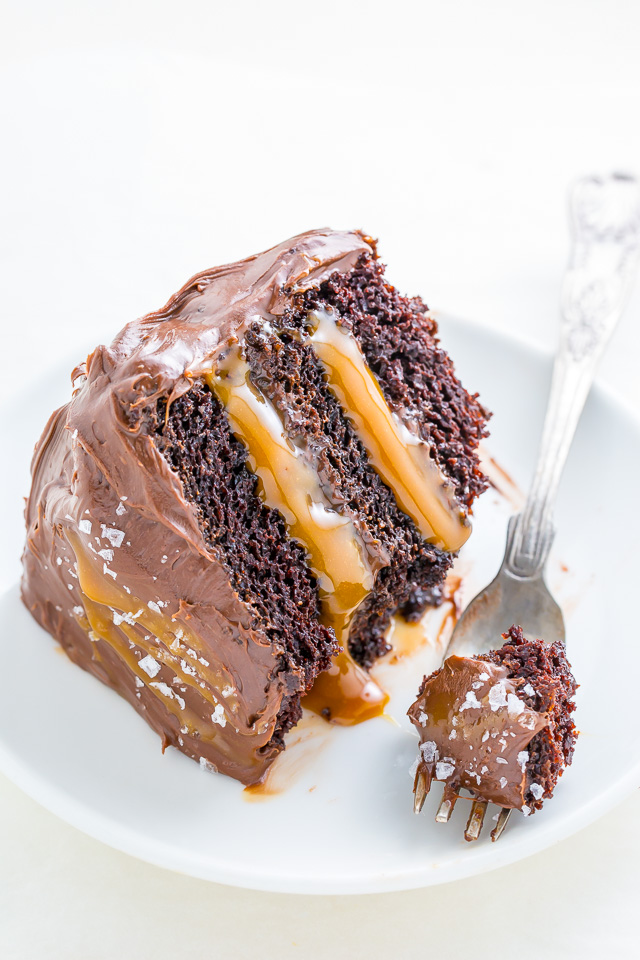 I bake myself a birthday cake every year and this year I wanted something sinfully decadent. At first I thought it would be death by chocolate cake (one of my favorites), but then I started dreaming of something drenched in gooey salted caramel…
Finally, I decided to full on treat myself and create a cake that features BOTH chocolate and caramel! Because why not, right?!
So, without further ado, meet my 29th birthday dessert: Salted Caramel Chocolate Cake. Isn't she just a knockout?! ↓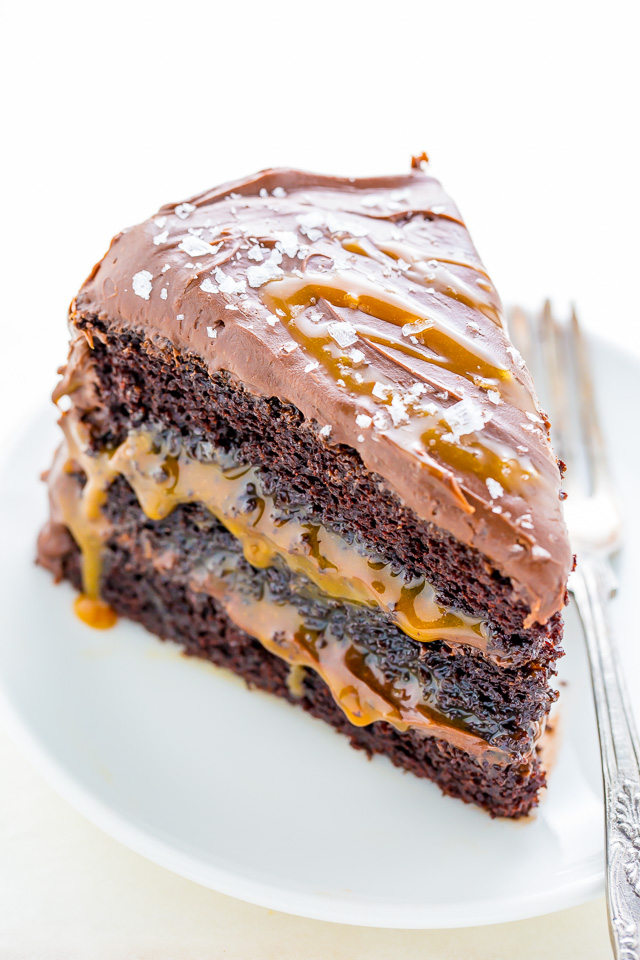 Tips and Tricks for Recipe Success:
This recipe calls for vegetable oil, but you can use an equal amount of canola oil or melted coconut oil in its place. I do not recommend substituting oil with butter.
For best results, make sure your eggs, egg yolks, sour cream, and milk have all come to room temperature before you begin baking.
When you measure your flour, be sure you're not packing it into the measuring cup. Packed flour will yield a dense and dry cake.
The cake layers should all be baked on the middle rack of your oven. If there's not enough room in your oven to bake them all in an even row at once, simply bake them in two batches.
For the frosting, you'll want to make sure your butter is VERY soft before creaming it.
The chocolate cakes should be completely cool before adding the frosting and salted caramel.
The assembly is a two part process: you'll place one cake level on a large plate, top it with a thin layer of frosting, then add the caramel, then add another cake level and repeat. Once you've added the final cake level you'll want to leave the top bare and place the cake in the fridge to set for one hour. Once it's set, you can finish frosting.
Alright guys, time for me to wipe the crumbs of my party dress and start celebrating! There's a mimosa and long nap on the beach in my very near future…
↑ But seriously, can everyday be my birthday?!
Pin it for Later!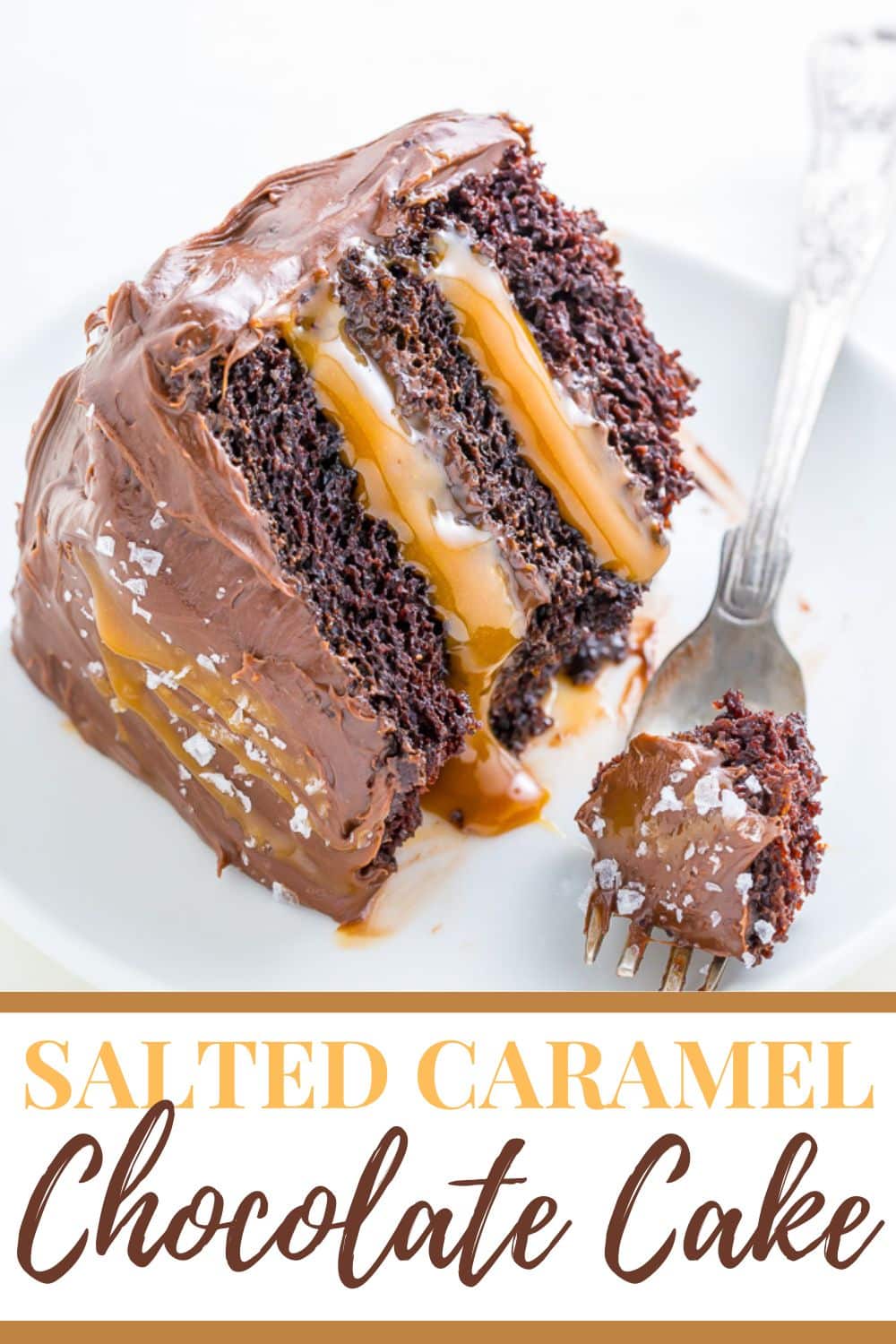 If you try this recipe for Salted Caramel Chocolate Cake, let me know what you think! Leave a comment below and don't forget to snap a pic and tag it #bakerbynature on instagram! Seeing your creations makes my day.
More Salted Caramel Recipes:
More Chocolate Cake Recipes: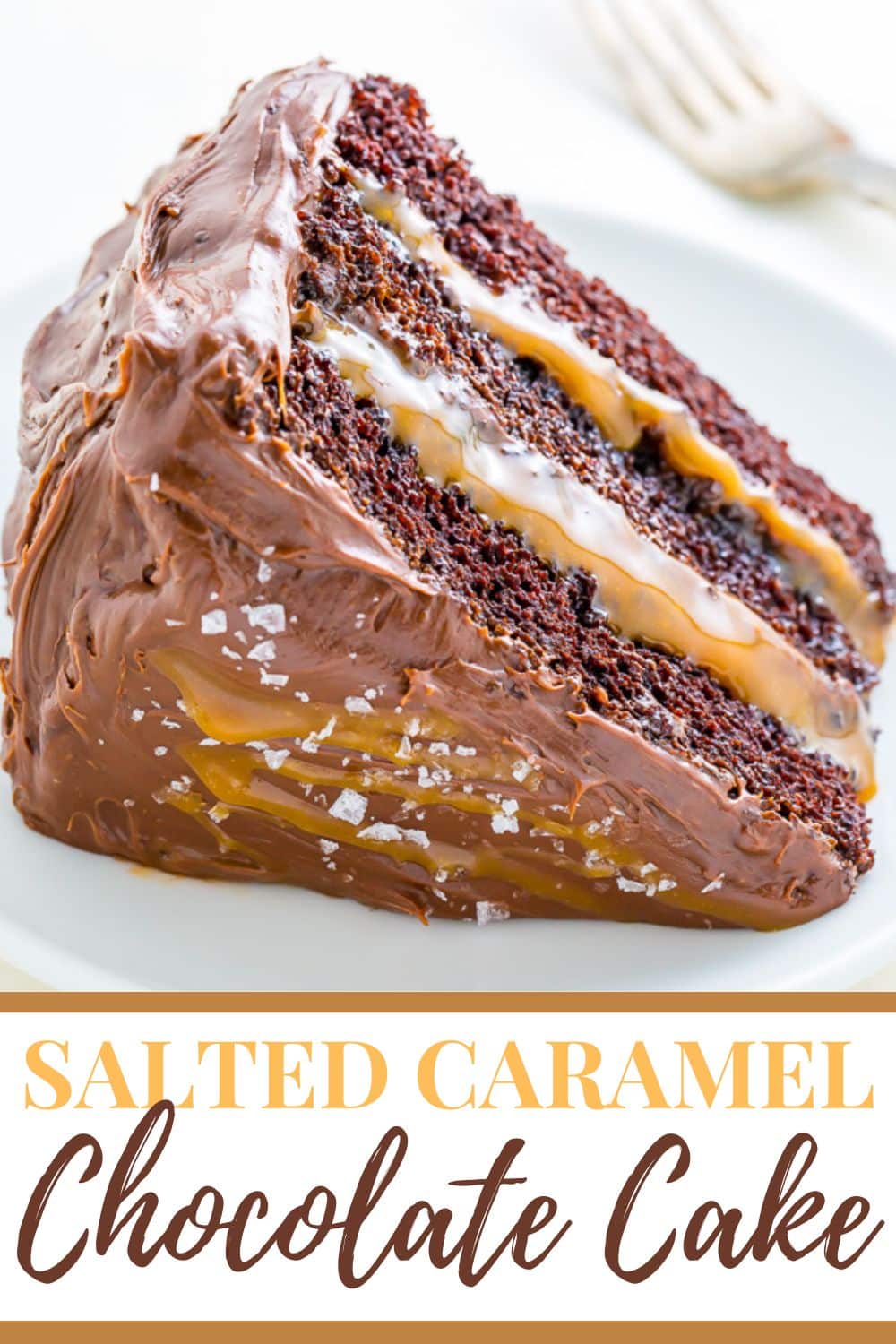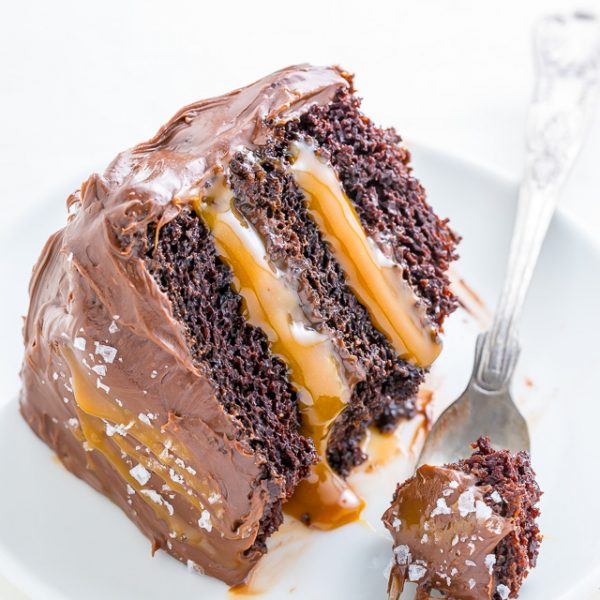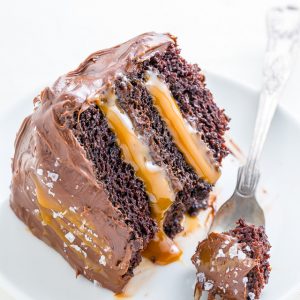 Salted Caramel Chocolate Cake
Three layers of Salted Caramel Chocolate Cake slathered in homemade Chocolate Frosting. So decadent!
Ingredients
For the chocolate cake:
2 cups granulated sugar
1 cup light brown sugar, packed
2 and 3/4 cups all-purpose flour (not packed!)
1 and 1/2 cups unsweetened cocoa powder, sifted
3 teaspoons baking soda
1 and 1/2 teaspoons baking powder
1 and 1/4 teaspoons salt
3 large eggs + 2 large egg yolks, at room temperature
1 and 1/2 cups full-fat sour cream
1/3 cup whole milk
3/4 cup vegetable oil (you may also sub in melted coconut oil)
2 tablespoons vanilla extract
1 and 1/2 cups hot water
For the salted caramel chocolate frosting:
2 cups unsalted butter (4 sticks, 16 ounces), VERY soft
4 and 1/2 cups confectioners' sugar, sifted
3/4 cup unsweetened cocoa powder, sifted
1 teaspoon vanilla extract
1/2 teaspoon salt
3 tablespoons heavy cream (more if needed)
2 tablespoons salted caramel sauce
Instructions
For the chocolate cake:
Preheat oven to 350°(F). Cut out three 9-inch round segments of parchment paper to line your cake pans with. Spray each pan generously - sides and bottom - with nonstick cooking spray, then place the parchment paper cut out in the bottom of the pans and spray again. It's important to make sure every bit of pan and paper are sprayed so your cakes don't get stuck. Set pans aside.

In the bowl of a stand mixer fitted with the paddle attachment, or in a large bowl using a handheld electric mixer, combine both sugars, flour, cocoa powder, baking soda, baking powder and salt; mix on low until dry ingredients are thoroughly combined. Use your hands to break up any large clumps, if needed.

In a separate bowl combine the eggs, egg yolks, sour cream, milk, oil and vanilla extract; mix until completely combined. Pour mixture into the dry ingredients and beat on low until just incorporated. Pour in hot water and continue mixing until completely combined; about 1 minute. The batter will quite thin.

Divide batter evenly among prepared pans. Bake in preheated oven for 30 minutes, or until a wooden toothpick or cake tester inserted in the center of a cake comes out clean or with just a few moist crumbs attached. Cool cakes for 10 minutes in the pan before removing from pans and transferring to a cooling rack; cool cakes completely before frosting.
For the chocolate frosting:
In a stand mixer fitted with the paddle attachment, cream the softened butter on medium-speed until completely smooth; about 3 minutes.

Turn the mixer off and sift the powdered sugar and cocoa into the mixing bowl. Turn the mixer on the lowest speed and mix until the sugar/cocoa have been absorbed by the butter; about 2 minutes. Increase mixer speed to medium; add in vanilla extract, salt, heavy cream and salted caramel; beat for 3 minutes. If your frosting appears a little too thin, add a little more confectioners' sugar; If your frosting needs to be thinner, add additional heavy cream, 1 tablespoon at a time.
Assembly:
Using a serrated knife, carefully trim the raised top of each cake, making each one an even, level surface. Transfer 1 layer to a large plate or cake stand. Spread a thin layer of frosting on top, then add a 1/2 cup of caramel; top with another cake layer, and repeat, thinly spread it with a layer of frosting, then adding a 1/2 cup of caramel. Top final cake layer and place cake in the fridge to set for 1 hour. Once set, finishing frosting the top and sides of the cake. Sprinkle with sea salt. Slice and serve, or keep refrigerated for up to 5 days.
Notes
Cake may be baked up to 5 days in advance and stored in the fridge. Unfrosted cakes may be wrapped and frozen for up to 2 months. For best results, follow the recipe as written.