These Easy Molten Chocolate Lava Cakes for Two are so delicious and perfect for Valentine's Day! A rich, decadent, and romantic chocolate dessert recipe anyone can make at home!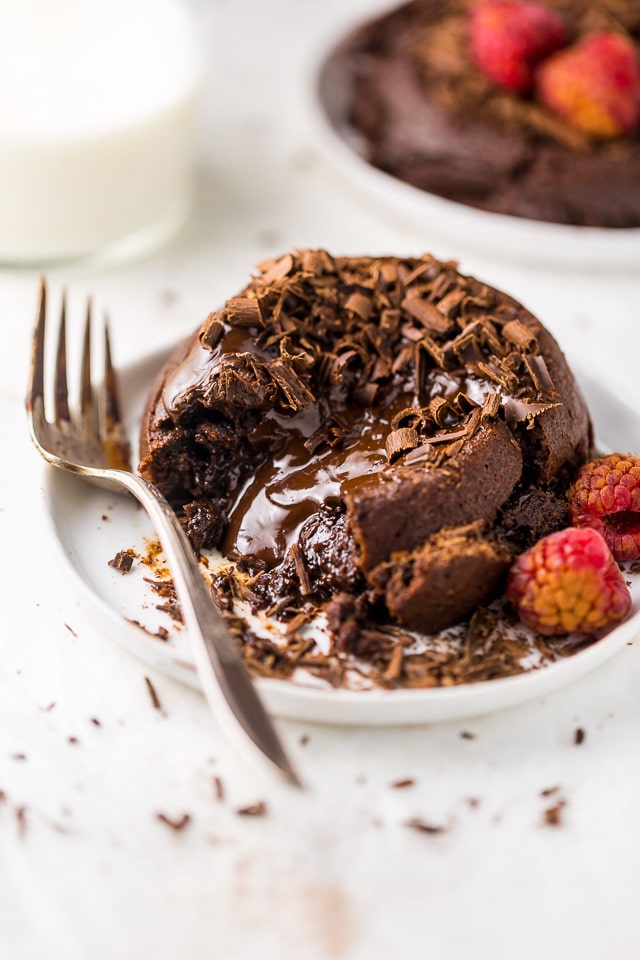 Molten Chocolate Lava Cake Recipe
Valentine's Day is one of my favorite holidays… so naturally I'm excited that it's just a few weeks away! And it's probably no surprise that I plan on celebrating with chocolate. More specifically, with these easy molten chocolate lava cakes for two!
This is our first (and only!) Valentine's Day as an engaged couple, so I want to make the night extra special. And to us, extra special = homemade pasta, a good bottle of wine, and gooey chocolate cake. Oh, and old episodes of law and order. What can I say? We're complete and total homebodies!!! And would much rather spend a romantic holiday cozied up at home than in a cramped and crowded restaurant. Any other homebodies out there that can relate?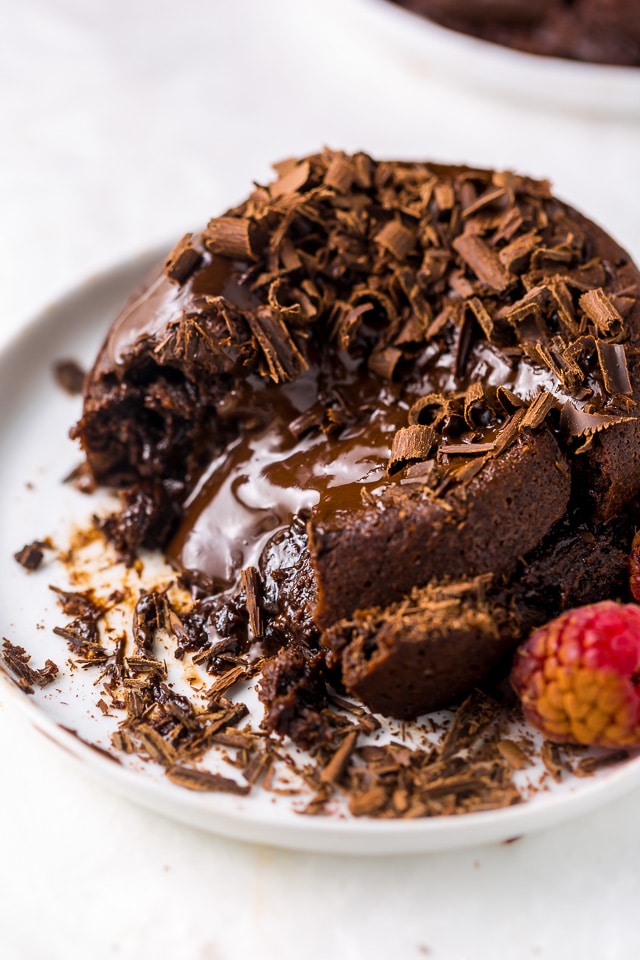 But I digress! Let's get back to the lava cakes I'm going to teach you to make! This recipe makes two supremely rich and chocolatey molten cakes. Just enough for you and your sweetheart to enjoy… without having any leftovers. And trust me: you won't have any leftovers!!! Because every time I make these, the plates are scraped clean. Not the prettiest image… but totally true.
Tips and Tricks for Recipe Success
Ingredients in a Chocolate Lava Cake?
unsalted butter
high-quality chocolate (I prefer dark chocolate or semi-sweet)
sugar
eggs and egg yolks
flour
salt
vanilla extract
and espresso powder (optional, but it really enhances the chocolate flavor!)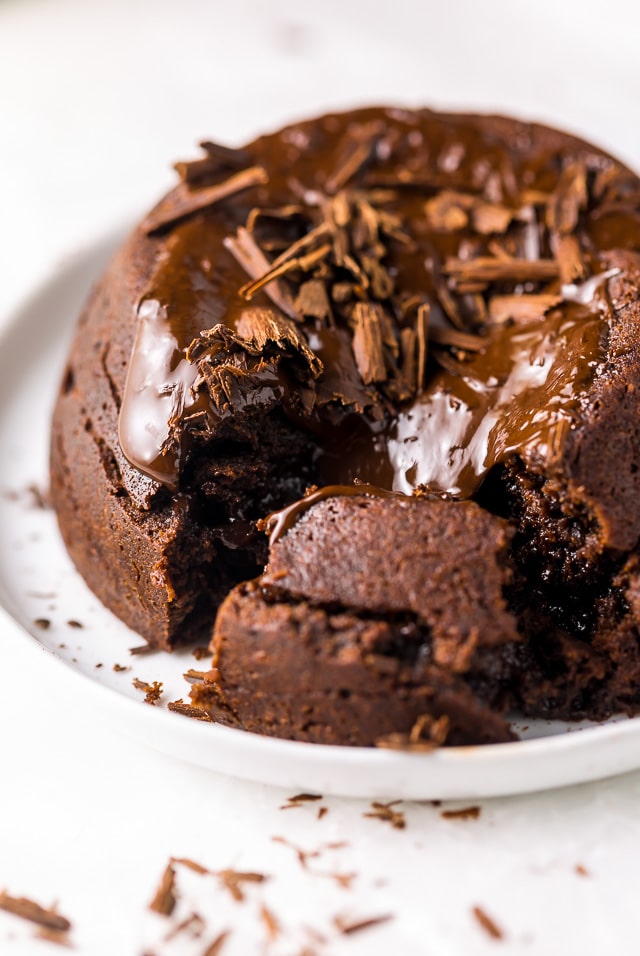 How to bake molten lava cake?
First, you'll want to preheat your oven to 450 degrees (F).
Then you'll make the batter. The first step is melting the chocolate and butter together until smooth. Then you simply whisk in the remaining ingredients… and that's it. So easy!
Next, you'll need to grease two 6-ounce oven safe ramekins. I use and love these.
Then you'll divide the batter evenly among the ramekins, place them on a small baking sheet, and bake for 10 to 11 minutes, Or until they've puffed up, but are still a little jiggly in the middle.
And finally, be sure to only cool the cakes for exactly one minute before turning them over and removing them from the molds. Otherwise they'll continue cooking and could stick.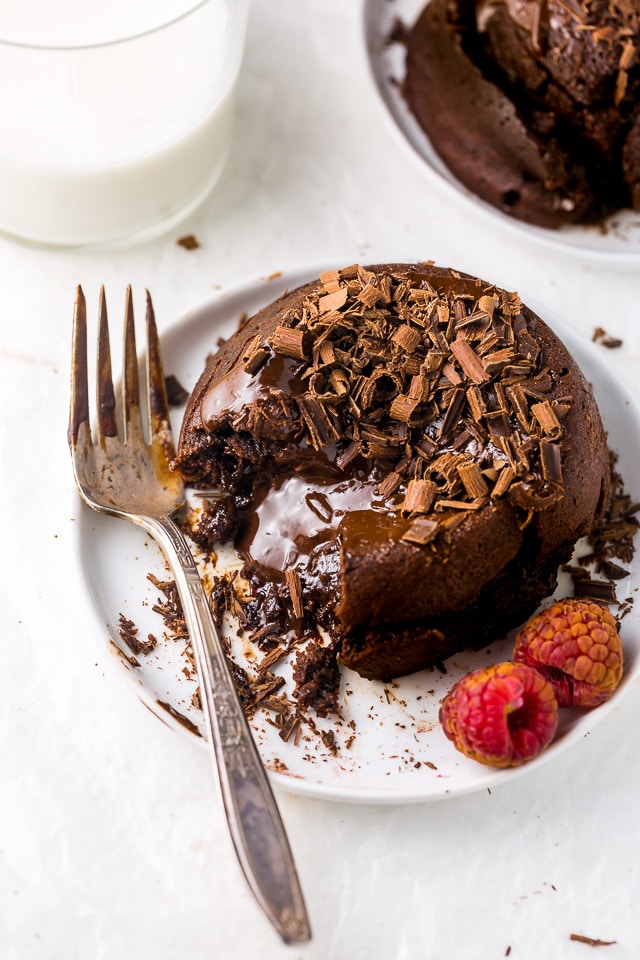 Can Lave Cakes be made ahead of time?
YES!!! The batter can be refrigerated for up to 12 hours. Just let it come to room temperature before baking.
What to serve chocolate molten lava cakes with?!
To be completely honest, these gooey chocolate cakes are delicious enough to stand alone!
But if you really want to make them over-the-top, serve them with ice cream, whipped cream, fresh fruit, or salted caramel sauce! As you can see in my photos, I served them with chocolate shavings and fresh raspberries, and it was DELICIOUS. Or, if you'd like to keep things simpler, sprinkle them with a light dusting of cocoa powder or confectioner's sugar. The options are almost endless!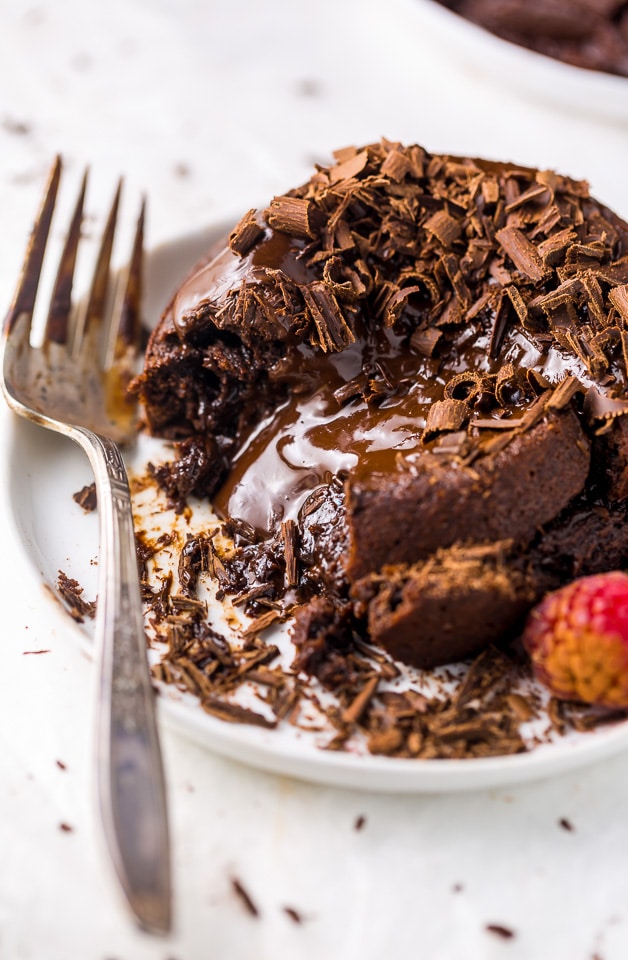 For more Valentine's Day Recipes, Check Out:
AND IF YOU TRY THIS RECIPE FOR EASY MOLTEN CHOCOLATE LAVA CAKES FOR TWO, LET ME KNOW! LEAVE A COMMENT BELOW AND DON'T FORGET TO SNAP A PIC AND TAG IT #BAKERBYNATURE  ON INSTAGRAM! SEEING YOUR KITCHEN CREATIONS MAKES OUR DAY.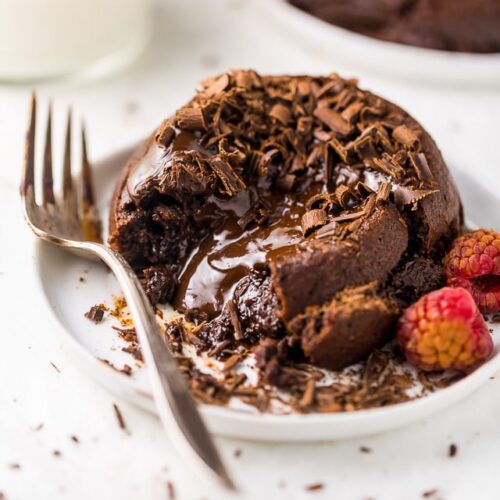 Easy Molten Chocolate Lava Cakes for Two
These Easy Molten Chocolate Lava Cakes for Two are so delicious and perfect for Valentine's Day! A rich, decadent, and romantic chocolate dessert recipe anyone can make at home!
Ingredients
2 ounces unsalted butter
3 ounces semi-sweet chocolate, chopped
1 teaspoon espresso powder
1/4 cup light brown sugar, packed
1/4 cup confectioners' sugar
1 large egg, at room temperature
1 egg yolk, at room temperature
1/2 teaspoon vanilla extract
1/4 cup flour
1/8 teaspoon salt (tiny pinch)
Instructions
Preheat oven to 450°F. Generously grease two 6-ounce ramekins with butter OR nonstick baking spray; place on a baking sheet and set aside until needed. 

Add the butter and chocolate to a large, microwave safe bowl and microwave in 20 second increments, making sure to stir well after each increment, until chocolate is completely melted. Remove from the microwave and whisk smooth. Whisk in the espresso powder. Then whisk in both sugars, stirring until well combined. Add in the egg, egg yolk, and vanilla and mix until well combined.

Toss in the flour and salt and mix until just combined, being sure not to over mix the batter.

Evenly divide the batter among the prepared ramekins and place them back on the baking sheet.

Bake for 11 to 12 minutes, or until the tops have puffed up and the edges are firm but the center is still  slightly jiggly.

Remove from the oven and cool for exactly 1 minute. Using a tea towel to protect your hands, carefully invert each ramekin onto a small plate. Top with chocolate shavings and berries, if using. Serve at once and enjoy!