Hi, friends! I don't know about you, but come Winter, I just love baking with citrus.
I depend on it for its lovely burst of brightness, and adore how a squeeze of juice here, or a dash of zest there, can really bring an old recipe new life. Also, my frugal (lazy) heart goes wild for how cheap and easily available citrus is in the dead cold months. I saw a package of organic blueberries at the store yesterday… asking price? $8.50. No way that's ever happenin' over here. Uh uh.
Luckily at the same store I found a GIANT bag of darling little key limes. The whole bag was 2 bucks! YEEEES.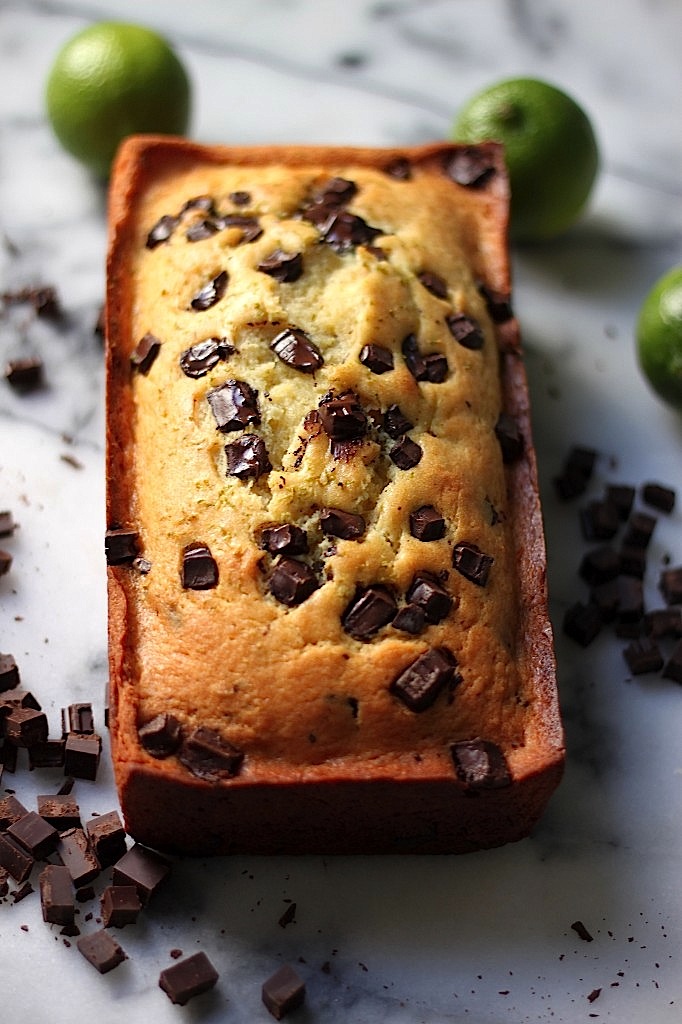 On the bus ride home I did a quick mental sweep of what I already had at home, and decided that in addition to pie (I had to!), I'd also try my hand at zesting these petite sweeties into a quick bread featuring greek yogurt, chocolate chunks, and coconut oil.
Kinda… healthy… right?…!!!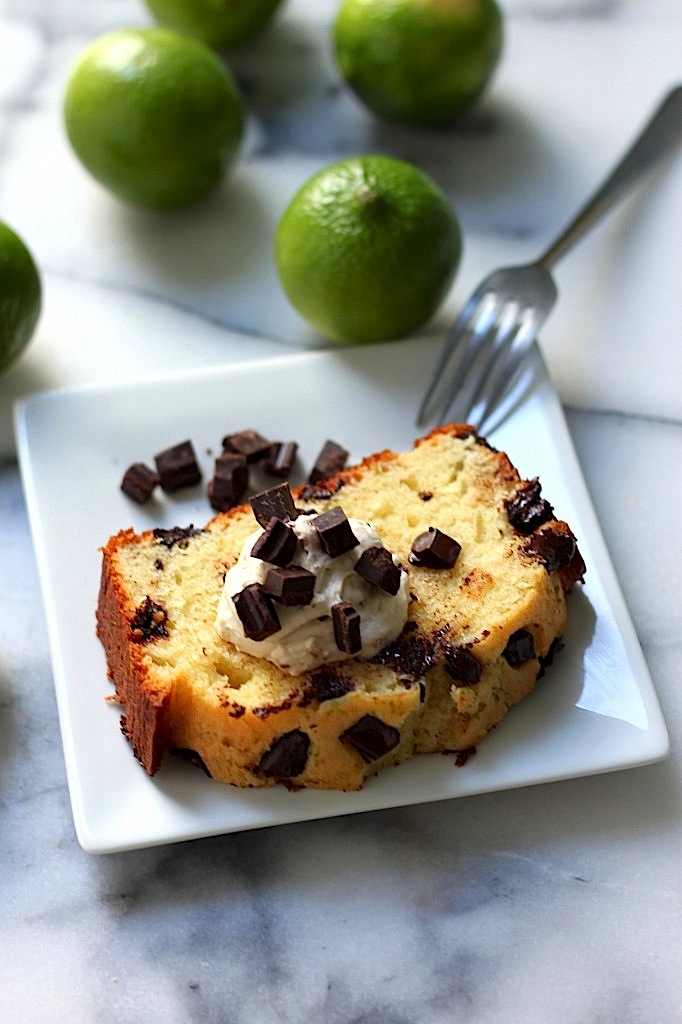 The addition of chocolate chunks and coconut oil really make this cake pop and soar with flavor. I did a few trial runs using brown butter, regular butter, and even olive oil, and coconut oil beat them black and blue!
Also, if you're tempted to add shredded coconut to the mix, I tried it and while it is good, the texture will be a big more craggy than without it. Totally up to you! But you do get a good amount of coconut flavor from the coconut oil alone. I buy mine from Trader Joe's, and it's pretty decent (and cheap!!!), if you're in the market for a jar 😉
To wrap it up in one final description, this is a super soft greek yogurt pound cake that pops with beautiful coconut, chocolate, and lime flavor in every slice.
It also doesn't mind getting dolled up with a dollop of whipped cream, if you're naughty like that.
Dark Chocolate Chunk Coconut Key Lime Pound Cake – Baker by Nature
Makes 1 loaf
Ingredients:
1 2/3 cups all-purpose flour + 2 tablespoons; divided
1/2 tablespoon baking powder
1/2 teaspoon salt
1 cup plain whole-milk Greek yogurt, I use Fage
1 cup sugar
4 large eggs + 1 egg yolk
2 teaspoons grated lime or key lime zest (about 3 large lime or 4 small ones)
1 teaspoon pure vanilla extract
1/2 cup coconut oil, at room temperature (it should be liquified)
1 cup dark chocolate chunks
Instructions:
Preheat oven to 350 degrees (F). Grease a large loaf pan, and line with parchment paper.
Stir together the 1 2/3 cups flour, baking powder, and salt into a medium-sized mixing bowl.
In a small bowl toss together chocolate chunks and remaining flour; set aside.
In another bowl, whisk together the yogurt, 1 cup sugar, eggs, egg yolk, lime zest, and vanilla.
Slowly whisk the dry ingredients into the wet ingredients. With a rubber spatula, fold the coconut oil into the batter, folding from the bottom and up, making sure it's all incorporated. Fold in the flour coated chocolate chunks.
Pour the batter into prepared pan and bake for 50-55 minutes, or until a cake tester placed in the center of the loaf comes out clean.
Cool cake in pan for 10 minutes, then carefully transfer to a cooling wrack to cool completely.