As a die-hard key lime lover, it's probably no surprise I'm absolutely obsessed with this key lime bundt cake! It's tangy, sweet, and every element is exploding with key lime juice. Bottom line: this cake is delicious and a must bake for lime lovers!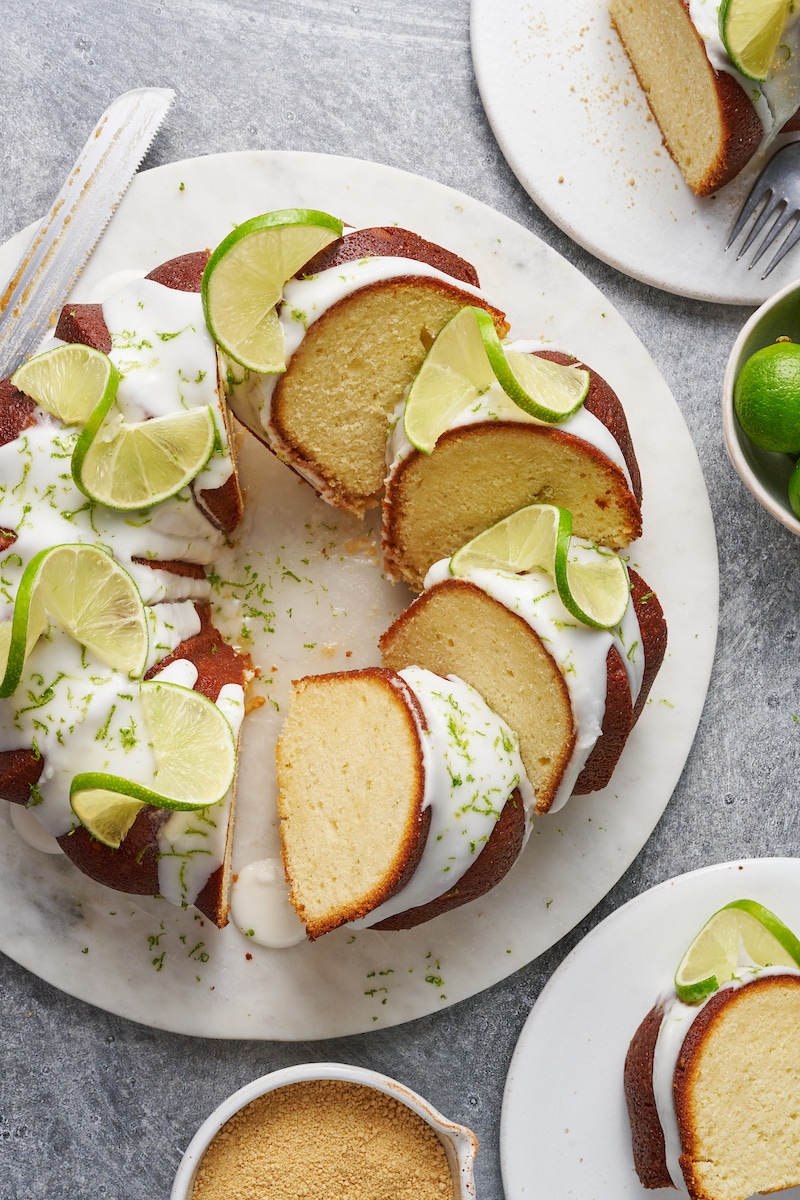 Key Lime Bundt Cake Recipe
Every summer I throw a big backyard bbq and bake a key lime pie for dessert. But this year, I decided to shake things up and bake this key lime bundt cake instead. I wasn't quite sure how my party crew would respond to the change in menu… but to my delight, this cake ended up being the hit of the evening!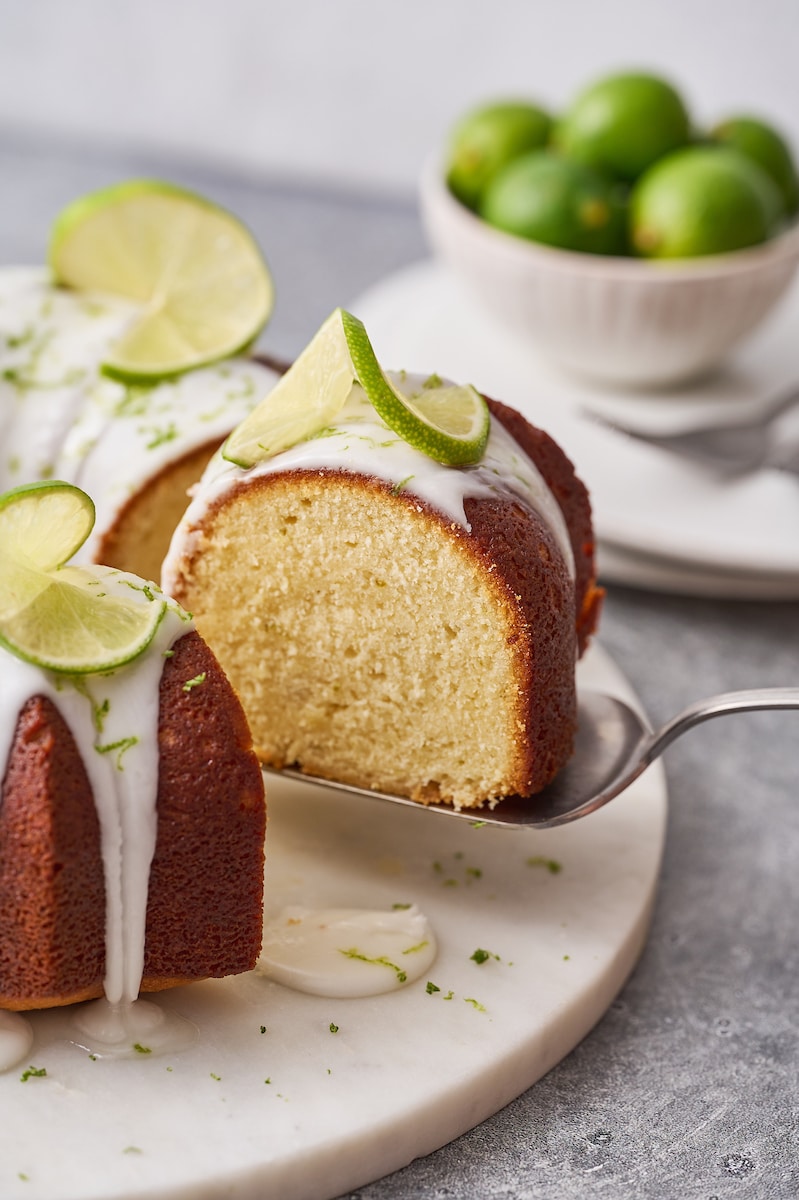 And not a slice was leftover. Which was a shame… because I was looking forward to enjoying it with my morning coffee the next day. Moral of the story? Always sneak a slice to save for later before serving to guests.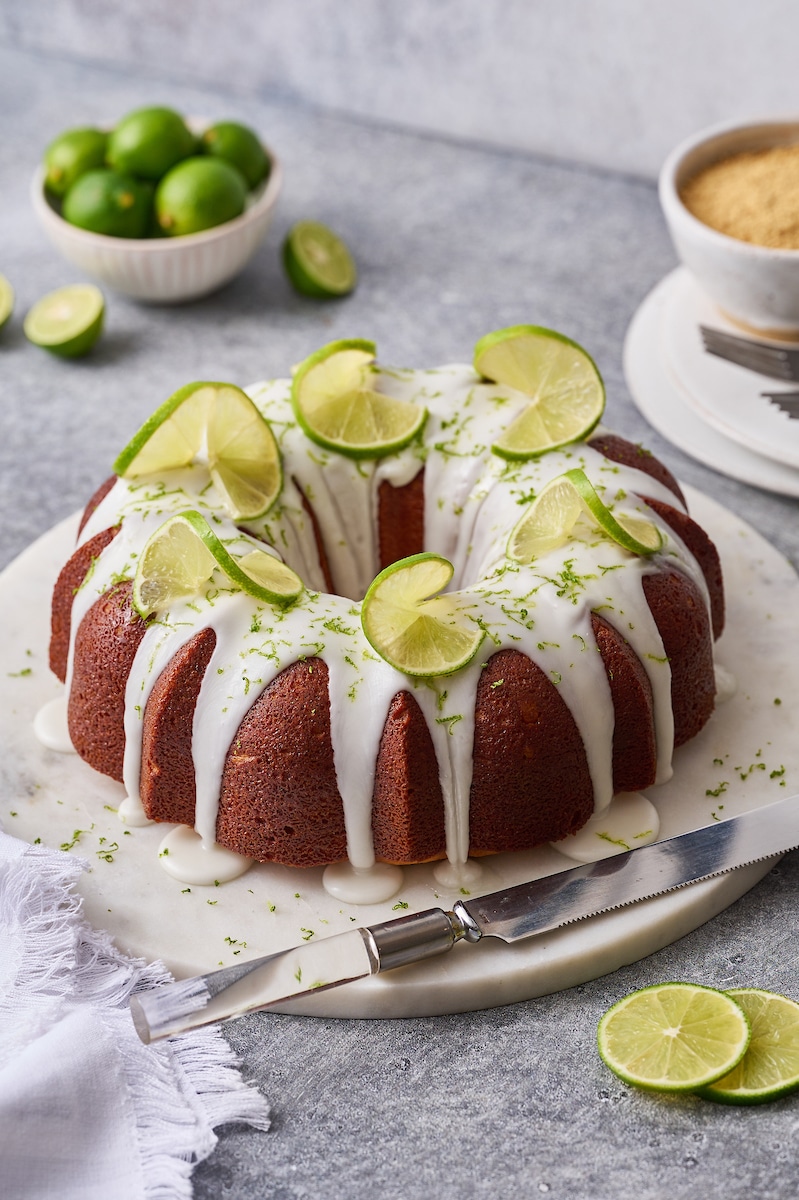 What you'll Need:
Key Limes: You'll use key lime zest as well as key lime juice. If you cannot find key limes, you can use bottled key lime juice and just regular lime zest.
Bundt Pan: The key to a great bundt cake is a great bundt cake pan! This cake was developed specifically to be baked in a bundt pan, and I do not know what the results will be like if you bake it in a 9×13-inch cake pan, or try to convert it to cupcakes.
Nonstick Baking Spray: Consider this your insurance policy for your cake coming out of the pan. You'll want to spray every nook and cranny of your pan with this. And spray it RIGHT before adding the cake batter.
Flour: All-purpose flour is the only flour I recommend using for this cake. I cannot advise on making this gluten free or using nut flours/oat flours.
Baking Powder: Make sure it's fresh… and never swap baking powder for baking soda!
Salt: Just a dash balances flavors and sweetness. Don't skip this unless you're using salted butter. See more on that below.
Butter: Unsalted works best, but in a pinch, salted butter will work. Simply omit the salt called for in the recipe. Make sure your butter is at room temperature or it won't properly cream.
Cream Cheese: Use the brick variety, and make sure it's full-fat and at room temperature before you begin baking.
Granulated Sugar: Do not cut back on the amount here or your cake will be overly tart. I also don't suggest using brown sugar. This swap will not only change the appearance of your cake (it'll bake up much more brown in color) but will change the flavor by adding a molasses undertone, which doesn't pair well with the key lime flavor, in my opinion.
Vanilla Extract: I always suggest using pure vanilla extract, not artificial or imitation vanilla.
Eggs: You'll need 5 of them! Make sure your eggs are of the large variety and are at room temperature.
Oil: While I call for canola oil, vegetable oil or coconut oil (refined or unrefined) will all work here. The small amount ensures your cake keeps its moist crumb for days on end.
Powdered Sugar: For the smoothest glaze possible, be sure to sift your sugar before use.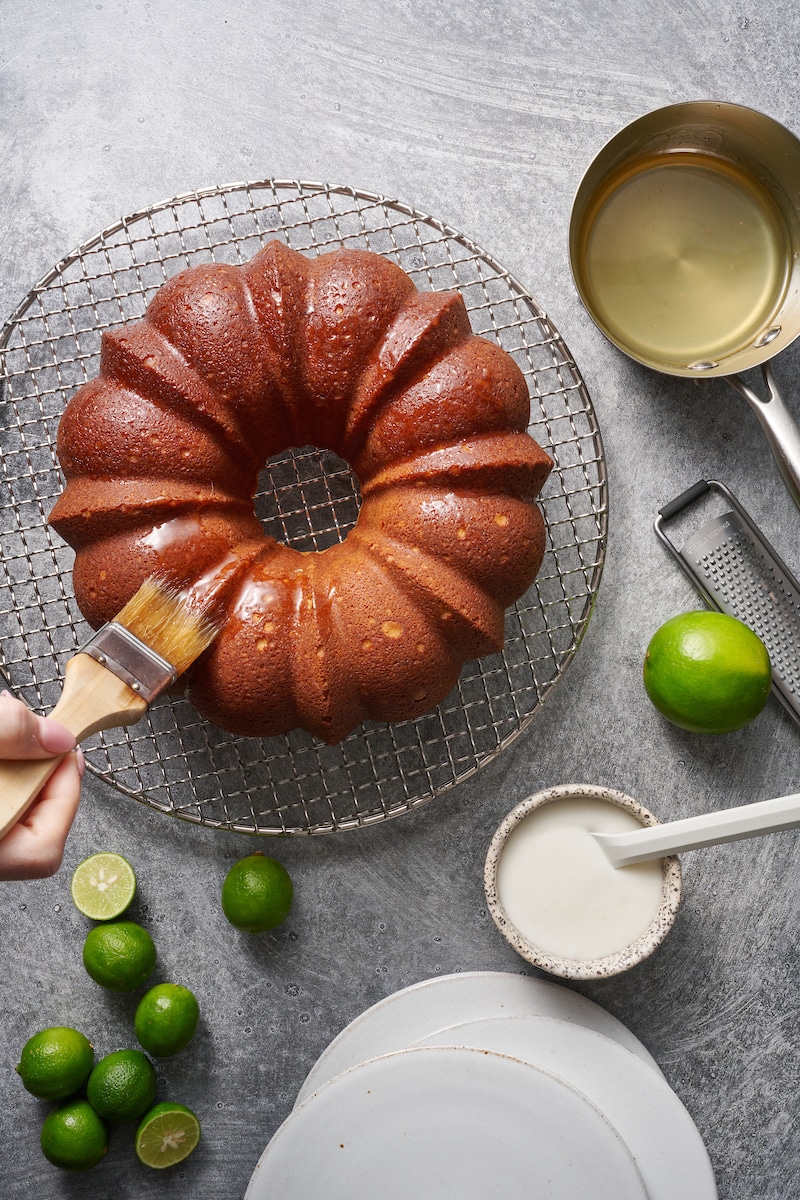 Tips and Tricks for Recipe Success:
Unlike many recipes that call for an oven preheated to 350 degrees, for this recipe, you'll preheat the oven to 325 degrees.
In a large bowl combine your dry ingredients. Be sure to measure properly! For best results, I suggest weighing these ingredients with a digital scale.
You'll need a stand mixer fitted with the paddle attachment OR a handheld electric mixer for this recipe. You'll use it to beat the butter and cream cheese together on medium speed until super smooth and fluffy.
Gradually add in the sugar! If you add it all at once, it won't properly incorporate and might even fly out of the bowl.
Be sure to reduce the mixer speed to medium before adding the eggs. And then add them in one at a time! You must beat well after each addition, and scrape down the sides and bottom of the bowl frequently, to ensure the batter properly comes together.
When it's time to add in the flour mixture, you'll want to make sure your mixer is running on the lowest speed setting. And that you mix just until combined. Over mixing will result in a dry cake.
Don't over bake! This cake recipe should be done in about 60 to 65 minutes, but you'll know for certain when a toothpick inserted in the center comes out clean.
Cool in the pan for exactly 10 minutes before you remove the cake and transfer it to a wire rack to cool completely.
You'll brush the cake with the lime syrup while it's still warm. If you wait until the cake has cooled, the cake will not absorb the syrup properly.
However I suggest waiting until the cake is completely cooled to add the glaze and garnishes!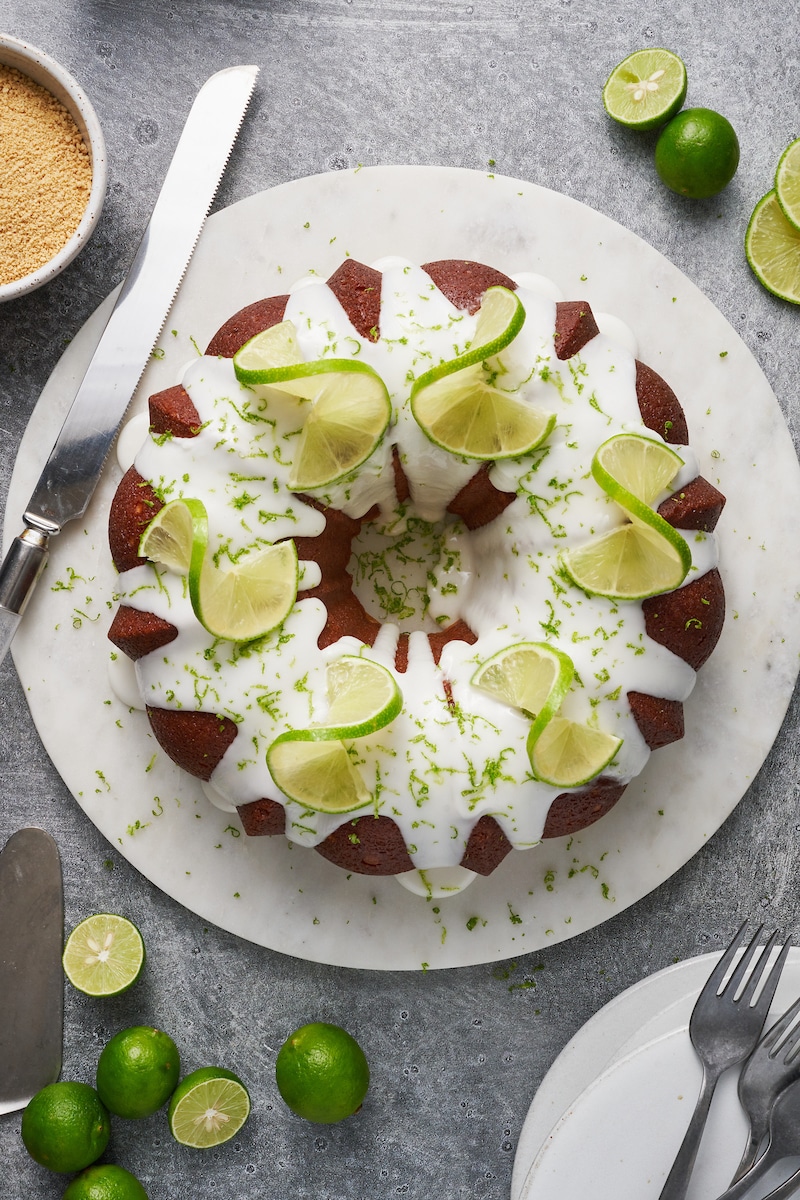 Speaking of garnishes, you have plenty of options here! I love adding finely grated lime zest and lime spirals, but you could also add crushed graham cracker crumbs for a key lime pie vibe. You could also swap out the glaze for a cream cheese frosting like I use on my bakery-style white cake (tastes like white cake mix but a million times better) or a white chocolate frosting like I use on my white chocolate cranberry bundt cake.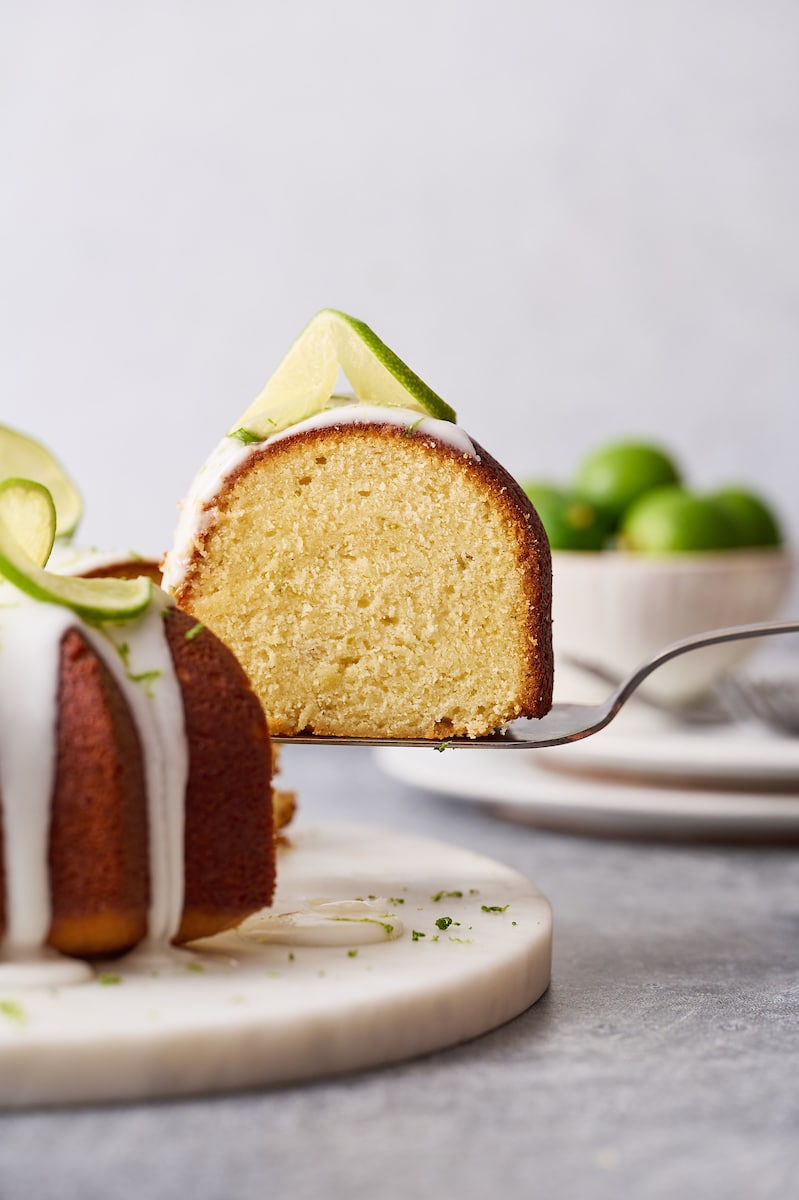 More Key Lime Recipes: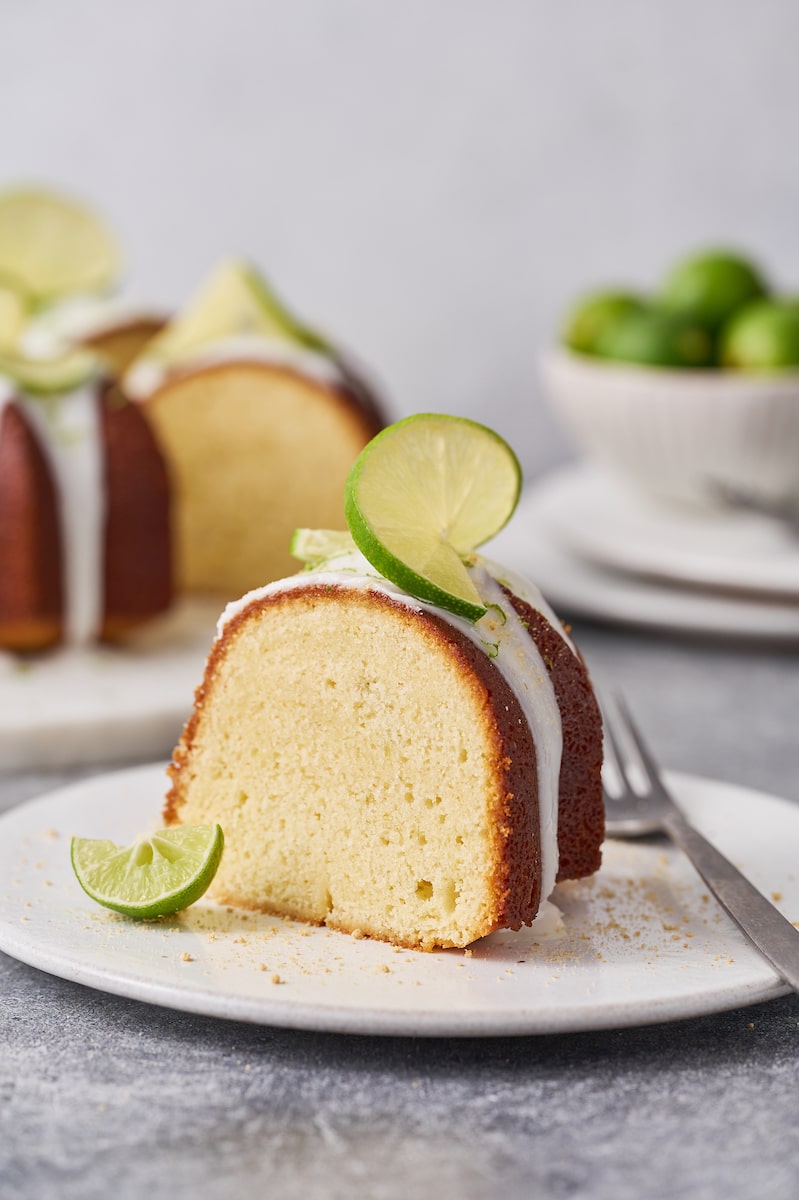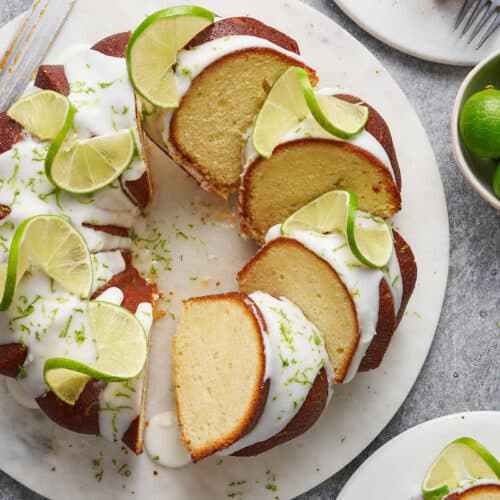 Key Lime Bundt Cake
As a die-hard key lime lover, it's probably no surprise I'm absolutely obsessed with this key lime bundt cake! It's tangy, sweet, and every element is exploding with key lime juice. Bottom line: this cake is delicious and a must bake for lime lovers!
Ingredients
For the Cake:
3 cups (360g) all-purpose flour
2 teaspoons baking powder
1/2 teaspoon salt
1 and 1/2 cups (340g) unsalted butter room temperature
1 cup (227g) brick-style full-fat cream cheese room temperature
2 cups (398g) granulated sugar
2 teaspoons pure vanilla extract
5 large eggs room temperature
1/2 cup (113ml) key lime juice
3 Tablespoons (36g) key lime zest finely grated
2 Tablespoons (28ml) canola oil
For the Soaking Syrup:
1/3 cup (76ml) key lime juice
1/2 cup (99g) granulated sugar
For the Icing:
2 cups (228g) confectioners' sugar sifted
1/4 teaspoon salt
2 and 1/2 Tablespoons (35ml) key lime juice
lime zest finely grated, for garnish, optional
lime spirals for garnish, optional
Instructions
For the Cake:
Preheat the oven to 325°F. In a medium mixing bowl, whisk the flour, baking powder, and salt together until well combined. Set aside until needed.

In the bowl of a stand mixer fitted with the paddle attachment, or in a large bowl using a handheld electric mixer, beat the butter and cream cheese on medium speed until smooth and creamy, about 1 minute.

Gradually add in the sugar, then increase the speed to medium-high and continue beating until light and fluffy, about 3 minutes. Beat in the vanilla extracts.

Reduce the speed to medium, then add in the eggs, one at a time, beating well after each addition and scraping down the sides of the bowl as needed. Beat in the lime juice, lime zest, and oil. 

Reduce the speed to low and add in the flour mixture, mixing just until combined. 

Generously grease a 10-inch (12-cup) bundt pan, being sure to coat all of the nooks and crannies. I suggest using a non-stick baking spray that has flour in it, or greasing the pan with shortening or butter, then dusting it with flour.

Scrape the cake batter into the pan and, using a rubber spatula, evenly smooth the top. 

Bake for 60 to 65 minutes, or until the cake is golden brown AND a toothpick inserted into the center of the cake comes out clean. Allow the cake to cool in the pan, set on a wire rack, for 10 minutes. Then invert the cake onto the rack.

Slowly brush the warm lime soaking syrup all over the cake, top and sides, allowing it to sink in before adding more.

Once all of the syrup has been added, set the cake aside to cool completely, about 2 and 1/2 hours.
For the Soaking Syrup:
In a medium saucepan, combine the lime juice and sugar. Bring to a simmer over medium heat and cook, whisking frequently, just until the sugar has completely dissolved.  Remove from heat and use as directed above.
For the Icing:
In a large liquid measuring cup or bowl, combine the sugar and salt. Whisk in the lime juice, mixing until just combined. The mixture should be super thick and just barely pourable. If the glaze is too thick, add more lemon juice, a teaspoon at a time. If the glaze is too thin, add more confectioners' sugar, a Tablespoon at a time.

Drizzle the glaze over the cooled cake. Decorate with lime zest and lime spirals, if using. Then allow it to set for 20 minutes. Slice and serve!