Blondies are one of my all-time favorite treats to bake up! They're simple and decadent and VERY hard to resist. I also love that their base is basically a buttery blank canvas just waiting for you to go all crazy and creative on.
I do wish I knew how to make them look prettier! It's on my "to work on" list!
Ooooohhhhh! So guess what I found out!? You can totally make blondies ahead of time! Did you know this? See, all you have to do is make the batter, freeze it in a pan until solid, then wrap them up nice and good until you want to bake. That little fact will totally come in handy once holiday entertaining starts getting real 😉
Speaking of the holidays… (!!!), these vibrant green and red blondies kind of remind me of Christmas. I think it's just the colors. But it did excite me! I'm such a dorky little kid when it comes to any holiday – but the santa clause one 100% owns my heart.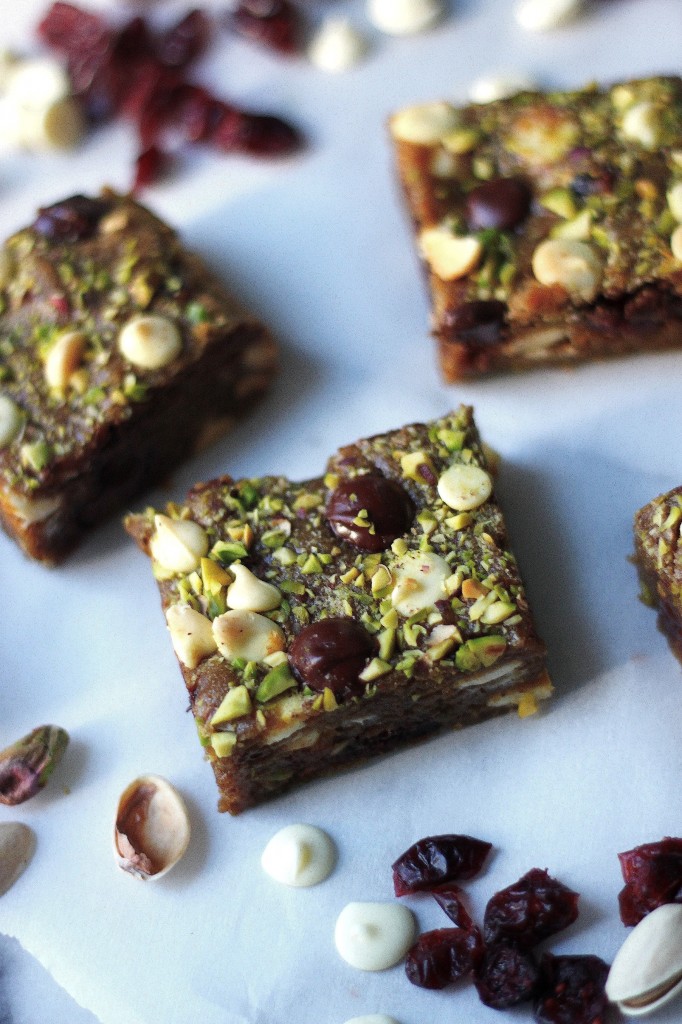 Anyway! Getting back on track. The blondies! These guys are wild ones. They boast chocolate x 2 thanks to white chips and dark chocolate ones. And they're also swimming with gorgeously green pistachios and vibrant cranberries. Oh, and guess what I snuck in there, too? Whole wheat flour! And it totally works. Woot!!!
Happy Monday, sweets! xo
 Double Chocolate Cranberry Pistachio Blondies – Baker by Nature
Makes (1) 8 x 8 pan of blondies
Ingredients:
1 cup all purpose flour
1/4 cup whole wheat flour
1/2 teaspoon salt
1/4 teaspoon cinnamon
1 stick butter, melted
1 cup brown sugar
1 teaspoon vanilla
1 large egg
1/3 cup cranberries
1/3 cup chopped pistachios
1/2 cup white chocolate chips
1/2 chop dark chocolate chips
Instructions:
Preheat oven to 350 degrees (F). Line an 8 x 8 baking pan with parchment paper, and grease if desired.
In a small bowl mix together the flours, salt, and cinnamon. In a separate medium sized bowl cream butter, sugar, and vanilla together. Add egg. Carefully pour the flour mixture into the butter/egg mix, stirring until just combined. Fold in the pistachios, cranberries, and chocolate. Pour batter into prepared pan and bake for 20 – 25 minutes. Let the blondies cool completely in the pan before removing and cutting into small squares.
*Blondies will last up to 3 days in an air tight container.