Hello friends! I made us more homemade treats! Giant crunchy pretzels stuffed with creamy peanut butter, dipped in white chocolate; drizzled in dark, and sprinkled with toffee >>> you gotta put these on your to-do list now! And when I say now, I mean like… right this instant! Just so we're clear. These giant crunchy, creamy treats are too good to miss!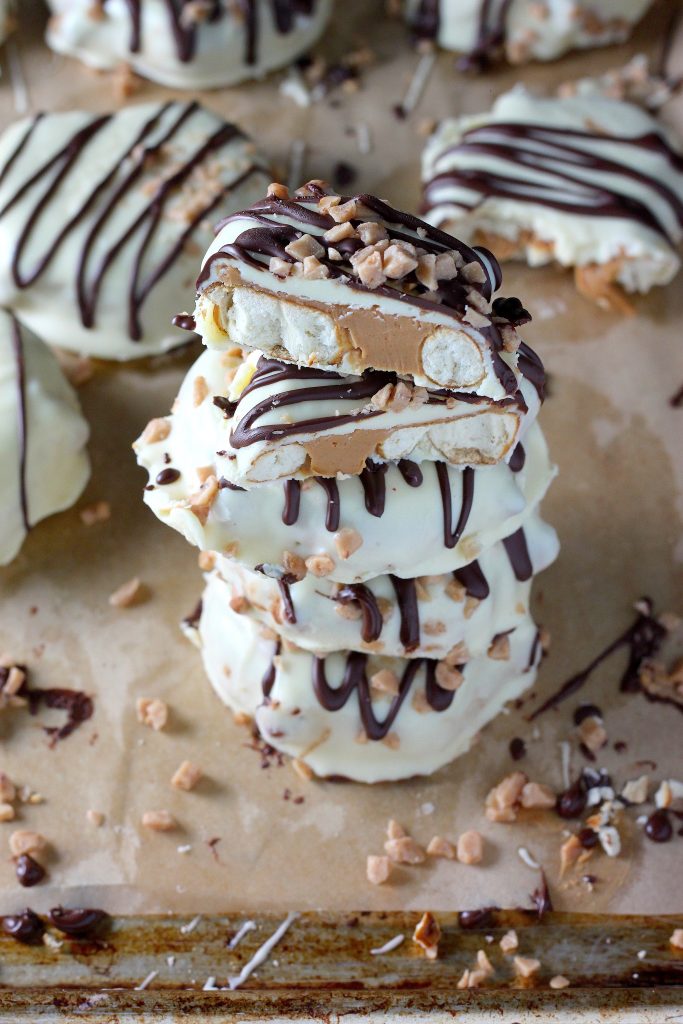 These pretzels are ridiculously easy to make because, you know… that's how we roll. No kitchen magic needed here… just a few simple steps and BOOM >>> You're rolling in homemade candy heaven. Melting the white chocolate it probably the most dramatic step. White chocolate can be finicky, but melt it loooow and slow, and be sure to add the coconut oil, and you'll be all good. Promise. Oh, and quality white chocolate here makes all the difference.
The first step is to line a large baking sheet with the pretzels. I found these fabulously salted // superbly crunchy german pretzels online, but I'm sure you can grab a bag in the chip aisle at your local grocery store.
Next up you're going to slather the pretzel top with peanut butter. I like to use creamy all natural peanut butter here, but you can really use any brand/variety you like.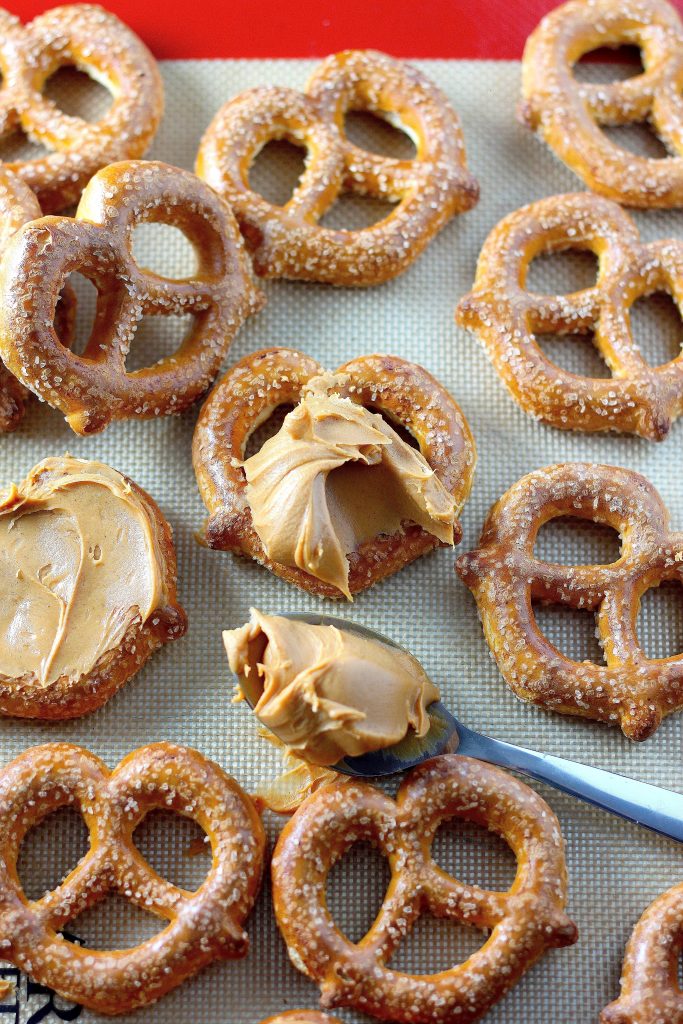 You'll pop the pretzels in the fridge (this allows the peanut butter to set just a little bit) while you melt the chocolate. I always melt my chocolate on low (right on the stove-top), but I think you could do this in the microwave as well. Just remember, loooow and slow is the name of the game. Chocolate burns FAST.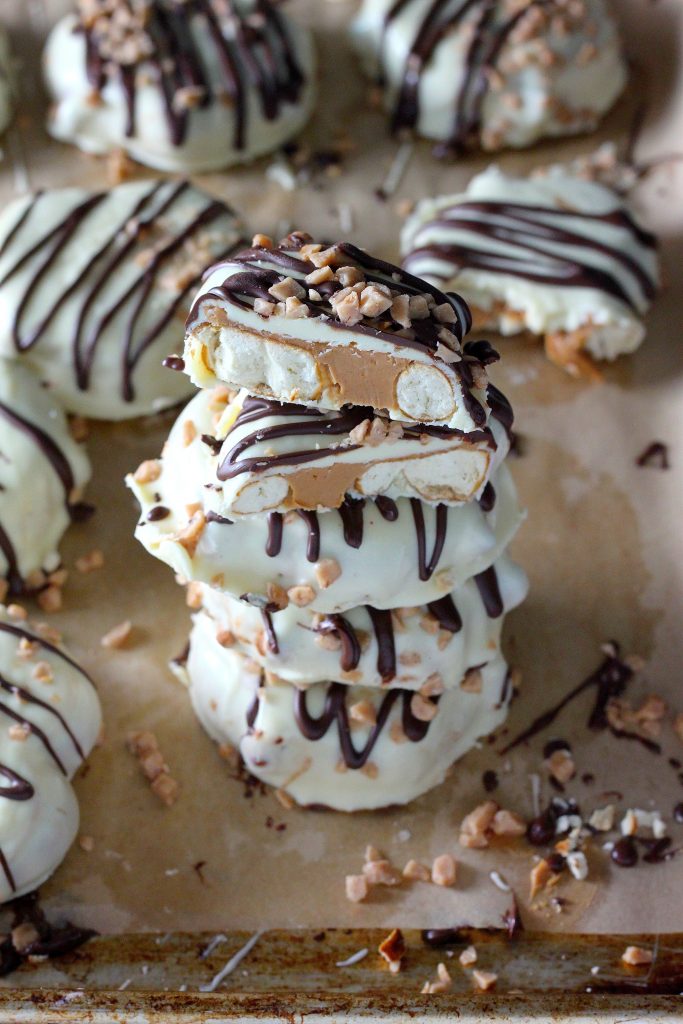 The last step is dipping the pretzels in the chocolate. This is easy and can be done by simply pouring the chocolate into a smallish bowl, placing a pretzel in the center, and flipping it over with a fork (just move it around until it's completely covered). Lift the pretzel up with said fork, allow excess chocolate to drip back into the bowl, then transfer the pretzel to a baking sheet (covered in parchment paper).
Now things get fun! Drizzle the white chocolate with some dark chocolate, add toffee, and allow the chocolate to set. You can speed this process up by popping the pan in the fridge for a few minutes. Enjoy! xoxo
Double Chocolate Dipped Peanut Butter Stuffed Pretzel
Crunchy pretzels are stuffed with creamy peanut butter before getting dunked in white chocolate, drizzled with dark chocolate, and sprinkled with toffee! These are a wonderful treat and make great gifts around the holidays.
Ingredients
20 large hard pretzels
1 cup creamy peanut butter
12 ounces *white chocolate, chopped
1 tablespoon + 1 teaspoon coconut oil, divided
4 ounces dark chocolate, chopped
1/2 cup toffee bites
Instructions
Line a large baking sheet with parchment paper or a silicon baking sheet. Place pretzels in an even layer on the prepared sheet. Spread the top of each pretzel with 1 - 2 tablespoons of peanut butter, smoothing the top of each with a butter knife. Place pan in the freezer for 20 minutes; in the meantime you can prepare the white and dark chocolate.

Place chopped white chocolate and 1 tablespoon of coconut oil in a small saucepan over low heat. Cook on low until smooth and completely melted. Do the same for the dark chocolate (using the remaining 1 teaspoon coconut oil).

Allow white chocolate to cool for a few minutes (not too long though or it will begin to firm up) then place a pretzel in the center of the bowl and toss it around lightly until completely covered. Use a fork to lift the pretzel out of the chocolate, allowing the excess chocolate to drip back into the bowl; transfer to prepared baking sheet. Repeat with all pretzels.

Drizzle the melted dark chocolate over the dipped pretzels, then sprinkle with toffee. Allow chocolate to set before serving.
Notes
*peanut butter should be completely solid before dipping into chocolate *use pure white chocolate, or one you know melts easily