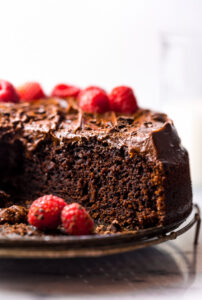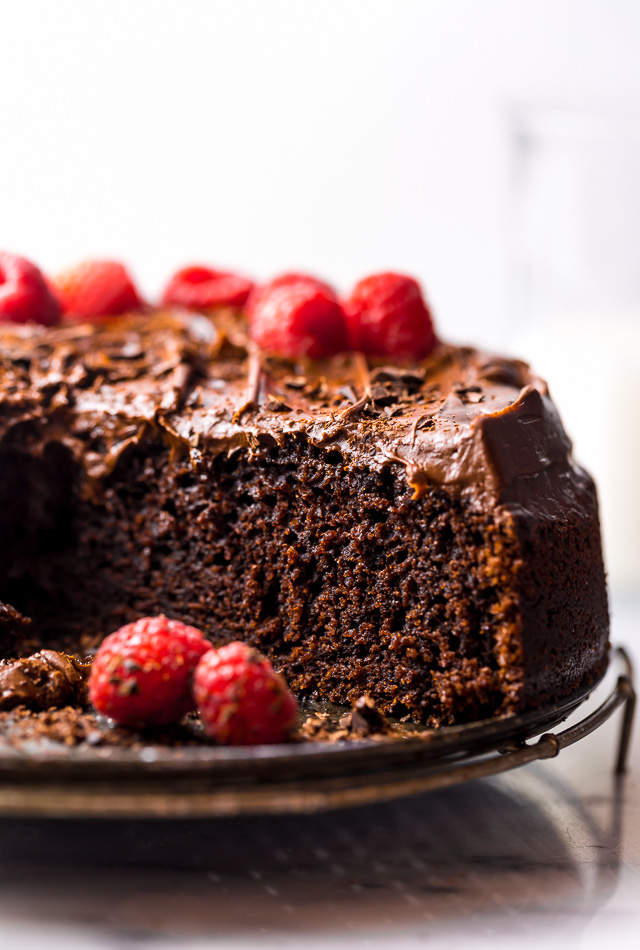 Easy Single Layer Chocolate Cake
Yield 9" Cake
This Easy Single Layer Chocolate Cake is utterly moist and topped with melt-in-your-mouth Chocolate Frosting! The perfect dessert for date night in, small birthday celebrations, and intimate gatherings. And no electric mixer required!
Ingredients
For the Chocolate Cake:
1 and 1/4 cups (150 grams) all-purpose flour 
1/2 cup (43 grams) unsweetened cocoa powder
3/4 cup (149 grams) granulated sugar 
1/2 cup (106 grams) light brown sugar, packed 
1/4 teaspoon baking soda 
1/4 teaspoon baking powder 
1/2 teaspoon salt 
2 large eggs, at room temperature
1/2 cup (99 grams) vegetable oil 
3/4 cup (170 grams) sour cream
1/4 cup (57 grams) milk
2 teaspoons vanilla extract
1/3 cup (74 grams) freshly brewed coffee or freshly boiled water
Chocolate Ganache Frosting:
1 cup (170 grams) high-quality semi-sweet chocolate, finely chopped 
1 teaspoon espresso powder (optional) 
1/2 cup (113 grams) heavy cream 
Shaved chocolate, for decoration (optional)
Fresh raspberries, for decoration (optional)
Instructions
Preheat oven to 350 degrees F (175 degrees C). Spray a 9" cake pan with non-stick baking spray, set aside. 
In a large bowl combine the flour, cocoa powder, both sugars, baking soda, baking powder, and salt. 
In a separate bowl, whisk together the eggs, oil, sour cream, milk, and vanilla. 
Add the wet ingredients to the dry ingredients in thirds, stirring gently with a rubber spatula until just combined. Don't over mix here! 
Add in the hot water (or coffee) and stir until evenly incorporated. Your batter will be dark, thin, and velvety. 
Pour batter into prepared pan and place in the oven. Bake for 45 to 50 minutes, or until a toothpick inserted in the center of the cake comes out clean.
Place the cake pan on a cooling rack and cool for 30 minutes before removing it from the pan and cooling completely. 
Once cool, top with your frosting of choice and serve! 
Chocolate Ganache Frosting:
Place chopped chocolate and espresso powder in a medium-sized heatproof bowl and set aside. 
In a small saucepan, over medium-heat, warm the cream just until it comes to a simmer.
Remove from heat and pour the cream over the chocolate. Stir to combine, then set aside for 2 minutes.
Resume stirring until mixture is smooth and glossy.
Place in the fridge for 30 minutes. Then gently whip ganache with a whisk until slightly fluffy.
Spread on top of cooled cake. Top with chocolate shavings and raspberries, if using, and serve! 
Notes
Do not use Dutch-process cocoa powder for this recipe
Full-Fat plain yogurt or Greek yogurt will work as a substitute for sour cream 
Canola oil or melted coconut oil can be used instead of vegetable oil 
This cake is best served the day it's made, but will keep, tightly wrapped in plastic wrap, for up to 3 days. 
You can freeze this cake (unfrosted) for up to 1 month. 
Courses Dessert
Cuisine American
Recipe by Baker by Nature at https://bakerbynature.com/easy-single-layer-chocolate-cake/