Say hello to the BEST chocolate sheet cake recipe!!! Supremely moist, fudgy, and full of decadent chocolate flavor! But the best part? This cake is so easy!!!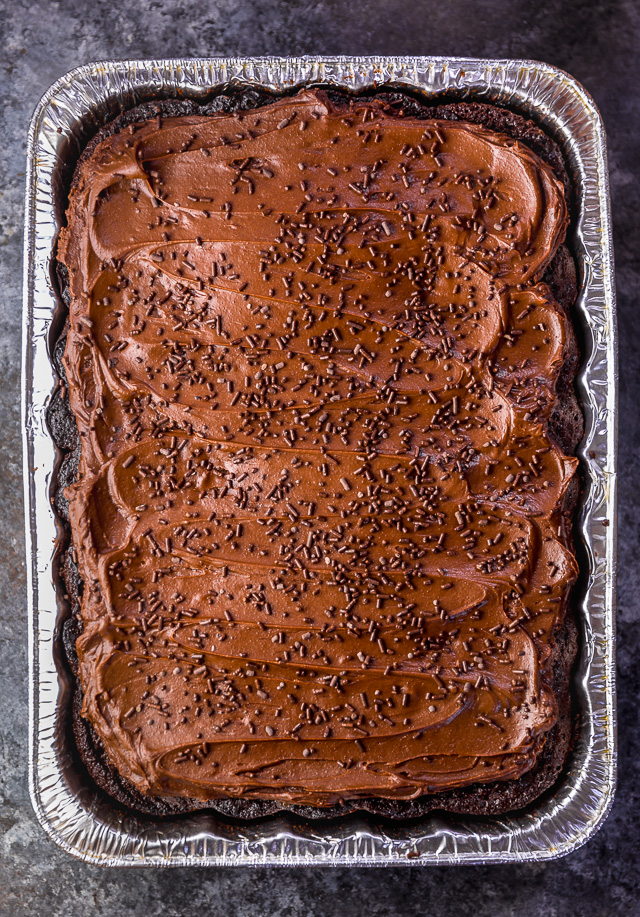 Chocolate Sheet Cake
I come from a long line of chocolate lovers. And it feels like there's always some celebration popping up that calls for chocolate cake! Luckily, I have a ton of chocolate cake recipes in my repertoire.
But most of them are pretty time consuming and involve stacking multiple layers, etc. Which is fine if you have all day to bake and assemble! But what about when you don't?!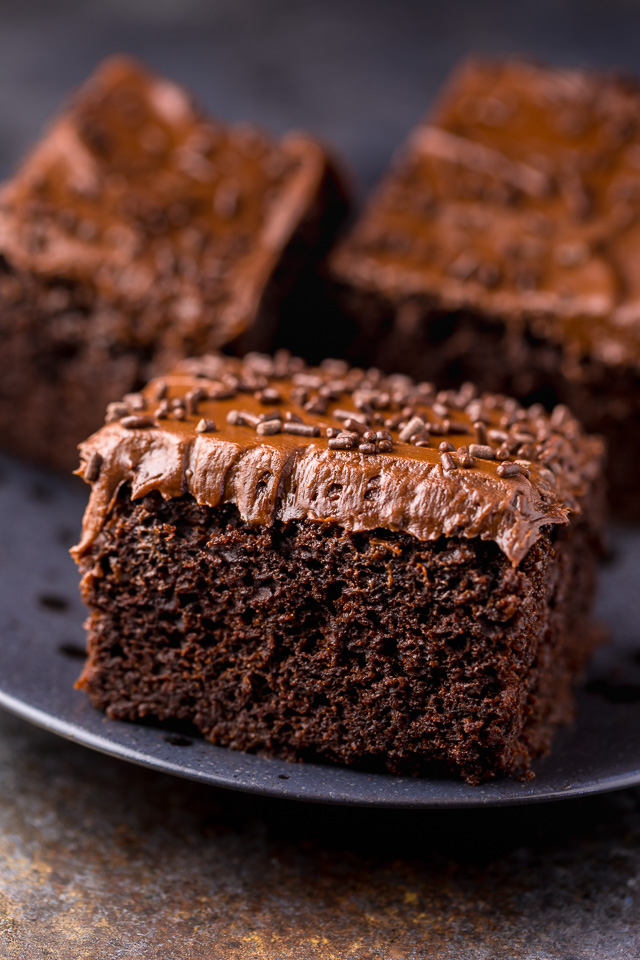 Well, that's where this chocolate sheet cake comes into the picture! AKA Texas Sheet Cake! It's a rich, moist, chocolate cake that's baked in a sheet pan and topped with fudgy chocolate frosting. It's so easy, so delicious, and so perfect for celebrations! Seriously… this cake can serve a crowd!
P.S. If you love sheet cakes, try my Simple Banana Sheet Cake Recipe next!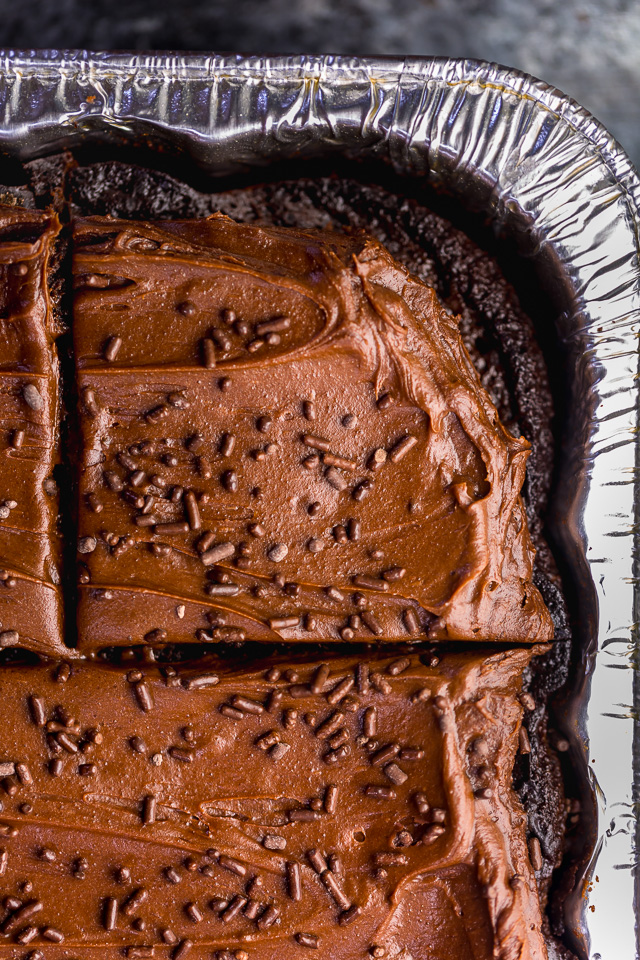 Tips and Tricks for Recipe Success:
Be sure to preheat your oven to 350 degrees well before you plan on baking! Most ovens take at least 30 minutes to fully preheat!
To get the richest chocolate flavor, this recipe calls for chopped chocolate and cocoa powder. Be sure to use high-quality chocolate – such as Lindt or Ghirardelli – for the chopped chocolate. And unsweetened cocoa powder. Not dutch-process!
Be sure to scoop and level your cocoa powder and flour when measuring. Don't pack them into the measuring cup!
This recipe calls for a combination of granulated sugar and light brown sugar. Be sure to pack the brown sugar into the measuring cup before adding it to the recipe.
You'll use whole eggs and egg yolks for this cake. You may discard the leftover egg whites, or place them in an airtight container and store them in the fridge for another use! I like to save mine and make an omelette!
To make this cake "stick to your fork" moist, you'll need sour cream, whole milk, oil, and butter. If you cannot find sour cream, I think full-fat Greek yogurt would make a fine substitute. And if you don't want to use canola oil, you may use melted refined coconut oil.
You'll also use 1 cup of HOT coffee! However you may use hot water, if you prefer. The important part is to use HOT liquid. This helps bloom the cocoa powder, which helps break up any remaining lumps in the batter. And releases flavor particles from the cocoa powder.
Since this recipe uses melted butter, you don't need a stand mixer or hand held mixer. You may use a large bowl and a spatula to bring this simple cake together.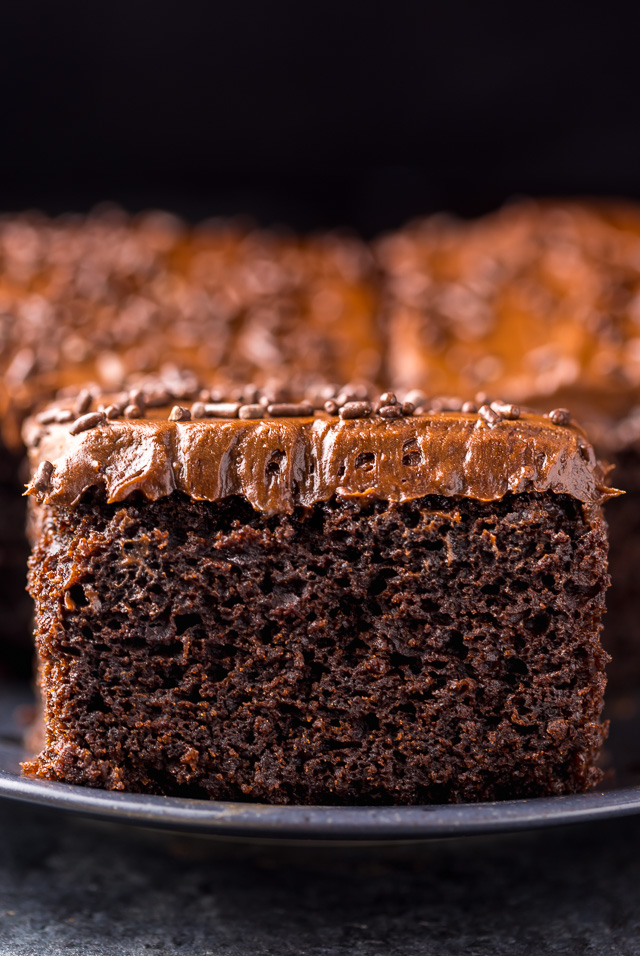 Be sure to bake the cake just until a cake tester comes out clean. About 45 minutes usually does the trick! But if your oven runs hot, you may want to check around 38 minutes!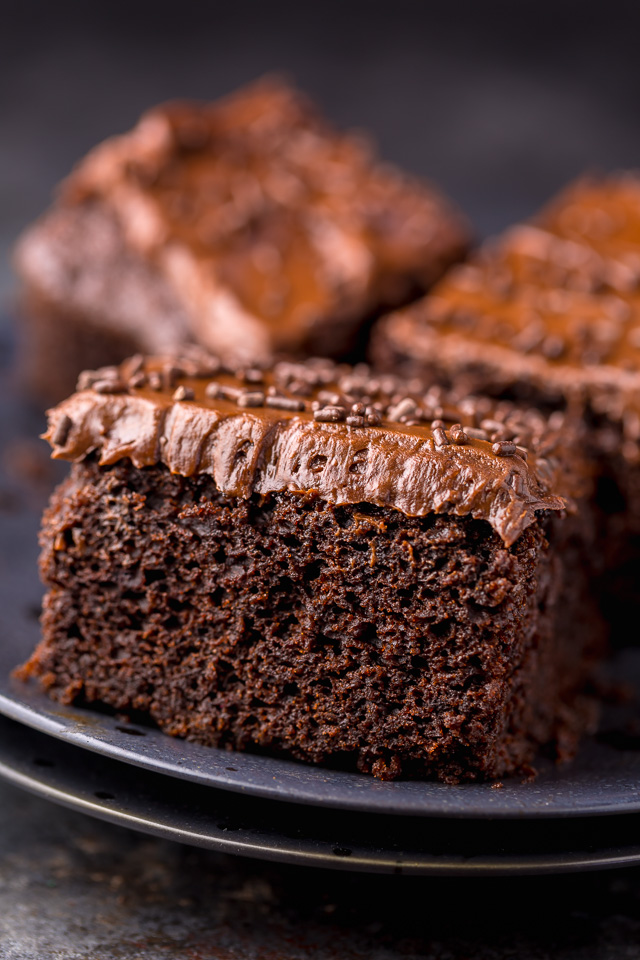 More Chocolate Cake Recipes: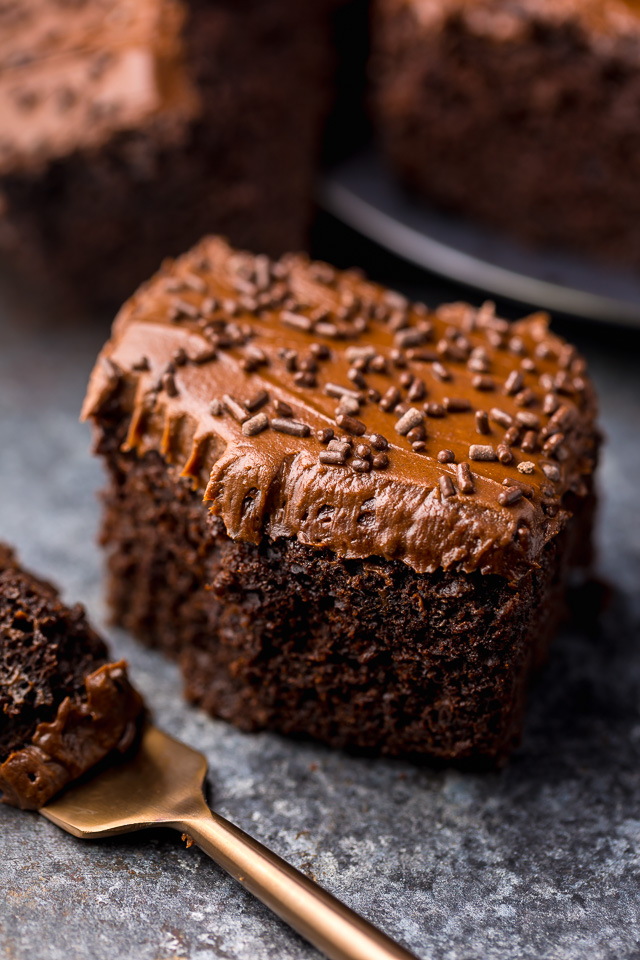 If you try this recipe for Chocolate Sheet Cake, let me know! Leave a comment below and don't forget to snap a pic and tag it #bakerbynature on instagram! Seeing your kitchen creations makes my day.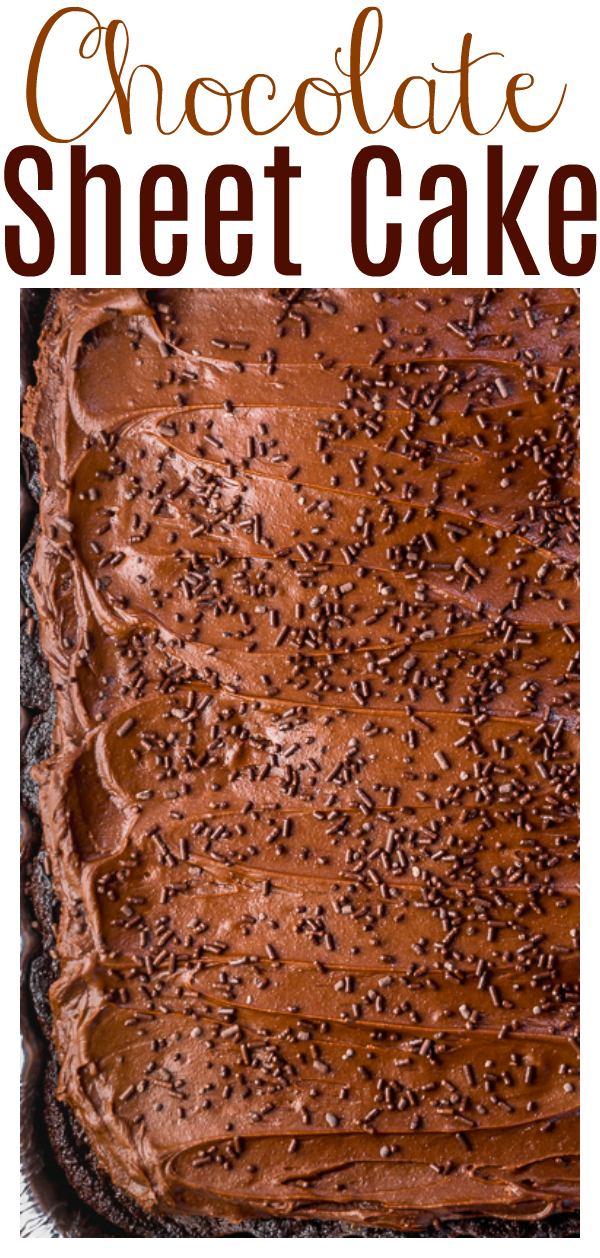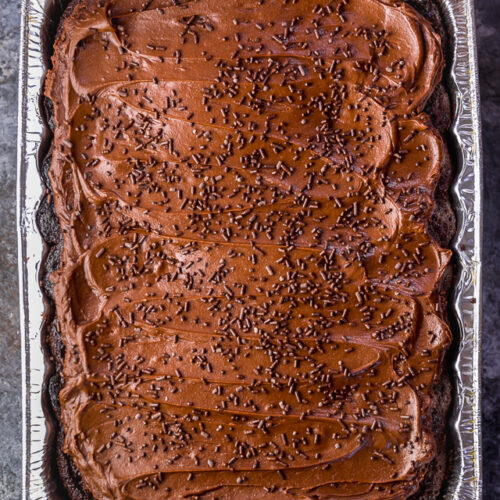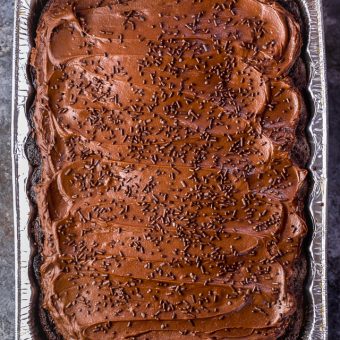 The Best Chocolate Sheet Cake
Say hello to the BEST chocolate sheet cake recipe!!! Supremely moist, fudgy, and full of decadent chocolate flavor! But the best part? This cake is so easy!!! 
Ingredients
For the Chocolate Sheet Cake:
3 ounces semi-sweet chocolate, finely chopped
1 stick (4 ounces) unsalted butter
1/3 cup melted coconut oil, canola oil, or vegetable oil
1 cup cocoa powder
3/4 cup granulated sugar
1 cup light brown sugar, packed
1 and 3/4 cups all-purpose flour
1 and 1/2 teaspoons baking soda
3/4 teaspoon salt
2 large eggs + 1 large egg yolk, at room temperature
1 cup sour cream
1/4 cup whole milk
1 tablespoon vanilla extract
1 cup freshly brewed coffee or freshly boiled water
For the Chocolate Frosting:
1 cup (8 ounces) unsalted butter, at room temperature
2 cups confectioners' sugar
1/8 teaspoon salt
1 and 1/2 Tablespoons heavy cream
1 teaspoon vanilla extract
6 ounces (170g) quality dark chocolate, melted and cooled for 10 minutes
Chocolate sprinkles, optional
Instructions
For the Chocolate Sheet Cake:
Preheat oven to 350°(F). Generously spray a 9x13-inch baking pan with non-stick spray and set aside until needed. 
In a large glass bowl, microwave the chocolate, butter, and oil in 30 second increments, stirring between each increment, until butter and chocolate are completely melted. Whisk smooth and set aside.

In a large bowl combine cocoa powder, both sugars, flour, baking soda, and salt until ingredients are thoroughly combined. Set aside.

In a separate large bowl, combine the eggs, yolk, sour cream, milk, and vanilla, beating until well combined. 

Pour in the chocolate mixture and stir until combined. Add the dry ingredients into the wet ingredient mixture and mix until just combined.

Carefully add in hot coffee (or water) and let sit for 1 minute. Then gently stir until completely combined. The batter will be very thin. 

Pour batter into pan and smooth the top. Bake in preheated oven for 38 to 45 minutes, or until wooden toothpick or cake tester inserted in the center of a cake comes out clean or with just a few moist crumbs attached.

Place cake on a cooling rack to cool completely. Once cool, spread frosting on top of cake. 
For the Chocolate Frosting:
In the bowl of a stand mixer fitted with the paddle attachment, or in a large bowl using a handheld electric mixer, beat the butter on medium-speed until completely smooth. Reduce the speed to low and gradually add in the confectioners' sugar, beating until all of the sugar is completely combined. Add in the salt, cream, and vanilla extract and beat smooth.

Add in the melted chocolate and beat smooth. Once all of the ingredients have been incorporated, increase the speed to medium-high and beat for a minute.

Spread frosting on top of the cooled cake. Top with chocolate sprinkles, if desired.