Thick, soft, and delightfully chewy – these flourless peanut butter and jelly thumbprint cookies are one of my favorite desserts!
Happy Monday, everyone! I'm currently 30,000 feet in the air and heading to New Orleans for a much needed girls week. Woot woot! Before I hit the ground running (straight for all of the food!), I wanted to pop in, say hi, and share these wonderful cookies with you. I am a friend or what?! 😉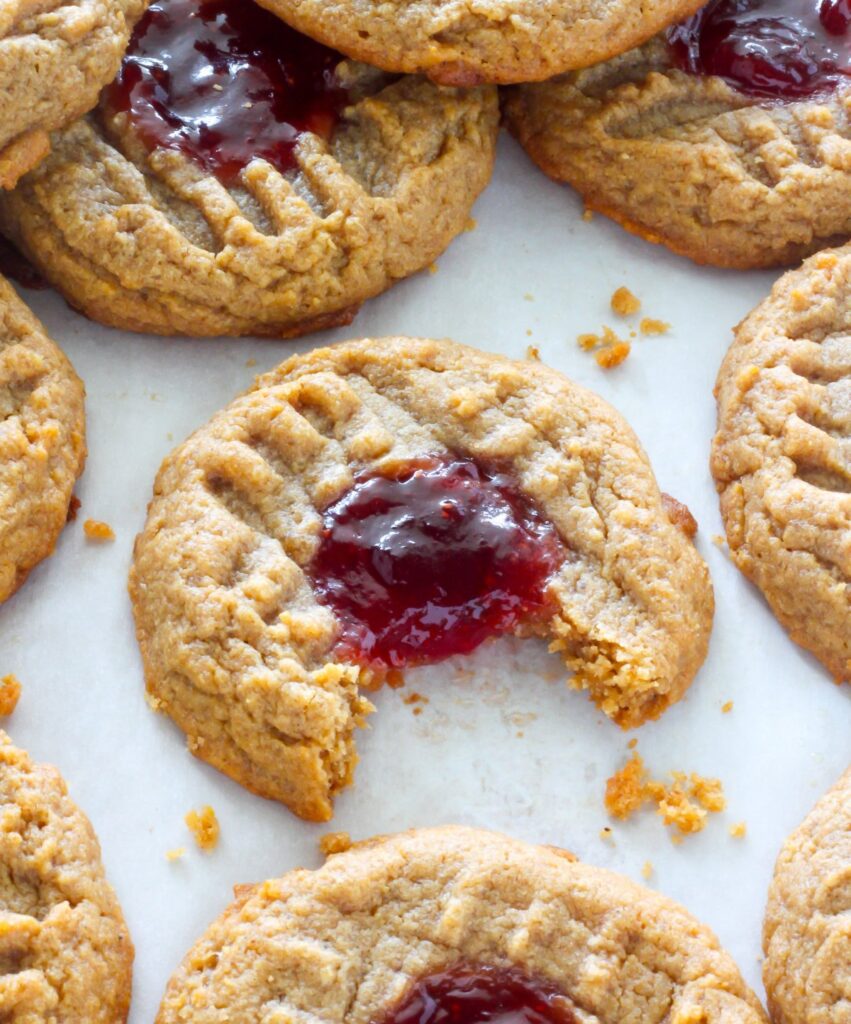 Ok. So on to the sweet stuff; on to the cookies! If you love flourless desserts as much as I do, you're going to go nuts for these peanut butter and jelly thumbprint cookies! They're thick, chewy, and melt-in-your-mouth soft. They also scream peanut butter and jelly flavor like nobodies business. I ♡ that big time!
Wanna know the best news? This incredible recipe only calls for 6 basic ingredients. And when I say basic, I mean it. You'll need peanut butter, jelly, eggs, vanilla, salt, and sugar. Nothing more (and nothing less). How basic is that?!
A few tips to make this cookie adventure a sure hit:
1) When you're making the thumbprint indentation in the center of the cookie, press verrrrry gently. You really only want a little hole. Too much pressure will break the bottom of the cookie dough, which will in turn allow the jam to seep out while baking, resulting in a soggy bottom cookie. <—— We don't want that mess!
2) When you remove the cookie tray from the oven, resist any and all temptation to DIG IN. Seriously… they're not ready for you. Not just yet 😉 These cookies neeeeeeed to rest and cool completely on the pan before consumption. Promise me you'll be patient?
3) Stick to the ingredient list and method, 100%. This recipe was tested many many times and after waaay too many botched batches, I can assure you this recipe is perfect as-is. Any ingredients swaps may lead to not-so-delicious results. You've been warned 😉
Bonus recipe idea: If you're feeling exxxxtra indulgent, pop these cookies in the freezer for an hour, then turn them into an ice cream sandwich situation. <—- Oh YES I did. And you should, too. Love you guys! xoxo
Flourless Peanut Butter and Jelly Thumbprint Cookies
Thick and soft flourless peanut butter cookies filled with a pop of fresh raspberry jam!
Ingredients
2 large eggs, at room temperature
2 teaspoons vanilla extract
2 cups smooth peanut butter (without added sugar)
1 cup sugar
1/2 teaspoon salt
1/4 cup raspberry preserves or jam
Instructions
Preheat the oven to 350 degrees (F). Line a baking sheet with parchment paper; set aside.

In a small bowl, combine the eggs and vanilla; mix well. Set aside.

Place the peanut butter in a large bowl and pour in the egg-vanilla mixture. Stir with a large non-stick spatula until combined.

Add the sugar and salt and mix well.

Scoop out 3 tablespoons of dough then roll them together to form one large ball; repeat with all cookie dough. Place the balls 2 inches apart on the baking sheet. Gently press the balls halfway flat and use a fork to make a light crosshatch marks on the top of each cookie. Very gently press down in the center of each cookies with your thumb (not too much or you'll break the bottom of the dough). Fill each indentation with a 1/2 teaspoon of jam.

Bake cookies for 11 minutes. Cool completely on the cookie sheet before moving, serving, or eating.