Two super soft flourless peanut butter cookies sandwiched together with a thick layer of rich, chocolate buttercream frosting… these are a DREAM come true for any Chocolate + PB fan!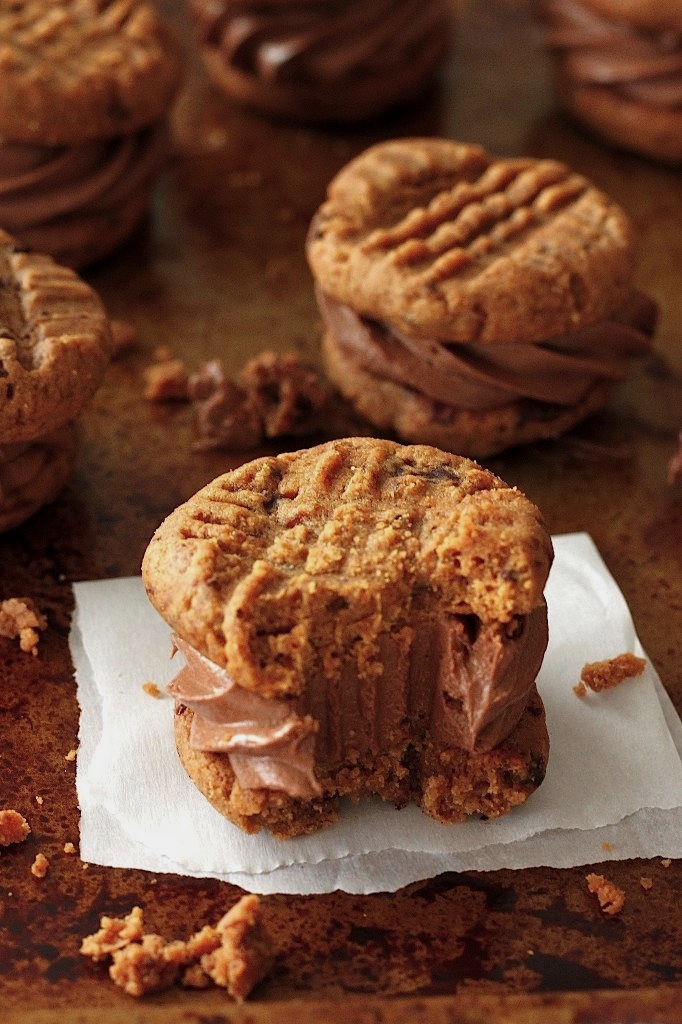 With Summer winding down, I'm slowly starting to think about cozy comfort foods for the cooler months ahead. And as much as saying goodbye to Summer is never easy, cookies sure to help ease the pain. I mean, is there anything more comforting than a big plate full of cookies? Especially ones that have been STUFFED to the max with chocolate frosting? I don't think so!
The base of this epic dessert sandwich situation is a soft, chewy, flourless peanut butter cookie. The cookies only call for 4 ingredients (peanut butter, eggs, salt, and sugar!) and come together in just minutes!!! The best part? The dough doesn't need to chill! That's riiiiight. You can bake them up right away.
The cookies only need to bake for 11 minutes, and will look slightly undercooked when removed from the oven. Don't worry! They'll firm up  a bit as they cool. So be sure not to over bake 🙂
While the cookies are in the oven, you can make your filling! This is where we get excited… because chocolate is involved. YES!!! The base of the chocolate buttercream is butter (duh), confectioners sugar, chocolate, salt, and a splash of cream. The ingredient list is a little longer than you might think necessary, but I promise the results are worth it! Once you take a bite of the rich, sweet, creamy filling, you'll get it 😉
If you love chocolate and peanut butter (and cookies!), you're going to fall hard for today's peanut butter and chocolate cookie sandwiches! They're easy to make, fun to eat, and sure to please the peanut butter lovers in your life <3
Flourless Peanut Butter and Chocolate Cookie Sandwiches
Ingredients
For the cookies:
1 large egg
1 cup creamy (unsweetened) peanut butter
1 cup brown sugar sugar
1/2 teaspoon salt
For the Chocolate buttercream frosting:
4 ounces semi-sweet chocolate, chopped
1/4 cup unsalted butter
4 tablespoons powdered sugar
1/2 teaspoon coarse kosher salt
6 tablespoons whipping cream
Instructions
For the cookies:
Preheat the oven to 325 degrees (F). Line a baking sheet with parchment paper; set aside.

Beat the egg lightly in a small bowl; set aside.

Place the peanut butter in a large bowl and add the beaten egg. Mix with your hands until combined.

Add the sugar and salt and mix well.

Scoop out the dough with a 1 tablespoon sized scoop and roll it into balls with your hands. Place the balls 2 inches apart on the baking sheet. Press the balls flat with the palm of your hand and use a fork to make crosshatch marks on the top of each cookie.

Bake for 11 minutes, or until the center looks as light and baked as the edges. Cool completely before removing from the cookie sheet with a spatula.
For the chocolate buttercream:
Place chocolate, butter, powdered sugar, and kosher salt in a medium bowl. Bring whipping cream to boil in heavy small saucepan. Pour hot cream over chocolate mixture; stir until mixture is melted and smooth. Chill until filling is thick and spreadable, about 1 hour.

Spread about 1 rounded teaspoonful of the chocolate filling on the flat side of 1 cookie. Top with a second cookie, forming a sandwich. Repeat with remaining filling and cookies.