Frosted Gingerbread Cookies are fun to make and SO delicious!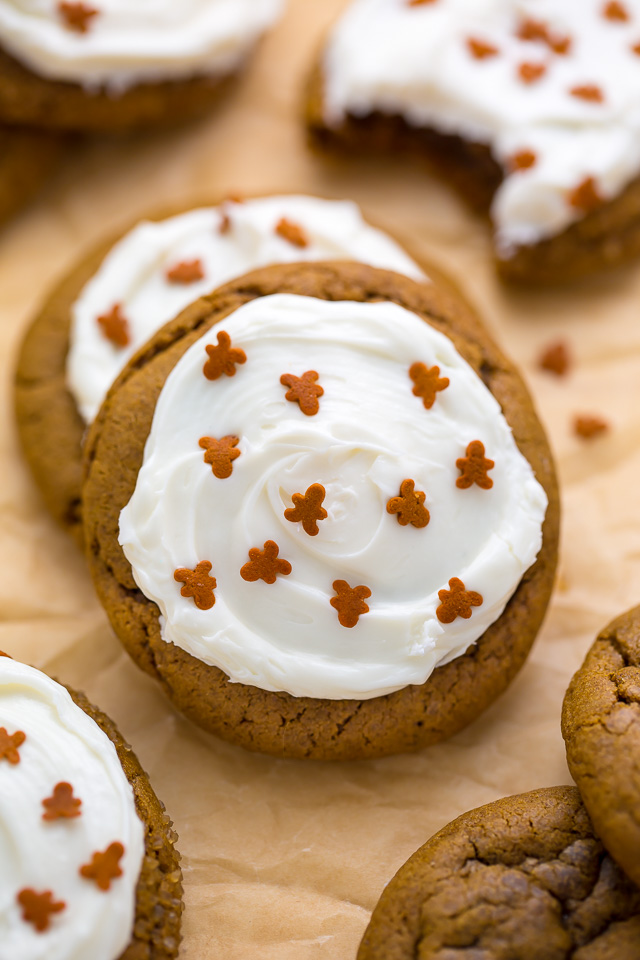 Holiday baking is in full swing and I have SO many treats to share with you before I head home for Christmas break. Have you started your holiday baking? Are you traveling anywhere for the holidays?
I'm an enormous fan of ginger, so I've been steadfast in baking as many gingerbread recipes as possible this season. So far we've made chewy chocolate gingerbread cookies, gingerbread latte cupcakes, brown butter gingerbread men, and now, frosted gingerbread cookies. Spoiler alert: I also have a gingerbread cake coming for you next week!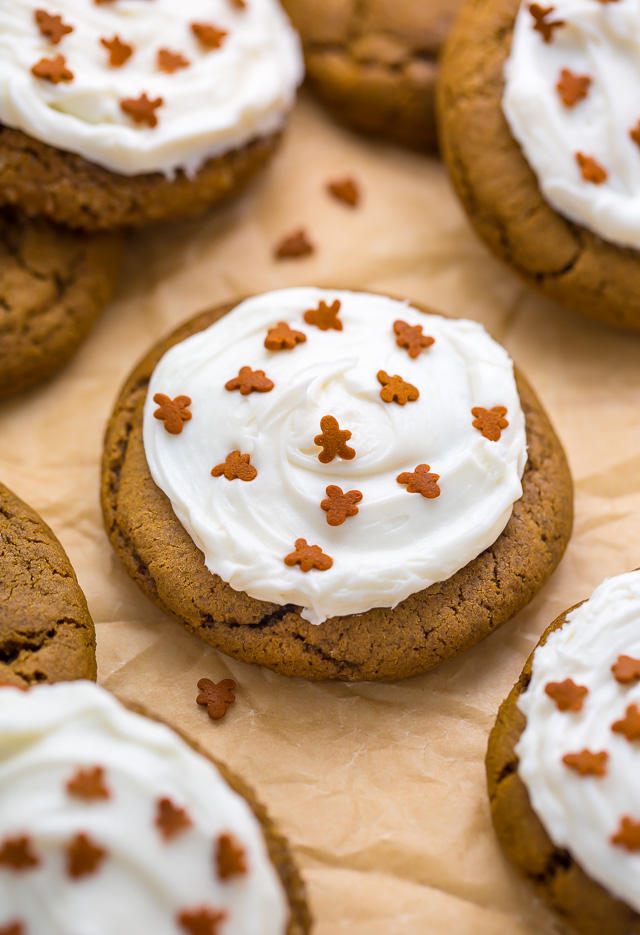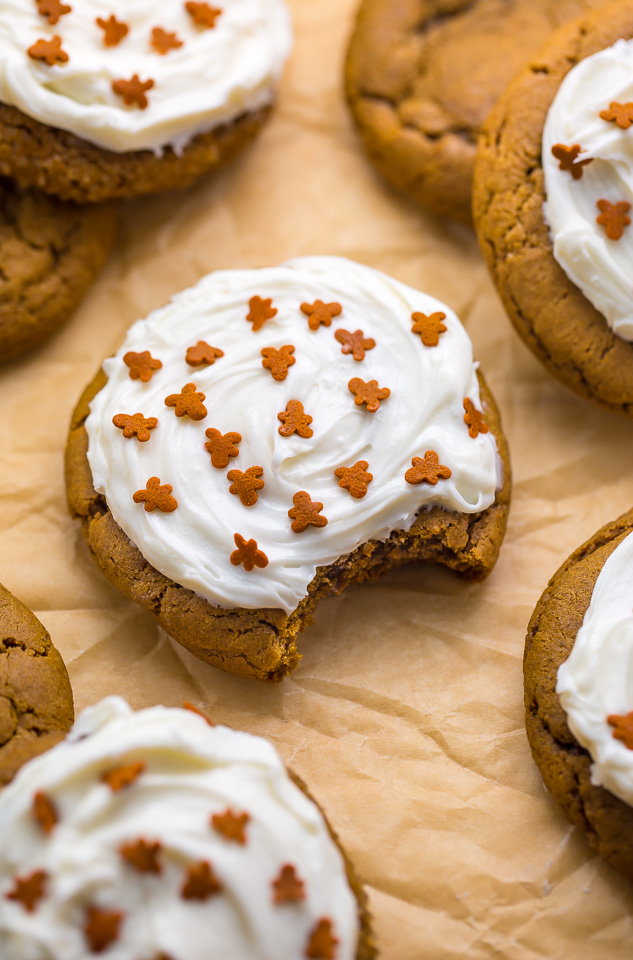 But for now, let's talk about these lovely little cookies! Each bite is:
soft and chewy (really!)
perfectly spiced
richly flavored
slathered in homemade cream cheese frosting
DELICIOUS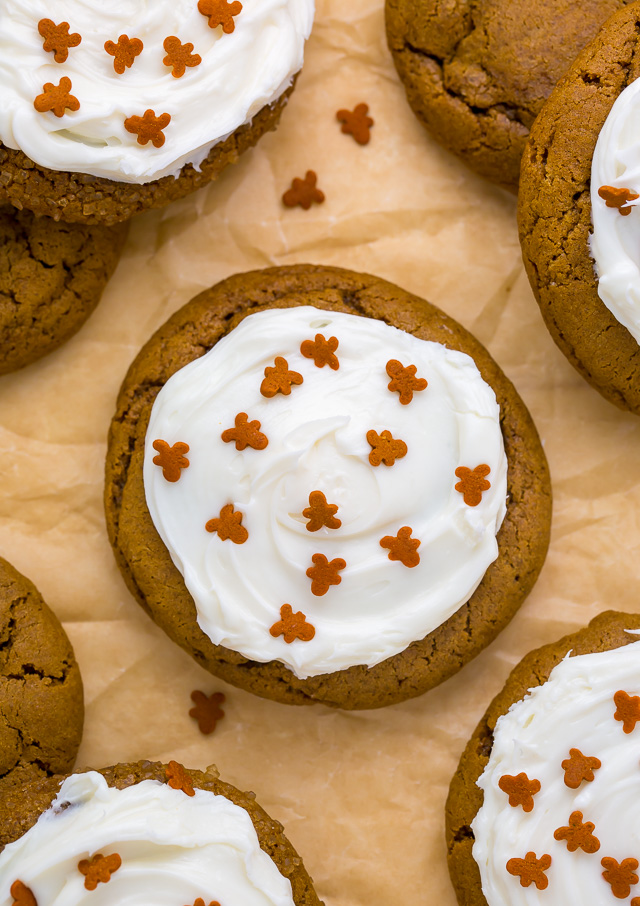 Tips and Tricks for Recipe Success:
You can find the super cute gingerbread sprinkles you see in my photos here.
The dough must chill for at least two hours! If you skip this step, your cookies will bake up flatter than a pancake. The good news? The dough can be chilled for up to 24 hours, so you can make it ahead of time.
Be sure not to over bake the cookies. They need 9 to 10 minutes, maximum. They should be set at the edges and look slightly under baked in the center. They'll firm up quite a bit as they cool.
Be sure your cookies are completely cooled before frosting.
These gingerbread cookies are so delicious they can be left unfrosted… but why would you want to?!
Fluffy cream cheese frosting and sprinkles make everything better ♥♥♥

So go on, spoil yourself with a batch of these frosted gingerbread cookies! Serve them with good coffee or tea and ENJOY.
If you try these Frosted Gingerbread Cookies, let me know what you think! Leave a comment below, and don't forget to snap a pic and tag it #bakerbynature on instagram! Seeing your creations makes my day.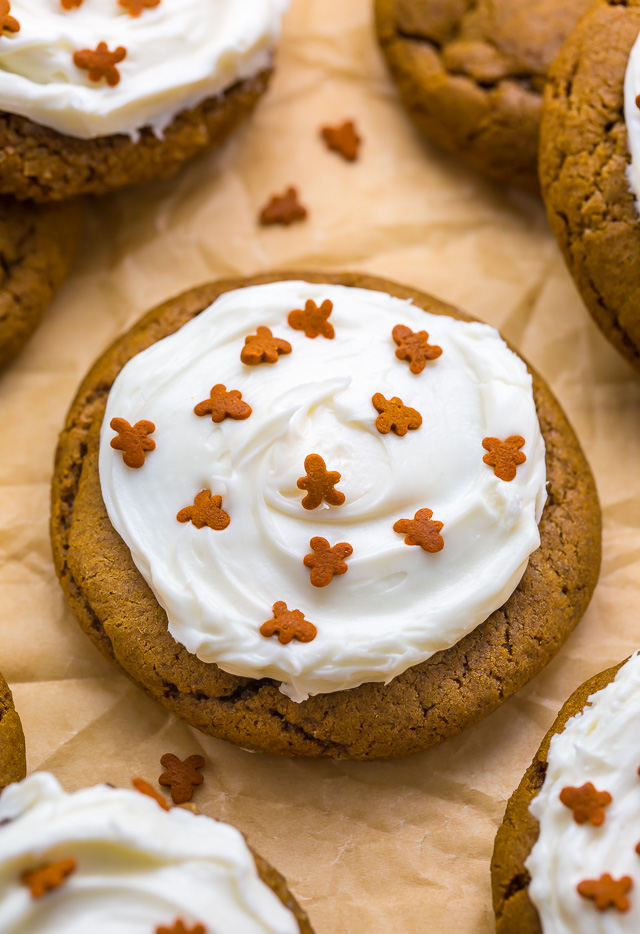 Frosted Gingerbread Cookies
Yield 2 dozen cookies (more or less depedning on how large you roll them)
Frosted Gingerbread Cookies are soft, chewy, and so delicious!
Ingredients
For the Gingerbread Cookies:
2 and 3/4 cups all purpose flour
2 and 1/2 teaspoons ground ginger
1 teaspoon ground cinnamon
1/4 teaspoon ground cloves
1 teaspoon baking soda
1/2 teaspoon salt
1 and 1/2 sticks unsalted butter, at room temperature
3/4 cup granulated sugar
3/4 cup light brown sugar, packed
2 teaspoons pure vanilla extract
2 large eggs, at room temperature
1/4 cup molasses (mild, not blackstrap)
For the Cream Cheese Frosting:
(1) 8 ounce block full-fat cream cheese, VERY soft
1/4 cup unsalted butter, VERY soft
1 tablespoon vanilla pure extract
2 cups confectioners' sugar, sifted
2 teaspoons fresh squeezed lemon juice
1 teaspoon lemon zest
Sprinkles, optional
Instructions
For the Gingerbread Cookies:
In a large bowl whisk together the flour, ginger, cinnamon, cloves, baking soda, and salt; set aside.
Add butter, both sugars, and vanilla to the bowl of a stand mixer fitted with the paddle attachment; beat on medium-speed until light and fluffy; scraping down the sides of the bowl as needed, about 2 minutes. Add in the eggs, one at a time, beating well after each addition, continuing to scrape the sides as needed. Add the molasses and beat until combined. Reduce the mixer speed to low and slowly add dry ingredients, beating just until combined. Cover bowl with plastic wrap and transfer to the refrigerator to chill for at least two hours (or up to one day).
When ready to bake:
Preheat oven to 350 degrees (F). Line two large baking sheets with parchment paper; set aside.
Roll the dough into 2" balls and arrange on prepared sheets, spacing them about 2 inches apart. Lightly press down on the center of each cookie. Bake, one sheet at a time, for 9-10 minutes, or until puffed and lightly golden.
Remove pan from oven and allow cookies to cool on the baking sheet for 5 minutes before transferring them to a wire rack to cool completely. Repeat with all cookie dough. Once cool, frost with cream cheese frosting, top with sprinkles (if using), and serve.
For the cream cheese frosting:
In the bowl of a stand-mixer fitted with the paddle attachment beat the cream cheese, butter, and vanilla on medium-high speed until completely smooth; about 2 minutes. Reduce the speed to low and gradually add the sifted confectioners' sugar. Once all of the sugar has been added, increase speed to medium-high and beat for 1-2 minutes. Add in lemon juice and lemon zest and beat for an additional minute. Once the cookies have completely cooled, spread the frosting over the top of each cookie and decorate with sprinkles, if desired.
Courses Dessert
Cuisine Cookies
Nutrition Facts
Serving Size 1-2 cookies
Amount Per Serving
% Daily Value
* Percent Daily Values are based on a 2,000 calorie diet. Your daily values may be higher or lower depending on your calorie needs.