Wondering what goes well with wine as a gift? Look no further! Because this guide is loaded with unique wine-themed gifts your friends and family will love. These are the best gifts for wine drinkers, and there are options for every budget!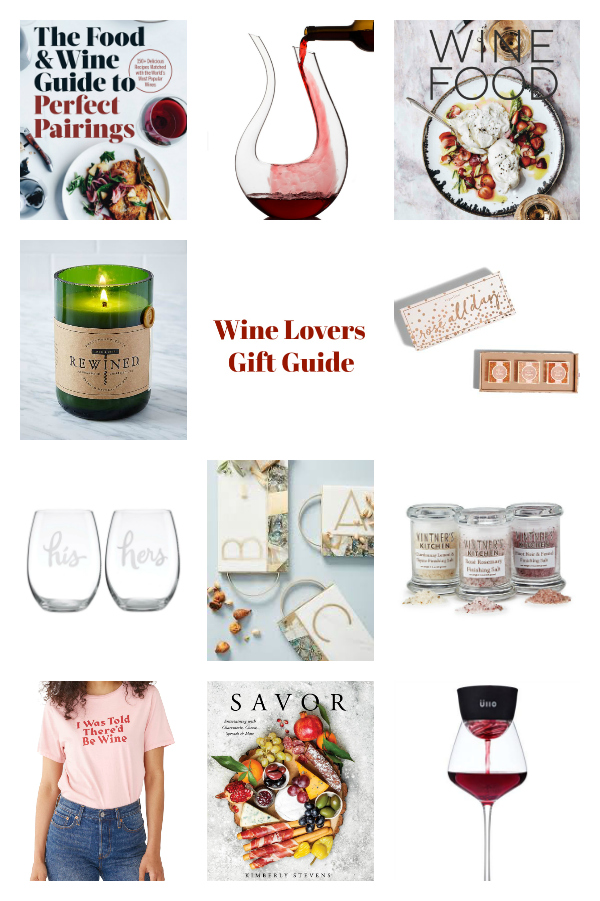 Gifts for the Wine Lover in Your Life
One thing you may or may not know about me: I LOVE WINE! I come from a wine-obsessed family and became a wine aficionado in my early 20's. So suffice it to say, we almost always have wine open in our home. But I don't just love drinking wine, I love GIFTING it, too. So today I'm sharing the very best wine gifts you can buy for the wine lover in your life!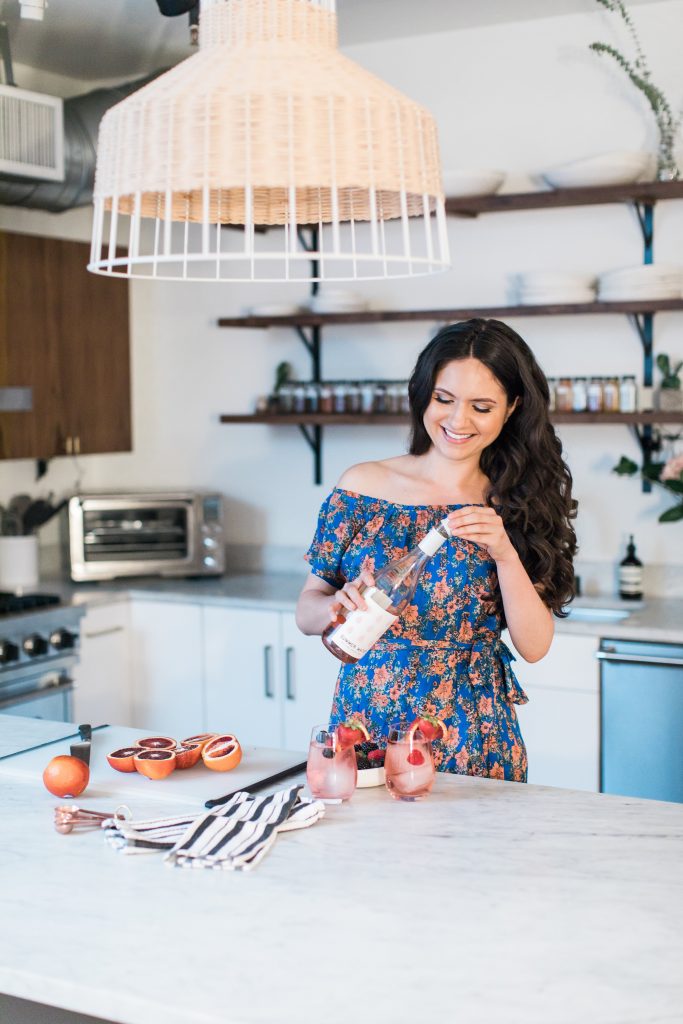 Winc Monthly Wine Membership: Delicious wine delivered directly to your doorstep! I've gotten so many friends hooked on this fun service!
I was Told There'd be Wine T-Shirt: I can't get enough of this cute and comfy pink tee! Perfect for the wine loving fashionista in your life.
ULLO Wine Purifier: this revolutionary wine purifier uses Selective Sulfite Capture technology to filter sulfites and sediments, restoring the natural flavor of wine. If you've ever had a friend say "I love red wine but it gives me a headache", BUY THIS FOR THEM! (And if you're feeling extra generous, throw in an extra package of filters!)
Celine Wine Glasses: STUNNING wine glasses that make a perfect hostess gift! I love the classic yet whimsical design.
Tory Burch Spring Meadow Wine Glasses: Beautiful and unique wine glasses from Tory Burch! These are the perfect gift for a Spring bridal shower or engagement party!
Wine Food: This AMAZING book is a must buy for anyone who's a wine lover AND a food lover! Highly approachable, educational, and delicious!!! You could easily open a bottle and get lost in this book! Also a great coffee table book.
Agate Cheese Board: This truly beautiful and unique cheese board is like a piece of art! A great gift for your friends who love hosting dinner parties! I have one in every color.
Savor: Entertaining with Charcuterie, Cheese, Spreads & More: This book (plus a great bottle of wine or two!) makes a great hostess gift! Perfect for the entertainer in your life! I use this book to help me create gorgeous spreads that pair well with white wine or red wine!
Monette Monogram Cheese Board: Absolutely beautiful! I've probably gifted over 100 of these. Perfect for your foodie friends who loves pairing wine and cheese! The monogram makes it extra special.
Cuisinart Private Reserve Wine Cellar: Highly Functional (and completely silent) 8-bottle cellar with thermoelectric cooling system. A wonderful wedding gift
Wine Glass Writers: These fun and functional markers help everyone keep track of their drinks!
Zalik Wine Decanter U Shaped Horn Design: Enhance the taste of your wine with this GORGEOUS carafe! It makes wine dispensing much more elegant!
Gilded Rim Red Wine Glass: pretty and pink! Pairing these with a bottle of rosé and gift them to wine loving girly girls! 
Mulled Wine Gift Set: Everything you need to make a cozy glass of mulled wine in one box!
Kimberley Organic Cabernet Sauvignon Wine Vinegar: I love popping a bottle of this into a food and wine basket. It's perfect for basic vinaigrettes, reductions and everyday use. I always add a dash into our beef stew!
Hudson Park Collection Marble Coasters: classic and totally useful! Pair with a nice bottle of wine and a few other wine accessories!
Wine-Infused Salts: these intensely flavorful salts offer a new way to add the delicious essence of wine to your favorite recipes! We love using them on fish, steak, and roasts!
Coravin Model Two Elite Pro Wine Preservation System: This unique wine system allows you to enjoy a glass of wine without removing the cork!!! Pretty cool, right?! This allows you to preserve the quality, longevity and taste of every last drop of wine in the bottle. WE LOVE THIS and use it at least once a week. Worth every dime!
Wine Aroma Tasting Set: Pretend you're a sommelier with this fun and educational kit! This set includes everything you need to host an at-home wine tasting party!
Stainless Steel Wine Chiller: This wine cooler is perfect for picnics, BBQ's, and more! You can pop a chilled bottle into this stainless steel wine chiller (hello: rosé, champagne, sauvignon blanc) or and it will keep cool temperature for HOURS. Makes a great wedding or bridal shower gift.
Sugarfina Rose All Day Bento Box: Rosé GUMMY BEARS! Need I say more? These are so tasty and fun! Pair with a bottle of rosé for a fun birthday gift!
Rewined Candles: Your favorite wine in candle form! These are a true treat for wine lovers! Made with all-natural soy wax and poured into vessels made of repurposed wine bottles! The Pinot Noir Scent is one of my favorites!
This post has NOT been sponsored! And any of the items listed above are ones I either own or have purchased for family or friends! Some of the links are affiliate links, which provide me a small commision when you purchase the item, with no added cost to you. Thank you for reading and for supporting Baker by Nature! 
If you LOVE wine, check out these other posts: