Fall is in the air! And while pumpkins and apples get all the praise and glory, humble pecans are often overlooked. Which is a shame, because they're buttery, crunchy, and delicious in pies, cookies, cakes, and more! So I decided to give this underdog ingredient a big boost! I'm giving you 19 perfect pecan recipes you'll want to make over and over again this season! So take a look at the list and let me know which recipe you're going to make first!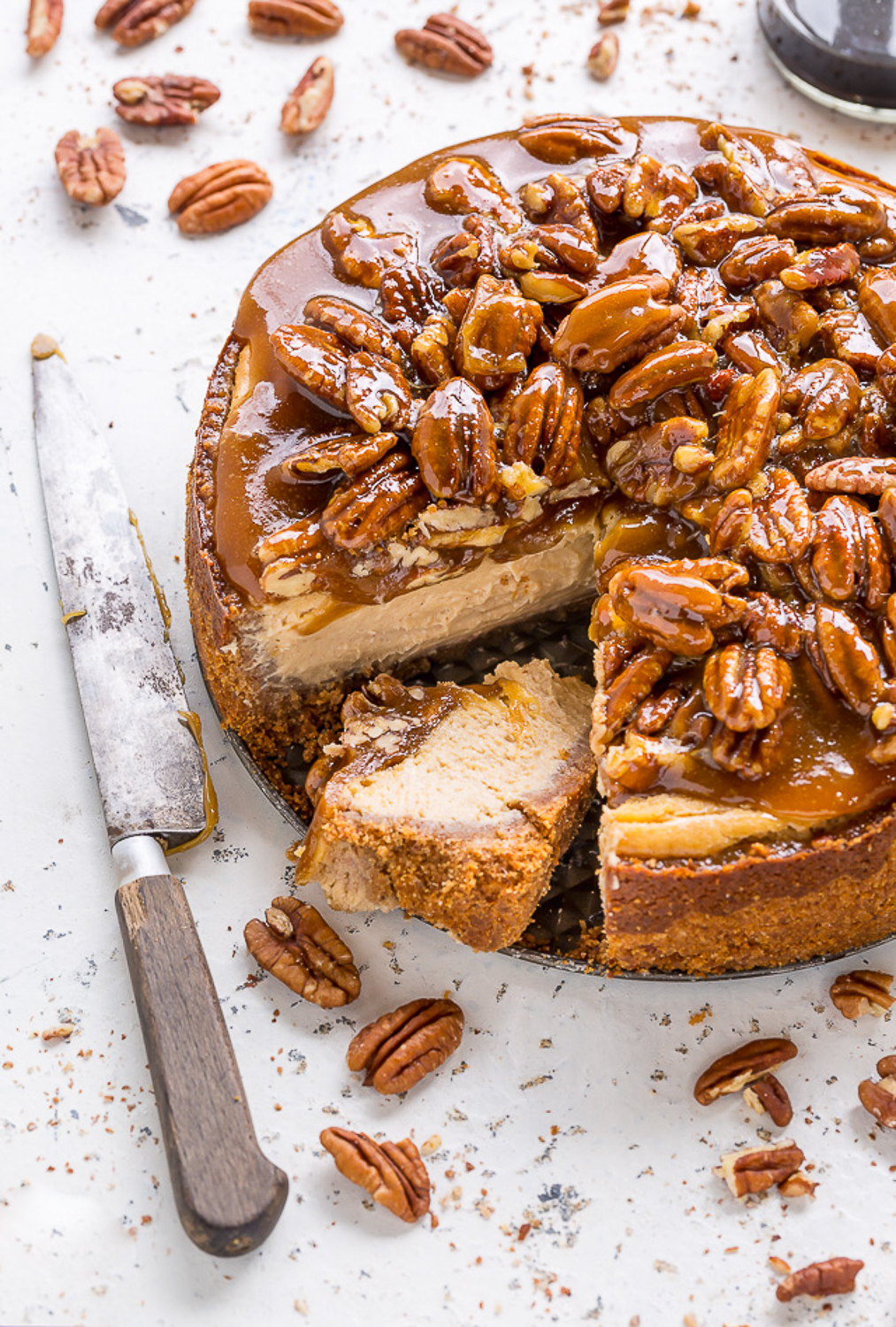 Pecan Pie Cheesecake?! Yes, it's as good as it sounds! This recipe features pecans in the crust and the topping, so you get a double dose! And bonus: you can make and freeze for the cheesecake for up to 2 months! Can you say make-ahead Thanksgiving dessert?
The only thing better than brownies? Brownies loaded with bourbon and pecans! These are crunchy, chewy, and so chocolatey! A total crowd-pleaser!
Crunchy, sweet, and richly spiced, these candied pecans are the total package! Eat them by the handful, toss them on a charcuterie board, or package them up in cute jars and gift them to friends around the holidays! With this recipe, you can't go wrong!
Butter pecan lovers go CRAZY for these cookies! Made with brown butter, tons of buttered pecans, and plenty of vanilla, they're soft, chewy, crunchy, and crazy delicious!
Chocolate and pecans for breakfast? Yes, please! These scones are buttery, flaky, and a breeze to whip up! Perfect with a big cup of coffee or tea!
Everything you love about pecan pie, minus the corn syrup! This recipe is gooey, crunchy, and a must-have for Thanksgiving! Use my foolproof all-butter pie crust or your favorite pie crust recipe!
Bourbon makes everything better… including these chocolate chunk pecan cookies! They're ultra thick, chewy, and super flavorful! Top with extra pecans and chocolate chunks, plus a sprinkle of sea salt!
Skip the boxed turtles from the grocery store and try these gourmet caramel pecan turtles instead! They make a fabulous gift and are a fun treat to make with the family or friends! Crunchy, chewy, and chocolatey… these are addicting!
Calling all chocoholics! Meet your new favorite pecan pie: CHOCOLATE PECAN PIE! This recipe has everything you love about classic pecan pie, plus chocolate and Kahlua! A grown up favorite around the holidays!
Pie for breakfast? This pecan pie French toast makes that dream a reality! Insanely decadent and so delicious! This recipe can be made the night before and baked in the morning!
These crunchy chocolatey pecan biscotti are PERFECT for dipping! Dip them in coffee, tea, or even hot chocolate! They also make a beautiful holiday gift!
Maple and pecans are a flavor match made in heaven! Add in banana and you've got yourself some seriously delicious muffins! These maple pecan banana muffins are on the healthier side and vegan, without compromising flavor, so they're the ultimate crowd-pleaser!
Blondies are softer than cookie bars and have an almost fudge like texture! These butter pecan blondies are loaded with plenty of sweet white chocolate chips and toasted pecans, making them extra delicious! A really easy recipe!
Butter pecan fudge is SO easy and made with just 6 basic ingredients! We always add this to cookie trays, but it also makes a fabulous holiday gift! Sweet, soft and so crunchy, this stuff is dangerous!
What's soft, gooey, and covered in crunchy pecans? Butter pecan cinnamon rolls! These are best served warm… and never last long! A great Thanksgiving breakfast treat!
Looking for a special breakfast at home menu item? This is it! Buttery pieces of brioche are topped with gooey pecans and homemade syrup! This butter pecan French toast is out of this world delicious!
Need cheesecake for a crowd? These Pecan pie cheesecake bars have you covered! They're super easy (no water bath!) and serve up to 20 people! A great pie/cheesecake mashup!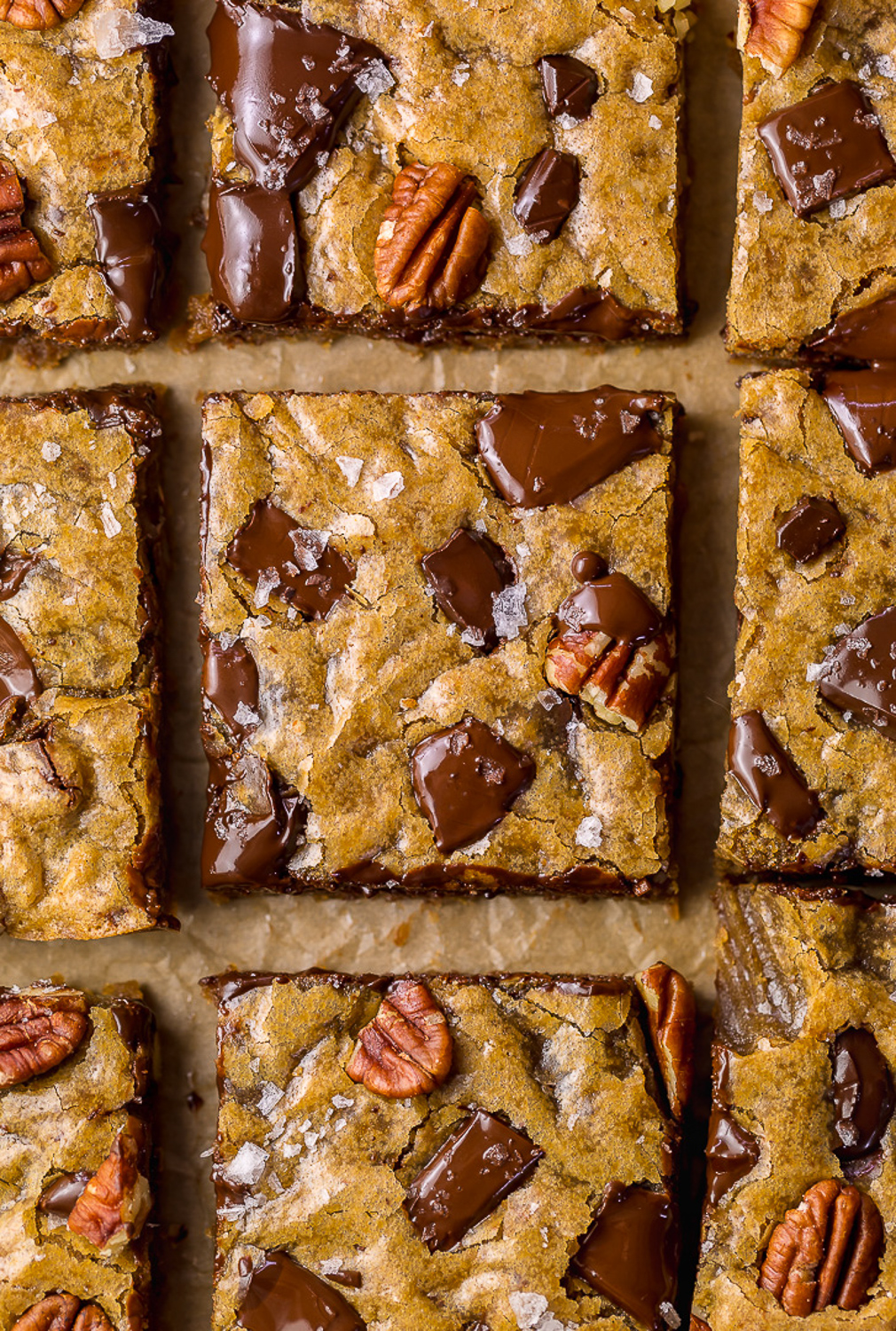 More proof that bourbon makes everything a little bit better! These brown butter pecan blondies are jam-packed with gooey chocolate, crunchy pecans, and bourbon! And they're ready in less than an hour!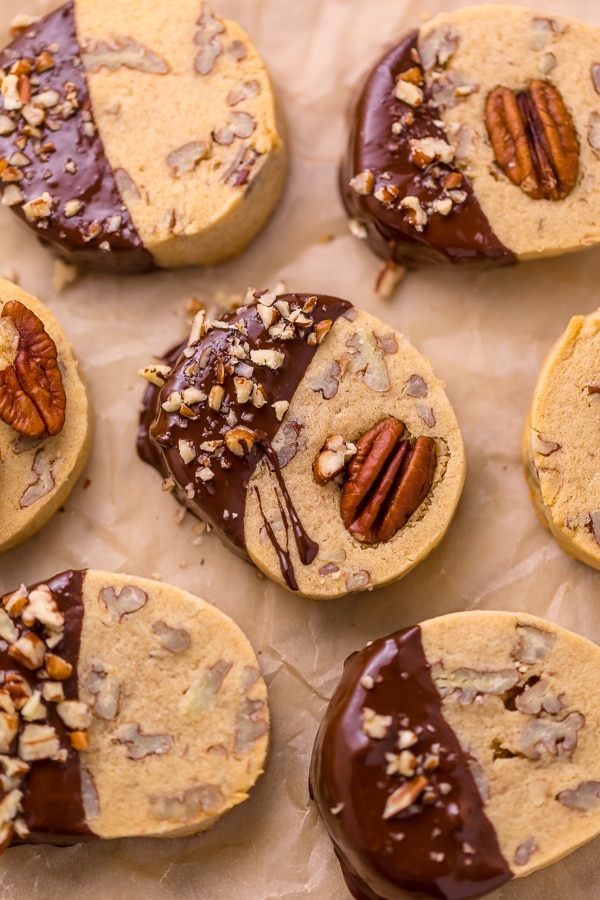 Slice and bake cookies are so fun to make and the dough can be stored in the fridge or freezer for a rainy day! Loaded with pecans, and dunked in chocolate, these not-too-sweet butter pecan cookies are delicious with a cup of tea!