This Red Wine Chocolate Cake is such a decadent treat! And it's perfect for special occasions! If you love red wine and dark chocolate, you have to try this cake recipe.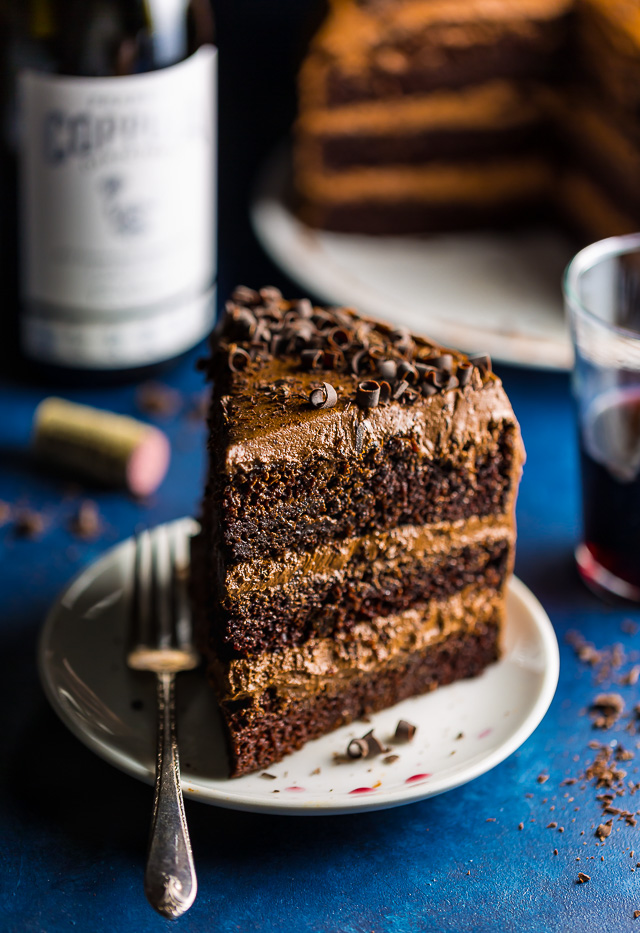 Red Wine Chocolate Cake from Scratch
Valentine's Day is right around the corner, my friends! And although my special someone will be away for the holiday, I still plan on celebrating. And just to be clear, by celebrating I mean eating massive slices of this red wine chocolate cake and watching sappy romantic comedies on netflix. In pajamas. With extra wine and chocolate on the side, of course!
Because to me, that's bliss! This is also bliss ↓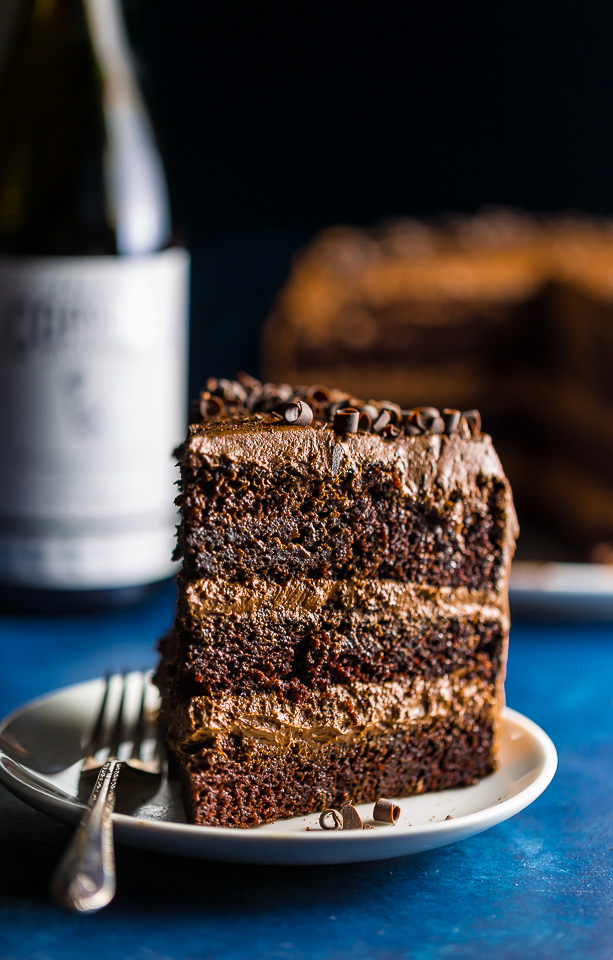 This wine cake has been in the back of my brain for years now! So when I stocked up on vino last week, I made a silent vow I would finally get cracking on it. And I'm so glad I did. Because you guys, this might be the best chocolate cake I've ever had. IN MY LIFE. And if you know me, you know I've eaten hundreds of chocolate cakes.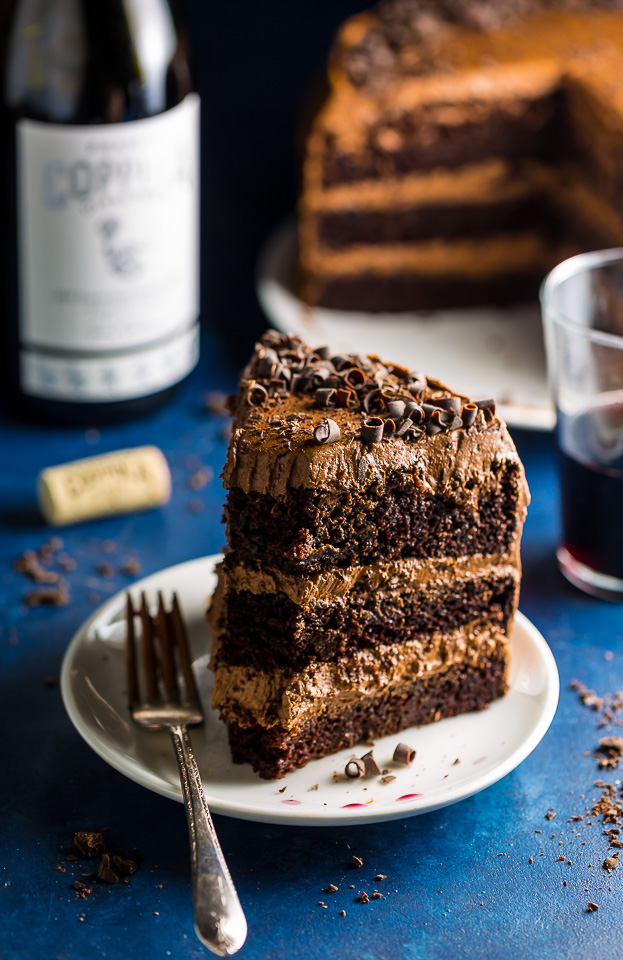 One quick thing I want to get out of the way: if you don't love red wine, or at least like it, you should probably skip this cake. Because the flavor definitely shines through! It's in the cake and it's in the frosting. But if you're like me and you love red wine with a burning passion, pop that cork and preheat that oven. Because we have a cake to bake!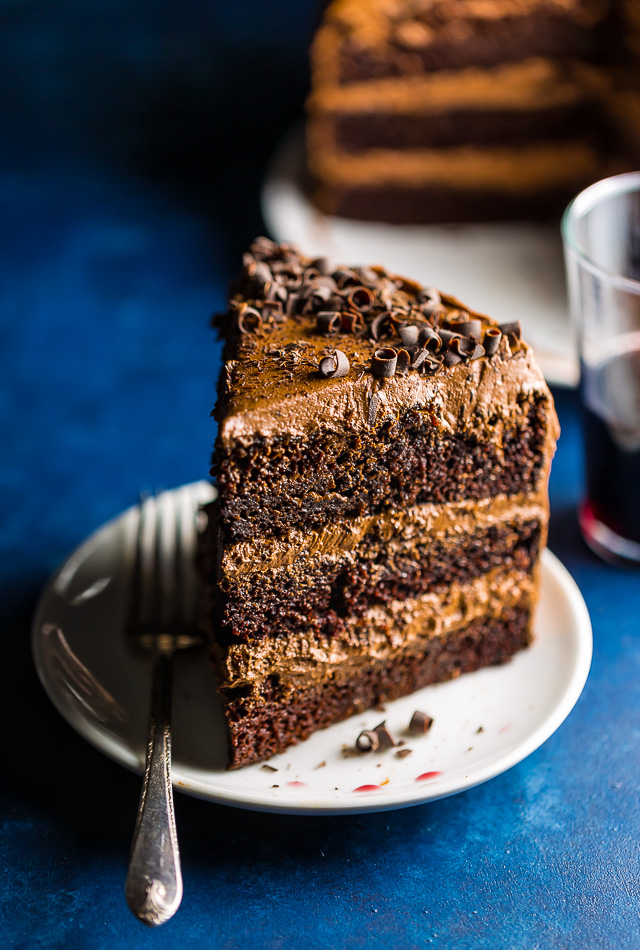 Chocolate Wine Cake
Tips and Tricks for Recipe Success:
So let's start off with ingredients! This is an oil based cake and can be made with vegetable oil, canola oil, or even refined coconut oil. However, I do not recommend substituting oil with melted butter.
Because cold ingredients don't bind evenly, you'll want to make sure your eggs, egg yolks, and sour cream have all come to room temperature before you begin baking.
When measuring your flour, it's important you're not packing it into the measuring cup. Packed flour will yield a dense and dry cake.
It's also important not to over mix the batter!
The cake layers should all be baked on the middle rack of your oven. If you don't have enough room in your oven to bake them all in an even row at once, bake them in two batches.
And of course, you don't want to over or under bake! Over baked cakes will be dry, while under baked cakes will sink the middle.
For the frosting, I suggest using a quality dark chocolate, such as Lindt 70%. I don't recommend using milk chocolate, but semi-sweet chocolate may be used if you prefer a very sweet frosting.
Finally, your cakes should be completely cooled before adding the red wine fudge sauce and frosting.
I'm so excited for you to try this wine cake recipe! And I hope you love it as much as I do. But then again… if you love red wine and chocolate, I know you will 😉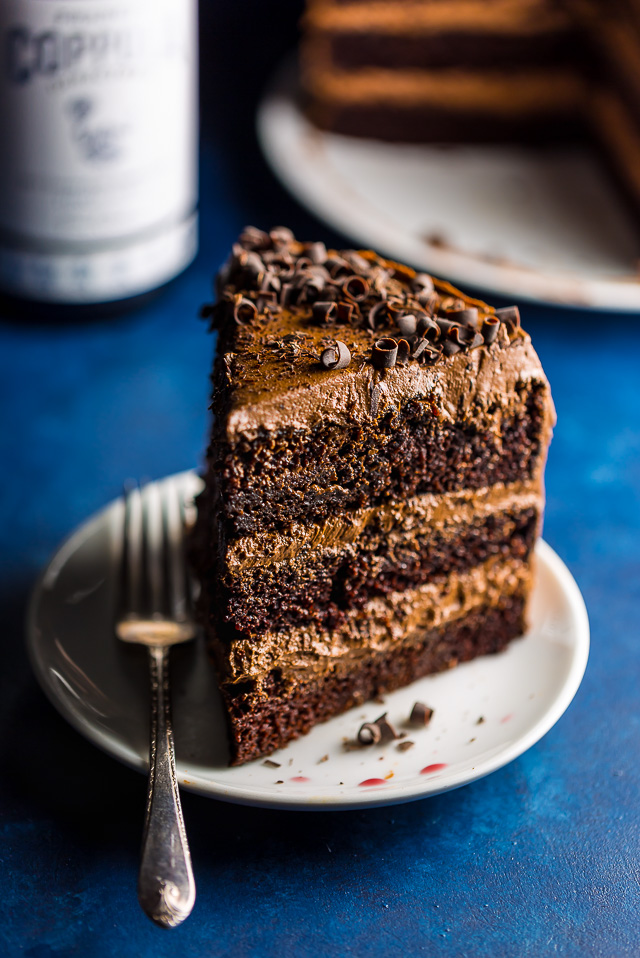 And if you try this recipe for Red Wine Chocolate Cake, let me know! Leave a comment below and don't forget to snap a pic and tag it #bakerbynature on instagram! Seeing your kitchen creations makes my day.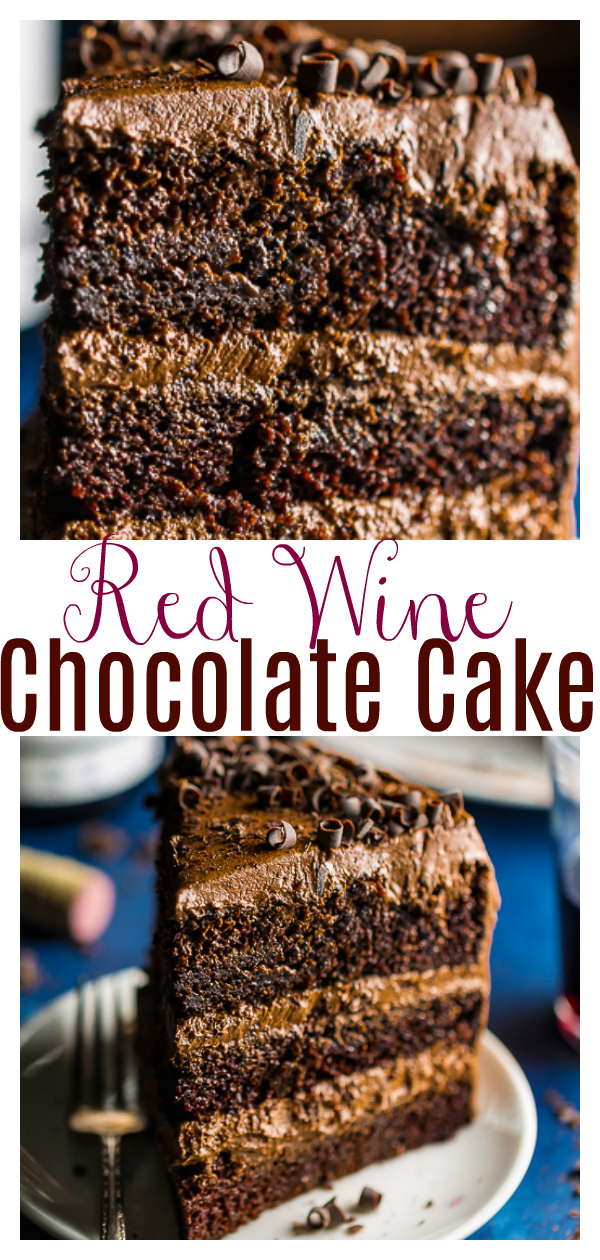 More Chocolate Cake Recipes:
More Red Wine Recipes: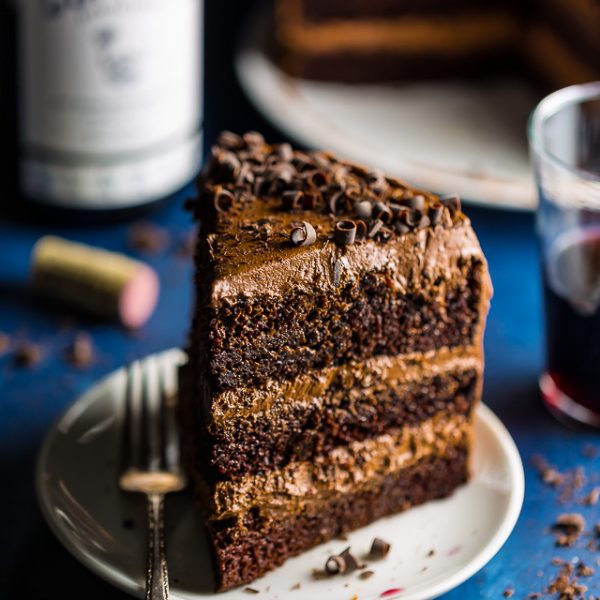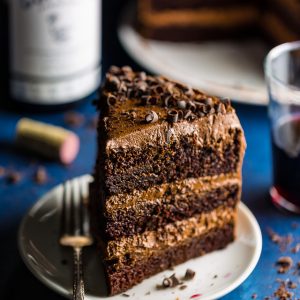 Red Wine Chocolate Cake
Supremely moist and flavorful, this Red Wine Chocolate Cake is perfect for special occasions!
Ingredients
For the Red Wine Chocolate Cake:
2 cups granulated sugar
1 cup light brown sugar, packed
2 and 3/4 cups all-purpose flour, divided
1 and 1/2 cups unsweetened cocoa powder, sifted
3 teaspoons baking soda
1 and 1/2 teaspoons baking powder
1 and 1/4 teaspoons salt
4 large eggs, at room temperature
1 and 1/2 cups full-fat sour cream
1/2 cup whole milk
1 cup of your favorite red wine (I used Pinot Noir, but I also love Cabernet in this recipe)
3/4 cup vegetable oil
1 Tablespoon vanilla extract
1/2 cup hot water
For the Red Wine Chocolate Frosting:
2 and 1/2 sticks (10 ounces) unsalted butter, softened (you want it just a little softer than room temperature, but not melted)
3 and 1/4 cups confectioners' sugar, sifted
1/4 teaspoon salt
8 ounces dark chocolate, melted and cooled for 10 minutes (I suggest using 60% cocoa or above)
4 and 1/2 Tablespoons of your favorite red wine (I used Pinot Noir, but I also love Cabernet in this recipe)
Instructions
For the Red Wine Chocolate Cake:
Preheat oven to 350°(F). Cut out three 9-inch round segments of parchment paper to line your cake pans with. Spray each pan generously - sides and bottom - with nonstick cooking spray, then place the parchment paper cut out in the bottom of the pans and spray again. It's important to make sure every bit of pan and paper are sprayed so your cakes don't get stuck. Set pans aside.

In the bowl of a stand mixer fitted with the paddle attachment, or in a large bowl using a handheld electric mixer, combine both sugars, flour, cocoa powder, baking soda, baking powder and salt; mix on low until dry ingredients are thoroughly combined. Use your hands to break up any large clumps of brown sugar, if needed. Set aside.

In a separate large mixing bowl, combine the eggs, sour cream, milk, wine, oil, and vanilla extract; whisk well until ingredients are thoroughly combined. Pour mixture into the dry ingredients and beat on low speed until just incorporated. Pour in hot water and continue mixing until completely combined; about 1 minute.

Divide the batter evenly among prepared pans. Bake in preheated oven for 30 minutes, or until a wooden toothpick or cake tester inserted in the center of a cake comes out clean or with just a few moist crumbs attached. Cool cakes in the pans, placed on a cooling rack, for 15 minutes, before removing from pans and transferring to cooling racks to cool completely.
For the Red Wine Chocolate Frosting:
In the bowl of a stand mixer fitted with the paddle attachment, or in a large bowl using a handheld electric mixer, beat the butter on medium-speed until completely smooth. Reduce the speed to low and gradually add in the confectioners' sugar, beating until all of the sugar is completely combined. Add in the salt and chocolate and beat smooth. Beat in the wine. Once all of the ingredients have been incorporated, increase the speed to medium-high and beat for a full minute.
Assembly:
Using a serrated knife, carefully trim the raised top of each cake, making each one an even, level surface. Transfer 1 layer to a large plate or cake stand. Spread an even layer of frosting on top, then top with another cake layer, and repeat. Top with the final cake layer. Frost the top and sides of the cake. Slice and serve, or keep refrigerated for about a week.