Glazed Pumpkin Donuts are baked, not fried, and ready in less than 20 minutes! These make a special breakfast treat on a chilly Fall morning! And are so good with a cup of coffee!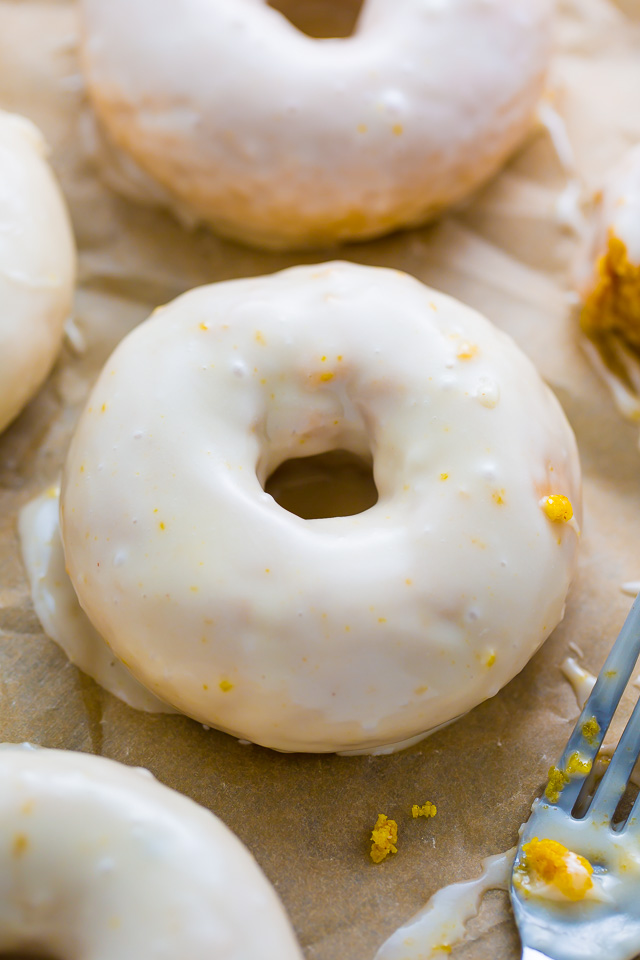 Glazed Pumpkin Donut Recipe
And just like that… it's OCTOBER! Any fun Fall plans for you this month? I'm heading to New York City tomorrow morning, then hopping a plane to Austin later in the week. This will be my first trip to Texas, so I'm pretty stoked! The fact that I'm going with Tessa is definitely the icing on the cake. If you're an Austin local, let us know where we should eat. Especially if you know where we can get the best BBQ! Also interested in tacos, margaritas, and donuts (always).
Speaking of donuts, I made you some! Glazed Pumpkin Donuts that are baked, fluffy, and loaded with real pumpkin flavor in every bite. The sticky pumpkin spice glaze makes them extra special.
Going to tell you all about the recipe in a sec… but let's hit pause right now and enjoy this delicious view ↓
How to make Baked Pumpkin Donuts
A donut pan is required for this recipe. If you don't already own one, click here and check out the amazing (and affordable) pan I've been using for the past 5 years! If you love donuts, it's a worthy investment 😉
Be sure to generously grease your donut pan with butter and flour or a non-stick spray. If you're using spray, I suggest using one that is made specifically for baking, since they typically have flour in them, which helps the donuts come out of the mold easily. Trust me when I say you want to grease every little nook and cranny and the pan.
The pumpkin donut batter will be very thick. You can spoon it into the donut pan, or you can scrape it into a ziplock baggie, snip off one end, and pipe it into the molds. I find piping it into the molds works best, but both methods will do the job.
Most importantly, be sure you don't over bake your donuts! Over baked donuts come out of the oven tough and dense, not moist and fluffy as they should be. Set a timer for 10 minutes and keep an eye on them. Once they've risen and slightly spring back when touched, they're ready to come out of the oven.
The donuts will be very delicate when you first pull them out of the oven. Let them cool in the pan for 10 FULL minutes before gently lifting them out of the molds and transferring them onto a cooling rack.
To prevent the donuts from becoming soggy, I suggest drenching them in glaze right before serving them.
These glazed pumpkin donuts are best eaten the day they are made, but will keep, stored in the fridge, for up to 3 days.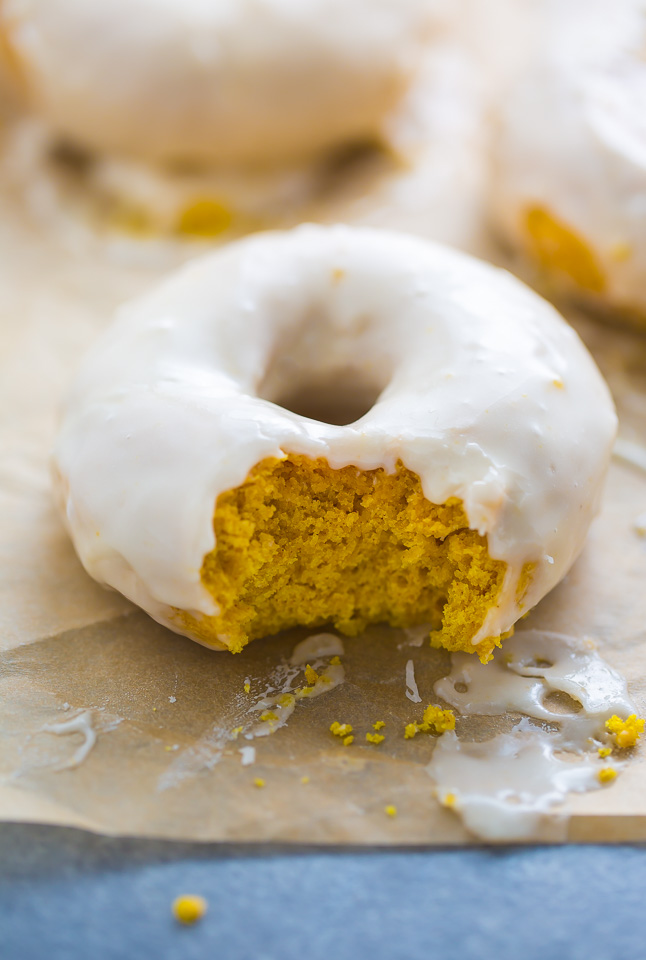 Give these glazed pumpkin donuts a try asap! I just know you're going to ♥♥♥ them.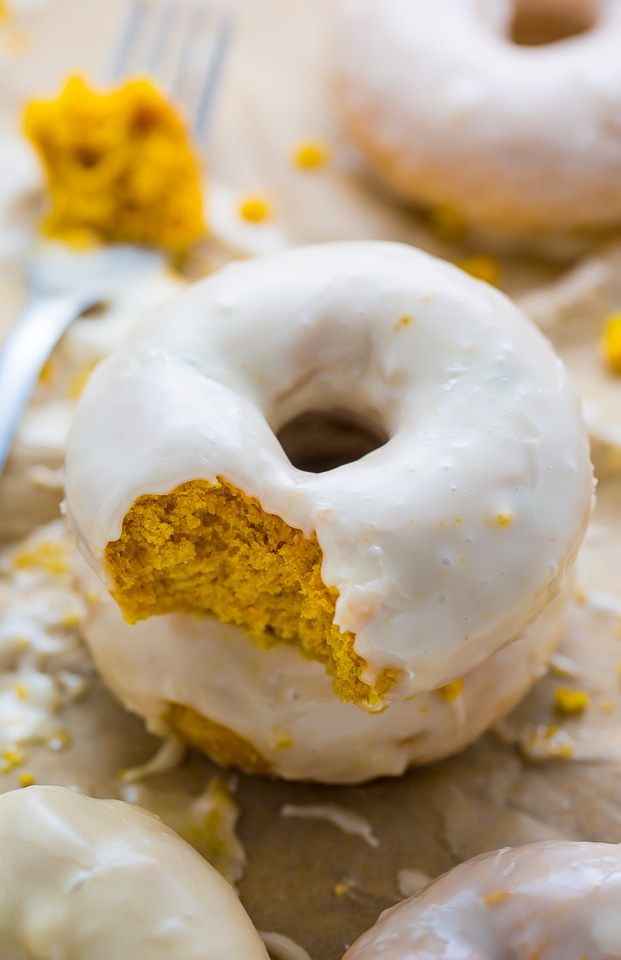 If you try this recipe, let me know what you think! Leave a comment below, and don't forget to snap a pic and tag it #bakerbynature on instagram! Seeing your creations makes my day ♥
More Pumpkin Recipes:
Glazed Pumpkin Donuts
Glazed Pumpkin Donuts are baked, not fried, and ready in less than 20 minutes!
Ingredients
For the pumpkin donuts:
1 cup and 1/4 cups all-purpose flour
1/2 cup light brown sugar, packed
1/2 teaspoon salt
1 teaspoon baking powder
1 teaspoon pumpkin spice
1/2 cup pumpkin puree
2 and 1/2 tablespoons unsalted butter, melted
1 large egg, at room temperature
For the glaze:
1 cup confectioners' sugar
1 teaspoon pumpkin spice
2 teaspoons milk, more if needed
1/2 teaspoon vanilla extract
Instructions
For the pumpkin donuts:
Preheat oven to 350 degrees (F). Generously grease a doughnut pan; set aside.

In a large bowl whisk together the dry ingredients. In a separate bowl whisk together the pumpkin puree, melted butter, and egg. Gently fold the wet mixture into the dry mixture - don't over mix!

Spoon or pipe mixture into prepared doughnut pan, and bake for 10-11 minutes, or until the doughnuts spring back when lightly pressed. Allow doughnuts to cool a few minutes in the pan before transferring to a wire wrack to cool for a few more minutes.
For the glaze:
In a wide, shallow bowl combine the confectioners' sugar, pumpkin spice, milk, and vanilla. Whisk well to combine. If the glaze is too thick, add more milk, a half teaspoon at a time; if the mixture is too thin add more confectioners' sugar, two tablespoons at a time. Once you reached your desired consistency, dunk donuts in the glaze, using a fork to turn the donut over in the glaze so both sides are coated. Repeat with all donuts.

These donuts are best eaten the day they are made.