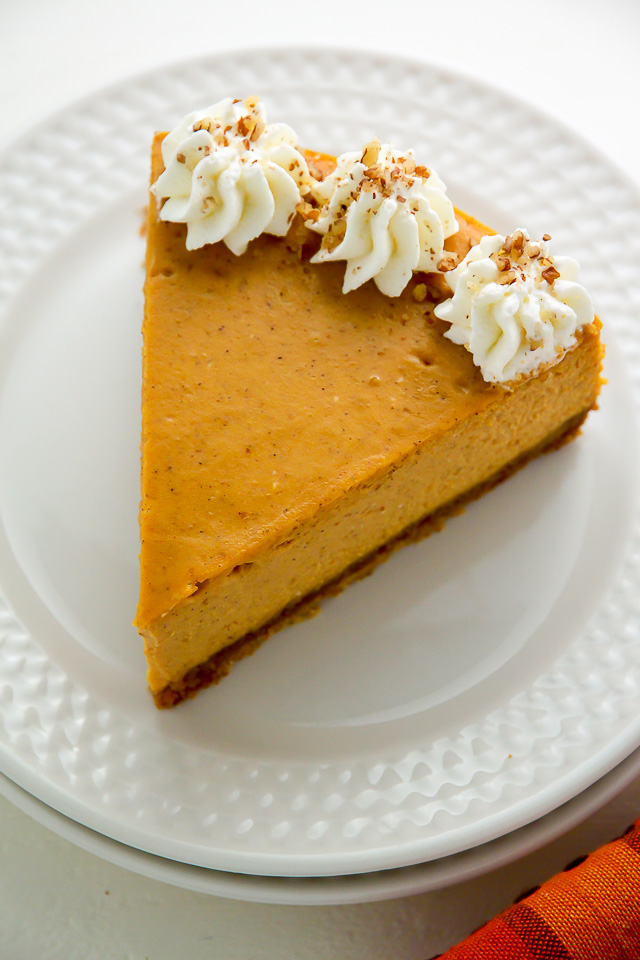 This cheesecake was born 100% out of my love and longing for rich, creamy, pumpkin pie.
Pumpkin pie is one of those foods that just makes me so happy. Are you with me on this? I feel like pumpkin pie is just essential Fall food. And it's one that we should all try falling in love with at least once a year.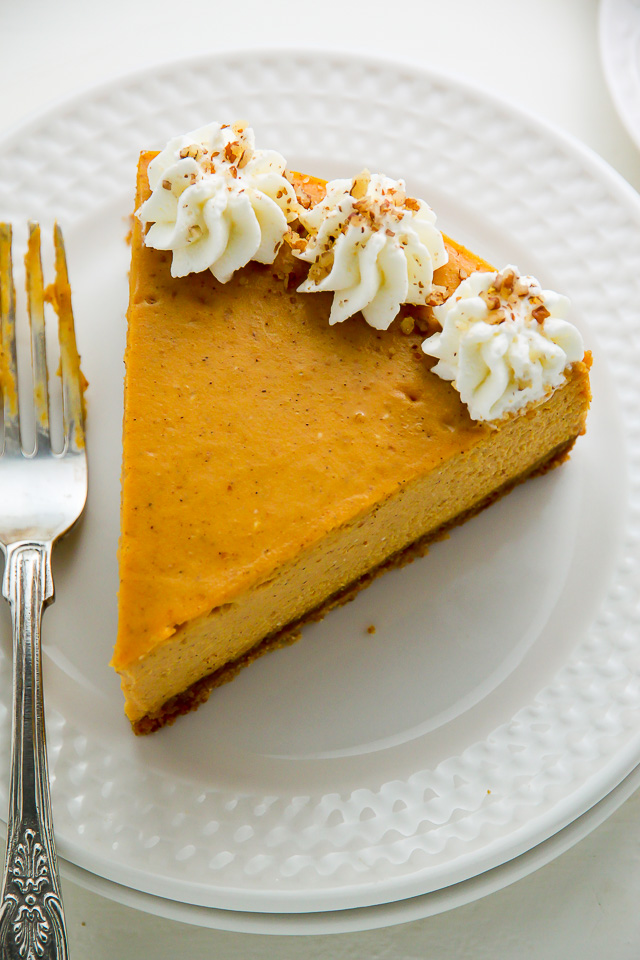 I started dreaming up some crazy pumpkin pie recipes last week, but by the time I hit the grocery store this weekend my brain had zoomed in and locked down on the idea of a pumpkin cheesecake. And of course, not just any pumpkin cheesecake! But one with a brown butter graham cracker crust! One made extra creamy by the addition of fresh, homemade ricotta cheese. One that gets topped with grand marnier whipped cream! And lemme tell ya, the grand marnier whip is not to be missed! That stuff is da-da-daaaaaangerous!
Cheesecake is one of those things that is always a little nerve wracking, but this recipe is actually very simple – most of it comes together in your blender(awesome!!!) – and totally pays off! I highly suggest sticking to the recipe – or at least very, very close to it –  if this is your first rodeo with cheesecake, since playing around with ingredients/ratios really can make or break things with this one. And nobody wants a broken cheesecake!
Look at that slice! I wish you could take a bite right now. Mainly because I want you to taste how creamy and rich and not-too-sweet but wonderfully pumpkin-y each bite is, but also because I need some help eating this thang! A girl can only eat so many pieces before… eating more pieces? That's the logic I'm sticking with until reinforcements get here!
First ones to Brooklyn get dibs on the last 3 slices 😉
See you guys tomorrow for the LAST day of pumpkin week! Bring your spoons (hint hint!).
Pumpkin Ricotta Cheesecake with Brown Butter Crust and Grand Marnier Whipped Cream
Rich and creamy Pumpkin Ricotta Cheesecake made with a Brown Butter Crust and Grand Marnier Whipped Cream!
Ingredients
For the Pumpkin Ricotta Cheesecake Filling:
(2) 8 oz packages of cream cheese
1 1/2 cups ricotta cheese
3 large eggs + 2 egg yolks
(1) 15 oz can of pumpkin puree
3/4 cup brown sugar
3/4 cup granulated sugar
3/4 teaspoon cinnamon
1/8 teaspoon cloves
1/8 teaspoon nutmeg
1/4 teaspoon ground ginger
3 tablespoon all purpose flour
1 1/2 teaspoons vanilla extract
For the Brown Butter Graham Cracker Crust:
2 cups graham crackers, pulsed into crumbs
1/3 cup sugar
1/2 teaspoon cinnamon
1/2 teaspoon ginger powder
1/4 teaspoon salt
7 tablespoons butter, browned
For the Grand Marnier Whipped Cream:
1 cup heavy cream
3/4 cup powdered sugar (plus more if a sweeter cream is desired)
1 teaspoon orange zest
2 tablespoons grand marnier
1/2 teaspoon vanilla
Instructions
Preheat oven to 325 degrees (F).
Make the crust:
In the body of a blender combine graham crackers, cinnamon, ginger, salt, and sugar. pulse until the crackers have been completely pulsed to crumbs. Add melted browned butter; stir well to combine. Press down into a 9-inch springform pan, pressing the crust down firmly and up the sides. Wrap the pan VERY well in layers of tin foil; set aside.
Make the filling:
Beat cream cheese and ricotta in a blender until smooth. Add pumpkin puree, eggs, egg yolk, sugars and spices, pulse until well combined. Add flour and vanilla and pulse for another 30 seconds, or until flour has completely disappeared into the batter. Don't over mix! Pour filling into crust, and spread evenly. Place the springform pan in a large baking pan (with high sides) and fill the pan halfway with hot water; this is your water bath. Place the cheesecake in the oven and cook cheesecake for 1 hour and 30 minutes. Turn oven off and let the cheesecake sit for 45 minutes inside the oven with the door shut. The cheesecake should be still slightly wiggly. Remove cake from oven, run a knife very gently around the edge of the cake, and let it sit in the pan for 15 more minutes before covering loosely with plastic wrap and refrigerating for at least 4 hours. When ready to serve, top with a dollop of whipped cream and enjoy!
Make the Whipped Cream:
Place the cream in a stand mixer with the whisk attachment and beat on high until stiff peaks begin to form. Add sugar, grand marnier, orange zest, and vanilla, and beat for another 2 minutes. Dollop on top of cheesecake slices, or place in the refrigerator until needed. Keeps for 48 hours.