Silky smooth and richly spiced, my Brown Butter Pumpkin Pie is the ultimate holiday dessert! The brown butter adds the most delicious slightly nutty flavor to the pumpkin, and is sure to keep everyone guessing what the "secret ingredient" is in your pumpkin pie! A must bake for Thanksgiving!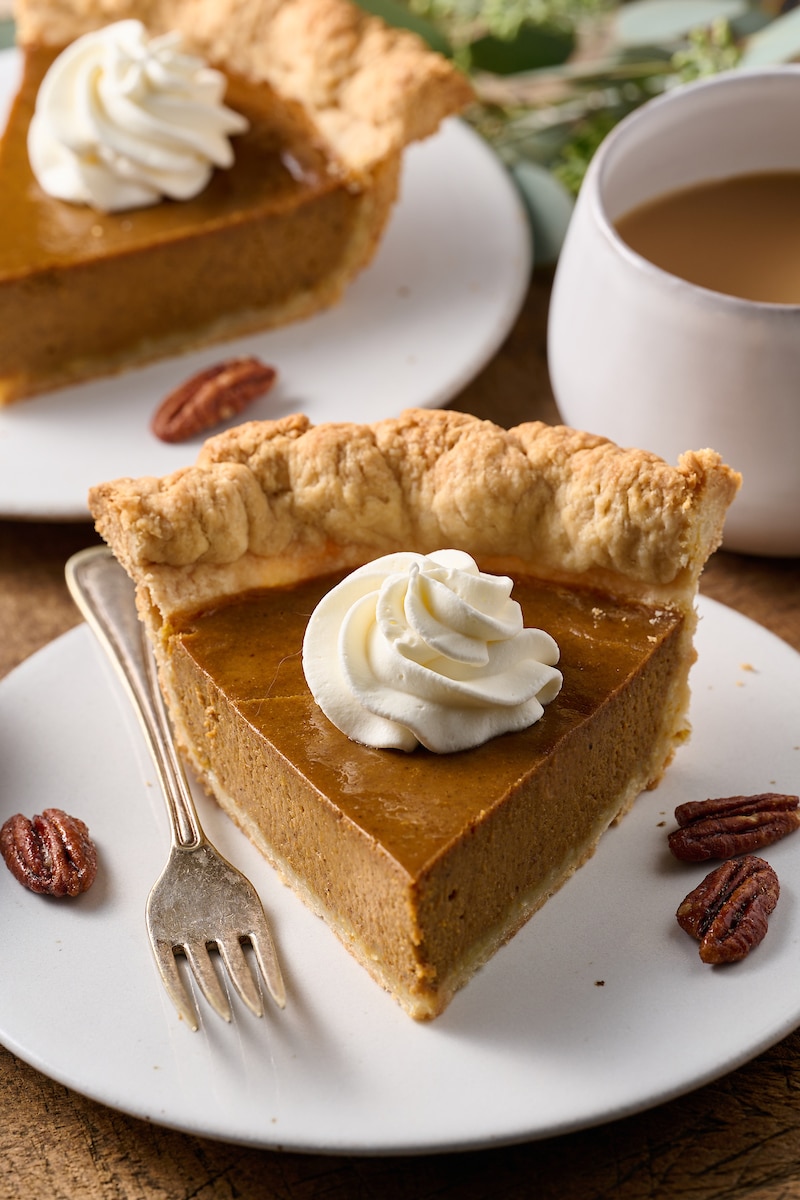 Brown Butter Pumpkin Pie Recipe
Can you believe Thanksgiving is just weeks away? I really, truly, fully cannot. I mean, wasn't it just July? Weren't we just at the beach? Didn't it feel like Summer would stay forever?
But reality is reality. And our reality is that we have 39 days until we set the table, trim the turkey, and tantalize our guests with a tempting meal. Clearly, we have a lot of (very delicious) work to do. But don't fret! It's going to be so much fun. And we're going to do it all together. Starting with this brown butter pumpkin pie.
So take a quick bite ↓ and let's get started.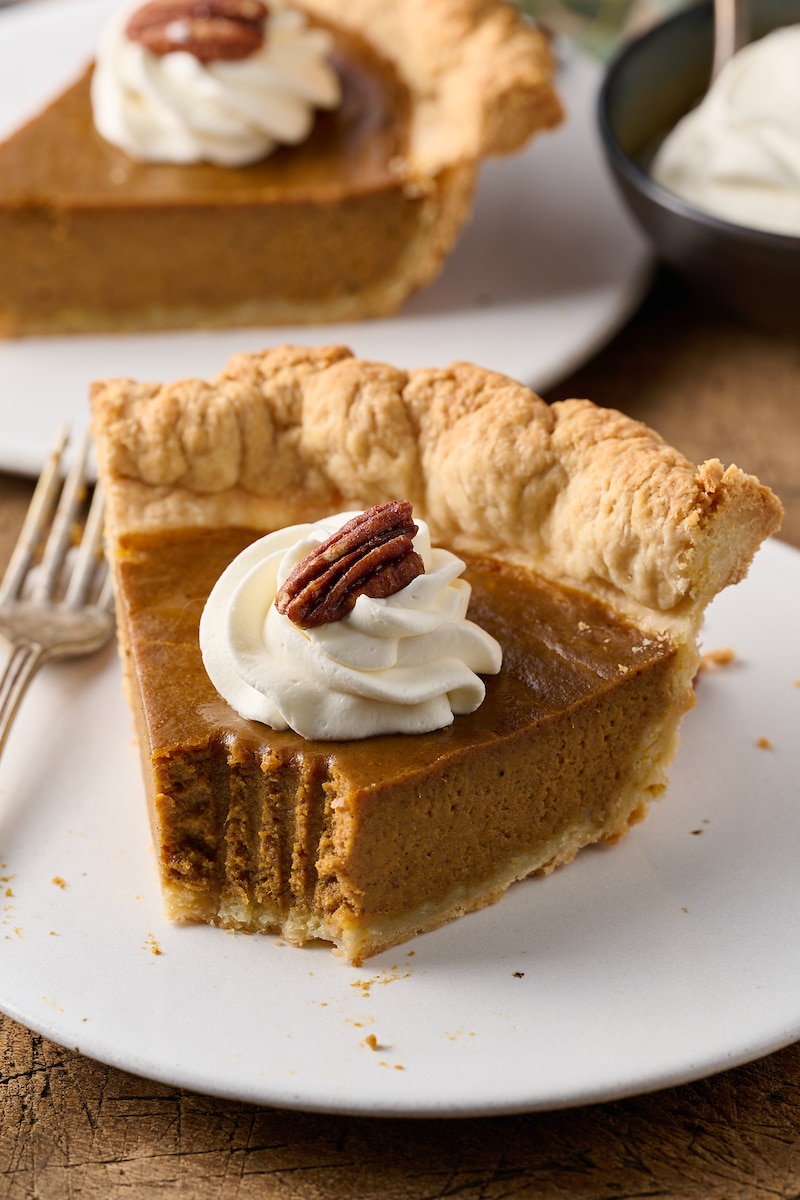 Confession: I've been dreaming about this brown butter pumpkin pie since last May! When I first made it. Yes… I develop holiday recipes in the Spring. Blogging life is something strange and wonderful! Anyway. I tweaked the recipe a few times over the past few weeks, and finally reached brown butter pumpkin pie perfection! Each bite is rich, creamy, and SO flavorful. It's also not cloyingly sweet… which means we get to top it with an extra fat dollop of whipped cream.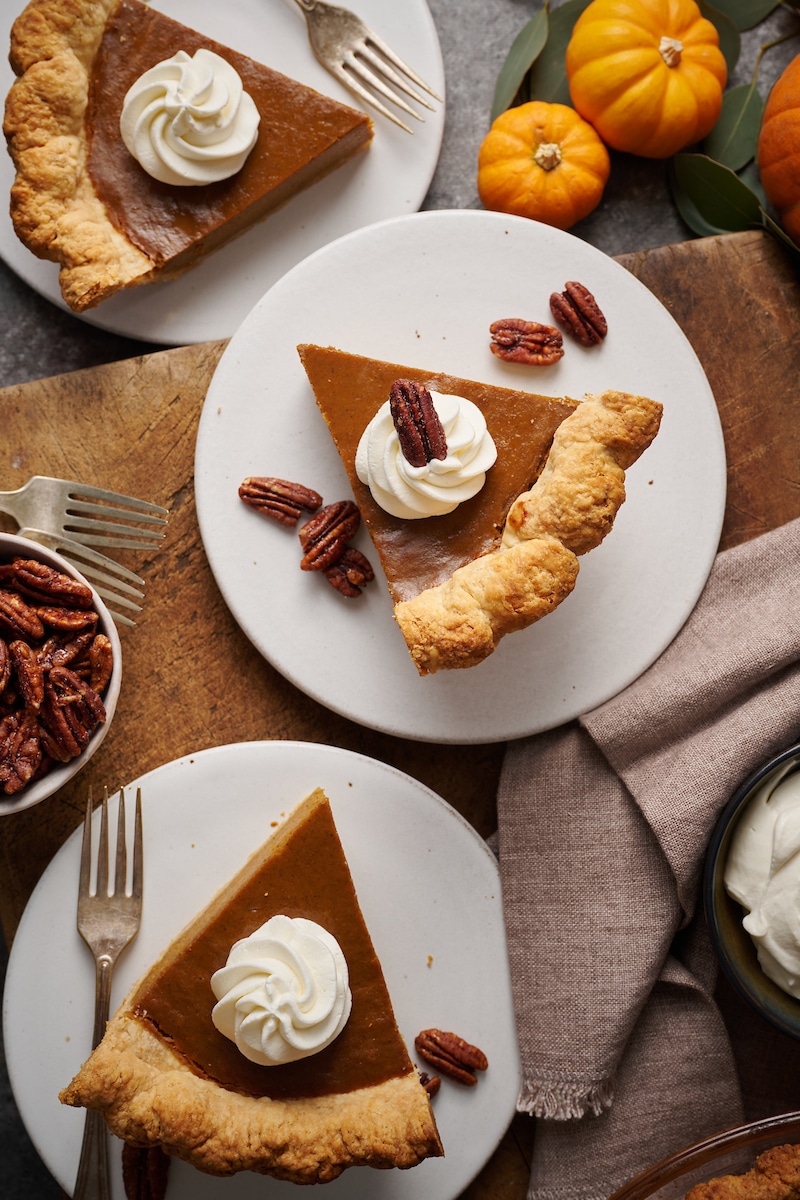 Pumpkin Pie Tips and Tricks for Success:
Make your pie crust ahead of time! You can actually do this step up to two months in advance, since pie crusts are very freezer friendly. If you prefer to make your crust the day of, be sure you plan in advance and have plenty of time. The crust needs to chill for at least an hour before being rolled out, and then another 30 minutes before being filled.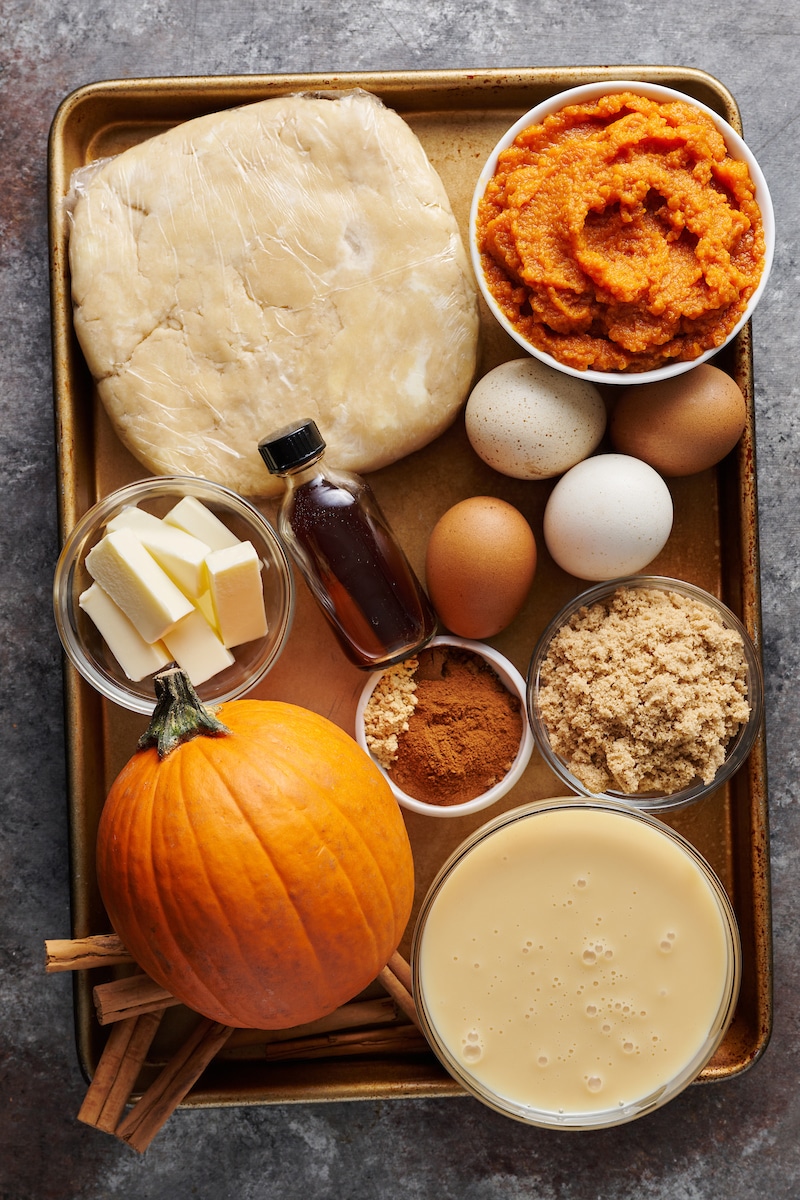 If you simply don't have time to make a homemade pie crust, you may use your favorite store bought 9″ pie shell instead.
If you don't have all of the individual spices called for in the recipe, you may substitute 2 teaspoons of pumpkin spice plus a dash of black pepper instead.
P.S. Trust me on the black pepper!
This recipe calls for brown butter. If you're unfamiliar with this cooking phrase, don't fret! Brown butter is simply butter that's been cooked just long enough to toast the milk solids. It's an easy step that really AMPS up the flavor of the butter and can be used in many sweet or savory dishes. I've included instructions on exactly how to do this in recipe box at the end of the post.
Don't over bake your brown butter pumpkin pie! Over baking will lead to cracking in the custard, which is never fun. To avoid this, keep an eye on your pie while it's baking, and remove it from the oven when the edges are set but the center is still a little wiggly.
Be sure to allow your pie to cool for at least 3 hours before slicing! It needs one hour at room temperature and at least 2 hours in the fridge. If you attempt to slice it still warm the filling will not hold its shape. It takes a full 3 hours for it to set and slice like you see in my photos.
I recommend making this brown butter pumpkin pie at least once before the holidays… and then again on the big day(s). That way you get as many slices as your little heart desires! Trust me when I say this pie goes FAST. Enjoy.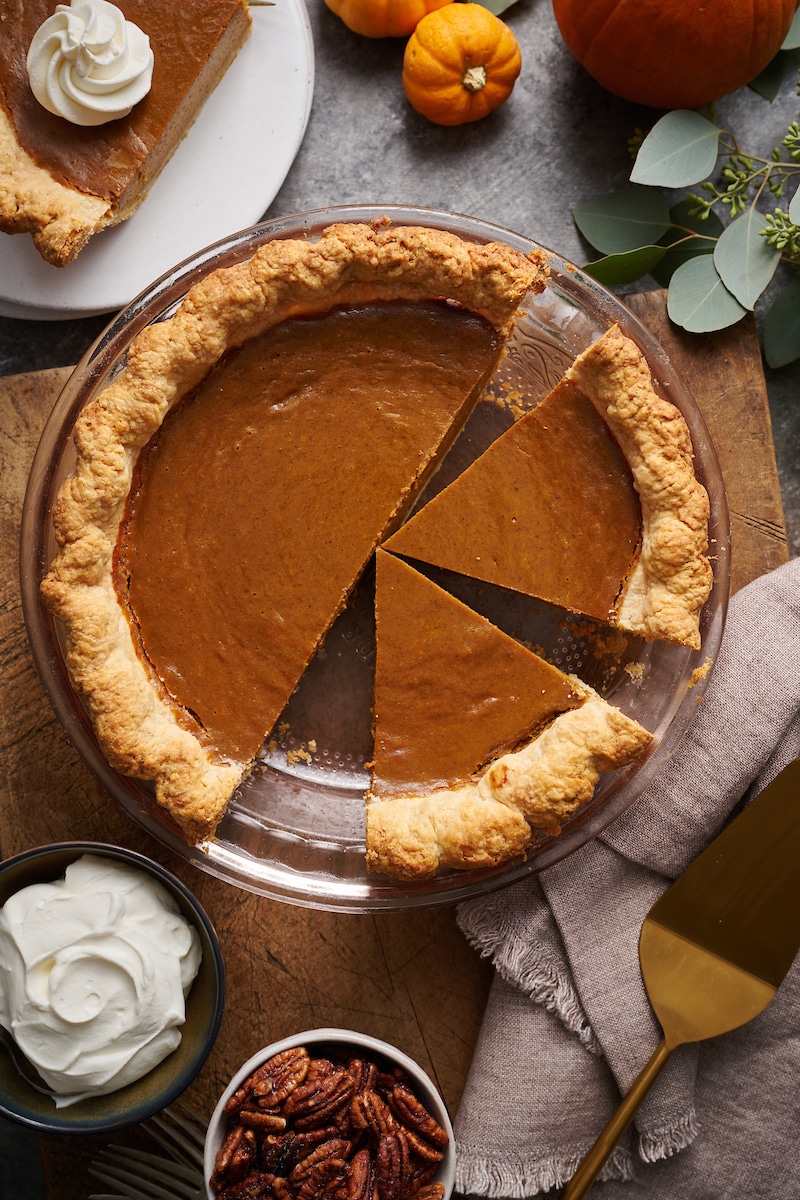 If you try this recipe, let me know! Leave a comment below and don't forget to snap a pic and tag it #bakerbynature on instagram! Seeing your kitchen creations makes my day.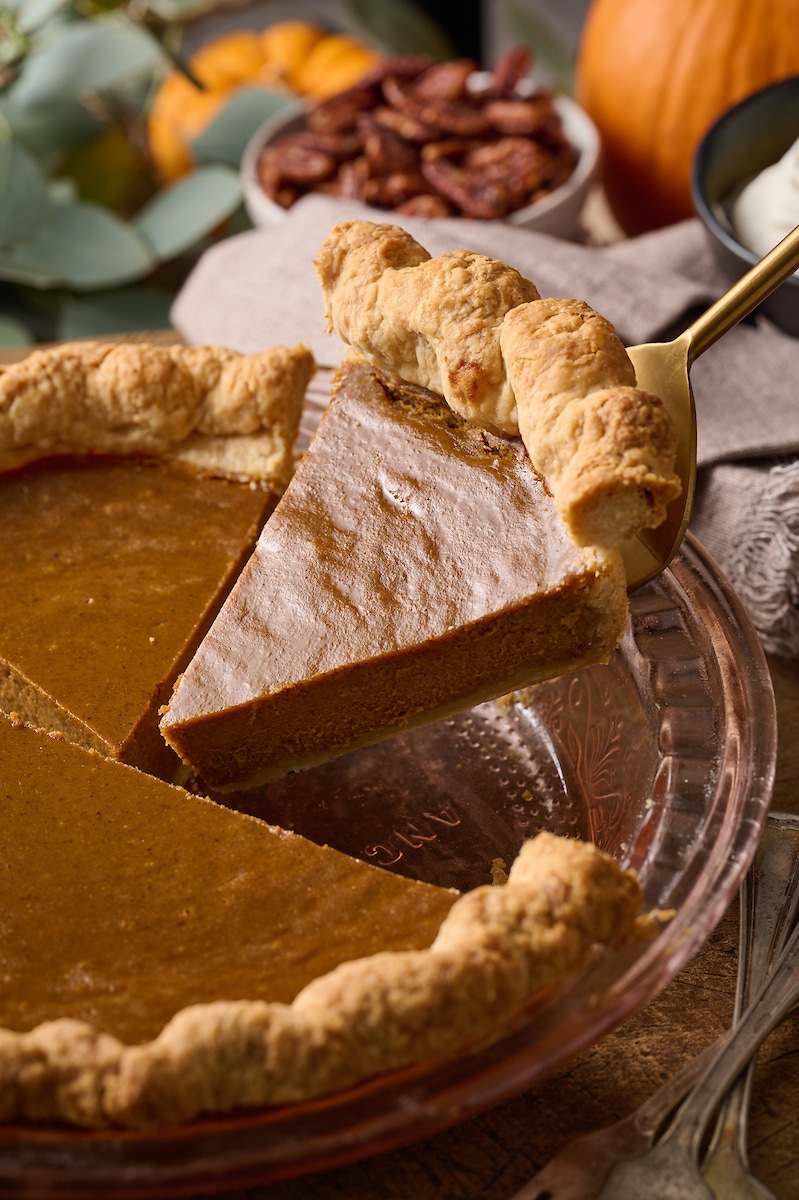 More Pumpkin Pie Recipes: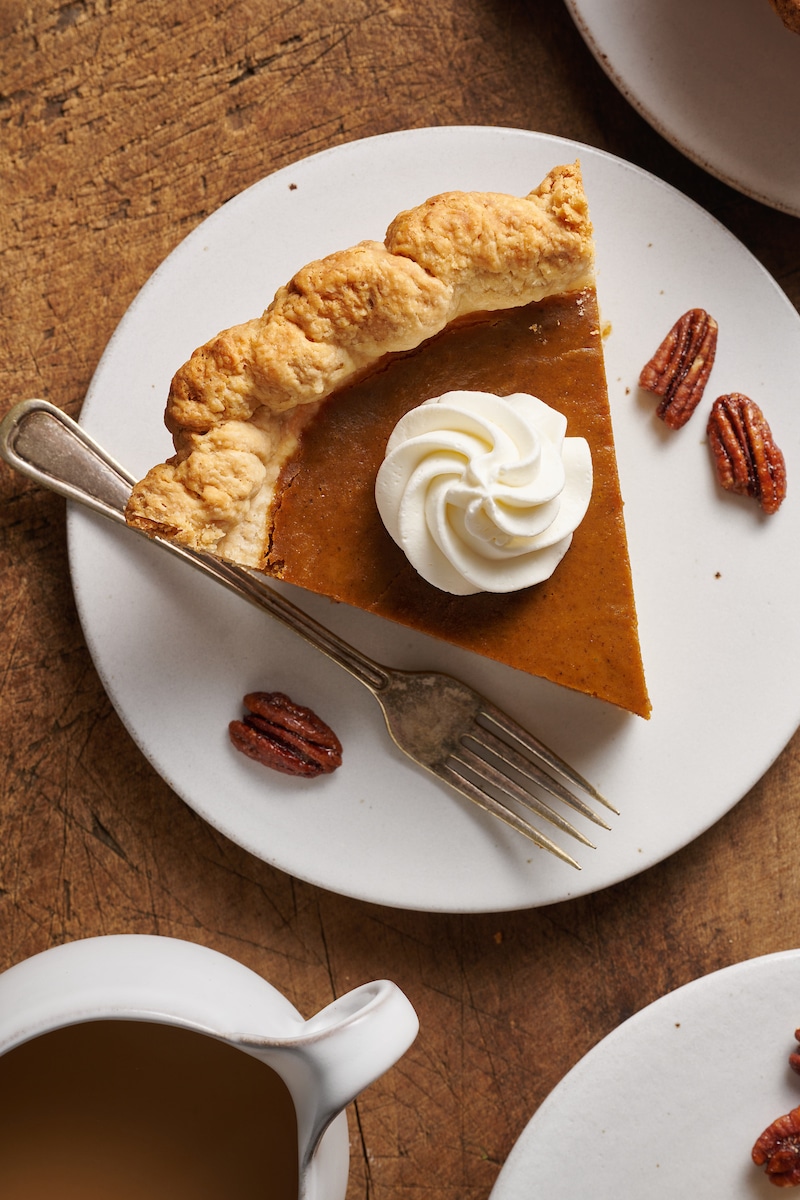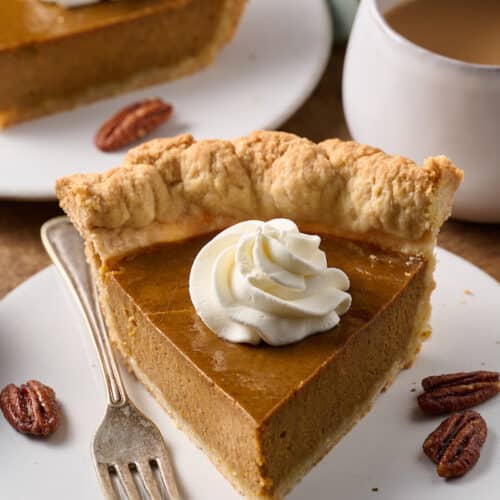 Brown Butter Pumpkin Pie
Silky smooth and richly spiced, this brown butter pumpkin pie is perfect for special occasions.
Ingredients
For the crust:
2 and 1/2 cups all-purpose flour
2 tablespoons granulated sugar
1/2 teaspoon salt
1 cup very cold unsalted butter, cut into tiny cubes
1/2 cup ice water (you probably won't use it all)
For the brown butter pumpkin pie:
4 tablespoons (57g) unsalted butter
1/3 cup light brown sugar, packed
1 15 ounce can pumpkin puree (not pumpkin pie mix)
1 14 ounce can sweetened condensed milk
2 large eggs room temperature
2 large egg yolks room temperature
2 teaspoons vanilla extract
2 teaspoons ground cinnamon
1 and 1/2 teaspoons ground ginger
1/2 teaspoon ground nutmeg
1/2 teaspoon ground all-spice
1/4 teaspoon ground cloves
1/8 teaspoon black pepper
Instructions
For the crust:
Mix flour, sugar, and salt in a food processor or blender. Add butter and pulse until a coarse meal forms. Be sure not to pulse too long, the butter should be no smaller than the size of peas. Slowly add in just enough ice water to form moist clumps. Gather the dough into a ball and divide in half (you can use a kitchen scale if you want them to be perfectly even). Form dough into 2 balls and gently flatten into disks. Wrap each disk in plastic and place in the refrigerator to chill for at least one hour. You will only need one disk of dough for this recipe, so you may want to place the other disk in the freezer until needed.

Remove the dough from the fridge 15 minutes before you plan on rolling, as dough that is too cold will crack. Lightly flour a rolling pin and a large clean work surface.

Set the dough in the middle of the work surface and - beginning from the center of the disk - roll the dough away from you in one firm and even stroke. After each stroke, rotate the disc a quarter turn clockwise and roll again. Lightly sprinkle more flour on the work surface, pie dough, and rolling pin as needed. You want to use just enough to prevent the dough from sticking. As your disc of dough becomes larger, be sure not to overstretch the center of the dough. Continue rolling until the dough is about 16-inches in diameter, and around a 1/4" in thickness. 

Carefully fold the dough in half and lay it across one side of a 10-inch glass or metal pie pan, placing the seam of the dough in the center of the pan. Gently unfold the crust, then use your hands to fit the dough down into the pan, making sure there are no gaps between the dough and the sides of the pan. If you see any visible air bubbles, gently burst them with a fork. Using kitchen scissors, trim the dough overhang to 1 and 1/2 inches, measuring from the inner rim of the pan. Roll the overhang underneath the rim of the pie plate and crimp.Lightly cover the crust with plastic wrap and place back in the refrigerator until needed, at least 1 hour.

When ready to par-bake, preheat the oven to 375 degrees (F). Remove crust from the fridge. Scrunch up a piece of parchment paper, then line the crust with the parchment paper and fill with pie weights or dry beans. Make sure the weights are evenly distributed around the pie crust. 

Bake, in the lower third of the oven, for 10 minutes. Remove from the oven. Carefully remove the pie weights and parchment paper and prick the bottom of the crust all over with a fork. 

Place back in the oven and bake for another 8 to 10 minutes, or JUST until the bottom of the pie crust is starting to brown.  Remove the partially baked crust from the oven and place on a wire cooling rack. Reduce the oven temperature to 350 degrees (F). 
For the brown butter pumpkin pie:
In a heavy-bottomed skillet or saucepan, melt the butter over medium-low heat. Continue cooking the butter after it's melted, whisking frequently, until the butter begins to foam and turns a deep golden brown. Whisk in the light brown sugar and remove from heat.

Pour the butter/sugar mixture into a large bowl. Add in the pumpkin puree and sweetened condensed milk and whisk smooth. Whisk in the eggs, yolks, vanilla, and spices and beat until well combined, about 1 minute.
Assembly:
Pour the filling into the partially baked pie crust. Place in the preheated oven and bake, in the lower third of the oven, for 1 hour, or until the center is *almost set. It should still have a jiggly spot in the center. This will firm up as it cools.

Cool on a wire rack for two hours, then place the pie in the fridge for at least another 2 hours before slicing. Serve with whipped cream! 
Notes
Cover the crust with a pie crust shield or some aluminum foil to avoid over-browning. The pie will keep, covered in the fridge, for 5 days.