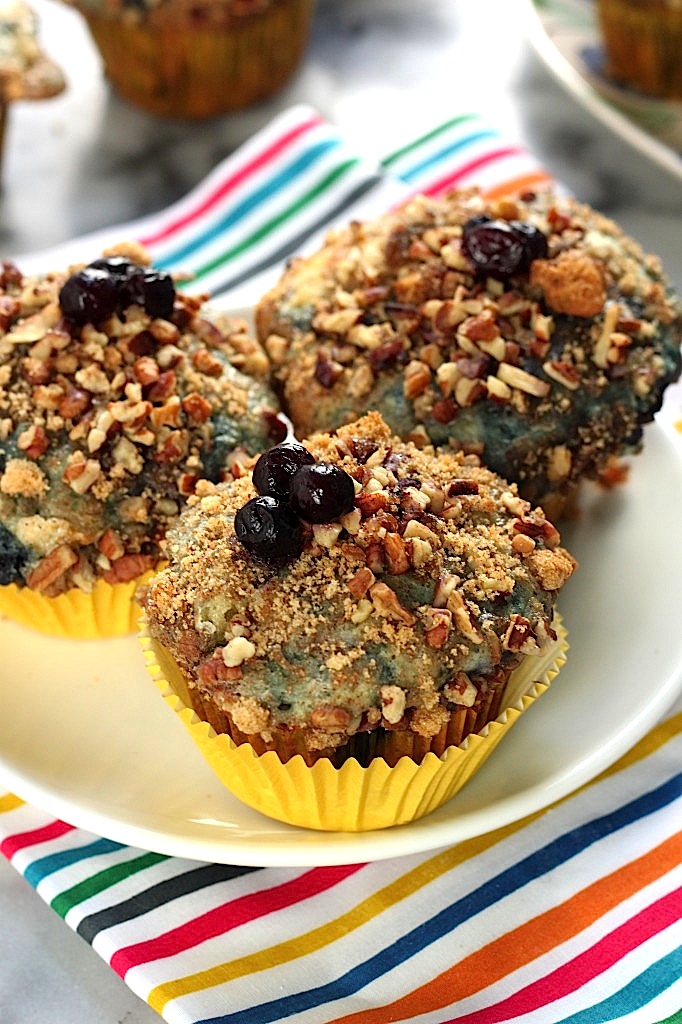 Greek Yogurt Blueberry Muffins
Super fluffy homemade Greek yogurt blueberry muffins topped with a rich pecan crumble are the perfect start to any morning! This recipe is quick, easy, and sure to please.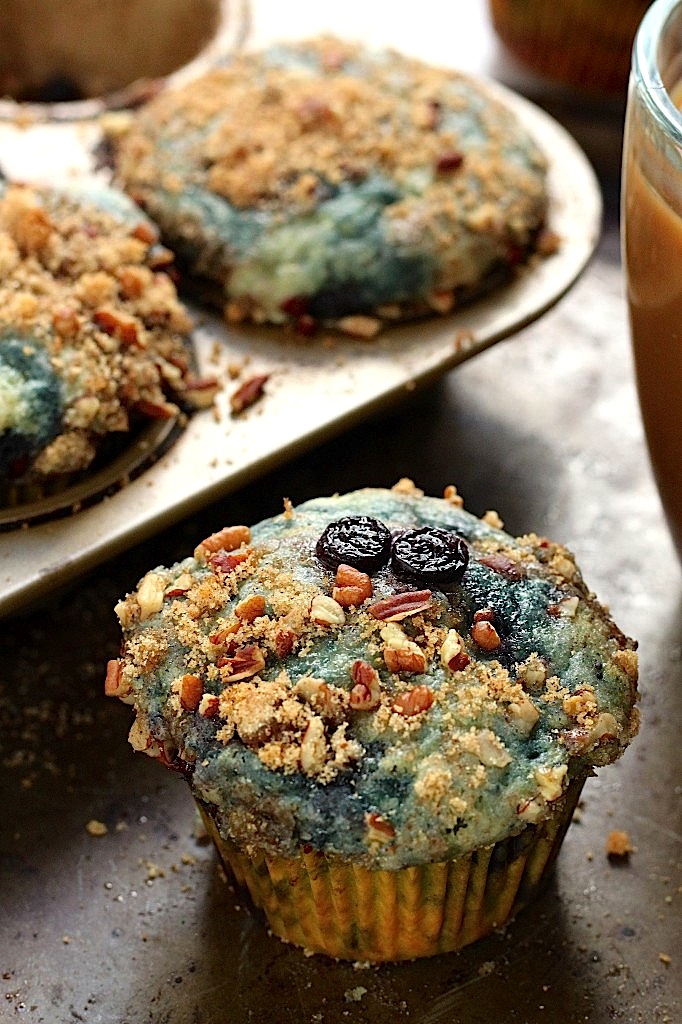 There's something so very satisfying about baking a batch of muffins. Mostly I think it's the smell they fill your home with. That buttery, sugary, homey smell. You know the one, right? Sheesh! I wish they sold candles and room spray capable of imitating that precious scent. I would be their #1 buyer! Customer of the year! But alas, most room sprays and scented candles – in my budget, anyhow – smell like, well… crap. So I'll just stick with the real deal and the "omg why are all my clothes shrinking" repercussions that come along with it. Muffins + Me = FOREVER.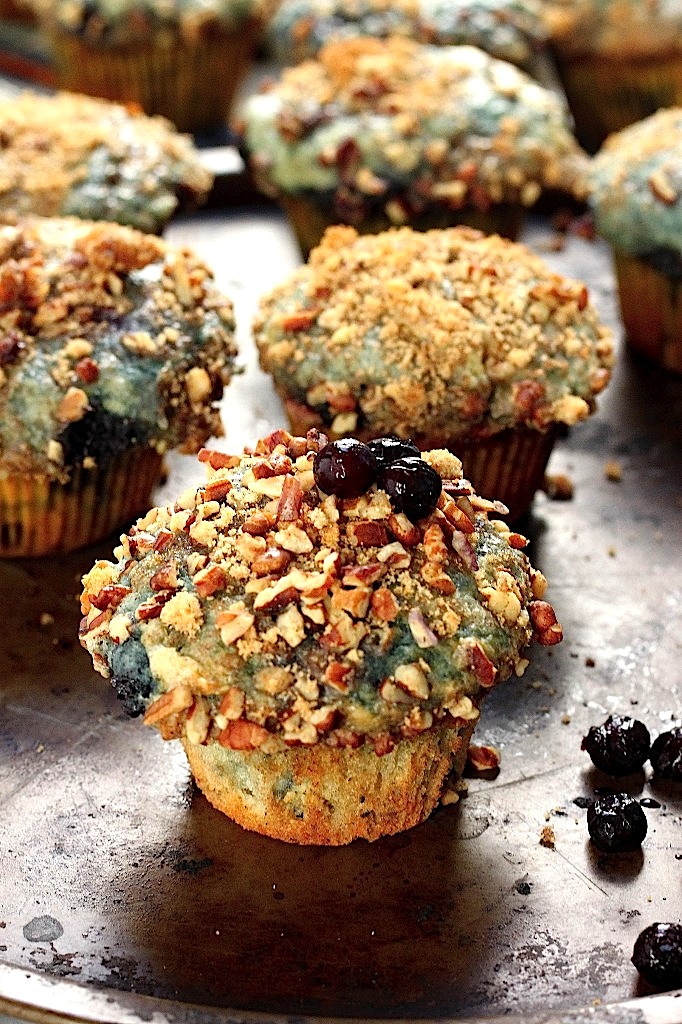 It hit me yesterday that we've had some red fever over here lately with all the strawberry recipes I've been tossing your way, so today I thought it would be good to get a little blue. Not emotionally, or anything. Just berry wise! Blueberries!!! Who can deny themselves a luscious blueberry muffin? Especially one made with Greek yogurt, tons of blueberries, and a crunchy pecan crumble. They're exceptional little muffins!
The crunchy pecan crumble is essential and luxurious! It's assembly involves tossing a few ingredients in a bowl and then generously sprinkling it over the muffin batter. Couldn't be simpler! I highly recommend a heavy hand when sprinkling. You'll thank me later!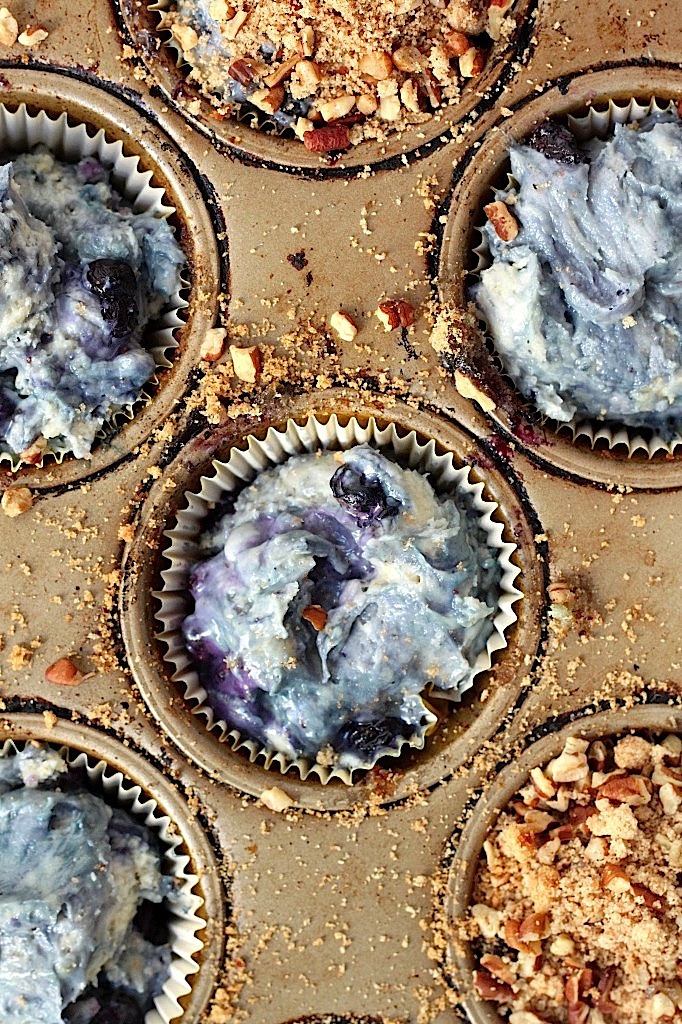 The batter for these muffins is SUPER thick, so be ready to pump some elbow grease 😉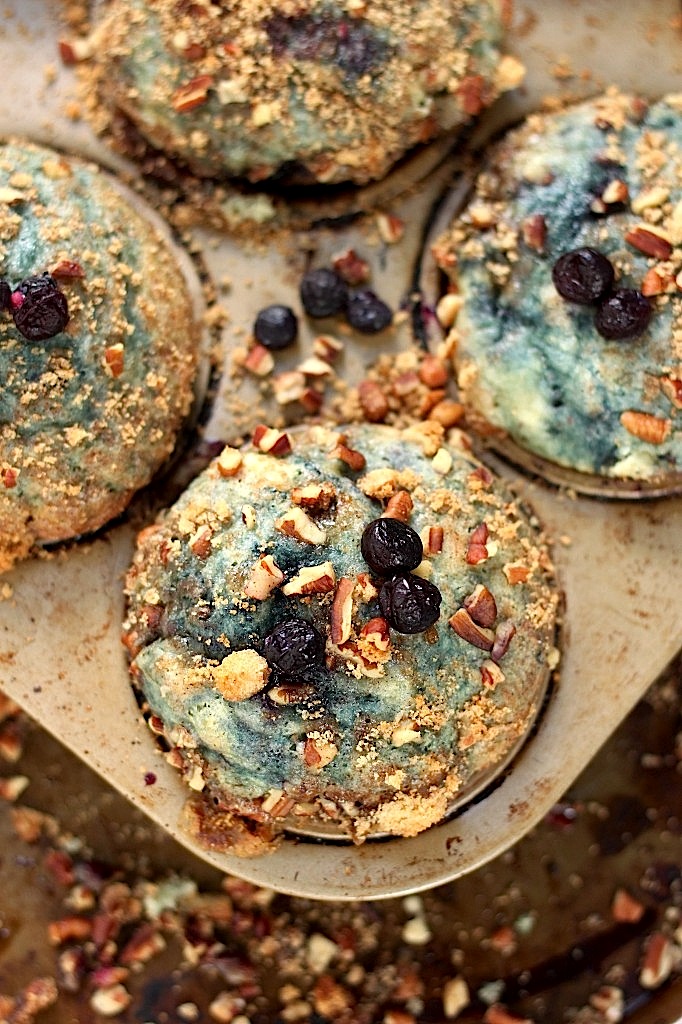 Greek yogurt is the real all-star in this muffin batter! The recipe calls for almost 2 cups, and trust me, you don't want to skimp here. The yogurt gives these muffins moisture, and you do not want to deny a muffin that. Dry muffins… blech! We want soft, fluffy muffins! And that's exactly what these are. Yay!
I used frozen wild blueberries (from Target!), but fresh will also work. If you do decide to use frozen berries, don't defrost them. Also, they'll most likely lend a bright blue hue to your muffins. I like this and it actually reminds me of the muffins they sell at our local bakery, but it's a good thing to know ahead of time, in case you're anti-color swirl or something.
This recipe makes 18 muffins, meaning you'll have treats for daaaaays! They also freeze exceptionally well, and warm up in the oven quite quickly, making them an awesome go-to for breakfast and snacking on the run.
I'm off to polish off the last one with my coffee right now. Have a great day, guys!
More Blueberry Muffin Recipes:
Greek Yogurt Blueberry Crumble Muffins
Ingredients
1 1/2 cups whole wheat flour
1 1/2 cups all-purpose flour
2 teaspoons baking powder
1 1/2 teaspoons baking soda
1/2 teaspoon salt
1 1/2 sticks unsalted butter
1 1/4 cups sugar
3 large eggs, at room temperature
2 teaspoons vanilla extract
(2) 7 ounce containers FULL FAT Greek yogurt (I used Fage)
1 1/2 cups blueberries (fresh or frozen)
1 cup light brown sugar, packed
1 cup toasted pecans, chopped
1 1/2 teaspoons cinnamon
Instructions
Preheat oven to 400 degrees (F). Line 2 large muffin tins with 18 paper liners; set aside.

In a large bowl mix together the flours, baking powder, baking soda, and salt; set aside.

In a large bowl or the body of a stand mixer fitted with the paddle attachment beat sugar and butter on medium speed until light and fluffy, about 3 minutes. Add eggs, one at a time, beating well after each addition. Beat in vanilla.

Add the dry ingredients to the wet ones, mixing just until combined.

Mix in Greek yogurt.

Gently fold in blueberries.

Spoon batter into the muffin cups, and generously sprinkle topping over muffins.

Place pan in the oven and bake for 18-20 minutes, or until the tops are lightly golden and a cake tester inserted in the center of a muffin comes out clean.

Transfer muffins to a rack to cool completely, or serve warm.

To make the topping - in a small bowl mix the brown sugar, pecans, and cinnamon.